Last Updated on
Guide to Cooking on a Charcoal Grilling for Beginners just in time for Summer is just around the corner, and you know what that means if you're a foodie.
Barbecue parties in just about every place.
And when you say barbecue parties, you will definitely have to include cooking on a charcoal grill into the equation.
After all, it is hard to dispute that food just tastes richer and tastier when cooked on a charcoal grill.
Guide to Cooking on a Charcoal Grilling for Beginners
Although there is a lot of controversy on eating food cooked on a charcoal grill and its link to cancer risks, what is hard to dispute is that the additional flavor that grilling imparts to food is what makes cooking on a charcoal grill very important.
Charcoal grilling for beginners and you will know that with your barbecue.
Plus grilled foods have less fat than foods that are cooked in pan since fat is able to drip away.
But everyone knows that cooking on a charcoal grill isn't as easy as frying an egg in a pan.
Fortunately there are lots of charcoal grilling tips that you can refer to in making sure you get the most out of your grill.
Cooking on a Charcoal Grill Tips
You should have the right charcoal grill if you want to make the juiciest and most mouthwatering dishes for your family members and friends.
If you are to buy a charcoal grill, you should know the right surface area for your needs.
A charcoal grill with limited surface area can pose a lot of problems if you are to grill for a large number of people.
For example, if you are to cook for nine to ten guests, the charcoal grill space should be around 900 to 1000 square inches.
A minimum of 1,000 square inches is needed if you are to throw a barbecue party for more than 10 people.
In case the number of people is around four to five, you will need a grill with 400 to 500 square inches of space.
You must also look at the features of the charcoal grill before buying one.
For example, there are charcoal grills with rotisserie which would add a charcoal flavor to a rotisserie chicken.
You should also consider the type of ash removal that the grill has.
There are grills that come with pans for ease in removal of the ashes.
You'd also want a grill that has a sturdy and heavy duty steel cooking grate and charcoal grate.
Other features that you would want from a charcoal grill are built-in thermostat and grill cover.
Charcoal Grilling Basics
The beauty of charcoal grilling is that you can grill basically every mouthwatering food out there.
From steaks, hamburgers, chops, chicken, to brisket, you can cook them on a charcoal grill.
You can also grill fish and vegetables.
And it's fun, too, as you can watch the food get cooked.
Plus the unmistakable aroma of grilling can whet your appetite that other kinds of cooking can't.
In charcoal grilling, the food is placed directly over the radiant heat source.
A distinct advantage is that it is the only grilling method where food can get the popular seared charcoal flavor, or char-broiled.
It's something you can't get from a gas grill.
A disadvantage is that charcoal grill can burn hotter than gas.
It is thus harder to control heat but there are plenty of ways to do it successfully.
Control the temperature on the charcoal grill
The flames should have died down before you put the food on the grill.
Now once you have placed the food on the grill, you need to control the temperature on the charcoal grill.
Remember that this type of grill doesn't have a temperature setting.
Instead you will have to use the vents or dampers on the top of the lid and at the bottom of the grill to control the temperature.
Both the top and bottom vents must be opened wide.
The vents at the top are for trapping or releasing heat and smoke.
The ones at the bottom are for cutting down oxygen supply, reducing fire, and extending the burning time of the coals.
If there is too much heat, you can open the vents of the top of the lid so that some heat would escape.
Then close the vents at the bottom.
In case you need more heat, simply reverse the steps.
Close the top vents and open the lower vents.
You can also simply open the hinged lid, which is a feature in most large grills.
For smaller grills, there's a lid that comes right off.
You can cover this once the fire is toned down.
If you remove the lid, more oxygen will get into the coals and this will increase the fire.
Temperature will vary depending on the food items you will cook.
For example, grilling thin steaks, fish, and poultry usually require less than 30 minutes and on high heat.
If cooked on low heat and for an extended period, said food items will dry out and lose their juices.
To be able to monitor the temperature of the grill, use a grill thermometer.
It is pretty inexpensive at around $3.
It can help you avoid burning of food.
In case you can't get one, you can place an instant food or meat thermometer in one of the top vents so you can have an idea on the grill temperature.
Charcoal Grilling for Beginners
In case you are grilling larger food items such as lamb, ribs, and roasts, you should use the indirect grilling technique with less heat.
You will have to lower the temperature so that the outside of the food is not burned, while the inside is well cooked.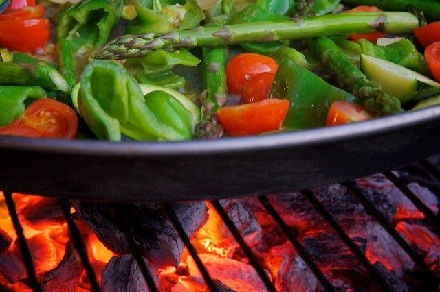 The key to cooking on a charcoal grill is to grill the foods at the right temperature.
As much as possible, you should grill within the recommended temperature range and cooking time.
Some people are good at just looking at the color of the food in determining whether the food they're grilling is done or not.
But not everyone is capable of pulling off this trick.
Most of the time, the color can trick you into believing that the food is good and ready.
There are also instances when the food is safe but its color outside looks raw.
The ability to judge a food's readiness or doneness just by looking at its color would get easy over time, as you get more grilling experience.
Suffice to say, veteran cooks know when items are ready with one look at the food.
Related Content: Delicious Irresistible Barbecue Recipes To Impress, barbecue recipes to tempt you!
Charcoal Grilling for Beginners Tips
Charcoal grilling may sound simple, but try to do it one time and you'll definitely have your hands full.
However, we listed grilling tips to keep in mind so that you can come up with a tasty and juicy dish that you can proudly serve to your guests:
Read and understand the recipe to lower the risks of food poisoning and more importantly, avoid being disappointed with the outcome of your grilled dish.
Create a checklist of the ingredients, tools, cooking times, and temperatures you will need or follow.
Before grilling, lightly coat the food and cooking grill with a cooking spray.
This should prevent the food from sticking on the grill.
The food should be spaciously laid out on the cooking grill so you can see the coals as they burn.
Also, keep a close eye on the fire.
This would help you deal with flare-ups.
If there are still food residue on the cooking grid from your previous grilling session, set the temperature to high so that the particles will be burned off.
After a few minutes, use a grill wire brush in scraping off the residue.
Then re-coat the grate with cooking oil.
Use a tong in turning food, particularly chicken, steak, and other juicy foods.
Don't use a pitch fork to stab and turn the said food items because it can create a path for the juice to run off.
But a pitch fork is ideal for turning chops, thin steaks, and hamburgers.
Place an aluminum pan or a shallow metal under the cooking grid when you are grilling large food items.
This would be for collecting the juices.
Don't use gasoline or kerosene in lighting the coals as this can cause explosion, resulting to burns.
In case the coals don't light up well, stack unlit coals over the glowing ones. Fan them gently.
Don't use a charcoal grill indoors as it is a fire hazard
Charcoals grills are very easy to tip over.
You should place yours on a flat and level surface.
Moreover, don't leave it unattended especially if you have small children or pets in your household.