Ceramic grills is an Kamado grill that are designed to provide the ultimate grilling experience – providing delicious smoked flavor and precision grilling, easy start-up and unmatched flavor. Shop our selection of brand name ceramic grills today and taste the difference Kamado-style ceramic charcoal grills can make.
Good: Char-Griller Akorn Jr.
Better: Pit Boss 71220 Kamado Grill
Best: Grill Dome Infinity Series
Kamado Grills claim a legacy going back thousands of years. Typically these are grills/smokers are made of ceramic shells, but at least one is all metal and others use a variety of stone like materials.
This gives these charcoal grills excellent insulation, high efficiency, and the ability to hold very high and very low temperatures making them perfect for grilling and smoking. A good Kamado Grill is durable, has good support and quality components like the Big Green Egg.
Kamado style cooking comes from ancient cooking methods that used large clay ovens for insulation. Kamados of recent years are made of heavy ceramics. Truly the best food you will ever cook on a grill.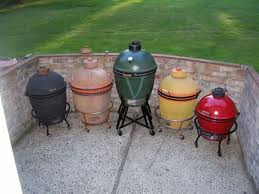 The Kamado Grill That's Best For You
Americans love their grills! We cannot get enough of that grilled, smoky goodness at our dinner tables and strive to do bigger and better things all the time. Kamado has many different varieties and one is sure to meet and even exceed your expectations. Here is a short review of 3 different kinds that range from small to large to assist you in deciding what is best for you.
Char-Griller Akorn Jr. Kamado Kooker Is Versitile
The Char-Griller Akorn Jr. is a smaller version of the original Char-Griller Akorn at half the price and half the size, but all of features of a Kamado and a full-sized grill. With its smaller, egg-shaped design, the inside is covered with the Ceramics of the Kamado which gives it that insulation that larger ovens have with clay.
It was built to be portable at 38 pounds and comes with a stand and handles. According to BusinessInsider, this grill would be a great option if you are searching for that awesomely grilled meal in an apartment or for tailgates, picnics, the beach or simply another area at your home atop of a sturdy table.
It cooks remarkably well, just like a clay or ceramic oven. We think the added cast iron grates gives more evenness to cooking, so you do not get well done on the outside, but rare on the inside. What's even better, it also includes dampers to control your air-flow, so it can double as a smoker, too.
But even with its small design, the Akorn Jr. cooks just as well as a full-size Akorn without the expense and much more versatility. Burgers and steaks are cooked juicy and you would swear that your pizza came from the clay oven down the street.
Pit Boss 71220 Kamado BBQ Ceramic Grill Is Full-Size Affordability
The Pit Boss 71220 Kamado Grill can turn an average Joe into a world class, outdoor BBQ chef. It's an all-in-one versatile ceramic cooker that has adjustable cooking vents which allow you to smoke mouth-watering Boston butts or Texas ribs, bake pizza, or grill those burgers, veggies or steaks for your family.
With its thick ceramic, egg-shaped wall, your food's flavor will be locked in with moisture and taste. This grill is built to last and has an affordable price that most anyone can afford. The thick ceramic walls of this grill allow it to easily maintain the perfect internal temperature for optimal results at the table.
The Pitt Boss gives you 567 square inches to cook on with a two tiered cooking surface. The cooking grates are made of solid stainless steel, so it makes for easy clean-up, too. Chargrills loves the top grate that easily can be flipped up to accommodate any kind of cooking you desire.
The lid is attached by heavy duty hardware and springs. With a strong wooden handle, these make the lid easy to lift up, in addition to shock-absorbing felt edging to help protect it.
The Pitt Boss also comes with a rolling stand and attractive, folding bamboo shelves on either side, which will give you plenty of space for your plates or platters. These shelves easily fold down for storage. There is also a large exterior thermometer that makes it easy for you to monitor while cooking.
Good: Char-Griller Akorn Jr.
Better: Pit Boss 71220 Kamado Grill
Best: Grill Dome Infinity Series
Grill Dome Infinity Series Large Kamado Grill Is The Ultimate
The Grill Dome Infinity Series large Kamado grill is the ultimate in the all-in-one ceramic charcoal grill. It has been around since 1989 and with such exceptional manufacturing, it is one of the best on the market. All-natural and exclusive Terapex Ceramics on the Grill Dome is twice as thick as others on the market.
Construction-wise, it has rust resistant stainless steel to expedite incredible heat retention that will lock in all those flavors and juices you are striving for. TheSpruce says that the triple-baked enamel finish is also available in beautiful finishes of blue, red, silver, gold and black.
The Grill Dome Kamado charcoal grill allows you to do most anything you want with food – smoke, sear, grill or bake. By adjusting the sliding damper at the base and the pivoting disk at the top, you are in control of the temperature. According to Kamadoguru, it also comes with a lifetime warranty.
A large cooking surface of almost 260 square inches on an 18" diameter will give you enough space to cook for the whole family at once. There are also up to three levels of porcelain coated steel cooking grates available and a spring-loaded Featherlite lift hinge that makes the heavy lid a breeze to open and close.
For a tasty look at what the Grill Dome can do with steaks, check out this video.