Fresh salads from the garden in December? Even in our four-season climate, where snow often covers the frozen soil all winter long? Yes—it's true—we can have our lettuce and eat it too! We have never tried growing veggies all year round—but we are going to give it a go!
During the next two months we'll be featuring some blog posts about fall and winter vegetable gardening. To introduce the topic, here's a review of an awesome book that we were glad to discover. 
Author Niki Jabbour is a seasoned (no pun intended) gardener who not only raises food for her family but also loves to encourage others to do so. She has written articles for numerous gardening magazines and currently hosts a radio show called "The Weekend Gardener."
Click here to purchase your own copy of The Year-Round Vegetable Gardener
The Year-Round Vegetable Gardener: How to Grow Your Own Food 365 Days A Year No Matter Where You Live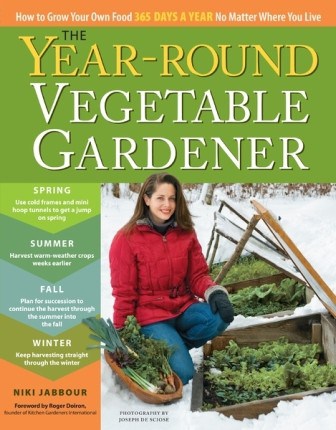 As its title implies, this book is about gardening year-round, not just fall and winter gardening. There is some great general info on gardening basics, including garden design, soil building, and succession planting. Profiles of 43 different vegetables and 10 herbs provide growing and harvesting guidelines as well as Niki's Picks—lists of the author's favorite tried and true varieties.
A planting calendar for each plant indicates when to start seedlings indoors and sow directly outdoors, including multiple sowing times for successive and year-round crops. Did you think your area had just one growing season?
"Stretching the Seasons" introduces us to the three growing seasons: cool (spring and autumn), warm (summer) and cold (winter). The author shares the keys to nonstop crops, among them soil amendments, cover crops, succession sowing, and inter-planting. We learn how changing day lengths and frost dates affect the growing seasons throughout the year.
In "Designing Productive Gardens," the author explains how to select a site and plan out a garden that will span the seasons. Both perpetual patches and crop rotations are discussed. Several year-round garden designs are described and delightfully sketched (kudos to illustrator Elara Tanguy). Throughout the book are sidebars and highlight pages featuring interesting gardeners and growing techniques.
Colorful photos, diagrams, and charts provide bright illustrations of the information and techniques featured in the text. This book does double duty as a gardener's reference manual and a coffee table book for dreaming and feasting with the eyes.
As you may have gathered, we were especially intrigued by the concept of raising fresh vegetables even under a blanket of snow. The book's cover indicates right off that this is a possibility—the author is photographed bundled in a parka, kneeling in the snow at her cold frames with a harvest of very fresh goodness for her kitchen. Niki Jabbour lives in Nova Scotia, so she knows true winters. And she raises fresh vegetables all year long, so she knows it can be done. 
What's more, she guides us through the process so we too can eat garden salads in the midst of winter. A chapter titled "Growing into Winter" suggests numerous micro-environments for growing fresh vegetables in fall and winter.
Mulches, row covers, hoops, cloches and hot caps will extend the harvest of summer crops into fall or winter.
Cold frames, heated greenhouses, and poly tunnels can protect plants even in the middle of winter, sometimes yielding fresh vegetables all the way into spring.
A combination of two or more of these will provide even more insulation from the frigid temps of winter.
Wondering what all those materials and structures are? Just peruse the pages of this book and you'll see descriptions, options, and construction details—all accompanied by those wonderful photos and sketches. Our detailed research for fall and winter gardening included some time spent in Part 2, "Growing the Right Crops." That's where all those wonderful plant profiles are found. A snowflake symbol indicates which veggies and herbs are good candidates for winter gardening.
Growing descriptions also detail those summer crops that can be extended into fall. Our conclusion: The Year-Round Vegetable Gardener delivers what its title suggests, guiding the reader through a full year of growing, harvesting, and enjoying fresh veggies. No Matter Where You Live, you'll learn How to Grow Your Own Food 365 Days a Year.
A warning from author Niki:
"In this book, I'll walk you through the process of creating a year-round vegetable garden. But it's only fair to warn you that the ability to harvest fresh, organic vegetables year-round from your own garden is potentially addictive. It's extremely satisfying, though, and easier than you might think. Interested?"
We sure are! And we're feeling ready to jump in. How about you?
Click here to purchase your own copy of The Year-Round Vegetable Gardener
Homegrown Herbs: A Complete Guide to Growing, Using, and Enjoying More than 100 Herbs By Tammi Hartung
For many years we've grown veggies with only a few herb plants scattered in the garden. Last year we made a point of planting several of our favorite herbs. We really enjoyed having our own fresh and dried herbs available for cooking for much of the year. So from now on, we'll be planting more varieties and larger quantities of flavorful and fragrant herbs to enjoy fresh, frozen, dehydrated, and canned with other foods. We discovered a treasure chest of information, not only on growing herbs but also about using them in the home and kitchen.
Homegrown Herbs: A Complete Guide to Growing, Using, and Enjoying More than 100 Herbs
First off we noticed that the book is not just about herbs.
With its general gardening info, Homegrown Herbs could actually serve as a basic gardening handbook. Concepts and techniques such as plant selection, soil amendment, propagation, and control of pests and diseases are covered. Specific culture of plenty of herbs is included.
All one would need is additional details on vegetables, flowers, and fruit. Garden design suggestions are illustrated by sketches of herb gardens from a formal knot to a chef's retreat to an apothecary garden. Ideas for herb theme collections include culinary, children's, tea, medicinal, and wildlife gardens.
But speaking of herbs…
We found lots of details about culture, harvest, seed saving, and processing of herbs. Kitchen and household use includes some luscious-looking recipes for meals, snacks and beverages using both cultivated and wild herbs.
But that's not all—there are recipes for pest control preparations, health and personal care products, and herbal vinegars. A wonderful "personality" section covering the characteristics and need of 100 individual herbs goes beyond the basic parsley, sage, rosemary, and thyme.
Though the most common herbs are included, also featured are some herbs we'd never even heard of before. Costmary, skullcap, and yerba mansa are all new to us! Also included are some plants we'd never considered to be herbs: ginger, hops, and sunflowers for instance. Who knew?
For the experienced and the new gardener
Though we've been gardening for years, we learned some new concepts from the basic info in Homegrown Herbs. What's more, as relative newcomers to the joys of wild and garden herbs, we feel this guide is all we need in order to select, grow, and use all the herbs we enjoy and many we've never tried before.
Our Interview Jill Winger of "Your Custom Homestead"
Backyard Homestead with Carleen Madigan
Resources to Learn Homesteading Skills and Products