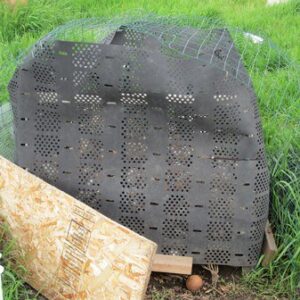 The problem of Building a Compost Pile
We've had a compost problem…but we've found a compost solution. Our compost pile was started two years ago in a location that has now become the middle of a through-way in our garden area.
Our two wonderful dogs, our chickens, and the local magpies can't seem to resist the buffet. You'll see why we want a better setup when you look at this picture of our scrappy patchy system that temporarily protects the pile from dogs that dig at ground level and birds that land right on the pile.
The solution Building a Compost Pile
We decided to move the compost pile, fence it in with wood pallets, and cover it with a screened lid.
Why not share the fun Building a Compost Pile?
Just when we were getting our plans in gear, we started reading about Compost-Along. We decided to join the party, exchange experiences with other composters, and learn some new composting tips along the way.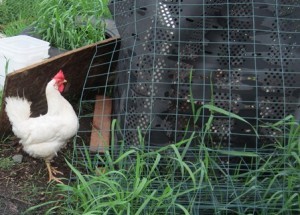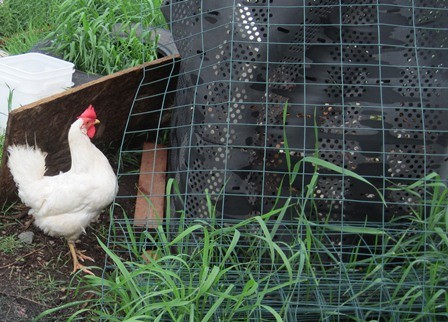 Our existing compost system
A few years ago I attended a local compost fair and received two of the cool rigid plastic compost bins seen in the photos above. They're tall, adjustable, and well-ventilated. Normally they even stand up straight. I have composted in these bins for two years now. We put in all our kitchen and garden food waste that the chickens don't get, including coffee grounds/filters, paper scraps, onions, citrus, and raw potato peelings.
Once in a while we rake up stalks, rinds, and other leftovers from the chicken pen. We've added garden weeds that have not gone to seed, as well as various leaves and other vegetation we have. We planted redworms in the pile to speed up decomposition. Earthworms can also enter the pile from the dirt floor.
We avoid putting meat or animal manure in this pile, as we want it to create compost safe for all our food crops. We've never been sure how hot our pile gets and how many microorganisms might remain in the compost. So we either put the chicken coop litter directly on the garden in the fall or compost it in a different pile.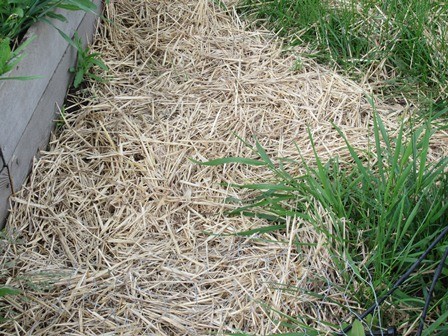 Composting along
Our Compost-Along project will be our kitchen/garden scrap compost pile. We got busy planting our garden and thoughts of composting were set aside for a time…so today we'll cover weeks 1 and 2.
Week 1 assignment
Decide on a type of compost bin.
Decide how to get compost ingredients.
For extra credit, get a bin and start collecting compost materials.
Week 1 results
We'll use our plastic bins enclosed by wood pallets, with potential to have two piles going at the same time.
We'll continue to use our kitchen and garden scraps, and will collect more ingredients like leaves, sawdust, wood ashes, straw, and grass clippings around the farm.
We also got some new ideas from the LHITS compost ingredients list: dryer lint and dog hair! At times we have an abundance of both around here.
Extra credit: We already have the bin and some materials to compost.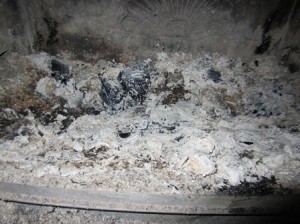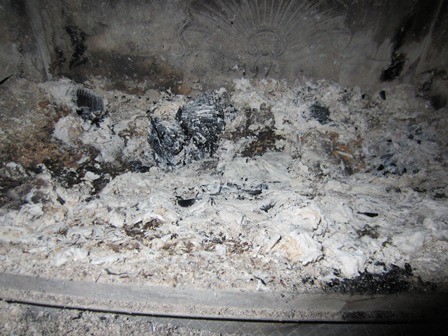 Week 2 assignment
Get or make a bin.
Collect compost materials.
For extra credit, gather up some natural compost activators, like alfalfa meal, blood or bone meal, cottonseed meal, fish emulsion, comfrey, stale dog food, seaweed, and urine.
Week 2 results
We have an empty bin, though we haven't yet made the wood pallet frame.
We have a few buckets containing kitchen scraps, yard clippings, wood ashes, dryer lint, and dog hair. Ready to roll when we hear "Ready, Set, Go!"
I learned something new this week too: I didn't know about all those compost activators! I'll plant some comfrey this year and collect any dog food that might go stale.
Extra credit: We have fish emulsion, which we use as a garden fertilizer. Should we just pour some in the compost pile?
Fall and Winter Vegetable Gardens How to
Requests From Our Readers: Creating Root Cellars