It was a dark and stormy night…Really, it was! That night started my journey to move back to the country.  As I was coming home from work in early evening, snow was swirling everywhere.  I could barely see.  I had actually left work early, as I had heard that the snow was coming and I wanted to get home before the worst of the commute hit. Silly me.  I had seen so many times before the effects of heavy snow during a commute on a freeway, and quite frankly I was too tired to deal with it again. On a normal day I would be home in 40 minutes, resting from a hard day at the office.  Every day. Twice a day I entered into the chaos and maze we call "the commute."  I didn't know that this particular night would be so different. Urban Homesteading
Moving to the Country Start of the Journey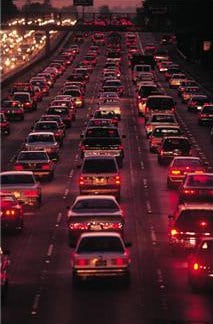 Once I was on the freeway it became clear that this would be no normal commute.  Buses were stuck in all lanes of traffic. Semi-trucks were jackknifed in every way imaginable.  A very fancy and expensive Mercedes was spinning  alongside a concrete barrier, bouncing against the hard surface as it tried to regain traction and move forward.  The car lost the battle.
I would stop and then move forward a bit. Once in a while I'd creep along an inch at a time. After a couple of hours, I'd traveled only two miles. I wondered if I would ever really get home that night. Or even get home safely at all.
About this time traffic funneled into one lane, zig-zagging around stalled and stuck cars, trucks and buses.  The chaos was brutal and it reminded me of several scenes in the Terminator movies.  Many people abandoned their stalled cars or just pulled over to the side and went in search of warmth, food, and a place to sleep. But some of us wove our cars in and out–and finally, after many more hours, I arrived home. I was safe.  I didn't know that awaiting me was an email that would change my life and take it in a new direction—a direction I had dreamt about, but had never made any steps to realize.
It started with an email
After a nice dinner with my wife, I fired up the computer and there it was…not just one but quite a few emails, as I hadn't checked them for a couple of days. Most of them were from our grown kids—group emails bouncing back and forth. Now you need to know that our kids are all very different, but they also are very close. (Together they have 11 children–now I am dating myself–that I am very proud of.) I think the message thread started with an email from our son, and the others responded back and forth. The gist of the discussion was this: "Do you guys remember growing up on the five acres?  Do you remember the rope swing?  Do you remember the horse 'Nick' that just showed up?  Do you remember our two cows that seemed to get out all the time?  Do you remember playing with the other kids on the property?"
(Note to readers: They were referring to the home I'd built years before on five acres abutted to two other five-acre parcels developed by Marie's sister's family and mutual family friends.) The emails continued… "Why are our kids growing up in the city??" and then, "Why don't we get some property and move to the country and live on our own farm or ranch?" As I kept reading the emails, it was clear that my kids were all in agreement that this was something they wanted to do.  As one of the highest compliments they could jointly give their mom and dad, they continued, "and let's ask Mom and Dad to come too!"  That's how Marie and I got included in the conversation.
Let the property search begin
And so the journey started.  First thing was to search and find that perfect piece of heaven.  And that is what these kids did.  Every day, the emails flew back and forth, each showing real estate listings for farms, ranches, and lots of raw land. We looked at listings from Colorado, Wyoming, Idaho, Montana, Oregon, Washington and California. This continued for virtually months, with ongoing discussions of the pros and cons of different property listings. During this time, it became clearer what we were looking for (what we learned will be in a different post here) and that most pieces of property listed had some kind of fatal flaw eliminating them for our needs.  At least in our eyes! As this continued, I became numb looking at these listings.  They all started to blend together.  Our daughter Bethany seemed to be sending listings for us to all look at on a daily basis. "You need to look at this!"  "Look at this one!"  It took a lot of time and effort on everyone's part to really look hard at all these listings. Then one winter day, we all received an email "I know I said this before, but THIS ONE YOU REALLY NEED TO LOOK AT!"
Moving to the Country Is this the Right Property?
I had looked for property many times before, both for family homes and for business projects such as resorts and office campuses. I had purchased raw land and we'd purchased existing homes. There is a huge difference between looking at rural property and looking at houses for sale on smaller lots. When looking at land, the key before starting is to quantify exactly what you want to do on the property. Or in one word, PLAN. One of the abilities I seem to have is "visualizing" how things could be. That has helped me in various areas throughout my life and my career.  When I built our first house on five acres, the land was essentially a forest.  We knew what we wanted to build and I determined the perfect site…with the forest still intact. Couldn't "see" it so she just had to trust me that it would look right and be a good fit. We cleared the site, maintaining the trees that would remain as part of the landscape.  It turned out great.
Fast forward to the email I received from Bethany. Here was the "perfect" piece of land. It did look nice, with pretty pictures, but it was fairly expensive and it was over 100 acres! I was thinking in the back of my head of a nice quiet five acre piece somewhere where my wife and I could retire. Even with our large extended family, what would we do with 100 acres? Just to walk around it was over two miles! I realized that I hadn't done step one when we all decided to look for property.  We hadn't done any clear PLANNING. But we DID know the big picture purpose:  to find a farm or ranch where our family could live, work and raise young kids in a rural environment. And to do it together. The listing sent was intriguing enough to go take a look, so off we went to see it. One of our other daughters and her husband were able to go with us. We met the listing agent and visited the property along with other parcels in the area.
It was late winter, with a bit of snow on the ground, but the weather was beautiful. This land had a lot going for it. It had pasture, thick forest, thinned forest, and a large pond.  It was at the end of the road, and yet was only 20 minutes from the nearest town. At one point on the property, you can see for miles. I saw a couple of deer by the pond with an eagle gliding overhead.  I took out my cell phone, and my goodness–I saw four bars! Still connected to the world! As we tromped around this property, it became very clear that as a family (with five family units) we could do almost anything we wanted with it.  After our visit the family had many discussions about it, sharing photos and impressions with those that weren't there.
Should we get this? Or keep looking?  As our discussions continued, it was clear we all had ideas and plans. And they were all varied, but it was clear this land would meet our initial goals and fit our reasons for this purchase. The planning continued. In my mind, the piece of land just seemed so big, but as I saw the seriousness, passion and excitement in the faces of my kids and felt the stirring in my own heart, I concurred that this was the place. So it was decided that we would put an offer on this piece, giving ourselves some time to further research the issues or potential issues that could arise. In the development business, this is called doing your "due diligence." I have done this many times for projects I have developed so I knew what to look at. So now to the next step in realizing our family dream of moving to the country!  But, my goodness, 100 acres???
Is this really the right property?
So our journey from the city to the country continued.  Was this really happening?  We had been talking about it for a while, but now we had found the perfect property for us.  At least we thought it was perfect. After we walked the land with another son and discussed it at length with each of the kids, we put an offer down on it. Actually, quite a bit had to happen to make it all come together, but the journey starts with these first steps…so we started. Our offer was one that was contingent on many items. It was very important to us to make sure that we could do everything we envisioned doing on our future piece of land.
Due Diligence
To start this process, I had to truly divorce myself from my emotional feelings and excitement about the property.  This was really hard to do, as I was pretty jazzed and I really wanted this to work. If I kept this mindset of excitement, it could cause me to overlook some potentially very serious issues that could stop all our plans for the property.  So it was crucial to do my serious "Due Diligence" to ensure that this indeed was the right property for us. The investment was considerable, so I approached this like I approached my other business projects. First off I compiled a checklist of important issues that needed to have questions answered.
Note: My "Due Diligence List" is part of a package available as a FREE download as a bonus for subscribing to our mailing list.  If you are interested, you can subscribe to the mailing list by clicking here. Not all of the questions on the list will get answered–sometimes no answer is available. In that case, you have to determine specific potential outcomes and the risk that each of them brings to the project.
Here's an example: In our case, there were no water wells on the property. Obviously water would be needed to develop the property into our farm and ranch. But can we get water? As I looked into this, I contacted some neighbors and found out that the land in the area had a history of very poor wells. State records showed the same. Local well drillers had a rosier picture, but no guarantees…so there was a very significant risk that water could become an issue. I didn't want to invest $6000 to drill one before we closed on the purchase deal.  So…put that one down on the "unanswered questions" list.
Other issues to look into: power, legal access, telephone, road construction, county building requirements, master planning…and the list continues. In our case, I was able to quantify the cost and issues for each of these items, and they resulted in no more real questions. It looked positive…except for water. Maybe we should just buy an established farm? Maybe. We had looked at several. But this piece of land seemed so perfect.  I formalized my findings, and we had another family meeting discussing the added costs to develop this land. Should we still buy it and assume the water risk? After much discussion and prayer, we decided to buy it and take the risk. But we did it with our eyes open.
So with much celebration, after our due diligence, we bought the property and our family farm/ranch became a reality! Challenges lay ahead, but we were all pretty darn excited about this. The whole family gathered on the property for a big "homestead party" and land blessing. Marie helped each of the grandkids make a little "land stake" flag, which they decorated and put in the ground. Interestingly, this land project has brought our family even closer together. We seem to be tied together and to this land in a way that we can only describe as "being tied together the right way." Who knows what the future holds?  We know it is in God's hands, that he loves us and has a great plan for us. In the meantime it is time to build a playground for the grandkids…And PS: We have water!
Homesteading for Beginners Making a Living Homesteading
Homesteaders Life Insurance and Benefits of Living Off the Grid
Why Do I Want to Live in the Country?
Living in the country ~ Best rural places to live
Are We Safer in the City or the Country?
I am looking out my farm office window and watching it snow.  It is peaceful and I feel secure. Throughout this winter, Marie and I have continued our planning for the spring and summer. I'm pretty jazzed about all that will be coming our way. Another thing I do, though, is follow the global economic markets.  I no longer accept the media bias or the bogus economic statistics that say we are all fed every day. Everything is NOT OK and there are things that are just not right happening all around us. I am now more than a little concerned about the state of affairs affecting our nation. Our family is working hard at developing our farm, yet there is now a new urgency in doing so.  While no one—especially economists–knows that will be happening in the coming months and years, one thing is clear in my mind. Our country is now heading down a path which will lead to a very difficult time for us.
Those of you who have even remotely considered that things aren't all they seem to be: let me encourage you to think about your own situation. Should you, like many of us, prepare yourselves for some hard times ahead?  There are many resources with ideas how to do this. But it is a very personal process that must be done in light of what you think might be happening in the future and how it will affect you. I personally think that the economic system is in a time of transformation, and that things ultimately will be getting violent.  I believe life will be most difficult for those in the city. But for many, the writing on the wall will go unheeded. When I ask myself why many refuse to look deeper into what is really going on, I remember a condition that is commonly called the "normalcy bias." If you Google this, you'll see that there is a vast store of information about it. Essentially the normalcy bias is a mental state people have when facing or evaluating a potential disaster or pending danger.  It causes a vast underestimation of the likelihood of a catastrophe actually happening and the potential consequences of such an event.  It is the deer in the headlights refusing to move.
The normalcy bias explains w
hy the Jews refused to leave Germany even in light of evidence of the holocaust already occurring and major signs of pending danger. It explains why many people on the Titanic, even while it was sinking, refused to believe that it could ever sink.  Passengers were slow to enter life boats, as that itself would be an acknowledgement that indeed the Titanic was going to sink. It explains why so many in New Orleans stayed in their homes even with the notification that Katrina was on its way and urges to evacuate.  They couldn't believe it would be that bad.
It also explains why so many today choose to put their heads in the sand, believing that economic catastrophe could never happen in America. This even as Europe is on the brink and there is no question the U.S. is truly connected at the hip to Europe economically and socially. I hope I am wrong, but I believe that a total upheaval of our global economic system will be happening. As I talk to folks who have concerns about the future, the conversation inevitably leads to the question of whether they should move to a rural setting in preparation.  My consistent answer is YES, but I also believe that it isn't for everyone.  No place is perfect, and there are challenges everywhere. So each person or family should make their decisions based on their own set of circumstances, beliefs, and informa
tion research.
In this regard I highly recommend that you do consider it. Granted, it does take time and energy to read and evaluate information.  There are many resources for this on the internet. Some are very skewed one way or another, but one that I have found to be pretty balanced and full of information is Preparing Your Family. It's a site that is helpful regardless of where you live–and it's very practical.
After living almost our entire lives in the city and suburbs, we can say that our ranch is now our real home.  For some of you the city may remain home for various reasons. But I would encourage you all to investigate the reality of the benefits a more independent and self-sufficient rural lifestyle will offer in the coming years. We consider ourselves blessed.