Horse Grooming and DIY Farrier – Proper horse grooming is essential. Without regular grooming, your horse can be vulnerable to numerous health problems, especially hoof-related. There are certain things to keep in mind before grooming your horse:
Horses are large animals.
You have to have full control over them, even when they are superbly trained.
Remember that a sudden and unfamiliar noise can startle him and make him dash out.
Therefore, it's critical to keep yourself calm and your actions predictable. Follow the same routine each time so the horse will feel secure in what's happening.
Before you start horse grooming
You must ensure:
Halter is in position.
Two cross ties are in place.
Without cross ties, grooming the horse in his stable can be dangerous.

His movements can crush you against walls and other objects.
Installing cross ties is a requirement before you start grooming.
How to groom a horse
Check the horse's eyes, ears, and mouth for any irregularities.
Check for bumps or scratches over his body.
Slide your hand over his hooves, one at a time, to confirm they are well.
Clean the hooves to remove any foreign matter.
The hoof area is an integral part of the horse's body since the accumulation of debris here can lead to hoof infection, which can maim a horse.
Brush and clean the main and tail to eliminate dried mud, burrs, and other debris.
Use combs to untangle them to give them a well-groomed look.
Before riding your horse, you should brush him to be sure there isn't debris where you will place the saddle.
If someone isn't riding the horse every day, you can skip some of the care procedures every so often.
How to groom a horse
There are 2 main elements to grooming a horse:
Brushing the coat
Cleaning the hooves
There is no right or wrong order to groom your horse. However, it is a good idea to get into a routine and always do the process the same way, either feet or grooming first, so the horse can anticipate what you are going to do.
Grooming a Horse Steps
1. Start with your horse secured in cross ties that are attached to the halter.
This ensures that the horse cannot flick one way or the other, plus it frees up both of your hands to work with the grooming. If you are trying to both groom and hold the horse, you are likely going to find this much more difficult, and there is a greater chance of injury.
2. With the horse secured, start either on the grooming or on the hooves, whichever you prefer.
Cleaning the hooves
Many owners prefer to start by cleaning the hooves. Then your horse can relax and enjoy the rest of the routine. Have your farrier tool kit ready and accessible.
1. To correctly position yourself, stand next to the horse's left front shoulder, just to the front of the body.
2. Run your hand, the hand you don't normally hold the pick in, down the front of the leg until you reach the hoof.
Most horses that have had their feet cleaned will pick up their foot, but if they don't, gently press your shoulder and upper body against the outside of the shoulder, which will slightly move the horse off balance. He or she will shift weight to the other front foot.
3. When the horse shifts its weight to the other front foot, pick the other foot, bending the leg as it would naturally bend back toward the center of the horse's body.
4. Hold the hoof firmly in your hand.
5. Use the pick to remove all the debris.
Be very careful not to dig into the frog, which is the soft, triangular-shaped center part of the hoof. This area can be very sensitive.
6. Repeat this process with the other hoof until completed.
7. Be sure to give a treat to the horse after the first hoof and then after you finished the second.
This helps him know he's doing a great job.
Grooming a horse
When grooming equine, you can either start with the mane or the tail. If the horse is dirty, muddy or has a winter coat, start with the curry comb and groom the entire body using gentle, circular shaped motions that follow the direction of hair growth.
Work from the neck to the chest, over the shoulders, down the back of the sides and the legs. Remember, the curry comb is not flexible. Be sure to be very gentle on the sides and down the legs.
If your horse is flinching and twitching away, switch to the dandy brush over the sensitive areas.
After the curry comb, follow the same pattern with the dandy brush. This will flick away all the dust and dead hair. Follow-up with the body brush for a shiny, sleek look.
Then gently use the body brush on the face, but not near the eyes. You can use a wet soft cloth or sponge to clean around the eyes and inside the nostrils. Be sure to rinse it out after each use.
Again, being predictable and gentle with your horses will calm them. Having the proper grooming supplies will help you to groom them faster and more thoroughly.
Horse Grooming Supplies
When you have the right horse grooming supplies, it makes maintaining your horses much easier and more effective.
These are our favorite grooming products.
Oster Equine Care Series 7-Piece Grooming Kit
This is a particularly great set. It's very inexpensive for all the brushes and the quality and long life you will get from them. Something misleading about this set is the 7th piece is the bag, not an additional brush.
Still, for the price, you can't beat it. This horse grooming kit has everything you need for grooming, detangling and cleaning the hooves.
It comes with:
Grooming brush (stiff)
Finishing brush (soft)
Brush for the mane and tail
Comb for the mane and tail
Curry comb (coarse)
Pick for hooves
These are really all the brushes you will need to brush and groom your horse. The bag is nice but we don't use it. Maybe if we traveled for horse shows we would.
We keep everything in a small bucket. This way we can easily access whatever we need. It also makes it easy to rinse out and store for air drying. We don't rinse them after every use, but it helps to have clean supplies when grooming a horse. Our horses love when we brush them. Great value for the price.
Wahl Professional Animal Equine Sweat Scraper
Depending on the season, your horse might benefit from a sweat scraper. For a horse to cool down, his sweat has to evaporate. In some climates, especially when it's hot and humid, it takes a lot longer to evaporate. You can use the sweat scrapper to help remove excess moisture. It will help your horse to cool down faster.
Oster A5 Turbo 2-Speed Professional Animal Clipper
These pet grooming clippers work well for horses, dogs, and most any other animals you have. The heavy-duty motor makes it fast and easy to groom your horse. There are two speeds, and it's easy to switch from one to the other.
This set comes with everything you need, including a 12′ cord, #10 blade, lubricating blade oil, clipper grease, a cleaning brush, and carbon brush replacements.
The only negative is it weighs just under two pounds, so it's a bit heavy if you are working on your animals for a long time.
If you have a lot of animals to clip, the Andis ProClip AGC2 2-Speed Detachable Blade Clipper does a quality job as well and is a little bit quieter and lighter at 17.5 ounces.
Chlorhexidine solution (2%)
It's important to have this on hand for horse wound care. This also works for dogs. When you put it on the wound, it works up to two days. Chlorhexidine works against gram-positive and gram-negative bacteria, including strep, staph, listeria, E. coli, and yeast.
Be sure to follow the directions on the bottle to dilute it properly. Something we do is premix it and keep it handy in small bottle. Vestil BTL-RC-8 Low Density Polyethylene (LDPE) Round Squeeze Dispensing Bottle with Removable Red Cap, 8 oz Capacity so we have it when we need it.
Absorbine Veterinary Liniment Gel
We've also keep on hand this horse liniment for sore muscles. We use it regularly for our older horse. Just be sure to wear gloves when applying it to your horses. Take the time to clean your brushes and combs so when you groom your horse the items will be clean.
You need to ensure that your horse's nose and eyes are clean and healthy and wiping these down with a damp sponge is very important.
By you grooming your horse every day you are not only bonding with them but also helping to check them over. You can tell if there are any lumps and bumps and maybe if they are showing signs of un-comfort. If you are concerned, then you should speak to your vet who can check the horse out more thoroughly.
If you spend the time to get to know your horse by horse grooming, then they will respond with kindness and love.
Horses should be groomed daily if at all possible. If you are riding, it is important to groom both before and after every ride, paying careful attention to the feet. A well-groomed horse is a healthy horse. Both you and he will feel better for a good grooming.
Farrier Tools to Care for Your Horse's Hoofs
If you are a horse owner or enjoy working with horses and grooming your horse, then you may have entertained the idea of learning how to maintain a horse's hoofs. It can seem like quite an intimidating task, especially since the health of the hoof is imperative to the overall soundness of the animal.
With the right farrier tools, any task can be accomplished with relative ease.
The first step is collecting a number of suitable supplies that will help you perform basic maintenance tasks. Experienced farriers have a veritable arsenal of expensive tools and accessories at their disposal.
There is no need for you to develop a similar collection unless you are planning to take on all shoeing and hoof maintenance tasks yourself. You also might need to expand your collection if you plan to become a professional farrier.
The list we have compiled here is meant to guide you through the process of acquiring the basic tools of the trade. Each item has been carefully reviewed for its durability, functionality and effectiveness. Most items on the list are economically priced.
We went this direction with the understanding that these tools would be used by the horse owner who will only be responsible for incidental maintenance or for those who are simply wanting to learn more about being a farrier. Accordingly, you can pick up all five of these tools without breaking the bank.
What you'll have in the end is a basic farrier tool kit that will let you take care of routine hoof maintenance. The result is a healthier, happier horse. You also may find that many of these tools can be used on other hoofed animals like goats and pigs.
Farrier Tools to Care for Your Horse
Farrier Rasps
Nicholson Farrier Rasp File, American Pattern, Rasp Cut, Rectangular, 14″ Length.
This sturdy, extra-large rasp is tough enough to take on any job. It's suitable for use on draft horses, but it can be just as useful when dealing with Shetlands, pigs and goats. You may feel that it's a bit heavy, but that weight is actually to the benefit of this rasp. You won't have to use a great deal of force to get the job done. The Nicholson Farrier Rasp File is designed to slough away excess hoof material.
With the American pattern on the rasp, it's built to work with aggression. On one side of the tool are rasp-cut teeth. A density of six teeth per row instead of the usual five makes every job quicker and cleaner.
On the other side of the tool, you'll find coarse grade American-pattern teeth for filing. This will produce a rough finish that may need to be polished with a finer grit file.
This rasp is fitted with a cushion grip on the tip and handle for maximum comfort and utility. Given the roughness of the rasp and the size of the overall tool, even large jobs can be finished quickly and with ease.
As farrier tools go, this one is essential. You may find that it helps you with other tasks around the house too. People have used this particular rasp with woodworking projects and for making bows. Chances are good that you'll find inventive ways to use this durable tool.
Farrier Stand
Hoofjack Standard Hoof Jack Stand – Anyone who has ever tried to shoe a horse or simply maintain their horse's hoofs between visits from the farrier knows what a challenge this chore can be. Skilled farriers can often go about their tasks without using a hoof stand, but one of these useful tools always comes in handy eventually.
The Hoofjack Standard Hoof Jack Stand is in many ways the best such appliance on the market today. Hoofjack is a brand from the Equine Innovations, Inc. company.
They've been around since 2000 when a longtime farrier by the name of Kevin Keeler decided that there must be a better, safer, more comfortable way to work with horses. In fact, his innovation came about as a result of an injury he received while working with a horse one day. The horse collapsed, and Keeler was injured in the fall.
As a result, he devoted himself to developing a way to safely support a horse's hoof while it was being worked on. The result was the Hoofjack Jack Stand.
Over years of development, Keeler refined his design until he had a system that supported the horse's front and hind legs. The farrier no longer had to assume the weight of the horse, and the horse was more comfortable overall.
Several versions of the Hoofjack are now on the market, but the Standard is the one that is most often recommended. This hoof stand accommodates anything from a pony up to a small draft horse. The sturdy base is constructed of linear polyethylene, and it is covered by a three-year warranty against horse damage.
Two strong magnets are attached to the base so that tools like the rasp and nippers will always be within reach. The comfortable cradle safely holds the horse's leg, keeping him calm and comfortable. For just a slight expenditure, it can be vastly easier for anyone to maintain their horse's hoofs.
Farrier Nippers
Diamond 14D 14-Inch Hoof Nipper – The hoof nipper is an essential part of any farrier's tool kit. Of course, you don't have to be a farrier in order to safely and effectively trim your horse's hoofs. That's exactly what this offering from Diamond Farrier Co. is all about.
This powerful yet economical set of nippers is designed to do the heavy work for you. It's likely that you'll need to use both hands to wield this tool. It's weight and 14-inch length ensure that. You will definitely want to use your Hoofjack Jack Stand while using the nipper on your horse.
The main use for the nipper is for the removal of excess wall. Most farriers will start at the heel, working their way toward the toe. Then, they begin at the other side of the heel, once again working their way around to the toe. If your horse is showing signs of overgrown bars, exfoliating sole or shedding frog, then these nippers may be used for these tasks as well.
One word of caution: Always nip away slightly less than you believe is necessary. You can go back over the area with a rasp to smooth it later. The Diamond 14D 14-Inch Hoof Nipper is made using only high-quality steel for maximum strength and durability.
Both the jaws and handles are heat treated, and cutting edges are hardened, honed and ground to produce the most effective cutting tool for the price. The plastic-coated handles provide excellent grip. These nippers are built to withstand regular use over the course of several years.
Hoof Knife
Swiss Hoof Knife 8″ Farrier Tools Wooden Handle Premium Instruments UPGRADED PATTERN – This hoof knife manufactured by Premium Instruments features quality craftsmanship that will help this tool survive for a long life.
AISI 420 German stainless steel is used to fashion the blade, and the tool has been built to comply with the CE-Quality mark, ISO 9001 and other recognized standards of quality. The finish is highly polished so that the blade more easily resists corrosion for even better durability and performance. With a carefully shaped wooden handle, this knife is comfortable and ergonomic.
The oval-shaped cutting surface guarantees a precision trim of sole tissue every time. Those who are confident and comfortable with the use of the hoof knife will be able to use it to sculpt the bars, trim frog that is shedding and for exfoliating the sole. The quality and durability of the Swiss Hoof Knife will serve you well, and become an indispensable part of your collection of tools.
Farrier Apron
Tough-1 Deluxe Farrier Apron – This entry-level farrier apron is the perfect addition to your tool kit. It's tough enough to protect your legs from a recalcitrant horse, but still lightweight enough to be comfortable to wear. The waist and both legs on the Tough-1 apron are adjustable, so it is possible for men and women of virtually all sizes to wear them.
A sturdy knife pocket on the right leg keeps important tools always within easy reach. On the left leg is a magnet for holding horseshoe nails and other small, metal accessories. The material is mainly thick suede leather, and the knees are reinforced with fleece.
Leg adjusters are heavy-duty, chrome-plated clasps. This apron is of adequate quality and durability for anyone who plans occasional maintenance of their horse's hoofs. It also works for people who have an interest in becoming a farrier and aren't ready to invest in a more costly or even customized apron yet.
Doing anything with your horse's hoofs without protecting at least your lower body is not recommended. This Tough-1 apron is definitely up to the task of ensuring that your foray into horse hoof care does not result in an injury.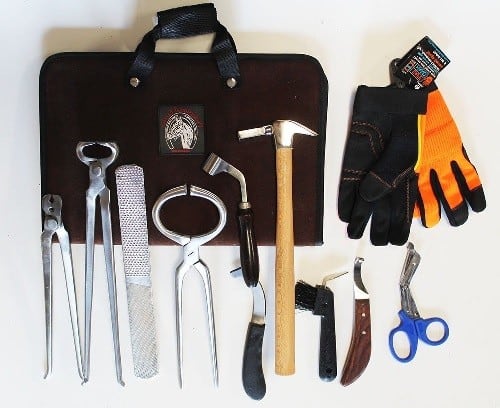 Farrier Tools Kits – Tools For the Professional Farrier
If you own a horse, then you know how critical it is to ensure hoof health. One of the best ways you can do this is by getting a farrier tool kit and learning how to use it. These tools enables you to maintain your horse's hoofs without having to call the farrier.
And make it apart of your horse grooming routine. You will likely still need to rely on the farrier for shoeing, since none of the kits that we review here includes all of the tools of the trade. Nonetheless, you'll appreciate having the ability to better care for your horse.
Farriers also may want to consider adding one of these kits to their everyday supplies. Each one contains several useful tools and a convenient case to make transportation straightforward. These kits are compact enough to travel with you if you're spending several days on the trail. They fit easily into saddlebags and knapsacks for on-the-go requirements. With these tools within reach, you'll be able to handle problems as they arise.
Horse Farrier Tool Kit
This five-piece set covers all of the basics for those who want to maintain their horse's hoofs between visits from the farrier. Each tool is constructed from vanadium steel. The addition of vanadium to steel is essential for added strength, which means that this is a durable set of farrier tools.
This particular kit is ideal and would make a great deal for someone who wants all of the basic tools of the trade. This kit includes nippers, which are essential for trimming the hoof wall so that it is the correct length. The nail pullers are specifically design to grip nail heads to make them easier to remove from the shoe crease. Also included in the kit are two hoof knives, one that is oval and another that is curved.
The clinch block can be used for nail setting while the clinch cutter, which looks like an undersized hatchet, is used to get rid of excess nail points.
Hoof knife
Shoe Puller
Hoof nipper
Rasp and Rasp Handle
Roll-up Farrier kit bag with pockets and Velcro(R) closures Handles can come in assorted colors
Each item in this kit conforms to CE, ISO 9001 and FDA standards. They are collected into a nice bag, which can easily be folded and includes a sturdy nylon handle and tie for convenient transport. You'll have just about everything you need for basic shoeing and grooming with this kit.
11 Piece Farrier's Tool Kit Set
Horse Hoof Nippers
Clincher Tester Knife
Rasp
Chisel
Shears
Floats
Equine Dental
Fold Up Case
This deluxe set has just about everything you can imagine needing to provide basic care to your horse. It includes a hoof tester, which is essential equipment for probing the horse's hoof for painful areas.
You'll also find a farrier's rasp in the kit. This tool can be used by farriers or riders who discover a rough edge on a hoof in the midst of a ride. Back at the stable, the rasp can be used for a multitude of chores. Keeping the horse's hoofs level and even is the most important one. The included chisel is perhaps more useful to the farrier than it is to the horse owner, as this tool typically is used to widen nail holes or remove embedded nails.
Another tool in this kit that is best wielded by a professional is the float. Horse teeth grow without stopping. Usually, their teeth wear down naturally through eating, but sometimes a sharp edge will develop. That sharp edge may make it difficult for your horse to eat.
She also may have a difficult time taking a bit. The troublesome tooth or teeth can be filed down with a chisel-like tool called a float. Precision and knowledge are required to do this job.
In other words, it's not something you want to attempt without having undergone the necessary training. Another important tool, the bot knife, is included in the kit.
This useful implement makes it easier to remove bot fly eggs from the legs, knees and chest of the horse. This deluxe set from comes in a handsome, roll-up kit that can be taken anywhere. The quality of the tools makes the price worthwhile.
Pro Rider Complete Farrier Tool Kit with Carrying Case Kit
A convenient bag holds eleven tools that are essential to the farrier's trade. This set from Pro Rider includes essentials like a hoof tester, nippers, rasp and a farrier's knife…and much more.
Unlike the other kits listed here, this one includes a farrier's nailing hammer. This implement typically is used to punch holes through the hoof. Claws on the opposite side of the hammer's head allow the farrier to wring off any nail tips that come through the horse's hoof.
These farrier tools kits provide you with all of the basics that you need in a quality case. Secure loops in the carrying case keep everything from shifting around. You'll always know where everything is, and be able to access each tool quickly.
Solid construction and a good reputation are yet more reasons why you might want to choose this kit to add to your personal collection. With easy grip handles and ergonomic shaping, you'll find that these tools are among the easiest you have ever used.
Taking care of a horse can seem like a daunting responsibility, but it certainly helps to have the right tools. Any of these kits could provide you with the basics that you need to provide your horse with ongoing hoof care. If you are a farrier, then you will appreciate the durable nature of these tools as well as the quality of the carrying cases. You will want to have one of these farrier tools kits always at hand whether you are a farrier or just want to take care of your horse between shoeing.
Farrier Terminology
There is a rich glossary of terminology used throughout the farrier world. Having a firm grasp of these terms can allow the enthusiast to better understand the trade. Listed below are some of the more common terms found in articles, at professional events, and within the conversations of trainers, farriers, vets, and horse owners.
This list provides just an overview of the vocabulary used to describe the hoof of a horse, and is by no means comprehensive.
Action: The way in which a horse moves during various gaits.
Bar: The section found on the bottom of the hoof and on the sides of the frog where the hoof turns inward.
Boxy Hooves: Slender, vertical hooves with a narrow frog and a heel that is closed. Also known as a clubbed foot.
Brushing Boots: An instrument used to guard a horse's leg from injuries related to brushing.
Brushing: A situation where the horse's hoof or shoe collides with the inner part of its opposite leg, typically near the fetlock joint. This is often caused by poor conformation or action.
Bulbs: The two circular bulges at the rear of the hoof.
Cast: A term referring to a horse loosing a shoe, usually by accident; for example, "the horse cast a shoe last week."
Cannon Bone: A bone found above a horse's fetlock, in both the fore and hind legs. Also known as the shank bone.
Club Foot: An alternative term for Boxy Hooves.
Coffin Bone: The bone of the horse closest to the ground. It is surrounded by the hoof capsule.
Conformation: The correctness of a horse's physical structure, including bone and muscular structure, as well as body proportions.
Coronet: The section of the hoof immediately above the hornlike growth; the part where hoof growth takes place.
Cracked Heel: A condition where the hoof is inflamed, with cracked skin and pus discharge.
Deep Going: Ground that is soft and wet, causing the hooves to sink in.
Dropped Sole: The downward movement of the front of the coffin bone within the hoof as a result of laminitis.
Farrier: A craftsman specializing in the care of horse hooves, including trimming an shoeing.
Fetlock: A joint on the leg of a horse found between the canon bone and pastern.
Flat-Footed: A characteristic of a hoof where the angle is significantly less than 45 degrees.
Founder: A condition where the laminae is inflamed; also known as laminitis.
Frog: The fleshy area in the center of the bottom of the hoof.
Heel: The rear portion of the bottom of the hoof.
Hoof Capsule: The outer portion of the hoof.
Hoof Pick: A tool used to remove dirt and other debris from the hoof.
Hoof: The foot of a horse.
Horn: The outer covering of the hoof, which is tough and insensitive.
Hoof Wall: The visible outer portion of the hoof, which is composed of horny material, and grows continuously.
Laminae: The interior lining of the hoof.
Laminitis: A condition where the laminae is inflamed; also known as founder.
Lateral Cartilages: The strips of cartilage attached to the coffin bone inside of the foot.
Navicular Bone: A bone inside of the hoof, small in size, which is found between the short pastern and coffin bone.
Navicular Disease: A disease affecting the navicular bone, where the bone degenerates, causing the animal pain and potentially causing lameness.
Nerve Block: A veterinarian tool used to diagnose the location of a horse's lameness. The tool accomplishes this task by blocking the nerves of the foot and leg in a progressive manner until the problem are is located.
Neurectomy: A medical procedure where nerves are severed which provided sensation to the foot. This procedure is used to treat navicular disease, and is also known as de-nerving.
Pastern: The section of a horse's leg above the top of the hoof and below the fetlock.
Pathological: A condition that is disease-based.
Rasp: An instrument used for shaping wood or other materials.
A farrier's rasp is used to remove excess portions of the hoof wall from the bottom of a hoof.
Seedy Toe: A condition where the laminae is separated from the hoof wall, often as a result of neglecting foot care.
Shoe, To: The process of attaching metal shoes to the hooves of a horse. This work is typically done by a farrier.
Sidebone: Hardening of the cartilage on the sides of the coffin bone.
Sole: The area of the bottom of the hoof from the front portion of the white line to the frog.
Thrush: A condition where the frog degenerates; this is usually accompanied by infection and blackening of the afflicted area; this condition often stems from horses being kept in unsanitary housing.
White Line: A structure on the bottom of the hoof that separates the sensitive areas of the hoof from the insensitive areas.
Farrier Associations
Brotherhood of Working Farriers Association
The Brotherhood of Working Farriers Association is a non-profit organization aimed at providing horse owners with accurate information on shoeing by professional farriers. This organization is the largest farrier association in the world by membership count including farriers, horse owners and members of the public interested in the farrier profession.
The Brotherhood of Working Farrier Association also promotes farrier certification and encourages horse owners to seek certified farriers when shoeing. http://www.bwfa.net/
American Association of Professional Farriers
The American Association of Professional Farriers was launched in January 2012 with the intent to promote the integrity of the farrier industry by strengthening the knowledge and skills of its members through continuing education and support at the state, national and international levels while improving overall equine health through collaboration with other industry professionals.
https://professionalfarriers.com/
Southern Farriers Association
The Southern Farriers Association is a group consisting of southern farriers whose sole mission is the better the farriers profession. The SFA also seeks to promote communication and idea exchange among its members through open dialog and friendship. https://www.facebook.com/profile.php?id=100057413743435
Southern New England Farriers Association
The Southern New England Farriers Association is a chapter of the American Farriers Association. The goal of SNEFA is to establish high ethical standards, continuously improve farrier skills through education and professional development, and to promote safe and applicable hoof care standards. https://www.snefa.org/
Western Canadian Farrier's Association
The Western Canadian Farrier's Association is a non-profit whose main purpose it is to promote excellence in the science of farriery. The WCFA seeks to inform the public and horse owners of the quality and standard of horse farriers and to better those standards of quality. https://wcfa.ca/
Brotherhood of Working Farriers Certification
There is no licensing requirements for farriers within the United States and Canada; however, several trade organizations offer voluntary farrier certifications that can give you peace of mind that you are working with a reputable professional. All certifications include written testing on topics including hoof trimming, horseshoe application and everyday hoof care as well as mastery of hands on forging skills.
The Brotherhood of Working Farriers Association (BWFA) is the oldest non-profit farrier organization in the country. Certification is offered through their Master Educator Schools and private BWFA Testers across the United States. BWFA has four certification levels.
BWFA Apprentice II Certification:
Any farrier who completes a six-week class with a reputable school is eligible. Testing includes a written exam, hands on shoeing test and a forging test during which applicants must create a simple machine-made shoe.
BWFA Journeyman I Certification:
In addition to more difficult written and shoeing exams; applicants must forge several types of hand-made shoes and perform several shoe modifications as instructed. This certification in open to farriers with at least one year of experience.
BWFA Journeyman II Certification:
Farriers must have at least three years of experience and currently work at least part-time at the trade. The written test is more technically challenging. Applicants at this level must also produce a specified corrective shoe and several others.
BWFA Master Farrier Certification:
This highest level of BWFA certification and is reserved for professionals with no less than seven years of experience who are currently working full-time at the trade. This certification requires both a written and forging test. In addition, live hand-made shoeing is required for types and breeds of horses chosen by the tester.
American Farrier Association Certification
The American Farriers Association (AFA) is one of the primary certifying organizations in the United States. For 30 years, the AFA has provided a certification program that entails a blend of standardized testing and hands-on application. 4 main categories of certification provided by AFA:
AFA Farrier Classification
An entry level certification that includes both written and practical exams on the basics of the skill.
Certified Farrier (AFA CF)
Certification is open to any farrier with at least one year of experience. He or she must pass both the written and practical exams as well as prepare and explain a display of horseshoes.
Certified Tradesman Farrier (AFA CTF)
In addition to the above tests, applicants must demonstrate skills at properly fitting a hand-made shoe during a timed test. This certification is available to professionals with at least two years of experience and have completed AFA CF.
Certified Journeyman Farrier (AFA CJF)
This most technical certification is open to professionals with two years of experience who complete the CF certification and demonstrate ability to forge and fit a corrective shoe within a time limit.
Guild of Professional Farriers Registration
The Guild of Professional Farriers is the third organization to offer a certification process for farriers. Less developed than the groups mentioned above, the Guild provides "registration" at three levels.
Registered Farrier
This registration is offered to professional farriers with at least three years of experience. It requires a written test and shoeing exam, including presentation of a shoe display.
Registered Journeyman
Farriers must have at least four years of experience, currently be working full-time at the trade and have previously passed farrier registration. In addition to a written and forging exam, the applicant must perform live shoeing.
Full Time Farrier
This registration does not require examination, but is only open to farriers who can verify that at least 70% of their annual income comes from the trade.
Farrier & Horseshoeing Schools
Meredith Manor Farrier School
Meredith Manor Farrier School will give you both the theoretical knowledge and the practical hands-on experience needed for a successful farrier career.
Farrier students gain invaluable experience working with and studying our 150 school horses of varying breeds, disciplines, and training levels including upper level dressage horses, reining horses, eventers, and more. 12 week and 36 week programs are available. Federal financial aid is available to qualified applicants.
Kentucky Horseshoeing School
The Kentucky Horseshoeing School was founded in 1978 and is dedicated to preparing students for positions in equine hoof care. KHS offers multiple course options. Horse owners looking to learn basic hoof-care can take a 2-week course, and those looking to become a professional farrier can take a 36-week course, which includes an internship. Courses combine instruction in anatomy and physiology with practical experience. https://khs.edu/
Arkansas Horseshoeing School
Paul Dorris Jr. founded the Arkansas Horseshoeing School on the idea that success as a farrier comes from proper training and an apprenticeship. AHS offers 8-week and 12-week courses. Class-sizes are kept small to allow more interaction between the students and instructors. AHS helps every student find an apprenticeship after the program is complete. https://arkansashorseshoeingschool.com/
Oklahoma Horseshoeing School
The Oklahoma Horseshoeing School begins a class every Monday, so that there is always beginner as well as advanced students at the school. Students work with real clients and their horses every day, and also receive a minimum of two hours of instruction per day. OHS offers a 2-week course in basic horseshoeing, an 8-week professional course, and a 12-week advanced horseshoeing and blacksmith course. https://horseshoes.net/
Oregon Farrier School
All instructors at the Oregon Farrier School are certified by the American Farrier's Association, and students are taught according the AFA's standards. OFS offers a 20-week advanced program, which includes course sections that teach students corrective methods for horse lameness and techniques specifically for show horses.
A 10-week internship is also offered through the school. Students that complete the advanced program and the internship will receive the Advanced Farrier Certificate. https://www.oregonfarrierschool.com/
Butler Professional Farrier School
Butler Professional Farrier School offers two separate 6-week courses. The first 6-week course teaches basic horseshoe care, preparing students to work on horses right away. The second 6-week course teaches advanced techniques that prepare students to work with lame horses or special breeds. The school bases its curriculum around the seven critical skill areas of equine hoof-care. https://butlerprofessionalfarrierschool.com/
Minnesota School of Horseshoeing
The Minnesota School of Horseshoeing is dedicated to providing students with an in-depth education of horseshoeing techniques in order to prepare them for successful careers in equine hoof-care. MSH offers a 10-week program that includes instruction in the areas of anatomy, forge and iron work, corrective shoeing, trimming, and more.
The school also offers an apprentice program to give students more hands-on experience. https://www.mnschoolofhorseshoeing.com/programs
Texas Horseshoeing School
The Texas Horseshoeing School was founded by John Burgin, who is the only instructor at the school. He believes individualized instruction is the best way to learn the farrier trade. THS offers three different courses. The 80-hour and 160-hour courses teach basic techniques. The 240-hour course prepares students for entry-level farrier work. https://www.texashorseshoeingschool.com/
Five Star Horseshoeing School
The Five Star Horseshoeing School is dedicated to providing a strong education foundation for students who want a career in farrier. FSHS offers three program options. The 6-week program is an introductory course, the 8-week program teaches students basic shoeing techniques, and the 12-week course is an advanced program that prepares students for a career in equine hoof-care. https://futurefarrier.com/
Heartland Horseshoeing School
The Heartland Horseshoeing School takes pride in providing an intense farrier program that requires hard work and dedication. There are three program options. The 8-week course prepares students for the American Farrier Association Certified Farrier exam. The 16-week course builds on the basic instruction. The 24-week course prepares students for the AFA Certified Journeyman Farrier exam, and includes an internship.
Lookout Mountain School of Horseshoeing
The 8-week course at the Lookout Mountain School of Horseshoeing prepares students for an entry-level career in farrier. The program includes classroom lectures on anatomy, conformation, and safety. Students are taught how to make many different types of shoes, including pathological shoeing. Students spend a lot of time getting hands-on training in the forge area, as well as real-life field experience. http://www.horseshoeingschool.com/
Illegal Horseshoeing: An argument against regulation
For you that are not aware, there is no legal requirement to be a farrier in the United States. In fact, any person can call themselves a farrier and hack away at a horse hoof…even if they have never even seen a horse. How is that for a scary thought?
Of course, there are a number of associations throughout the country that offer voluntary certifications programs, such as the American Farrier Association or the Brotherhood of Working farriers. These certification programs can vary slightly from association to association, but generally you must pass a physical and written test to become certified. There are a number of certifications available that start with basic entry level to advanced certifications.
Keep in mind, these are voluntary. As horse owners, we occasionally experience difficulties finding a well-qualified farrier. A good farrier may move, retire, take vacation, or become overbooked. The problem of finding a new farrier can become quite an inconvenience.
Where do you look? You can ask your fellow horse owners for a reference, check a local phone book, or look for flyers at the local feed and tack store.
However, all of these sources have one major problem… they are time consuming and offer very limited information about the farrier themselves. Not in England it is a completely different story. It is actually illegal to there to provide any farrier skills without being licensed.
At first glance, I can get on board with that. I mean after all, it's a good thing that only trained professionals are providing farrier services right?
It's the next element that causes me to stop and wonder if it is actually a good idea. Apparently, it is also illegal for a horse owner to trim or shoe their own horse. Again, that does not sound so bad. There are several horses out there with severe hoof issues because a horse owner decided to hack at their hooves because he or she saw a YouTube video.
That being said, there is something that bothers me about being told what I can and cannot do with my own horse. As long as you are proving proper care, and have the right farrier tools, is it really anyone else's business?
What really caused me to pause and think about the regulation was a shocking news story. Apparently, a farrier in Ebchester County in England was suspended for a month after he allowed his son to remove four shoes from a horse and clean them up. What is so wrong with a professional teaching his son to remove horseshoes? Is it so egregious that it warrants taking away a person livelihood for an entire month?
Obviously, I do not live in England so maybe there are some things I am missing here, but I cannot help but feeling as that I'm glad there are no regulations like that over here. As I said earlier, at first glance regulation seems like a good idea. And, I'm still not against the idea of some regulation for farriers, but the steps at which they have gone in England seems ridiculous and contrary to the American spirit.
I mean we are all adults, we groom our own horses, we have our own farrier tool kit, so should we not have the ability to determine who we want to work on our horse's hooves? I think it is far more important to educate horse owners about what to look for in a farrier.
Instead of using a stick, let's educate ourselves and select qualified farriers using out knowledge and common sense. The lousy and unqualified farriers will go out of business because no one will use them. I'm sure that someday we will see increased regulation in this area, but hopefully it will not go to the extremes, such as they have in England, and allow us the freedom to make our own choices.
The Path to Sustainability: Gardens and Orchards
The Path to Sustainability: Preparing and Preserving Fresh Foods
Everything you need to Know about Pygmy Goats
Raising Livestock is the Path to Sustainability
Guide To Raising Rabbits for Meat