I love the KA-BAR Knife! For me this is the standard by which I measure, compare and judge all other knifes.
The KA-BAR Knife has proven itself in survival situations, combat situations, work and utility situations.
It's a great knife, an incredible knife.
There are knives out there that are specially designed for a specific task/use and niche and will outperform the KA-BAR Knife for that narrow usage.
The KA-BAR Knife is does everything well but is not the master of anything.
I try to avoid any knife that is not equal or on-par with the KA-BAR Knife because I considered the KA-BAR Knife the standard.
AMERICAN MADE by an AMERICAN Knife company (Cutco Knives Corporation) in upstate New York.
I just love KA-BAR Knife.
I think KA-BAR's are a great knife especially in this price point, it's a proven knife.
It's hard to beat the KA-BAR Knife at this price point, it is an exceptional value for a knife.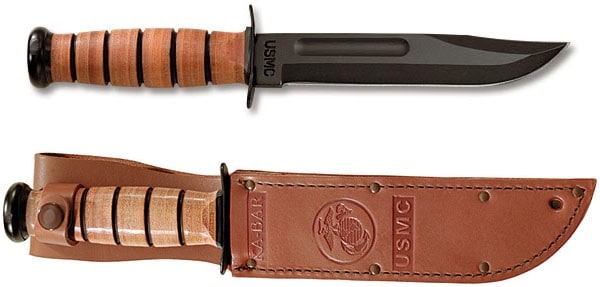 I want to say that the KA-BAR Knife is a great knife and its point break and for its intended use.
However, as a Prepper or a Survivalist, there may be knives that are just as good or possibly even better.
Now, as a personal judgment as to your specific use of the knife, for example, there's a Becker BK2 and I believe KA-BAR Knife now currently makes it.
They took over the design and manufacturing.
But this Becker BK2 is like a tank.
It is solid.
It's thick.
It's a tool.
It's a pry bar.
So maybe for some, if you want to pry things and really abuse your knife, this maybe a better choice than a KA-BAR Knife.
KA-BAR Knife
Now, just for a knife, if you are just going to fight with the knife, I would choose the KA-BAR Knife.
The Ka-Bar is more streamlined, easier to wheel, has a little bit longer blade for penetration.
So see, you got to understand the purpose.
What's the use of knife?
What's the intended purpose and use?
That's critical.
Now, I did compare it to another knife, the Cold Steel Recon Scout. Some people are calling it a Trail Master.
It's similar to the Ka-Bar, so there's a full whole grind and it's a little longer, a little different than a KA-BAR Knife.
That's why I like this Cold Steel because it is thick.
It has about the same durability, somewhere durability of the Becker BK2 and it doesn't mean that – the Ka-Bar is also very durable knife.
It's proven. But this is a little thicker and it's a little longer so it's a combination of durability and ability.
And that's why I choose the cold steel knife because preppers and survivalists have different needs.
Now, none of these knives maybe as good as some bush crafting knife if you're just going to be a survivalist and do skinning and a little – and things of that nature.
If you're not going to use it for combat and you're just in a survival thing, but there may be better choices.
I'm not saying these are the best of the best.
But these are quality, quality knives.
Now, here is another knife that is really a good quality.
It is a Randall Design Ontario.
This is not the RAT.
This is the TAK.
And this particular knife is a great knife.
This is for a specific purpose because I wanted a small, every day carry knife that I could stick easily into my expedition or bug out bag because it was easier to carry on a day basis.
It's durable, and it's smaller, shorter than any of these knives, it's even a shorter blade than the Becker BK2 and perhaps not as durable.
I don't think.
Or it's not quite as thick but this is a D2 steel.
Now, if I was going to bug out in my bug out bag, I would prefer this knife.
And I didn't have this, the Becker BK2 would work, the KA-BAR Knife would work.
All these knives are great, phenomenal knives and they fit the needs of a prepper.
And I'm talking about for prepping because here is a scenario, as a prepper, you are not in a survival situation that may last until you're rescued.
You're in a survival situation that may last the rest of your life.
You may be driven off your retreat.
You may be bugging out.
You may – if you have an inferior knife and it breaks, what are you going to do?
You can't go to the local store and buy another knife.
You can't go online and order a knife because you're bugging out.
So that's why I pick knives that I think are durable and have functionality.
Maybe the KA-Bar is not for you, I'd recommend you consider a Kukri Knife and checkout reviews of this knife.
KA-BAR Knife
Now, as a bushcrafter, you may say, "These are too big or too bulky or too heavy," or whatever.
But I'm looking for durability.
I'm looking for self-defensibly, and so I want a knife that's not going to break.
And I believe all these knives have the characteristics of durability.
They are thick knives.
The KA-BAR Knife is a little thinner but it's a good, good steel and it's proven and it will function.
These knives will function.
They're good knives.
I don't care what knife you have, any and every knife can fail if you misuse it or if you don't use it right.
Even if they just don't have – they're tools.
And any tool no matter what the quality can break.
So it's up to you to really utilize that way it was intended to use.
They're all great durable knives.
And man, I love the KA-BAR Knife.
And I have several of every knife.
I've been using this and I have used this knife for years.
I can't remember how many I have.
You can get it here by clicking KA-BAR Knife – Extreme Knife.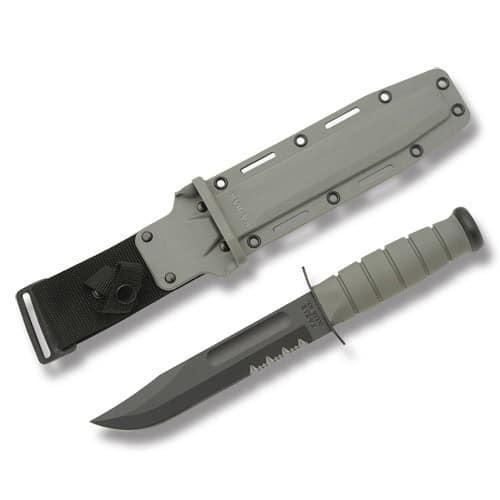 Ka-Bar Utility Knife Review
This is probably one of the most easily recognized and most famous knives in the world.
Even non-knife people would probably recognize this knife or they would certainly recognize the name.
It is of course the KA-BAR utility knife.
This knife really is what made KA-BAR Knife name.
It's what made KA-BAR's reputation and for many people, this knife is in fact the KA-BAR Knife company.
I prefer the foliage green version.
Which is a modern update on what is an absolute classic knife.
I bought this particular version because I felt it would be useful and suitable for me if I did decide to carry it out in the bush.
So we will just have a quick talk about what this particular knife has different to the original.
The original of course had the stacked leather washer handle.
This has a modern material in it which is called Kraton G and again this is foliage green.
So they're very nicely finished up.
It has got grooves and it has got a slight texture into it and just a little bit of softness to it and very, very grippy handle, very nice feeling handle in hand.
But basically the design is by and large as it used to be.
It has got a false edge up on the top.
It's flat ground and of course you can see it has got these blade grooves in it.
Stamp is on the side, made in the USA.
On the other side you can see, "KA-BAR, Olean, New York".
So this is an absolutely classic American knife.
Any serious knife collector has probably already got KA-BAR knife.
If you don't, go ahead and get yourself one.
The steel on the KA-BAR Knife is 1095 Cro-Van.
So it makes it again a good wilderness type steel.
Good tool steel that will hold up to a bit of abuse and on YouTube, you would see plenty of guys who have successfully used this knife in the outdoors splitting logs and pretty much any other task you can think of.
KA-BAR Knife Versatility
You could use it for camping, hiking, obviously military use.
I believe there are still people who carry this every day.
This is their KA-BAR Knife and probably also a service or survival knife quite adequately.
There are better options of course but this would certainly do the job for you.
Particularly the sheath that comes with this version and again it's color-matched.
I should mention there are other colors available, black handle, black sheath.
There's also a desert version which is kind of a sand color obviously to suit the current feat of military operations and the sheath is excellent, really excellent.
It's made up of fiberglass-reinforced nylon.
They are riveted and molded.
The KA-BAR Knife will fit an ambidextrous, going right or for you left handers like me, left-handed, it goes in lefty style.
The sheath has four rivets, nice and solid and grooved.
You could use some para cord for those grooves if you wanted to secure it to your leg or pack.
And little drain hole down at the bottom to let water out of the sheath.
What I'm really impressed, if you have a look at the profile that the sheath has narrowed, that is really brilliant.
This rides incredibly well on your side.
It's just a perfect sheath for this knife actually.
So the KA-BAR Knife and sheath combined, 14.7 ounces or 420 grams which considering you're talking about a full seven-inch knife.
I think that's more than reasonable. Balance on the knife is really good.
Now the balance point is just around guard so it's basically a perfect balance and you can imagine.
Not that I'm any sort of knife fighter but it's going to be a very quick knife in that sort of application.
Ka-Bar Knife quality
The quality of the knife, actually I've got to say I was very surprised at just how good quality this is.
The fit and finish is excellent.
The blade finish is a very fine black finish, very even.
Joined down the bottom towards the guard, it's all really nicely finished off.
Interestingly enough this is, as I said, a modern update of a classic but I do like the fact that it still holds skill in its manufacturing.
You can see just through the back of the pommel, that's where your tang comes through and that's actually attached with a pin.
This pin runs through and attaches to the handle and that's right from day one back in World War II.
So I really like that.
This is a combination of great old skill way of building something and craftsmanship and some modern materials.
So a perfect knife for me.
I love the color.
I think the foliage green just looks sensational and it certainly suits any environment.
So in conclusion, this KA-BAR Knife is very high quality.
The value on these is absolutely outstanding, incredible the price you can pick these things up for and an outstanding value for what you're getting.
Really great collectible.
KA-BAR Knife is a must-have for any serious knife collector to have at least one of these things.
There's, as I mentioned, various versions.
Maybe you want to get yourself one of these and actually use it for work.
You might buy a commemorative version to have in your collection and have on display.
Survival Knives Guides and Reviews:
Survival Kit for the Ka-Bar Survival Knife
Ka-Bar Becker BK7 Knife Field Test
Best Survival Knives So You Can Survive
There are numerous survival knives available on the market.
It can be confusing for you to select the best one.
Best survival knives you can buy
And now that you've read our Survival Knife Buyers Guide So You Survive Extreme Environments, if you haven't click here survival knife.
Full Size KA-BAR Knife (Straight)
A KA-BAR Becker BK7 knife is a full-size survival knife.
It's perhaps the most efficient survival knives ever made, and my personal favorite.
The survival knives were initially manufactured to be used by American troops in World War II.
Although the design of the knife is the same, its performance has improved considerably.
These beautiful survival knives are something of an heirloom and you will want to pass it down to your children.
Its superior quality and design makes it a deadly combat knife and can also be used to skin animals.
The KA-BAR survival knife comes in two blade variations, the straight blade and the straight blade with serrations.
The survival knives are manufactured in the good'ole USA by Cutco Knife Corporation in New York State.
The design speaks for itself.
It is made to be reliable, has superb balance and a comfortable grip.
The design on the knife also features a USA stamp on the blade itself by the hilt.
Specifications of the KA-BAR
The total length of the knife is measured at 11 7/8 inches and weighs approximately 0.70 pounds.
Apart from the blade under the handle, the 7" blade is manufactured using 1095 Cro-van carbon steel.
This is a high-performance carbon steel which is easy to maintain and sharpen but can rust if exposed to the elements for too long.
The blade can also be used to shave armpit hair, just in case you want to check how sharp it is.
But if you think it isn't sharp enough, you can sharpen it easily using a great knife sharpener.
The knife's curved and flat grind design also makes it an ideal knife.
You can use it to skin deer or dress it.
The best thing about this knife is that it has a full tang blade which is an absolute must if you talk about survival knives.
Full tang knives provide superior power and durability.
The knife has an excellent synthetic rubber handle grip.
The leather washers given on the handle allows the knife to be held firmly even with sweaty palms.
You may not fall in love with the sheath of the knife as it may even be considered the least exciting part of the knife, but hey you could always replace it with a better quality sheath so that should not deter you from the actual product.
Here is a great review Survival Kit for the Ka-Bar Survival Knife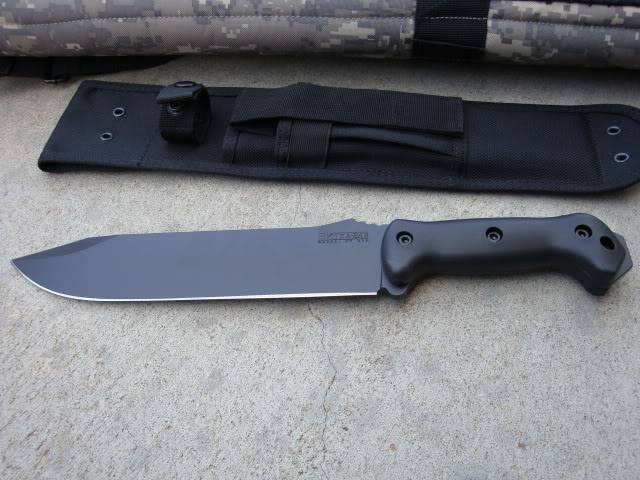 Ka-Bar Becker BK9 Bowie Fixed Blade Survival Knives
Ka-Bar BK9 Bowie Survival Knives are manufactured using 1095 CroVan carbon steel and is ideal for using in a range of survival situations.
The blade itself measures at 3/16" and is pretty thin but strong which can be used for a number of different applications including chopping.
Its deep edge blade design can also be used for precise and adequate slicing tasks.
These Survival Knives are equipped with a thumb ramp which can be seen on the spine of the knife.
Some like the thumb ramp, others like myself find that after using it it cause a great deal pain in our main thumb joint.
The handle of the knife provides for a solid grip which prevents thumb tearing.
Ka-Bar Becker BK9& additional specifications:
Blade Dimension: 9 Inches, Thickness 3/16
Weight: 1.15 lbs
Length: 14 3/4 Inches
Grivory handle , Full Tang
The BK9 Combat Bowie Survival Knives have a sleek short clip blade edge renders it perfect for piercing and other gruesome applications such as digging and prying.
Plus, the knife's full tang includes a specially designed butt augmentation which allows it to be used for a number of hammering applications as well.
The knife's thin blade design provide added comfort when performing hammering, piercing and chopping or slicing tasks despite the blade's vibration.
Consider the Bowie a multipurpose, large Survival Knives tool.
The Bowie handle is made with detachable Swiss Grivory slabs with three screws used to attach the slabs.
You can detach the slabs with a screwdriver if you want to customize the knife handle.
The Grivory is constructed using superior quality fiberglass nylon, which is both comfortable and firm, and users experience no fatigue at all carrying or using the knife.
The sheath of the Bowie is designed to be durable and made of kydex and nylon and also features a pocket for a knife sharpener or a small flashlight.
I've carried either one, but usually a small flashlight.
But if I do carry a knife sharpener I carry the Gerber 31-001270 Bear Grylls Field Sharpener.
As impressive as this may sound, the overall look and feel of the sheath cannot be compared with the BK9's quality and look.
Survival Knife Buyers Guide So You Survive Extreme Environments
According to various survival experts around the globe, the most important tool or item in your survival kit is a dependable survival knife.
It is easily the most useful thing when it comes to surviving in extreme environments.
You can use it as a weapon to hunt small prey and as also as a tool for different applications.
So, it is imperative that you choose the right survival knife when looking for proper survival gear.
Believe it or not, it might just save your life.
But, like any tool it's only as good (or effective) as the hand and brain that uses it.
What a survival knife should do
A good quality survival knife can be used to perform multiple functions in difficult situations like:
Chopping wood
Building a shelter
Preparing food
Signaling, with a polished blade
Starting a fire
Using as a hammer
Skinning animals
Prying something open, if necessary
Now, you have to make sure that your knife can indeed be used for all the functions mentioned above in a reliable way.
In the wild your knife will be your best friend.
You will be depending on each other.
The knife will depend on you for proper use and you will depend on for its functionality and reliability.
You will need a knife that you can rely on, so it's time to take things a bit more seriously.
This survival knife guide aims to help identify the most important attributes in a quality survival knife.
So consider the following 5 features when selecting a survival knife.
And in full disclosure, let me say right up front I'm a huge fan of the Ka-Bar Survival knife.
It's not perfect and it's not the end-all-be-all, but for it does everything I need it to do well enough for me to have a chance to survive.
While not included in the top features of a survival knife, and for a good reason, a folding knife makes a bad choice when it comes to survival knives.
Almost every survival expert agrees that a folding knife is not a versatile as a fixed blade nor as strong.
No matter how strong it appears it will at some point in time break, all folding knives weaken and are weak at the joint.
It can break easily as compared to one that has a fixed handle.
But you can always take a folding knife as a backup option or when doing tasks which requires a shorter blade.
Survival Knife Buyers Guide – Top Things to Look for in a Quality Survival Knife:
Knife Tang
Ever notice the part of the knife's blade that elongates into the handle?
That's called the tang.
Under the handle of the knife, the tang extends to the tip of the knife and is made of steel.
Bear in mind that the tang and the blade are not different pieces of steel.
The tang which elongates all the way to the end of the knife's hand is referred to as a 'full tang'.
A full tang survival knife is considered by many survival experts as the perfect choice when selecting a survival knife.
A fully extended tang adds more strength and durability to the blade, lessening or even zeroing its chances of breaking as compared to a knife with a shorter tang.
Survival Knife Size
A majority of survival knives are between 5 to 12 inches in length.
Any less than 5 inches and it might not help you perform functions like chopping wood or prying things.
But, on the other hand, if you buy a blade which is bigger than 10 inches, you will have a machete on your hands.
But we are talking about survival situations, and a blade this long would only get in the way.
A big blade is hard to control and wield.
But, depending upon the terrain and my needs, I do sometimes have needed and used a bushwacker machete.
Survival Blade Design
The design of the blade is also argued amongst various users, but it mainly depends on what you will be using the knife for.
Here are some factors to consider when it comes to the design of the blade:
Survival Knife Blade Edge
When it comes to blade edge, the debate is between straight and serrated blades.
A smooth straight blade will be useful for chopping wood and doing intricate work.
Plus, it is much convenient to clean and sharpen.
And due to the fact that it is straight, you can use any stone to sharpen it.
So don't worry if you lose your blade sharpener stone.
When it comes to serrated edges, you might want to stay away from them in survival situations.
While a serrated edge holds up well for many tasks, it requires a unique sort of blade sharpener and it isn't easy to sharpen the serrated blades when you're out in the open.
Unless you will be cutting rope on your journey, you won't miss a serrated edged knife.
Spine of the Blade
It is good to find a knife that has a flat spine (the back of the blade), preferably without any serrations.
A flat back blade makes it easy to crack wood and you will be able to use it with fire steels to make fire.
The spine of the blade depends on what you use it for.
For example, there are double-edged spear point and tanto knives used by the military for close-quarters combat.
But it will do you no good when having to survive in the wild.
Although you can use tanto knives to fatally wound animals, you can't chop or split wood with it.
Clip Point Blade
A clip point blade is shaped concavely so that the tip becomes thinner and ultimately sharper.
The back blade of the clip point is usually sharpened to create a double edge.
When you sharpen a clip point's wrong edge, it becomes ideal for piercing and thus can be used for skinning small animals.
You can also use the sharp tip to pierce holes in cramped places.
As an example, the Ka-Bar Survival Knife has a clip point.
Drop Point Blade
A drop point blade's back edge is designed to hunch downwards from the middle to join with the curved edge of the blade which is above the middle of the knife.
What's more interesting is that all well-known survival blades and knives have this shape.
Knife Blade Grinds
The grind on the knife can tell a lot about the purpose of a particular survival knife's design and what it should be used for:
Scandi Grind
The scandi grind is like a straight grind with only one difference: the bevel starts in the middle of the blade and not on the back of it.
But a grind like this is designed to add durability to the blade but it falls back on cutting abilities a bit.
Still the scandi grind is usually used for survival knives.
Hollow Grind
A hollow grind is designed to give a concave attribute to the knife with a beveled cutting edge.
The design is similar to the one used in straight razors used normally for shaving.
But the problem is that a hollow grind has a weak edge.
Although it is really sharp, it would require stropping repairs.
And you won't find a grind like this on survival knives.
High Flat Grind
A high flat grind is comparable to a flat grind with the exception that a flat grind is not designed to travel all the way to the spine.
Hollow grinded knives have another bevel at the edge.
The second bevel could either be scandi or a convex.
Full Flat Grind
In this grind, the blade narrows down to the spine from both the sides of the blade.
In the process, a significant amount of metal is removed.
This is why it isn't considered to be a proper survival knife.
Because much of the metal is removed to make the blade sharper, its durability drops considerably.
The Finnish Puuko is a perfect example of a full flat knife.
Full Convex Grind
Instead of narrowing down the blade with straight lines, the taper is given a curved shape.
This allows the blade to retain a proper amount of metal, making the edge more powerful and deadly sharp.
This type of grind is often used to make axes and is also referred to as an axe grind.
Blade Metal
There are two types of steel used for manufacturing survival knives, pure steel and carbon steel.
Each type of metal has its own merits.
The type you choose depends on what you need the knife for.
Stainless Steel
I am not a fan of stainless steel knife blades on a survival knife.
Stainless steel can be okay when you are in areas which is marine or harsh environment like a coastal areas.
Stainless steel lasts ridiculously long and does not rust.
Plus it is a durable metal.
But in terms of sharper and stronger edges they don't hold a candle to carbon steel blades.
Carbon Steel knives are strong and durable as compared to its stainless steel counterpart.
Plus, most survival experts say that carbon steel blades are convenient to sharpen.
The only disadvantage the blade has is it can easily rust.
So, you have to take care of it.
Knife Handles
Knife handles also vary in terms of the materials used, some are made of leather, hard rubber others use durable plastic, strong wood or micarta canvas.
In terms of handle materials, all of them are good but it depends on how much you sweat.
If you have sweaty hands, it is a good idea to go with a rubber grip.
Be sure to look at the handle, if the handle is hollow, it is clear that both the blade and metal inside the handle are separate, which could end up breaking, not ideal for surviving conditions.
Plus, if you are keeping something important inside the handle of the knife and if the handle breaks away, you could be in an awkward situation.
So, try not to pick hollow handle knives.
They are not easy to grip and not even comfortable.
Hollow handle survival knives come with a compass attached at the bottom, so forget hammering anything because you will break the compass and risk getting sidetracked.
If you want a compass then buy a durable one which is waterproof and break proof.
Always look for a survival knife which has a whole body, meaning the metal inside the handle and the rest of the blade should be one.
Search for knives which have micarta canvas handles.
They are much more comfortable and durable.
So, the next time you decide to upgrade your survival kit and plan to replace your old survival knife, be sure to keep the above mentioned factors in mind before buying a survival knife.
Best EDC Everyday Carry Knifes Review
KA-BAR Knife Standard of Excellence
Ka-Bar Becker BK7 Knife Field Test