Last Updated on
There are numerous survival knives available on the market.
It can be confusing for you to select the best one.
Best survival knives you can buy
And now that you've read our Survival Knife Buyers Guide So You Survive Extreme Environments, if you haven't click here survival knife.
KA-BAR Full Size Fighting Survival Knife (Straight)
A KA-BAR Becker BK7 knife is a full-size survival knife.
It's perhaps the most efficient survival knives ever made, and my personal favorite.
The survival knives were initially manufactured to be used by American troops in World War II.
Although the design of the knife is the same, its performance has improved considerably.
These beautiful survival knives are something of an heirloom and you will want to pass it down to your children.
Its superior quality and design makes it a deadly combat knife and can also be used to skin animals.
The KA-BAR survival knife comes in two blade variations, the straight blade and the straight blade with serrations.
The survival knives are manufactured in the good'ole USA by Cutco Knife Corporation in New York State.
The design speaks for itself.
It is made to be reliable, has superb balance and a comfortable grip.
The design on the knife also features a USA stamp on the blade itself by the hilt.
Click here for the world famous KA-BAR Survival Knives Special Pricing
Specifications of the KA-BAR
The total length of the knife is measured at 11 7/8 inches and weighs approximately 0.70 pounds.
Apart from the blade under the handle, the 7" blade is manufactured using 1095 Cro-van carbon steel.
This is a high-performance carbon steel which is easy to maintain and sharpen but can rust if exposed to the elements for too long.
The blade can also be used to shave armpit hair, just in case you want to check how sharp it is.
But if you think it isn't sharp enough, you can sharpen it easily using a great knife sharpener.
The knife's curved and flat grind design also makes it an ideal hunting knife.
You can use it to skin deer or dress it.
The best thing about this knife is that it has a full tang blade which is an absolute must if you talk about survival knives.
Full tang knives provide superior power and durability.
The knife has an excellent synthetic rubber handle grip.
The leather washers given on the handle allows the knife to be held firmly even with sweaty palms.
You may not fall in love with the sheath of the knife as it may even be considered the least exciting part of the knife, but hey you could always replace it with a better quality sheath so that should not deter you from the actual product.
Here is a great review Survival Kit for the Ka-Bar Survival Knife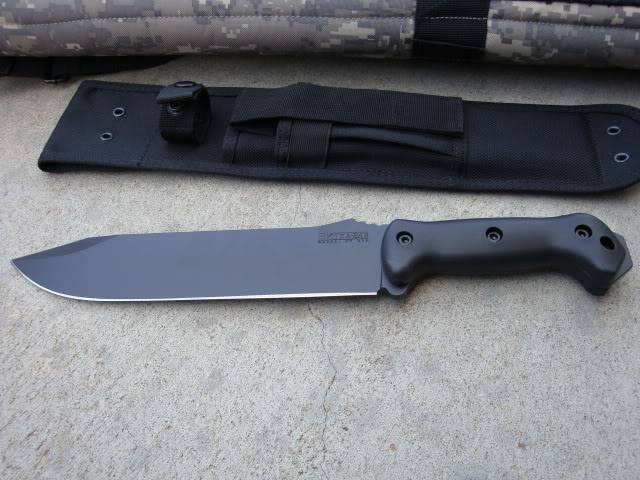 Ka-Bar Becker BK9 Bowie Fixed Blade Survival Knives
Ka-Bar BK9 Bowie (Check Prices) Survival Knives are manufactured using 1095 CroVan carbon steel and is ideal for using in a range of survival situations.
The blade itself measures at 3/16" and is pretty thin but strong which can be used for a number of different applications including chopping.
Its deep edge blade design can also be used for precise and adequate slicing tasks.
These Survival Knives are equipped with a thumb ramp which can be seen on the spine of the knife.
Some like the thumb ramp, others like myself find that after using it it cause a great deal pain in our main thumb joint.
The handle of the knife provides for a solid grip which prevents thumb tearing.
Ka-Bar Becker BK9 additional specifications:
Blade Dimension: 9 Inches, Thickness 3/16
Weight: 1.15 lbs
Length: 14 3/4 Inches
Grivory handle , Full Tang
The BK9 Combat Bowie Survival Knives have a sleek short clip blade edge renders it perfect for piercing and other gruesome applications such as digging and prying.
Plus, the knife's full tang includes a specially designed butt augmentation which allows it to be used for a number of hammering applications as well.
The knife's thin blade design provide added comfort when performing hammering, piercing and chopping or slicing tasks despite the blade's vibration.
Consider the Bowie a multipurpose, large Survival Knives tool.
The Bowie handle is made with detachable Swiss Grivory slabs with three screws used to attach the slabs.
You can detach the slabs with a screwdriver if you want to customize the knife handle.
The Grivory is constructed using superior quality fiberglass nylon, which is both comfortable and firm, and users experience no fatigue at all carrying or using the knife.
The sheath of the Bowie is designed to be durable and made of kydex and nylon and also features a pocket for a knife sharpener or a small flashlight.
I've carried either one, but usually a small flashlight.
But if I do carry a knife sharpener I carry the Gerber 31-001270 Bear Grylls Field Sharpener.
As impressive as this may sound, the overall look and feel of the sheath cannot be compared with the BK9's quality and look.
Light My Fire Swedish FireKnife (Fixed Blade)
The Swedish FireKnife is a wonderful camping knife made in collaboration by two companies, Light My Fire and Mora, a Swedish company.
Mora from Sweden has been in the knife manufacturing business for over 120 years.
The Light My Fire Swedish FireKnife (Check Prices) is more than just a handy knife.
Although it is really sharp and durable, the most interesting feature of the knife is its fire starter located at the base of the handle.
Simply put, you can use the knife to skin, gut and clean a fish and also light a campfire using the fire starter.
All you need to do is split the kindling and light a fire.
It is a great outdoor tool.
The knife is reputed for aiding in several tasks while on a camping trip but can also be taken along on a hunting expedition.
The Swedish FireKnife amalgamates dependability through its fire steel and a superior cutting blade to bring you an all purpose tool.
To build a campfire, all you need to is take out the fire starter from the bottom of the handle and slide it forcefully against the back of the blade and presto, there's fire.
Light My Fire Swedish FireKnife Benefits
Sharp and durable blade designed by Mora.
High-friction rubber handle, which is easy to hold and work with.
Sheath with clip for mounting
FireSteel remains unaffected in extreme weather conditions and in water.
The FireSteel produces a 2980°C spark to light a fire.
Available in 3 colors.
Blade Length: 3.9″ (10 cm)
Dimensions (in sheath): 8.9″ x 1.8″ x 1.2″ (22 cm x 4.5 cm x 3 cm)
Weight (w/ sheath): 3.4 oz. (94 g)
Knife Length: 8.5″ (21.5 cm)
Light My Fire Swedish FireKnife Specifications
So, there you have a detailed description of some of the world's most incredible survival knives.
Choose one from the list and rest assured it will aid you on your next camping or hunting expedition.
This is not a recommended Survival Knife per se because it is a folding survival knives, but it is a great tool that I personally use and carry in my bug-out pack.
Kershaw Ken Onion Blur Folding Survival Knife with Speed Safe
The Kershaw Ken Onion Blur folding knife is a tactical blade which has a Speed Safe installed for added protection.
The Speed Safe design provides for a safe and quick release of the blade from its fold.
You can open its release using either your left or right hand.
This makes the knife ideal in different hunting or sporting scenarios where you can open the knife with only one hand if the other is occupied.
So when you go hunting or fishing, you don't have to worry about using both hands to use a knife.
The blade is priced around $59 here on Amazon.
Specifications of the Kershaw Ken Onion Blur
The Kershaw Ken Onion Blur blade is manufactured using 13c26 stainless steel which is rust and corrosion proof.
The blade is designed to be sharp and brutal with added durability and reliability.
The 13c26 stainless steel is renowned for being deadly sharp, and unlike a plethora of survival knives and combat knives, this particular knife does not need to be sharpened before its initial use.
The knife is measured at 3-3/8 inches long and the blade is designed to be partially serrated and is a tanto blade which is perfect for piercing and sawing tough materials.
The tanto design is meant to provide brute strength for puncturing thick objects such as wood and animal skin and bones.
The total weight of the knife is approximately 4.2 ounces.
The entire casing and the handle of the Kershaw Onion Blur knife is made of anodized aluminum which provides for a firm and solid grip and frame.
You can hold and use the knife safely without injuring yourself.
The handle is manufactured using complex materials to provide the user a safe and firm grip, even in the most severe and intense conditions and scenarios.
The handle also has a Trac-tec grip installed that provides the users an extra firm grip.
The main benefits of the knife include speedy release of the blade, thanks to the Speed Safe torsion bar mechanism which allows users to release the blade using just one hand.
It has a wonderful grip, even in rainy weather.
The blade is incredibly sharp and durable and does not require frequent sharpening no matter how roughly you use it.
Survival Knives Guides: