Last Updated on
Country gardens are not just for vegetables.
There's so much more you can do.
Just in time for our first snowfall, I got our vegetable patch put to bed for the winter.
As I was working, I realized that in spite of the colorful veggies and herbs, I had really missed having a flower bed.
Along with food production, beautiful scenery is an important part of a wellness sanctuary and rural living too.
We didn't have flower beds around our house yet, but I'd intended to plant a rainbow-colored band of flowers around our country gardens.
Somehow time got away from me, and with my focus on growing fruits and vegetables, I just never planted the flowers.
Starting a country garden
With just some basic supplies, like a great pair of pruning shears, you will be well on your way to a beautiful landscape and Country Gardens.
That winter, as I prepared my seed orders for spring, colorful flowers were at the top of my list.
Not only do I love their outdoor display, but to me, one thing that says "country kitchen" is a large pitcher stuffed with multi-colored fresh flowers.
Another plus is that colorful flowers attract industrious bees, beautiful butterflies and interesting birds to the garden.
In addition to keeping a garden, many find beekeeping to be a fascinating hobby.
A country garden also lends itself to multiple income streams.
Country Gardens aren't just for vegetables
Acquiring seeds
You can buy flower seeds locally in the spring, or you can order them from seed companies throughout the year.
There are catalogs full of beautiful photos and descriptions.
It's easy to build a list of favorites, especially noting the ones native to your geographic region and climate.
You can even find seed mixes for flowers that attract butterflies and hummingbirds.
Be sure to check your local library. More and more of them are letting you "check out" seeds for flowers, produce and plants native to your area.
Growing flowers to cut
Flowers that last well in indoor bouquets are often described with the words "cut flowers" or "cutting garden."
In some catalogs, they're designated with an image of a pair of scissors or a vase.
Some seed companies sell "cut flower garden" packets containing seeds for a variety of flowers.
Another way to discover long-lasting cut flower varieties is to visit a local flower shop or the website of an online florist.
There you can peruse bouquets and arrangements designed by professionals who know which blossoms have staying power.
For accurate information on gardening, I like to consult online educational articles from universities and extension offices.
Gardeners.com offers many tips for raising cut flowers.
One tip is pick your flowers often which causes them to produce more.
They also advise on smaller spaces. You can start a successful cutting garden with up to 20 plants in just a 3 foot by 6 foot raised bed.
One publication I found, Maintaining a Succession of Cut Flowers, lists many varieties ideal for cutting.
This year, I made a pledge to plant a colorful cutting garden each year — eye candy that will do my heart good!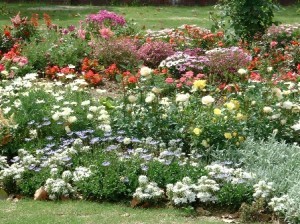 Getting Ready to Grow Some Groceries
We are getting antsy to get our country gardens going. Though there's still some snow in the forecast and spring won't arrive for a few more weeks.
We've been pacing out the garden area and getting ready to start some seeds indoors.
Last year was our first for our country gardens at our new place.
Due to other urgent projects, we got a late start, but fortunately spring arrived late, too.
Since it was our "test drive" in a new climate zone, we started slowly with several different veggies and herbs grown in small scale.
We experimented with rows, hills, and raised beds and tweaked our drip irrigation system.
Afterwards, we realized that dill and mustard are too tall to grow in our waist-high raised beds.
Also, we couldn't even dig up all our garlic—some was so firmly embedded in rocky soil.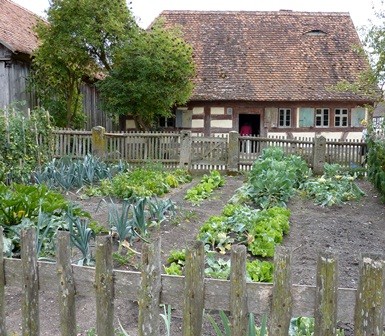 We took note of what really grew well, what didn't quite flourish, what worked and what didn't.
Between our experience and conversations with neighbors, we learned what to generally expect during a shorter but warmer growing season than we're accustomed to.
Maximize The Space In Your Garden
Expand and Grow More Varieties
This year, we're ready to expand a bit more, grow a few more varieties, and plant more of everything.
We're still eating some frozen veggies and using dried herbs from last year but ran out of other things months ago.
This time, we want to grow enough for the full year.
We like starting our plants from seed.
Last year we were limited to four south-facing windowsills.
This year we attached lights to the underside of some closet shelves.
We'll be able to get quite a few seeds going.
It's not too late to start!
We're planting the first seeds this week.
How about you? Will you be growing some food in your country gardens this year?
We'd love to hear about your plans in the Comments.
The Fruit Gardener's Bible: A Complete Guide to Growing Fruits and Nuts in the Home Garden
Gardening in the Snow
Yes, I have been gardening in the snow. I'm not talking about checking the garlic plants under their deep white bed.
And unfortunately, we didn't get around to fixing up a cold frame and no longer have fall stragglers surviving in our raised garden bed.
The other day I was out in the snow sowing seeds!
Last summer and fall, I collected seeds from several types of wildflowers growing on our property.
I wanted to plant them in a few areas around our living area where our clearing and leveling had eradicated whatever was growing there before.
Only the lupines seemed to survive the turmoil of the soil.
I'd planned to plant the wildflower seeds in the fall, but our chickens were having such fun wandering around in the fall sunshine that I didn't want to pen them up yet.
And I knew they'd eat any flower seeds they could find.
It's kind of a good thing I didn't sow seeds in the fall, because we had an unusually dry period between November and January.
Gardening with Heavy Snowfalls
Heavy snowfalls just didn't come.
Seeds would have been sitting on the ground in plain sight.
I can pen up my chickens, but the wild birds are another story.
They would have scarfed up any seeds they found.
It seems like spring planting time is just around the corner.
But some of my seeds need to have a cold winter nap.
They actually benefit from several weeks of chilling.
This part of the dormancy phase, called stratification, can be artificially provided in a refrigerator or a cold building.
But when possible, I prefer to let nature do its job.
Where we live, it's common to scatter hardy seeds before the first big snowstorm of the fall.
In a normal year, the seeds literally chill out under a layer of snow much of the winter.
As the snow melts, it carries the seeds down into the soil, moistening and softening the seed coats.
The seeds settle there and wait for spring thaws to wake them up.
As it turned out, this was not a normal winter.
But finally now in mid-January we are getting another wave of measurable snowfall.
So in between storms, I went out and raked snow away, scattered the seeds, and raked some snow back over them.
Sure enough, the next snowfall settled that layer down and nicely tucked the seeds in for a chilly snooze.
I can't even tell there are seeds under there, can you?
I don't think the chickens will, either!
Hopefully I'll see green sprouts in the spring and a variety of wildflowers all summer.
If not, there's always next year!
Celebrating Real Food!
You know, eating real food that's real good for you.
According to the Food Day website
"Food Day's goal is nothing less than to transform the American diet—to inspire a broad movement involving people from every corner of our land who want healthy, affordable food produced in a sustainable, humane way.

In other words, we want America to eat real.

We want to get Americans cooking real food for their families again.

We want fewer people at drive-through and bigger crowds at farmers markets.

Let's celebrate fresh fruits, vegetables, and healthy whole grains—and to support the local farms and farmers that produce them.

Wouldn't it be great for all Americans—regardless of their age or income or geographic location—to be able to select healthy diets and avoid obesity, heart disease, and other diet-related conditions?!"
In a similar vein, Slow Food USA recently launched a $5 challenge: create a SLOW FOOD meal for $5 or less, the cost of a FAST FOOD meal.
From www.slowfoodusa.org:
"The organization, a national non-profit working for good, clean and fair food for all, is encouraging people across the country to cook slow food that costs no more than five dollars per person.

Slow food – the opposite of fast food – is food that is good for those who eat it, good for farmers and workers, and good for the planet.

"Slow food shouldn't have to cost more than fast food.

It's time we take back the 'Value Meal,'" said Josh Viertel, president of Slow Food USA.
Slow Food's challenge and Food Day got me thinking of a further challenge: Create a slow food meal of local foods for $5 or less.
And then, an extended challenge: if we've raised our own meat and produce, how about creating a slow food meal of homegrown foods for $5 or less?
I'm up for the challenge! How about you?
Start by thinking about what you may have grown yourself and what's available locally from neighbors, farmers' markets, or savvy supermarkets that stock local products.
Be creative—how can you combine some of those products into a tasty and satisfying meal?
Granted, this might have been easier during the summer when many backyard gardens were producing fresh salad ingredients and farmers' markets were at their prime.
But still there are stored or processed foods and fall-growing crops to help.
Here are some examples:
A soup or stew can be created with several different veggies.
Add a local source of protein—eggs, cheese, legumes, meat, poultry, or game—and you've got a complete meal.
Ditto with a main dish salad, especially if you've still got greens and other veggies growing.
If you are a fan of bread or rolls with every meal, one of the challenges might be finding local flour or grain to grind.
If you can't think of a substitute and must have your bread, at least you can make most of your meal with local ingredients.
As I'm writing this, I'm planning a Food Day $5 homegrown slow food meal. My experimental patch of soup beans was not a stellar success, but I did manage to get enough beans for one pot of soup.
We had a good crop of potatoes and several other veggies and herbs.
To complement the beans' protein I can also choose from eggs and meat from our own chickens.
This is the first year I could ever say this, but from garlic and onions to chicken and beans, we can create a tasty hot meal using only ingredients from our backyard.
If I hadn't raised enough myself, I could buy other locally grown products in my community.
If the local grocery stores all shut down, we'd still be able to eat some good meals.
That's a good feeling!
Extended-season gardening information
Thinking about starting your plants early in the spring?
Want to make harvest last longer in the fall?
Wish you could pick fresh greens in the middle of winter?
Extended season gardening for Growing Fresh Vegetable in Fall and Winter
Many of these concepts and materials will also work in spring.
Gardening Books
The Year-Round Vegetable Gardener by Niki Jabbour
Four Season Harvest
The Winter Harvest Handbook
Gardening Articles
Sow Seeds for Fall Garden from National Garden Bureau at GRIT Magazine
Cold Frame Gardening at Kitchen Gardener Magazine
Top Tips for Great Fall Gardens by Vicki Mattern at Mother Earth News
Expert Advice for Greenhouse Growing by Harvey Ussery at Mother Earth News
Grow Your Own: Winter Lettuce and Microgreens
Natural Lawn Care Tips and Hacks
11 Herbs for Indoor Container Growing
Fall crop schedule and other tips
DIY Structures for your Country Gardens – plans, instructions
Extend Your Growing Season by Barbara Pleasant at Mother Earth News
Use Low Tunnels to Grow Veggies in Winter: Quick Hoops by Eliot Coleman at Mother Earth News
Make an Easy, Inexpensive Mini-Greenhouse With Low Tunnels by Barbara Pleasant at Mother Earth News
Very clever, very simple cold frame from 5R Farm
Make a Cold Frame for Herbs (great cold frame info for veggies too) by Barbara Pleasant at The Herb Companion
Cold Frame Plans (wood) by Betsy Matheson Symanietz at Mother Earth News
A Cold Frame to Build (straw bales) by Paul Gardener at GRIT
Cold Frame Gardening at KitchenGardenerMagazine
Planning and Building a Greenhouse from Maryland and West Virginia Cooperative Extensions
The Benefits of Building a High Tunnel by George Devault at GRIT
Remember, country gardens are just that — filled with sprawling, brilliant flowers, fruits and vegetables. You can enjoy them all year long.