There are as many as 150 different types of basil plants, with sweet basil being the most popular for culinary purposes. Beyond sweet basil, cultivars like Thai basil, Genovese basil, Greek basil and lemon basil are also in demand.
Easy to grow, basil belongs to the mint family, which encompasses a broad range of herbs including mint, rosemary, lavender, and sage.
Basil is characterized by its distinct aroma which is both sweet and spicy, and a complex taste that's peppery with hints of mint and anise. The herb is quite versatile, and it's a delicious addition to salads, soups, pesto, salad dressings, and sauces. Basil leaves add flavor to many foods and cuisines.
Below, I will help you learn about the most popular basil varieties, including:
Green-leafed
Purple-leafed basil
Basil with purple flowers
Basil leaves are the most popular part of the plant for cooking, but basil flowers can be used as a garnish or a unique addition to salads. They're edible.
Add some spice to your foods and drinks with by trying types of basil. Some varieties, such as Boxwood basil, Purple Opal, Purple Ruffles basil, and Dark Opal, also popular to grow for an edible, ornamental plant.
This herb is ideal for container gardening, especially the varieties that grow smaller such as Summerwood and Greek basil. It's a warm weather plant that thrives in full sun. It's frost sensitive. A few types can grow as perennials in growing zones 9 – 11, such as Cinnamon basil. Days to maturity are 60 – 90 days.
Types of Basil
With so many to choose from, you're bound to come across several types to add to your garden. Each type has a unique appearance and flavor, but some are more popular than others for culinary applications.
All of them do well in containers, making them ideal for kitchen counters, patios, and balconies.
Green Basil
Sweet Basil
This by far the most popular basil variety, and it's prized for its sweet and mild flavor. Sweet basil is the green basil you will find in stores and restaurants.
It has a vibrant green color and large cup-shaped leaves. This variety is ideal for making pesto, sauces, and marinades. It's the most common basil you'll find in grocery stores when buying it loose leafed or as a plant.
Grows 12 – 18 inches tall
It can grow 10 – 14 inches wide
Edible, white flowers
Some other varieties of basil that have a sweet flavor include:
Genovese – stronger flavor and aroma than sweet basil
Lettuce Leaf
Napoletano basil – bit spicier than sweet
Italian large leaf
Persian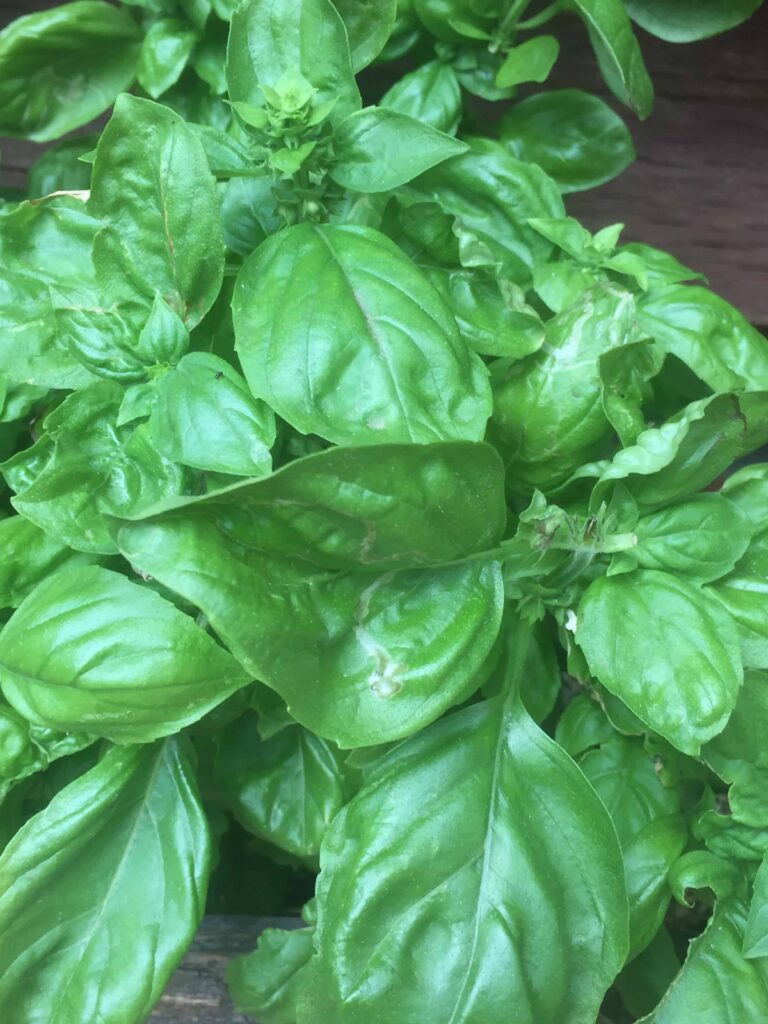 Genovese Basil
A close relative of sweet basil, Genovese basil is known for its huge leaves and rich dark green color. Genovese is the best basil for pesto. It's ideal for Italian dishes, and its flavor is stronger and more aromatic than sweet basil.
Unlike sweet basil, with it's cup-shaped leaves, the leaves of a Genovese basil plant are larger, flatter, and feature a more pronounced point.
Known as the classic Italian basil
Extra large dark green leaves
Spikes of flowers are pink and white
Ideal for tomato sauces, pesto, salads
Lemon Basil & Lime Basil
These two types of basil have become quite popular, and they're popping up at more garden centers each season. As their names entail, they feature a strong citrus aroma with subtle citrus notes in the flavor.
These fragrant, sweet and citrusy basils are ideal for salads, desserts, and teas. Many gardeners grow both varieties and use them together so the citrus notes of each herb can play off each other.
Ideal to add to dishes you would use limes or lemons or other citrus
Lemon basil is native to northwestern India
Ideal to make potpourris, tea, herb vinegar, vegetables, fish, and chicken
Grows 16 – 20 inches tall
Boxwood Basil
This type resembles boxwood plants in that these plants grow bushy. It's a great edible, ornamental addition to a garden. These are very productive plants producing a large quantity of leaves.
Spicy Globe Greek Basil
This is an ideal type of basil to grow in a small container. It's mature spread is 6 – 8 inches wide and 8 inches tall. Use the tiny leaves as a garnish and to enrich salads, meats, and soups. It enhances dishes such as soups, salads, and even meat dishes.
Holy Basil
Used in Indian cuisine, and Hindu culture and Ayurveda. It's common to use in Thai food as well as in teas. Many people use this type of basil for medicinal purposes. The leaves have a sweet, spicy and musky scent.
Persian Basil
The Persian variety has large, flat green leaves with serrated edges. The leaves taste sweet. It has purple flowers.
Flower spikes grow small, purple tubular flowers. Like with all varieties, harvest before the flowers bloom to keep the plant from bolting and to keep leaves from turning bitter.
Grows to 1 foot in height
Grow as culinary herb as an an ornamental plant
Flowers later than other basil varieties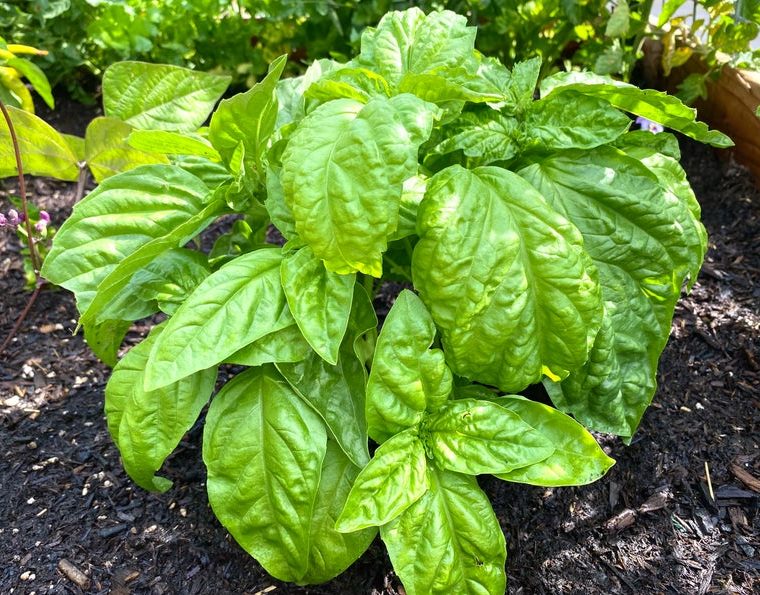 Lettuce Basil
One of the most interesting and versatile basil varieties, lettuce basil looks entirely different from most basil plants. Lettuce basil grows low to the ground with floppy leaves with distinct wrinkles. Unlike most basils which have leaves that are an inch or two long, lettuce basil grows enormous leaves that can grow as long as ten inches.
This basil type has a mild flavor, and its large size makes it ideal to replace bread, like you would with a lettuce wrap.
French Basil also called Summerlong
Summerlong is a French basil. It doesn't bolt as early as other basil varieties. It grows bright green and shiny leaves.
10 inches in height
4 – 6 inches spread making it ideal for pots
Cinnamon Basil
This basil smells like cinnamon. It's perfect to add to teas. It grows medium-to-dark green leaves. It resembles a cross between a basil and mint plant. Leaves have somewhat serrated edges like mint leaves.
Grow up to 3 feet tall
Purple stems and veins
Grows purple flowers
Perennials in growing zones 9 – 11 if protected from frost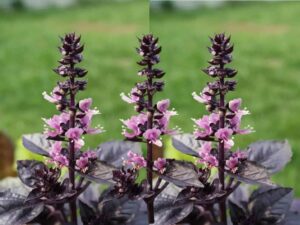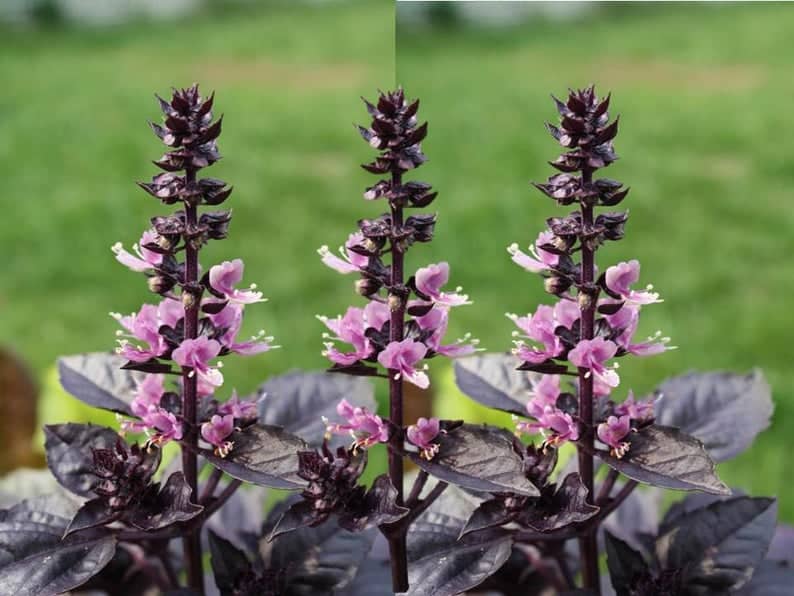 Purple Basil
There are many types of purple basil. Some have dark purple, almost black leaves, purple stems, and some have purple flowers.
While all types of basil are edible, some gardeners like to add visual interest with purple varieties. When it comes to Purple Basil vs Green Basil, varieties that are purple are often used in flower arrangements, as garnish, and for ornamental purposes to add visual interest to gardens.
Dark Opal
Dark opal is a great addition for ornamental purposes as visual interest to gardens. It's ideal to use in stews, pesto, pasta, and salads.
Dark colored leaves are purple and black
Similar to purple ruffles basil
Grows to 24 inches in height
Bright pink flowers on spikes
'Round Midnight
This purple leaf basil has shiny leaves and light purple flowers. It grows 10 – 12 inches with a 8 – 10 inch spread.
Cardinal Basil
This type of basil produces reddish-maroon flowers. It adds color to herb gardens and flavor on the table with it's spiciness. Use Cardinal basil in salad dressings and vinaigrettes.
Thai Basil
The perfect addition to Asian dishes, Thai basil is a favorite of Thai and Laotian cuisine. It has a dark coloration, and its flowers are a deep purple color. Compared to other basil cultivars, Thai basil is spicier with a strong anise flavor.
This variety also holds its flavor at high temperatures must better than other types of basil, so it's great for dishes where you're looking to preserve a strong basil flavor.
Dark green pointed leaves
Some leaves have hints of dark purple
Dark purple flowers
Spicy, licorice taste
Adds to Asian dishes
Good basil to cook at higher temps still keeps it's flavor
Siam Queen Thai Basil
A type of Thai basil, Siam queen has green leaves and dark purple flowers. It takes 60 days to harvest and can grow to 2 feet tall.
Purple Opal Basil
The Purple Opal basil is a beautiful and unique varietal that's immediately recognizable thanks to its rich burgundy color. Purple basil is very fragrant and less sweet than other varieties. It has a strong clove flavor and it's most commonly used as a garnish to add a pop of color to a dish.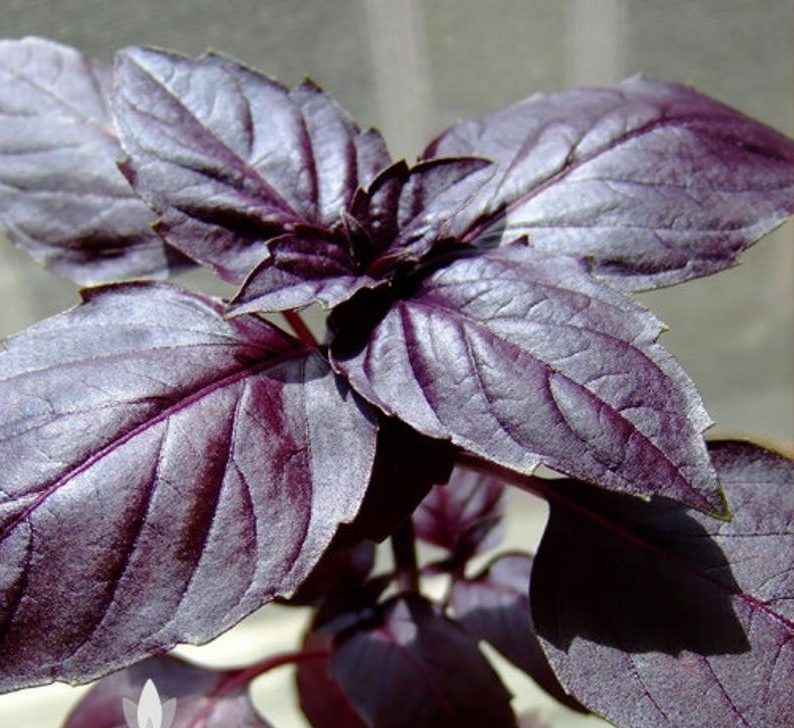 While most purple basil wears the burgundy color, about one in five purple opal plants are either green or green striated with burgundy. In a garden, it lends a nice contrast that makes your garden look even beautiful.
Purple Ruffles basil
Along with it's dark colors, this purple basil grows leaves with ruffled edges. It has a licorice type flavor. Add a beautiful leaf as a garnish. It is gorgeous in gardens and containers.
Grows 2 feet tall
Has pink and white flowers
Ararat Basil
This type has green and purple leaves and small purple flowers. While it's edible, it's also used to enhance flower arrangements. It has a slightly sweet flavor with hints of licorice. Use it as you would sweet types for a different taste.
African Blue Basil
One of the tallest types of basil, African Blue basil grows to 4 feet. It can grow as a perennial as long as there is not threat of frost. Use this type to add flavor to meat dishes, vegetables, rice and quinoa.
Basil with Purple Flowers
These basil types have purple flowers. Some of them have purple leaves and some have green leaves.
Cinnamon basil
Purple Opal
Thai Basil
Siam Queen Thai
Persian Basil
'Round Midnight
Ararat Basil
Basil Types by Leaf Size
Here are some types by size of leaves.
Small leaf basil types include:
Lemon basil
Dwarf basil
Bush basil
Spicy Globe basil
Large leaf basil types include:
Sweet basil
Italian Basil
Lettuce Leaf
Basil vs Sweet Basil
It's fun to grow these plants because they are easy to grow and produce a lot of leaves. Choose a sweet variety if you want a less strong taste. Sweet basil is the most common type of basil found in stores (grocery stores, hardware stores, etc.) in the United States. Once you get it going, branch out to other basil varieties.
There are some other types that taste like lemon, lime, cinnamon and licorice.
Growing Sweet Basil and Other Types
If you are new to homesteading or to gardening, start by growing a basil plant. It's super easy to grow and take care of. You can soon prune it and grow additional plants. Each will have a distinct taste and will add to the the flavor of whatever you are making. Soon, you will have a bounty of leaves and a large basil garden.
It stores well so you can harvest it and learn how to dry basil. You can also preserve the leaves by freezing in olive oil or in water.
Basil Plants for Sale
In the spring, you'll find different types of basil available in garden centers, nurseries, and home improvement stores. You can also find growers selling them on Etsy year round.
Throughout the year, you may see sweet types of basil plants for sale in your local grocery store or stores like Walmart, in the produce department. If you see organic basil plants for sale, choose them over non-organic.
An alternative to buying a basil starter plant is to grow basil from seed. This is a good option if you want to grow a certain type of basil but you can't find it locally. Check your local nursery, home improvement store, or order online. No matter what type of basil plants you want to grow, be sure to buy organic seeds. For the negligible price difference, it's definitely worth it for non-GMO seeds.
Whether you start with a starter plant or grow different types of basil from seed, once you have healthy plants thriving, you can learn how to harvest basil and how to prune basil so you can root and grow more plants. You can grow them outdoors in temperate climates and indoors year round in colder areas. In this way, you can enjoy fresh basil all year.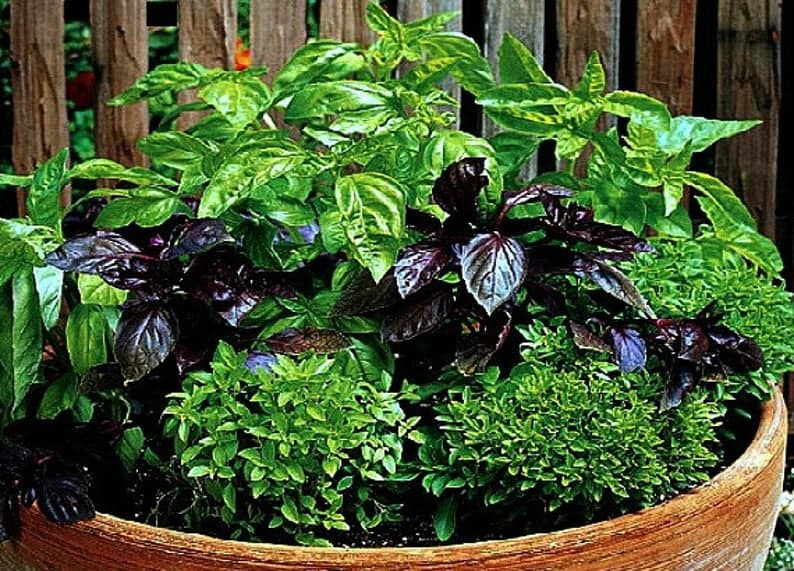 What is Basil
Basil belongs to the genus Ocimum, derived from the Greek ozo which means to smell. It is a delicious sun-loving herb that humans have been cultivating for over 5,000 years. The plant is native in Asia and Africa. Basil was brought from India to Europe in the 16th century, and to America a century later. It didn't take long for basil to reach all corners of the globe, and it's been embraced by countless cultures as a staple of their cuisine.
Beyond its use in the kitchen, basil has a rich history within many cultures. It has been found in the tombs of ancient Egyptian mummies, where it's been used as an embalming agent. In Greek culture, basil is widely used in cooking, and as a symbol of mourning where it's considered a royal herb. Basil is also central to Ayurveda, the ancient traditional medicine of India.
Different Types of Basil
There are many different types of basil plants. All of them grow easily. Learn how to harvest basil so it will continue to grow new leaves.
While basil grows best outdoors in sunny conditions, it also does quite well indoors with enough light. This helps explain the popularity and availability of this herb throughout the world. Areas with a climate that isn't conducive to basil growth can easily cultivate beautiful plants inside the home or in a greenhouse.