Backyard Homestead – A lot of the time, when people are beginning with their homestead, it's difficult to know which direction to go in.
One thing that's usually pretty helpful is if you can get one good book that covers a variety of subjects in enough depth for you to give it an experimental try.
The Backyard Homestead, edited by Carleen Madigan, is one of those books. But not only is it a book, but it is also a guide that helps you plan actionable steps. Want to know how?
From a quarter of an acre, a backyard homestead can harvest
1,400 eggs
50 pounds of wheat
60 pounds of fruit
2,000 pounds of vegetables
280 pounds of pork
75 pounds of nuts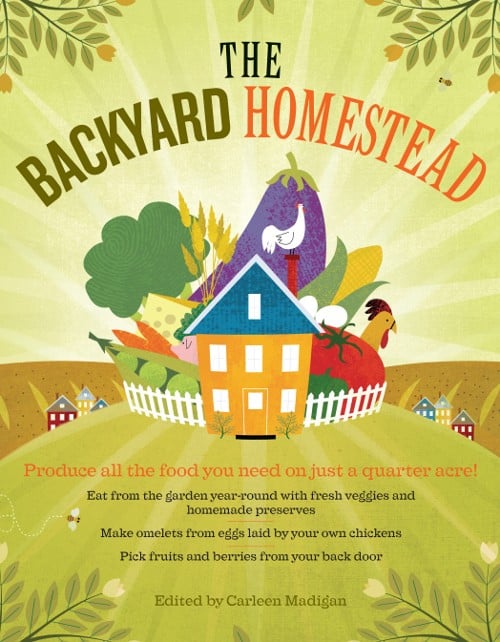 The "Foot-in-the-Door" to Homesteading
The Backyard Homestead covers a myriad of topics including an A-Z veggie guide, basic fruit growing, grains, nuts, herbs, poultry for meat & eggs, livestock for meat and dairy, beekeeping, homebrewing, and more.
Particularly helpful is the way the book is laid out.
Each section not only has the information you need, but charts, diagrams, calculations, comparisons, and pretty much anything else you need to get started.
Practical Help You Can Put Into Action
For example, a common question when people are looking to start gardening on a serious food-production level (as opposed to recreational) is how much do I grow?
That question is not an easy one to answer, but they have a good list of veggies, and how much space to allot per person you are growing for.
Not only does it teach you how to produce these goods, but also what to do with them.
It includes recipes, instructions for preservation, and tons of illustrations that demonstrate how to do things, instead of just using words to describe the process.
Particularly of interest to me was one section with a visual layout of how you could produce quite a bit of food on a quarter acre lot (the above example).
This is particularly encouraging because many people feel like they can't homestead because they live in the city or that it isn't worthwhile – but truly, you can really do a lot with a small space.
The Backyard Homestead by Carleen Madigan is a Keeper
I will be keeping this book close at hand in the next few years as I continue to expand my homestead and my skills.
The beauty of The Backyard Homestead book is that it contains enough information to get you started and going in the direction you want, but it doesn't have excessive information that you might not be interested in.
For instance, it has quite a bit of information on getting started with cheese making, including basic hard and soft cheese recipes.
I myself am quite interested in cheese making, but I would probably be overwhelmed if I had 100+ recipes to choose from, especially since I'd mostly be interested in a basic farmhouse cheddar anyway.
All in all, this book is a great investment and has lots of up-to-date information about a good variety of different topics.
If you are looking for a resource that will help get you off to a running start on your homestead, look no further – this is exactly what you need.
So Much Sky by Karen Weir-Jimerson
A visitor to Karen Weir-Jimerson's Iowa farm got out of her car and remarked, "You have so much sky." And so was born the name of Karen's book, a collection of "essays on the fun and folly of living in the country."
In the book's introduction Karen says, "I may have grown up in town, but I'm a country girl now.
On three acres in rural Iowa, I've experienced about everything the country has to offer. Serene summer days with an orchestra of happy crickets, to towering thunderstorms that produced winds strong enough to flatten our windbreak and grove."
As a columnist for Country Home and Country Gardens magazines, Karen has written about everyday happenings and notable events in her Slow Lane features.
Recently she gathered a selection of those and other stories and published them in a book.
So Much Sky is arranged in four sections, one for each season of the year. There are stories of:
New spring flowers
Summer parades
Autumn harvest
Winter snows
The animal kingdom is well represented, with features about wild animals, farm livestock, and domestic pets.
Descriptions of colorful flowers, stories from the veggie patch, and observations from a preschool bulb-planting project cover the world of gardening, one of the author's favorite writing topics.
The author shares both joys and challenges of rural life with amusing and touching stories from the antics of her two sons to the routine daily chores she and her husband perform on the farm.
Karen's anecdotes and recollections have the capacity to transport the reader to a farm out in the country. Reading them, one could imagine being there and experiencing the sights, sounds, smells, and surprises of rural life.
So Much Sky also presents a representative sample of the broad range of experiences and responsibilities of life on a farm and the pace of rural communities.
It would be enjoyable reading for anyone who is interested in the country lifestyle–appreciating nature, raising animals, or producing food or flowers in the garden. You can purchase a copy for yourself or a friend.
Book Review – The Gardening Notebook
I seem to have gardening notes all over the place! And I can't always find what I'm looking for. Have you (like me) thought about organizing your garden notes but never gotten around to it?
Texas gardener Angi Schneider has just the solution for us! The Year-Round Vegetable Gardener By Niki Jabbour
The Gardening Notebook
Released as an ebook, The Gardening Notebook is part intro to gardening, part info on plants and methods, and part organization tool.
In addition to some good informative reading, Angi presents a collection of printable worksheets that we can use to put together our own gardening notebooks.
Just print out the pages you want to include and put them in a 3-ring binder, spiral binding, file folder, or other system.
The best thing about The Gardening Notebook is that you can pick and choose, using the info pages and fill-in forms however you like to create your own personal gardening resource.
From year to year you can track your seed sowing schedule, gardening expenses, even pests and other problems you encounter.
New to gardening? You'll find basic info on gardening, soil preparation, and how to grow vegetables, fruits, and ornamental plants.
Trying to figure out when to plant what? Check out Angi's monthly garden calendar and planting schedule according to frost dates and USDA hardiness zones.
Wondering about the needs of specific plants? Angi has put together information on culture, problems, harvest, and storage for a number of different plants.
For other plants, just print out some fill-in plant profile pages and add the information you want to record.
Looking for resources? Throughout The Gardening Notebook, you'll find links to helpful articles, tutorials, charts, and other guides to help you make gardening decisions.
Wondering what your USDA planting zone is? Just click a link. Trying to find your local extension office? You can click your way to that info too.
Something for every gardener
I've been gardening for decades and now I think I've hit a gold mine for compiling all my garden records in one place. For the beginning gardener, The Gardening Notebook is a great starting point for collecting ideas and recording the first year's experiences.
Book Review How to Move to the Country.
How to Move to the Country
Are you wondering what it really takes to move to the country and live happily ever after? We have to get out of here! Patrice and her family left behind crazy commutes and what they called "running in place" in the big city.
Once they realized "We have to get out of here," they made their move to the country.
Their path was not a bed of roses, however, and this book is an honest description of the ups AND the downs of rural life.
Says Patrice, "I am frequently asked what it takes to escape an urban or suburban environment and move rural." She decided to offer a primer on how to move to the country.
Three stages in the journey
How to Move to the Country is set up in four parts: an introduction and a section for each of three stages in the journey from urban to rural.
The Introduction includes the story of the Lewis family's personal experience moving from city to country. Also included are candid views of "The Good," "The Bad," and "The Ugly" of country life.
We'd also recommend finding someone who will support you through this process of country living.
Stage One Journey
Preparing includes encouragement to spend pre-move time getting into a stable financial position and learning new skills needed for a rural life. Evaluating your wishes for a future homestead and listing priorities are also suggested.
Stage Two Journey
Ready to Buy we find a rundown on considerations for purchasing a rural homestead or piece of land. Where to find property listings, family preferences, and the all-important reconnaissance trip are discussed.
Stage Three Journey
Living in the Country gives readers a glimpse of the culture of rural communities and how life differs from that in the city.
Additionally, there are lots of great tips on getting acclimated in the community and on your new farm or ranch.
The big picture
How to Move to the Country definitely provides a broad picture of what rural living is all about. If you're "on the fence" about making the move, this booklet may help you make a decision.
If you're already on your way–or even already living in the country.
You will surely find a few new ideas to implement. The Fruit Gardener's Bible
The Fruit Gardener's Bible: Complete Guide to Growing Fruits and Nuts in the Home Garden
Usually we review books based on reading the content. But this time we had an additional approach – we happened to be planning some pruning and planting of fruit trees, grapevines, and bramble bushes.
So we put The Fruit Gardener's Bible to good use.
Our first project was pruning some damaged trees.
Due to rambunctious dogs, marauding deer, gophers, and general establishment issues, some of the fruit trees we'd planted last year were looking sad by winter's end.
The Fruit Gardener's Bible contains thorough information about pruning as well as excellent illustrations and diagrams.
But more importantly, the author put us at ease by indicating that routine pruning includes trimming off branches and twigs damaged by wildlife.
What we were doing was not unusual. Before planting our new trees and berry plants, we used the book as a guide for our soil preparation and planting.
Again, we were not disappointed with the information and detailed instructions contained in the book.
From planning to planting to harvest… and more!
The Fruit Gardener's Bible is divided into four parts: Getting Started with Fruits and Nuts; The Small Fruits: Berries, Bushes, and Brambles; Tree Fruits and Nuts; and Growing Healthy Fruits, Nuts, and Berries.
Part one is a general introduction to fruit and nut plants, a guide to selection, and seasonal care.
How do I plan an orchard?
How much space do fruit and nut trees need?
When should I prune?
It's all there, along with diagrams of sample planting arrangements and advice on fitting fruit and berries into a small yard.
Parts two and three include a chapter for each fruit and tree nut family. For each group, there is information on planting, care, and harvest. The book is full of beautiful color photos and sketches.
Helpful charts include Fast Facts and Tips for Growing various fruits and nuts.
In part four we were pleasantly surprised to see some wonderful info on soil improvement, pest management, and dealing with wildlife.
A helpful glossary follows this section, explaining the definitions of many terms used in the book.
Egg Float Test And Other Methods Of Checking Egg Freshness
Plenty of new information
We've been growing tree fruits and berries since childhood, but still we had a lot to learn from The Fruit Gardener's Bible.
For instance, careful spacing can maximize pollination by honey bees. Marigolds planted among strawberry plants not only attract beneficial insects but may also help repel soil nematodes.
We didn't know that apples should be stored separately from all other fruits and vegetables.
According to The Fruit Gardener's Bible, "Apples give off ethylene gas, which can cause other fruits to ripen more quickly, potatoes to sprout, and carrots to turn bitter."
Apples can also be affected by other produce. "Potatoes can give apples a musty flavor. Strong odors from cabbages and turnips and onions can be absorbed by apples and pears."
So this book is a big help not only in our garden, but in our root cellar and kitchen as well.
We declare this gardening book to be a keeper!
Next, check out Backyard Homestead Guide to Raising Farm Animals which we review below.
Backyard Homestead Guide to Raising Farm Animals
The best restaurant in town? Well yes, in a manner of speaking.
This delicious breakfast—plus lunches, dinners, and snacks—can come right from your own backyard!
According to The Backyard Homestead Guide to Raising Farm Animals, "On as little land as one-tenth of an acre, you can raise healthy, productive barnyard animals and take a big step toward food independence."
Plus the Ultimate BBQ Grilled Rib-Eye Steak recipe.
And this book tells us how to do that!
Each chapter is full of helpful information, facts, and tips. Though we already knew a lot about chickens, we learned some new things about them. And in preparation for bringing porkers home to our farm, we carefully read the chapter on pigs.
The first chapter, "Introducing Backyard Farm Animals," includes such topics as the whys of raising food animals, finding stock, and transporting animals.
There's a guide to preparing a home for the new stock, including checking zoning laws, meeting facility requirements, and informing the neighbors.
The next chapter is titled "How Many Animals Can You Keep?" and contains sketches of several possible backyard livestock configurations.
There are drawings for one tenth of an acre, a quarter acre, and a half acre.
Each design is labeled with the quantity of each animal that could potentially be housed on that property.
Assuming that most livestock keepers also like to grow vegetables and fruit, each diagram also includes garden beds and trees as well as the family home and yard.
Details on Raising Livestock
Those two chapters are followed by nine chapters devoted to specific individual animals or groups: chickens, turkeys, ducks and geese, rabbits, honey bees, goats, sheep, pigs, and dairy cows and beef cattle.
Each livestock chapter includes information on selection, housing, and basic care and feeding.
There are also guidelines for processing meat or harvesting products such as eggs, honey, and wool.
Illustrations of housing, handling, feeding options, and animal body parts accompany instructions and how-tos.
Learn about miniature cattle breeds and see how they are ideal for many compact farms.
After that, you can consider getting a guardian livestock animal. It's amazing what you can do in a small space.
Beautiful full-color illustrations
One of the highlights of the book is a three-page full color pullout illustrating 28 examples of livestock breeds suitable for backyard production.
On the flip side of the pullout is a description of each of the illustrated breeds.
At the bottom of these pages is a lineup of all but one, arranged by size from a five-pound Araucana chicken to a half-ton Highland Cow.
Only the tiny honey bee does not appear there.
The book concludes with a thorough, helpful glossary and a great resource list that includes books, magazines, websites, suppliers, and breed organizations.
We have reviewed some awesome books that are chock full of solid information, how-to steps, and helpful illustrations.
The Backyard Homestead Guide to Raising Farm Animals is no exception.
Storey's Basic Country Skills: A Practical Guide to Self-Reliance
If we were limited to only one reference guide to rural living, this would be it. As the title implies, this book includes an introduction to many skills needed to develop a self-sufficient lifestyle.
John and Martha, founders of Storey Publishing, collected information from 150 experts to present step-by-step illustrated instruction and tips on a myriad of topics.
This is not a new release. But it's very relevant today and chock full of basics for rural life and the urban or suburban "country home at heart" where self-sufficiency is valued.
In fact, much of the book's information and instruction can be applied to any home.
And most of our readers will enjoy the sections on large livestock, fields, and outbuildings even if they don't have space for those projects.
Practical Guide to Self-Reliance
What Backyard Homestead contains:
Four sections cover the country home; garden, yard, and orchard; cooking and stocking up; and livestock and their needs.
Spread throughout the book you'll find everything from basic home maintenance to growing and preserving vegetables to milking a cow and building a barn.
The descriptions, explanations, and instructions are accompanied by illustrations, charts, diagrams, and examples of layouts.
For almost six decades I've lived in homes with wood stoves and wood burning fireplaces.
But I still had a lot to learn from the chapter on Heating Your Home.
Some topics covered here are how wood burns, how to clean a chimney, and what's in a cord of wood.
I even think I could follow their instructions for sharpening an axe and maintaining a chainsaw.
One of my newest gardening passions is raising herbs.
Storey's Basic Country Skills has a chapter called The Herb Garden where recipes for herbal vinegars and herbal soap are scattered among descriptions of 32 common herbs and how to grow them.
There are even diagrams for a first aid garden and a cold and flu garden!
This book is for everyone!
Storey's Basic Country Skills reminds me of a fascinating multi-room house with countless intriguing nooks and crannies to explore.
No matter what it is that interests, challenges, or puzzles you in your rural life or dreams, you're sure to find this book enlightening and a great addition to your library.
See for yourself how versatile a book Basic Country Skills is!
Storey's Guide to Raising Pigs
Storey's Guide to Raising Pigs
While there are many similarities in the care and management of livestock, each one has its own unique set of requirements.
When we decided to get our first pigs, we started reading everything we could find in preparation.
So Storey's Guide to Raising Pigs was a timely book for us to review.
We really needed all the information and would be applying it firsthand.
This book covers all aspects of care and management of pigs.
It also includes great info on breeds and various facility options.
Right off, the helpful introduction gives the reader a foundation of information about pig history, meat production, and general porcine facts.
A section called Hog Myths dispels some of the age-old stereotypes about pigs.
Did you know that pigs don't wallow in mud because they like to get dirty?
Actually, since they don't perspire, that's how they stay cool.
The concept of pigs being dangerous stems from encounters with feral hogs in years gone by.
Modern domesticated pigs are actually quite docile.
Chapters of this book are devoted to hog breeds, raising pigs, home butchering, showing pigs, and business aspects of a hog operation.
More chapters cover facility preparation, breeding stock, management and health care.
The final chapter, titled "Day-to-Day Life with Hogs," is chock full of additional tidbits of info.
The appendix features calendars, forms for record-keeping, a glossary, and a resource list.
If this book doesn't cover all the bases, it sure comes very close.
Text is accompanied by photos and diagrams, and Storey Publishing's hallmark sidebars of information are present throughout the book.
This edition of Storey's Guide to Raising Pigs is a more updated version of the original.
Author Kelly Klober, who has raised hogs for over thirty years, has done a great job of updating information and adding new material.
In our opinion, Storey's Guide to Raising Pigs lacks only one "how-to."
The other day we were in dire need of a quick tutorial in "how to chase an escapee piglet around your 3-acre property."
We're happy to say we succeeded in cornering little piggy and returning him to the pen.
And thanks to Storey's Guide to Raising Pigs, we knew exactly how to carry him.
Grabbing ears and legs is okay, but one should never support a pig by the tail, which is part of the spinal system.
Mangalitsa Pig | Are They the Best Choice for Your Homestead?
Best Weed Killer: Complete Reviews With Comparisons
Ayam Cemani – The Rarest Chicken in the World