Best Kitchen Curtain Color to Buy For Your Kitchen – Kitchen window curtains are a very important buy because the kitchen is an important room. Many people tend to overlook the kitchen where décor as such is concerned, taking it to be a very utilitarian and practical room.
Thus, while the kitchen is always well organized, it is seldom decorated, even though the rest of the house is. People tend to think that it is alright to just keep a kitchen clean and neat.
However, with new trends and concepts of home décor, it is important that the kitchen be remodeled as well, to suit the rest of the house where interior décor is concerned.
The easiest way to do this is to hang window curtains in the kitchen. In fact, any room can be instantly made to look appealing and inviting by just hanging curtains. Curtains are an inexpensive way to ensure that a room gets a makeover.
Best Kitchen Curtain Color to Buy for Your Home
When you want your kitchen to look pretty, buy kitchen curtains and valances for it. A kitchen needs pretty decor just as much as any other room in the house but unfortunately, more often than not, the kitchen goes unnoticed and neglected when it comes to home decor.
This is because the kitchen is considered to be a room of practical purpose. It is a room where the food is cooked and thus, no one really thinks about decorating it as such, the effort is more put into keeping the room neat and clean.
However, think about it – if you have well decorated and aesthetic kitchen, the chore of cooking food for the family on the daily basis will be something that you look forward to, for a beautifully done up room is a joy to be in, does not matter what room it is.
Every day, the kitchen sees daily activity for the entire day, it is never a room which remains unoccupied.
Therefore, it is a home owners duty to ensure that the kitchen is well done up with kitchen curtains and valances. What are valances?
They are essentially items of home decor that were popular in earlier days because they served as a way to camouflage the curtain rods which might look unsightly.
However, valances are now very much in vogue because they look elaborate and flamboyant and the swirls of cloth make the rooms look pretty ornate without much of an effort.
Valances can be used as solo items of decor or they can be paired with curtains in the similar or contrasting shades.
Kitchen curtains and valances are especially interesting because they make the kitchen look elaborate.
Kitchen curtains and valances should be bought in materials that are sturdy.
Think chintz and cotton, not lace and silk because these two materials are highly flammable while the former kind of materials are brilliantly sturdy and perfect for kitchen decor.
They will not only keep prying eyes out of the kitchen, save your kitchen furniture from the hot sun, but also make the kitchen look classy and well decorated.
Choose beautiful colors for the best effect and go online when you want to shop for them.
Another option is to make them at home, in which case you will be able to dictate cost and pattern as well.
When you are buying kitchen curtains and valances keep in mind the needs of your kitchen and budget.
Also do keep in mind that if you have a small kitchen, valances might not be ideal because they can make the room look significantly smaller.
However, if you do have a small kitchen and yet want valances, choose to have them customized so that they look lovely and fit your kitchen in the ideal manner.
Choose ones without much fuss, and you can always go for either of the two – either valances or curtains, instead of both together. Choose what is best for your kitchen and you will not be disappointed and will look forward to cooking!
Best Kitchen Curtain Color Red Kitchen Curtains Make your Kitchen Vibrant
Red kitchen curtains are a fabulous addition to any kitchen and they would make for quite a vibrant look, especially if the kitchen is done up in a very dull and staid manner, as kitchens generally are.
A kitchen is usually left out of the purview of home or interior decor because kitchens are considered to be rooms that are only to be used for practical purposes. A kitchen is a utilitarian room yes, but that does not mean it should be left out of home decor in anyway.
And let us face it, curtains are the easiest way to make the kitchen – and indeed any room – look bright without an extra effort or expense.
Red Kitchen Curtains
All home makers and even interior decorators will agree to this, buying curtains for the house as a quick fix-me-up for it, will make sense instead of spending a lot of money on painting the walls or buying new furniture or accessories.
In addition, curtains are important for the kitchen in so many ways. They keep the neighbors out – they keep out prying eyes and protect the privacy of the home.
You would not want your neighbors to be taking a peek at you when you stumble into the kitchen, bleary eyed and drink your morning cup of joe, do you?
Well, this is why kitchen curtains are important and if they are red kitchen curtains then you will have a bright and vibrant kitchen to boot.
Red kitchen curtains are the best way to add color to the kitchen – there is a variety of different shades of red available and there is a wide variety of choice.
Red is a very vibrant shade in itself and the hues that are now available as color choices are even more so. For example, red is a very umbrella and generic term.
If you want your kitchen to look bright and vibrant with loud colors then you can choose vermilion red, fire engine red, tomato and vermilion red.
Red kitchen curtains will give the kitchen a very different look and will wake it up, literally.
If you like softer reds then you can choose carmine, crimson, rum red, maroon, magenta, light pink etc. and you can choose different curtain patterns to bring out the colors.
Red kitchen curtains are best contrasted with whites or creams if you do not want the kitchen to be very bright in its decor.
Red kitchen curtains are very easy to accessorize as well and this makes sense if you have a kitchen which is in desperate need of re-decor and remodeling.
Red kitchen curtains are easily available as well – you can buy them online where you will get a wide variety of different designs and patterns.
You can easily make your own as well by buying fabric.
Different styles like valances, tiers, swag curtains and tiered curtains will give a kitchen enough decor options and make it look vastly appealing to those who live in the house and the guests who visit.
Red Kitchen Curtains Ideas
A curtain is not only a sheet of fabric to protect the house from the heat of the sun and cover your windows at night. A curtain can also be the center of your decorating idea.
You will be surprised at how stunning your windows can be after you attach interesting and matching curtains to your kitchen windows.
There are various kinds of curtains around. Choosing a curtain for your windows especially a kitchen can be tricky at times.
Red as one of the trend colors for the year can be your option. Its bright color will give different feel for your kitchen.
Here are some red kitchen curtains ideas to help you.
Before going out to the store and purchase your red kitchen curtains ideas, its better for you to step back and take a look at your kitchen as a whole.
To choose the right red kitchen curtains, the keys to consider are your:
Kinds of walls
Furniture colors
Style
Size of kitchen window
Curtain material
If your walls are brightly colored and plain, you can choose soft patterned red kitchen curtains ideas with a shade darker red than your wall color.
But if your wall is darker and patterned, you might want to choose a shade darker red plain curtains and blend them beautifully.
Consider the style of your red kitchen curtains ideas.
If you have a retro vintage kitchen, you have more freedom to choose the right curtains since vintage is all about bright and bold colors and patterns.
You just need to make sure that the pattern matches the rest of the kitchen.
I you have a more classical kitchen; a shade of darker red jacquard curtains will add the classic feel of your kitchen.
This kind of fabric exhumes high end and noble atmosphere to your kitchen.
Just remember that you choose the right materials.
For more modern sleek styled ones, you can choose any modern style red kitchen curtains ideas available.
The size of your window is the next to consider.
If your kitchen has big windows, it means that you need more materials.
But if you don't have enough fund for expensive materials, you can adjust it with the style, you do not need to cover all areas with curtains.
Just make it fit to your windows.
The next to consider is the material.
For a kitchen curtain, you need to choose durable and easy to clean materials.
Polyester and cottons are the options.
There are various models, style and patterns which match your kitchen's need.
Be creative and think out of the box is the key. High Quality DIY Renovations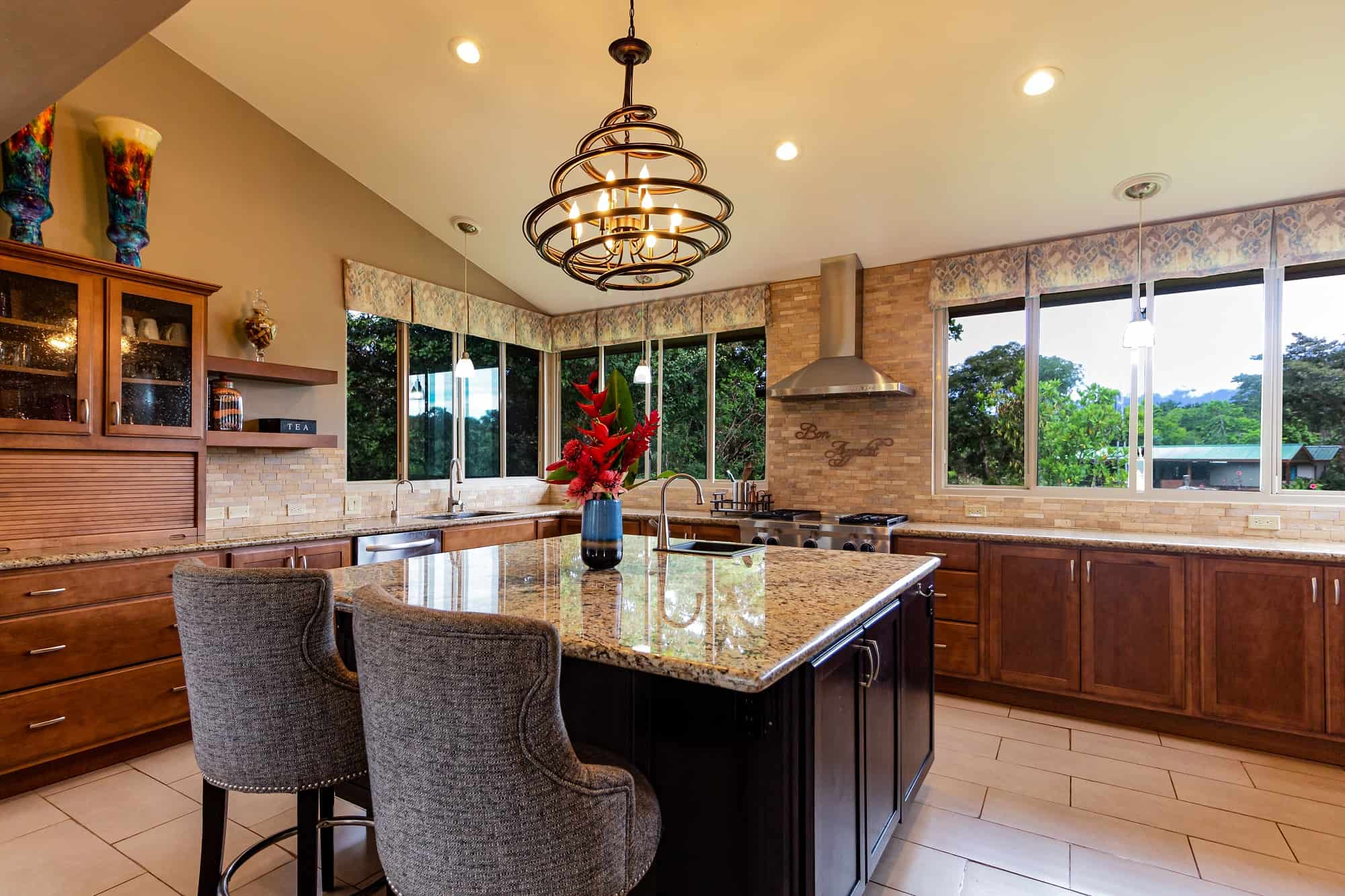 Orange Kitchen Curtains Brighten Up the Kitchen
Orange kitchen curtains are a beautiful addition to any kitchen because of their vibrant and beautiful motif and the cheer that they immediately bring into the kitchen, without any effort as such.
You do not have to do a lot of work with décor when you buy orange themed kitchen curtains simply because the fruit itself is such a feel good and sunny motif that it brings a different vibe to the kitchen altogether.
Therefore it is a good idea to have such patterns on kitchen curtains and ensure that one is able to bring the personality of the family into the décor.
Orange kitchen curtains go with any kind of décor.
If you want a bright and sunny kitchen then you can match these vibrant motif kitchen curtains with bright yellow walls, orange crockery, even shades of orange etc. on the table, the table cloth, runners and so on.
Orange kitchen curtains are easily found at online and offline stores both and can even be made at home as part of a do-it-yourself home décor project which will drastically reduce the cost.
Kitchen curtains in different patterns and styles are slowly coming up as popular methods of home décor and even though curtains were not given much priority as décor items earlier, they are most definitely considered to be so now.
The kitchen, considered to be a very practically inspired room where work is done, was left out of the purview of decoration for quite some time, but with home décor trends that are changing all concepts of décor, kitchen curtains are now being considered as important because they make the kitchen look appealing.
The best part about curtains as an important part of home décor is that they can be easily replaced and this therefore is a kind of home décor that is not expensive.
If you go onto the hassle of re painting the walls of your kitchen or buying new furniture or accessories for it, then you can be assured that you will be spending a lot more money and thus, redecoration will not be possible on a frequent basis.
If you want to use curtains as décor then all you need to do is replace them once you want a change of scenery.
Orange kitchen curtains along with other specifically themed curtains like roosters, sunflowers, fruit, coffee beans and coffee mugs etc. are specially popular when it comes to kitchen décor.
You cannot really hang orange themed curtains in a living room or even a bedroom because it will not go with the décor at all.
You can choose to have valance curtains, tiered curtains or swag valance curtains in the kitchen, which are themed with a pattern of oranges and this will look very appealing.
Make sure that your orange kitchen curtains are made of an appropriate metal, that is all, so that you do not end up with curtains that are difficult to clean grease and grime off and also, anything other than sturdy cotton can be a fire hazard.
Yellow kitchen curtains for your home
Yellow kitchen curtains are a very positive addition to any kitchen. A kitchen is incomplete without curtains just as any room is incomplete without a set.
Curtains add a lot of character and vibrancy to the room, and they are not only practical tools of interior décor.
Granted that curtains do have a very practical use – they keep out prying eyes and they also shade the room – the kitchen – from sunlight and other weather related elements.
However they also have a very impractical and yet important role to play – that of prettifying the room instantly and making it seem bright and happy!
Yellow kitchen curtains hit all the right spots and make sure that the kitchen immediately brightens up as a space that is appealing and pleasing to be in.
The best part about yellow kitchen curtains is that they are bright and happy to be around and therefore instantly brighten up the mood of the kitchen and makes it a better place to be in.
We will go so far to say that having yellow kitchen curtains around when cooking immediately makes the dish taste better on completion!
Yellow is a bright color and all its shades are also very bright. It is a very beautiful color as well and therefore it is a good addition to any kitchen.
There is a variety of yellow shades to choose from ranging from light yellow to really bright ones. One can use a combination of yellow shades to make one section of the kitchen look elegant.
Choose yellow kitchen valances as well – which can be left alone or contrasted with curtains or curtain panels.
Valances are a quaint tradition where window treatments are concerned, they add a rustic touch to the kitchen and this vintage look is most popular in recent trends of interior and kitchen décor.
Yellow is a happy color at best and since with the advent of cooking shows, a lot of people want to spend money on kitchen décor, it is a trend to be realized.
Yellow kitchen curtains can be well paired with brightly colored kitchen tiles as well – for example, with the new age trend of very bright and loud colors making an entry into interior décor, one can think of pairing yellow with other bright colors like purple and green, pink and orange and so on and so forth.
Bright colors are the catch word now. Yellow kitchen curtains can be found online – online stores are the best when it comes to any kind of purchase.
There are a lot of discounts that are constantly available and there are frequent clearance sales that one can avail of.
You can also make your own kitchen curtains by buying material and making them. Simple needlework will ensure that the beauty of the kitchen will brighten exponentially.
Yellow kitchen curtains can also be bought at physical stores after you make a comparative study of the prices.
Simple pleated yellow kitchen curtains can be easily made at a fraction of the cost it takes to buy them.
One can also buy yellow kitchen curtains depending on how large or small the kitchen is.
The color yellow in fact, a very good color which will ensure that even a small kitchen can look large and spacious.
Black Kitchen Curtains Make a Statement
Black kitchen curtains are a statement by themselves.
A kitchen is a largely under decorated room in the house, given that popular notion dictates that since it is a very utilitarian room, all one needs to do is to merely keep it organized for the work to be done in it to be more productive.
While this is important – definitely, the kitchen needs to be organized, it also has to be said that the kitchen should not lose out when it comes to interior decor.
If a kitchen is done up in a pleasing and attractive fashion, then it will be very easy for the person working in it, cooking etc. to enjoy the work that is being done and it will no longer seem like a chore.
When work ceases to be a chore and is more fun, it immediately produces better results.
And what other way to decorate the kitchen instantly without spending a lot of money?
That is right – curtains. Curtains and window treatments like blinds and valances are really useful when it comes to decorating any room, they improve the look of the room instantly and they ensure that you do not have to dig too deep into your pocket.
Black kitchen curtains are for those home makers and interior designers who are intrepid and unafraid of experimenting with looks.
And if you thought black kitchen curtains was only meant for large kitchens then think again, black kitchen curtains can be hung in small kitchens as well, if you know how to go about it correctly.
Black kitchen curtains are best used for large kitchens, that is true.
This is because black is a color that will instantly make the room look smaller than it already is – think about the reason women go ga-ga over black clothes, it is because it has a drastically slimming effect.
Where rooms are concerned, especially a kitchen that is usually crowded with furniture and racks, black curtains will have a similar effect.
This is why they must be considered carefully.
Black kitchen curtains can also make a significant statement where the look of the room is concerned.
Imagine a large kitchen which is done up in a contemporary fashion, with beautiful white kitchen islands, white and black stove top backsplash and shiny steel utensils, further complemented by a half window black kitchen curtain with a black and white valance to match it.
The effect will be phenomenal.
Black kitchen curtains can also be hung in smaller kitchens, except that they should obviously be paired with cream and white so that the contrast makes the entire room bright and large instead of smaller and crowded.
Black curtains with large white prints, with red or pink if you want to be daring, with white lace edgings or with another color contrasted will make a good addition to any kitchen.
Further, black kitchen curtains are easier to maintain given that their color does not allow them to look as dull and dirty as white or light colored curtains, an important tip, given that kitchen curtains are almost always exposed to heat, grime and dust on a daily basis.
Related article: Outdoor Kitchen Design Plans, designing your perfect outdoor kitchen!
Which are the best blackout curtains and do blackout curtains work
If you have ever suffered from a bright hit of sunshine before you were ready to open up your eyes, you fully understand the need for blackout curtains.
The real question is, what are the best blackout curtains for your money?
Fortunately, there are plenty of ways to ensure that you will be snug in the darkness until the exact time that you are ready to open up your eyes.
How Do Blackout Curtains Work?
Blackout curtains work by totally blotting out the sun's light and UV rays, keeping the room completely dark until you're ready to face the day. They are made out of light-resistant fabric that totally eliminates sunlight.
While many fabrics are at least somewhat see-through, these types of curtains don't let any rays in.
In addition to getting you a good night's sleep, these sorts of curtains also prevent sun fading on furniture and carpets.
They're extremely effective at preserving your home items, making them a popular choice for places like hotels, or anyone who really cares about preserving the precious items in their home.
In fact, many historically relevant places use curtains like these to keep sunlight off precious historical or important artifacts.
These types of curtains often only come in darker materials because deep navy blues and blacks are more effective at eliminating sunlight than other types of fabrics.
You will rarely find curtains like these in light colors or white.
They are installed the same way that regular curtains are.
What Are The Best Blackout Curtains For Me?
If you have ever wondered "do blackout curtains work" we have some good news for you.
Not only are these curtains totally effective at keeping out sunlight, but some of the best varieties also eliminate sound.
Deconovo brands are built with sound elimination in mind, and thanks to their special construction, they are uniquely positioned to be able to accomplish this.
These curtains also come in a variety of different colors, so you can choose the one that works best for you and your color scheme.
Another good option is the Nicetown brand of products.
Nicetown's emphasis is noise reduction and light elimination, and their products are made out of stain and wrinkle-resistant material.
These low maintenance curtains are perfect for people who don't want to spend a lot of time maintaining their curtains, but still want to get the best product on the market.
If you want to DIY your own blackout curtains, try a panel like Eclipse Thermaliner.
This panel allows you to transform your favorite curtains to perfect light and sound eliminating curtains.
You don't need to be an expert craftsman to install it either.
The Eclipse Thermaliner comes with hooks and will seamlessly adhere itself to your existing curtain or drape.
If early morning sunlight is giving you the blues, try on one of these options for size.
You'll get a better night's sleep and have a good morning when you are ready to face the day.
White kitchen curtains to take your breath away
If you want a classy and elegant kitchen and yours is a kitchen that is not often used, then white kitchen curtains are a very classy option for your home.
However, it must be remembered that you will have to ensure that the kitchen is not one which is frequently used in a daily manner because already a kitchen is a place which is always hot and humid thanks to the fumes and smoke of cooking, and everything in a kitchen that is used frequently is subjected to an inevitable layer of grease.
Curtains too are not exempt and unfortunately it is more difficult to wash and clean curtains which have kitchen grease stuck to them than it is to clean grease off jars and plates.
Curtains are significantly more difficult to clean if they have grease on them.
White kitchen curtains therefore will suffer terrible care problems if they are hung in a kitchen that sees meals being cooked on a daily, nay, hourly basis.
If yours is such a kitchen, no matter how classy the white kitchen curtains look, it is important that you overcome your wants and choose other colors instead.
Of course, there is a way around this dilemma but it will involve careful planning – and what is the harm, since it will yield a beautiful and elegant kitchen with white kitchen curtains?
If you want white kitchen curtains and yet are worried about how to take care of them then you need to have a white set only for special occasions or for winter because winter is a time when grease does not settle so much on items in the kitchen and the heavy cold air will stop the grease and oil particles from flying too high and too far.
Therefore you can easily use your white kitchen curtains then and even so it would be advisable to change them after a few days or a week, once you have enjoyed them.
Another way to get around this problem is to have a set of white kitchen curtains solely for the purpose of occasions – like for Christmas or for any other festivals, for birthdays or marriages etc.
The white color will look beautiful and elegant and very classy.
Complement white kitchen curtains with red or dark colored crockery and cutlery and see how the whole kitchen is given a life of its own!
White kitchen curtains should ideally be made of cotton though if you want fancier ones for the purpose of occasions then you can choose self embroidered white lace.
You can also have plain white kitchen curtains complemented by heavier drapes which are both short in length so that they do not get into the way of kitchen cleaning and work.
Buy white kitchen curtains online where you are sure to get a wide discount and avail of many bargains and you can also choose to buy your own fabric and fashion your own white kitchen curtains with pleats and drapes or valances, as per your fancy and demand.
Related content: Best Kitchen Curtains and Kitchen Valances
Need a kitchen refresher because you are moving? Update the look with curtains. Learn what no one tells you about selling a home and how using lighting and color can transform a space.