Last Updated on
Chicken swings can be great fun for hens. They reduce coop boredom.
When you keep your chickens occupied and happy, they are less likely to peck at one another.
Chicken swings introduce activity, exercise and recreation for your brood.
We like to think of it as hen-tertainment.
When we bought these swings, our kids thought these were the best things ever.
They were as excited as if the swings were for them!
Our family and neighbors have enjoyed watching our chickens swing and play.
Best Chicken Swings
The Chicken Swing – Fowl Play Products
This is the first chicken swing we installed, and it remains everyone's (people and chickens) favorite.
It's sturdy and well-built, bright and colorful.
The Chicken Swing is made from plastic and rope, and holds up well in all types of climates.
It was easy to mount. It's adjustable for any coop size.
Like with all these swings, you will want to be sure there's enough space for it to swing freely so it's safe.
We first installed this swing when we had chicks.
We made sure it was very low, about an inch off the ground.
The chicks were able to get used to it while they were young, energetic and curious.
As they grew, we raised the swing to 3 – 4″ off the ground.
They still enjoy it to this day.
A concern for all chicken swings is the risk of injury during a vigorous dismount.
The Chicken Swing comes with a fully adjustable cross-member which keeps the swing from twisting when the chickens dismount.
Two solid poly-pro ropes support the swing.
The perch is shaped like a small mailbox, with a corn-like surface the chickens can grip.
Pros of The Chicken Swing
UV and weather-resistant rope
Easy-to-install rope buckle makes it easy to adjust the height
Safety side ties
Easy for chicks and chickens to grip and stay on
Chickens can use it as a perch and a swing
The perch tongues allow the swing to have more torque, so the chickens can swing easily
Cons of The Chicken Swing (and all chicken swings)
Some chickens might be afraid of the swing so you may have to train them yourself
Healthy Chicken Swing Perch
This is a simply chicken swing.
It is very easy to install.
Like all chicken swings, its purpose is to keep chickens happy, active and entertained.
It will help keep them from being bored, which isn't good for them.
The Healthy Chicken Swing Perch is made from durable wood to last a long time.
Even if your chicken are of a large and heavy breed, this swing will hold them.
What makes this one different is that there is sandpaper covering the perch so the chickens can sharpen their nails.
Strong ropes support the swing, giving it a solid suspension.
You can adjust the ropes according to the size of your coop.
The Healthy Chicken Swing Perch also comes with two carabiners that make the installation process easy.
Pros of the Healthy Chicken Swing Perch
The swing is very sturdy, durable and easy to assemble.
The materials are good quality and safe for your chickens.
Sandpaper on the perch helps to sharpen their nails.
The perch is wide enough for all sizes to perch comfortably.
Cons of this swing
It can be a little wobbly especially when the chickens mount or dismount vigorously.
This may scare your chickens.
Even with the best chicken swings, some chickens may not find it appealing.
It helps to "train" them with treats when they are younger or when you first get them.
Bwogue Wooden Chicken Flexible Ladder, Parrot Chicken Swing, Toy
This is the least expensive swing/ladder.
It's great for chicks.
When our now chickens were chicks, they loved this wooden chicken ladder made by Bwogue.
Your chickens might not find it to be stable enough.
Ours were a bit afraid of it, and then ignored it completely.
However, it is such a well-made and colorful addition to our chicken coop, aka The Brood Lodge, that we keep it up for aesthetics.
When we get chicks again, we know they will love it.
We will enjoy watching them try to knock each other off the ladder!
We will be ready with the video camera the next go around!
If you have bold and fearless chickens, they may love this.
Let them stretch their wings, perch and hop in fun with this flexible ladder.
It mimics the actual climbing process and is great for all breeds.
It will entertain them and keep them active.
At 31.5″ long, the ladder is made from wood and steel materials.
A steel wire runs throughout the ladder to support it against the weight of the birds.
The ladder steps are wooden.
You can detach the chicken ladder easily with quick link fasteners that allow you to attach it to a fence or a post or on the side of your coop.
Chickens love climbing, and you will enjoy seeing them on this ladder swing.
Pros of the Bwogue Wooden Chicken Ladder Swing
The steel wire gives the ladder additional strength to accommodate the chicken.
Natural wood also gives the ladder an authentic feel.
You can detach it easily and hang it anywhere in a short time.
Cons for this wooden ladder
The sideways swinging motion might scare some birds.
You most likely will need to start training your chicks to use this and hope they continue to use it as chickens.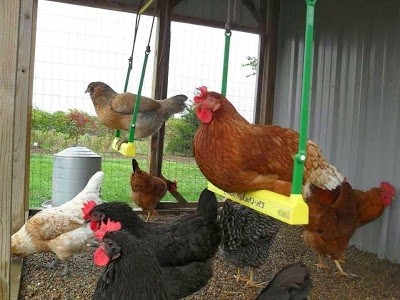 Chicken swings are fun Chicken toys
Did you ever imagine yourself buying a swing for your chickens?!
As more people raise backyard chickens, companies are coming up with ways to keep them busy.
Many people may enjoy DIY chicken swings.
If you are handy, it can be a fun project.
The most important thing is to be sure the swing is safe.
Design it so there is no way the chickens would get caught up in the ropes.
It's great to spoil your girls and keep them occupied.
Introducing chicken swings can be a welcome distraction for them.
Chicken swings and chicken toys can add some excitement and fun.
Having tried the three swings, The Chicken Swing from Fowl Play Products scores highly on safety, durability, design for assembly and effectiveness.
It's our favorite.
Facts about Raising Chickens in Your Backyard
How to Keep Chickens Cool in the Summer Heat
Pros and Cons of Keeping a Rooster
Chicken Watering Systems and Ideas
Comparing chicken swings
And remember, even if all of your chickens and roosters don't hop on to the swings, they will still find it interesting.
Sometimes, the bold ones will lead the more timid ones.
You will have great fun watching their personalities shine through.