Raising backyard chickens for beginners is exciting and very rewarding. Chickens can be seen as pets and/or a source of food.
Either way, chickens can give you joy, a sense of fulfillment, and eggs.
If you have kids, the fun is exponentially multiplied as chickens are very social.
They are simply entertaining with their different personalities. Best Chicken Toys: Entertaining Your Backyard Chickens
Backyard Chickens for Beginners
The most common question people ask is that if chicken rearing is easy, and if it can it be done in a shoestring budget.
Raising chickens is easy. There are just some basic things for you to know.
After that, everything about raising chickens can be self taught – no special training needed.
Read about How to Raise Backyard Chickens.
There are also great books for raising chickens for beginners.
Raising chickens is inexpensive
Raising chickens is cheaper than having a dog in the house.
The cheap food, Chicken coop shelter construction options, pet care necessities, and other related expenses make backyard chickens an affordable endeavor.
This backyard chickens for beginners guide can give you confidence through the process of raising hens.
What are backyard chickens?
Backyard chickens, sometimes called urban chickens, are fowl breeds that are raised in a typical backyard.
These chickens are commonly seen as source of food with the eggs they produce and the meat they provide as they mature and their egg production starts to decline. Comparing the Best Chicken Swings
This is a rather trending backyard project today as people are more concerned where their food comes from.
Raising chickens in their own backyard give people more control of the quality of eggs produced.
Perhaps they choose to free range the chickens or feed them with organic feeds only.
This significantly increases the health factor of the eggs and also the meat from the chicken.
Having a supply of eggs is also important for those who are interesting in alternate food supplies.
Chickens are easy to feed
Backyard chickens are omnivores making them easy to feed.
They can eat grains, fruits, vegetables and insects.
To better manage their diet, they must be given well balanced meals that have all the vitamins and minerals they need to reach their potential weight.
Feeding Chickens: What They Need at Different Stages.
This also gives them a boost to lay more eggs. Water Your Backyard Chickens: Watering Systems and Ideas
Chickens are easy to take care of.
Adult chickens can be housed in a DIY chicken coop and if you prefer to free range them you can also integrate a chicken run with the coop.
The chickens only need a steady supply of waterand nutritious food.
Beating Food Challenges with Chicken Eggs
5 Important Tips on Raising Roosters
Facts about Raising Chickens in Your Backyard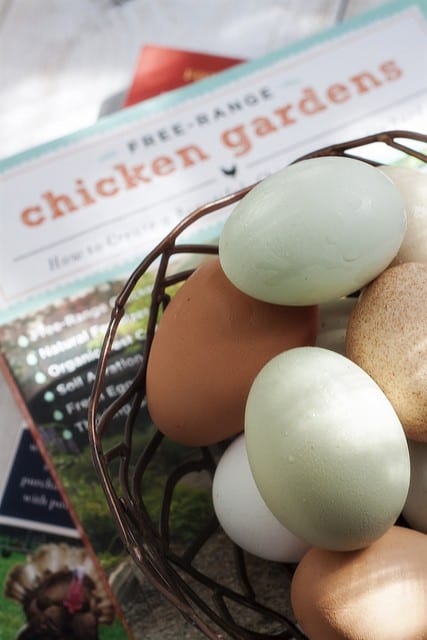 How to start raising backyard chickens
There are a few pointers you need to consider when you plan to raise backyard chickens for beginners in your backyard.
These tips can make it a lot easier for you to start and sustain your chickens.
Something to consider is how many chickens you want to have and how much room they will have.
Choose the chicken breed
Choose the best chicken breed.
Although all chickens can be raised in a backyard, there are a few breeds that are more suitable for backyard chickens for beginners.
The Rhode Island Red is a breed that can reach an average weight of 6.5 Ib.
It has dark red feathers and adopts in a small flock very well.
Known to be a breed for laying eggs, this chicken can produce brown eggs.
The Wyandotte is another chicken breed that is seen to be dual purpose (for eggs and meat).
With an average weight of 6.5 lb, the Wyandotte can thrive in small flocks and can do well in rugged conditions.
They are known to have a good disposition and are available in different colors.
The Ameraucana is available in many colors.
It lays green eggs and can produce more for a longer period of time compared to other breeds.
This breed is easy to handle and can tolerate all kinds of climates very well.
Another easy-to-raise chicken breed is the Orpington.
The hens of this breed can reach up to 8 lb in weight.
The greater weight makes it very ideal for eggs and meat.
It has many color varieties and ideal for cold places.
Choose chicks or adults
Decide if you want to start with chicks or adult chickens.
This is your preference.
Some of the key things you need to consider are the cost.
Adult chickens would cost more upon purchase but you can already expect them to lay eggs as soon as you house them in the coop.
Chicks you raise together may get along better than adding chickens who are already grown.
Buying chicks is a cheaper option but you also have to factor in making a brooder for them, and feeding them thru adulthood.
You need to wait up to 6 months before you can have some eggs from the chicks.
Raising chicks however can be more engaging for the family.
It can teach your kids more things about caring for animals and learning about agriculture.
Buying chicken for your backyard can cost under $10 to $30 for each depending on the age and the breed you decide to buy.
Choose where they should live
Choose the best place to house your chickens – chicks need to be in a brooder first.
The brooder must be kept indoors.
The most ideal for the brooder is in the garage.
The brooder can be a DIY project and can set you back up to $70 including the needed lighting.
Ideal lighting is a 250 watt lamp that can produce enough heat for the chicks.
Brooders help your chicks thrive in their ideal temperature which is usually set at 90 degrees F.
This temperature is regulated and will be decreased slowly until the chicks are ready to be moved to the coop outside on their 6th
If you are buying adult hens then you only need to expend for the coop.
If you are comfortable working with wood, then you can secure coop plans and do the construction and sourcing of materials yourself.
Many prefer to buy one already made.
There are great chicken coops available. buy a ready-made coop.
Be mindful of predators in your area. No matter where you live, it's best to provide coverage on the top as well.
Buying a new chicken coop can be a sizable investment but this should secure your chickens for a long time.
Ready-made coops also have better designs and should be a more cost-efficient housing for your chickens.
There are many to choose from online.
Consider also your climate.
Providing shade for them is how to keep chickens cool.
Also be sure to have an area for them to keep warm in the winter and dry in the rain.
If you handy, and you have recyclable materials in your backyard (restoring a Rural Backyard), you can always draft your own coop plans and construct it from scratch.
Be sure to have some buffer time just in case you fail to construct a working coop for your chickens.
Choose what the chickens will eat
Decide the kind of food your chickens eat.
One of the best ways to feed chickens is just to let them loose and allow them to feed off from your backyard.
Free range chickens are given freedom to source food on their own.
This is a good option especially if you have a sizable backyard as this can significantly reduce your food expenses for the chickens.
This option when complemented with organic feeds also assures you with an organic chicken which should provide healthier eggs and meat.
If a free range flock is not practical due to predators, terrain or space, chickens are easy to feed.
In feeding chicks, starter feeds must be used which are made up of 20% protein.
This is used for the first 6 weeks of the chicks.
You may choose the medicated variety which has anto-ciccidiosis drug, an essential thiamine blocker.
This may prevent the chicks from getting the disease but will not offer complete immunity.
From the starter feeds, the pullets will move to a grower feed.
This should allow the chicken to grow in a right pace until they are ready to lay eggs.
This feed is used from the 6th week of the chicks (the time they leave the brooder) to their 14th week.
There are now starter/grower feeds by some feed makers which should make feeding easy.
A hen already laying eggs demands another kind of food with a different composition.
A layer feed has higher calcium content.
This will ensure that egg production is sustained.
Install a feeder
To make sure that the chickens are eating properly, buy and install a feeder for them.
This minimizes wastage in the coop.
You have to consider the fact that different chicken breeds have different appetites so you need to be sure that you are not feeding them too much or too little.
Chicken appetite is also affected by the seasons.
In the hotter months the chicken can consume less food while in the winter months, chicken tend to eat more.
Consider these appetite fluctuations to better manage your feeding patterns and volume.
Keep the chicken coop clean
Many people start with raising chickens in a coop lined with newspaper on its floor.
Although this is a convenient option, it doesn't help to absorb the dirt and manure inside the coop.
Also the newspaper when exposed to moisture tends to be too slippery for chickens.
This can create health issues for the hens in the long run.
Instead, use pine shavings for the bedding at least 4 inches in depth.
Make sure that your chicken coop is always clean.
This should prevent diseases to hit your flock.
This will also ensure your chickens are always clean, should your children touch them. Sanitation is important as it can affect the overall health and mood of the chickens.
Regularly replace the beddings you use in the coop as this keeps chicken clean.
This also controls the smell of the manure of the chicken.
Remember to wear a mask when cleaning the coop and its outside spaces to prevent you from inhaling the dust and feathers of the chickens.
It is best to schedule a general cleaning for the coop and its surrounding areas.
This includes steps like clearing the coop with all the bedding and using soap, bleach, and water to clean up all the surfaces inside.
Applying anti-mite solution during winter time is also a good practice.
This keeps parasites in control in the cold months when the hens are mostly confined inside the coop.
Remember to clean feeder and waterer too as these can be prone to dirt.
You have to remember that chickens do not drink as much water when its source is soiled and murky.
This can lead to dehydration and can make the chickens sick or die in a very short time.
Manage chicken manure
Managing chicken manure is all about minding the bedding.
Consider that it absorbs both the manure substance and the moisture that goes along with it.
Chicken manure is essentially made up of up to 85% water.
This can be a huge source of problem when you are dealing with heat, moisture, and also humidity.
The solution is just to make sure there are enough pine shavings inside the coop.
The pine bedding must be stirred regularly to make sure the manure is not left on the top of the bedding.
This produces the odor especially in the hot months of summer.
New bunch of pine shavings must be introduced to the coop to make sure there are enough absorbent materials in there.
The soiled bedding is a great source of natural fertilizer.
If you have a vegetable patch in the backyard this can make your chickens a huge part in your garden's sustainability.
Nest boxes and eggs
As soon as your backyard chickens start to lay eggs, you need to learn how to best harvest them.
The first thing you need to be mindful of is to make sure that the nest box in the coop is always clean.
This minimizes the risk of soiling the eggs too much even before you have the chance to retrieve it.
The nest box must also be cushioned so that egg damage is minimized.
The more hens you have inside the coop, the more nest boxes you need to have in there to prevent egg overcrowding.
Too many hens sharing on the same box can force other hens to lay eggs outside the coop. Incubation for Beginners by Brinsea, Inc.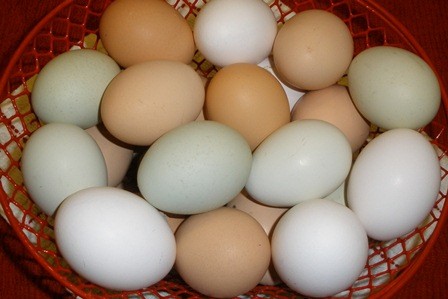 You have to check for eggs early in the coop.
Do this regularly throughout the day to reduce the risk of the eggs being soiled by the chickens.
Refrigerate the eggs as soon as possible if you have no plans to cook that day.
Beating Food Challenges with Chicken Eggs
How To Raise Backyard Chickens
5 Important Tips on Raising Roosters
Successful Hen and Chick Adoption
10 Tips for Raising Backyard Chickens for Beginners
Facts about Raising Chickens in Your Backyard
Common Chicken Diseases You Should Know About and How to Treat Them
How to Keep Chickens Cool in the Summer Heat
Ultimate Comprehensive Guide on Generators for Sale
Comparing Generac Generators with other Generator Brands
Briggs and Stratton Generators
Champion Generator
Prices of backup generators
Birdhouse for Birds and Nesting
Also consider your area of land and if you can consider miniature cattle breeds and a livestock guardian animal to complete your homestead.
Once you plan out your space, the chicken breed, and how many chickens you will have, you can decide if keeping a rooster is for you.
This backyard chickens for beginners tip can help you get the most from your hens and their eggs.