When considering a Briggs and Stratton generator, you can divide them into two general categories: portable and home standby generators.
There's bound to be one that fits your needs. Briggs & Stratton is very reliable and versatile and now serves as the alternative to other more expensive brands.
Learn about which of their backup power sources is right for you. Being ready for a power outage event means you can take care of your family in some comfort.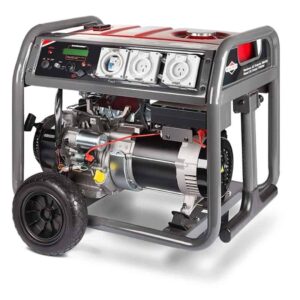 Briggs and Stratton Generator Review
There are many standby and portable Briggs & Stratton models available. The higher the model number, the more capabilities and the more you can power.
Some to consider are the Briggs and Stratton Elite Series (10000, 8000, 7000 watts), the 5500 watt portable generator, the 5000 watt portable generator with hour meter as well as those with locking outlets and RV outlets.
There are differences between generators. We include the specs for each below.
Overall, this brand has a lower price than competitors such as Generac yet has high performance. They have many to choose from. Consider your budget. From there, learn what size generator you need.
You may want to consider a home standby generator if you want to power your home and/or if you live in an area in which weather catastrophes can mean the power is out for longer than two days.
If you have a smaller budget or are looking for less capabilities but still want a robust power source, consider a portable model. These are smaller and lighter. It's more versatile because you will have the option to move it around your property or take it with you for outdoor recreation.
Home generator
The home standby type is permanently installed outside your home by a licensed electrician or someone from the Briggs & Stratton generator installation team. When power goes out, the auto transfer switch kicks in.
There are different sizes which provide more or less output, depending on the size of your home or business.
Because it will kick on automatically when the power goes out, it's considered to be a permanent backup power solution. It will enable you to save the food in your freezer and refrigerator, power your water heater, lights, provide heat or air, as well as power smaller devices.
Their standby models use natural gas or liquid propane. In addition to having power immediately when you need it, another advantage is there is no need to refuel.
Another benefit to owning a standby generator is it can raise your property value should you sell your home.
Portable generator
If you don't want to have one installed, you can consider a Briggs & Stratton portable generator.
This is one that can power many things in your home; however, you will have to turn it on manually through recoil or an electric start.
You will operate it outdoors. When using it to power outdoor items, you connect the appliances directly into the generator. When using it to power things indoors, you connect them through a manual transfer switch.
The portable models from this company use gasoline. Refueling is necessary as you use it.
Each of these generators can be used for camping to power electronic devices and to provide power during emergency situations.
Briggs & Stratton home generator models
Using a generator sizing calculator or generator sizing tool, you will be able to determine the right size. Before buying a standby model, it's essential you choose the appropriate-sized generator system. They have many residential standby models to consider:
10kW1 standby generator
12kW1
17kW1
20kW1
25kW1
30kW1
17kW1 Standby Generator
They have two models to consider:
040549

Running amps (LP): 66.7
Running amps (NG): 60.0

040610

Running amps (LP): 70.8
Running amps (NG): 63.7
Both models have running kW (LP) of 17. The first model has running kW (NG) of 14.4 and the second has 15.3.
20kW1 Standby Generator
This tier is designed to support medium and large-sized homes. Within seconds, your home will continue with seamless power. There are four models to consider:
040336

Running amps (LP): 83.3
Running amps (NG): 75
Circuit breaker amps:
Voltage:

040574

Running amps (LP): 75
Running amps (NG): 75
Circuit breaker amps:
Voltage:

040586

Running amps (LP): 83.3
Running amps (NG): 75.5
Circuit breaker amps:
Voltage:

040588

Running amps (LP): 83.3
Running amps (NG): 75.5
Circuit breaker amps:
Voltage:
These four models all have:
Running kW (LP) of 20
Running kW (NG) of 18
Sound level (dBA) at 7 meters:
Model 040586: Low Idle Mode: 64; No Load: 67
Model 040588: Low Idle Mode: 64; No Load: 67
25kW1 Standby Generator
Their second largest capacity tier is their 25kW1 models, this is ideal to backup homes or smaller business operations. They have three models:
076171

Running amps (LP and NG): 86
Circuit breaker amps: 90
Voltage: 120/208

076173

Running amps (LP and NG): 75
Circuit breaker amps: 80
Voltage: 120/240

076175

Running amps (LP and NG): 37
Circuit breaker amps: 40
Voltage: 277/480
All three models have running kW (LP and NG) of 25.
Sound level (dBA) at 7 meters for each model is 66.
All of these 25kW1 generators weigh 1,000 pounds.
30kW1 Standby Generator
This is their largest and most robust generator. It's meant for larger homes and businesses. They offer three models:
076191

Running amps (LP and NG): 104
Circuit breaker amps: 110
Voltage: 120/208

076192

Running amps (LP and NG): 90
Circuit breaker amps: 90
Voltage: 120/240

076195

Running amps (LP and NG): 45
Circuit breaker amps: 45
Voltage: 277/480
All three models have running kW (LP and NG) of 30.
Sound level (dBA) at 7 meters for each model is 66.
Each of these 30kW1 generators weigh 1,000 pounds.
If necessary, Briggs & Stratton offers a free in-home assessment to help you choose the right size for your home and output.
Briggs and Stratton Generator 5500
The Briggs and Stratton Generators 5500 is built for power and heavy duty use. This is evident with its ability to power up a wide range of appliances.
Equipped with a 25 ft adapter cord, the Briggs & Stratton generator 5500 has a run time of 13 hours at half load and with a 7 gallon capacity. It runs on gasoline and is CARB compliant.
To get an idea of its capability, the 5500 can charge a dishwasher, a 220v well pump, several lights, oil boiler for heating power and a 100 watt microwave.
For optimum results, you should change the oil as recommended in the owner's manual.
Another nice thing about the 5500 is it isn't noisy. Yes, it generates sound when running but it doesn't raise a ruckus the way other generators with this capacity do. Overall, it is quiet.
It's also portable, making it convenient for recreational use.
As many customers who bought the Briggs and Stratton Generators 5500 will tell you, it's most ideal for those situations when a hurricane strikes and there's no power.
Aside from being powerful and efficient, the 5500 only takes one pull to get it to run, making it convenient to use.
PowerSmart Series Inverter Generator
Depending on your purpose for wanting a generator, you may want to consider an inverter generator. These are more efficient than conventional generators in that they throttle up or down to meet demand. They don't run on full tilt the entire time. This means you'll save gasoline and also have less emissions.
Their PowerSmart line is geared toward people who want to have a backup power source while camping, tailgating, in an RV, and wherever you want to bring it.
These are made to work with sensitive electronics, keeping them safe while you power them.
They are light making them an ideal portable generator. All of the models have a built-in handle. The largest and heaviest, the P3000, also has wheels making it easy to move.
Another feature is they are quiet. This important when using a generator away from home. This makes them ideal to use for RV travels and camping. Being so quiet makes portable power convenient.
An additional benefit of these Briggs and Stratton inverter generators is they have a parallel outlet. With an inverter parallel kit you can connect a second PowerSeries generator for more power.
Briggs and Stratton Generator Parts
Briggs and Stratton generators are built to last and made specifically for heavy duty use. Even so, there will come a time when you will need to maintain or replace some parts.
Whether you're a DIY enthusiast or buying a generator for the first time, it's easy to find parts, tools and other materials for these units.
Because Briggs & Stratton generators are popular, you can find spare parts easily online. In addition to repair or replacing but to increase its lifespan.
For instance, if you don't use these generators often you can use a fuel stabilizer to prevent fuel system problems from cropping up.
You can use the Briggs and Stratton Advanced Formula Fuel Treatment and Stabilizer to keep the unit in good condition, and when used regularly will keep fuel good for the next 36 months.
There are also other general maintenance tips you should practice to keep the 5500 or whatever unit you bought in good shape.
Briggs and Stratton Generator Oil
Regardless which Briggs and Stratton Generators model you choose, make sure there's enough oil to keep it running smoothly.
The good news is these generators automatically shut down when fuel goes down to a certain level. This prevents possible damage.
To avoid other potential problems, you should keep oil in reserve. Refer to the manual that came with the unit for reference.
Apart from the Briggs and Stratton Generator oil, you should check the spark plug, fuel filter, air filter and carburetor on a regular basis.
Remember that when you first pour oil in the generator, it will have an amber or golden color. Over time the oil turns dark due to dirt, heat and particles.
A rule of thumb is to change the oil after using it for 25 hours. However, consult the user manual for the recommendations for the model you own.
If your generator is new and you're using it for the first time, change the oil after the first five hours of use.
This is necessary because the new engine has to remove the excess particles that gather when you "break in" the generator for the first time. This is normal. You'll have to do this once.
Keep in mind also that the lifespan of Briggs and Stratton generators and the frequency with which you have to change the oil depends on how often you use it and where.
If you're going to run the generator in a dusty environment, rough terrain, high or damp temperatures, you'll need to change the oil more frequently.
Rest assured, however, these are built for heavy duty use and properly maintained, will last a long time. All of these Briggs and Stratton Generators use clean electricity. Therefore, you won't have to worry about any detrimental effect it may have on your appliances and electronics.
Their portable generators are fuel efficient so you don't have to be concerned about energy being wasted. Furthermore, each generator has been specially designed so it's easy to use when you need to use it.
There's no need to mess around with complicated controls. Unlike with some other generators, they include complete instructions.