A well-planned greenhouse shade system is a great asset when growing different types of crops and plants. Sunlight can easily build up inside the greenhouse during the warmer months and boost temperatures which can be harmful to many plants.
Greenhouse shading is used to block unwanted solar radiation from turning up the heat inside the greenhouse structure. By decreasing the quantity of light and radiation, and extending the harvest time of your crops, you will get a better yield and in turn, more profits.
Therefore, it is imperative to have a well-thought-out greenhouse shade system when designing your greenhouse. Learn lots of ideas for designing greenhouses and common problems you may encounter.
Why use greenhouse shading?
Used properly, greenhouse shading protects against solar radiation and wind. It can modify the environment and extend the growing season, in warm and cold weather conditions. When incoming solar energy strikes plant leaves, it is converted to heat energy. According to the USDA Forest Service, this typically results in higher air, leaf, and soil temperatures.
Utilizing shade and placing plants under 30 – 50% shade in the middle of the summer can lower leaf temperature by 10 degrees F (6 degrees C) or more. Shading can also help reduce wind speed which reduces transpirational water loss.
What is a greenhouse shade system?
A greenhouse shade system is a system of various structures and coverings that can reflect, block, and control the amount of sunlight hitting your plants.
They can also prevent heat in a greenhouse from escaping during the winter months. This is done by installing a set of items such as greenhouse window shades, blinds, cloth coverings, curtains, meshes, greenhouse screening fabric, and natural barriers. Shade can be provided both internally and externally.
Internal greenhouse shading
An internal greenhouse shade system is fitted to the body of the greenhouse. It is attached to the walls or under the roof and balances the temperature by bouncing off the heat or reflecting it back into the greenhouse. During winter months, the shade nets will keep humidity at a proper level like in the picture below. Temperature control systems inside greenhouses can help reduce the heat buildup from the sun.
Other options such as greenhouse blinds, shades, or curtains can also be a less expensive option.
External greenhouse shading
Components of an external shade system are fitted on top of the body of the greenhouse to protect the glass and interiors from overheating. They will be installed between the greenhouse ridge and the gutter.
Less expensive options are greenhouse shade paint and exterior cloth covers such as shade sails.
How to choose the right greenhouse shade system
A good shading system can reduce electricity costs by retaining heat. They work along with fans and exhausts to create a temperature balance. Some tips to consider when choosing the right shading system are:
1. What's your objective of running the greenhouse?
This question might lead you to deciding key questions like how much you are willing to spend on shade systems and if its worth it. Certain types of shading are fixed. Other are alterable. Pick and choose which type would suit your needs.
Automated shades are available in the market these days. They save time and need just the click of a button to fall in place.
2. Think of ways you can give plants shade naturally.
Consider the placement of your greenhouse to take advantage of sunlight and natural shade. You can set up the greenhouse near tall bushy trees or at the side of your house where its shadow blocks out the light for a little time. Consider exterior buildings such as garages, shops and sheds to help create shade. Be sure to factor in natural light for when the days become shorter, in the winter months.
3. Place your plants according to intensity of light.
This is particularly important to light-sensitive plants. Using furniture to block light has been long-practiced over the ages.
4. Layered greenhouse benches can give shade in its lower levels.
Adding greenhouse benches can add visual appeal as well as create some shade.
5. Think about the ease of cleaning when deciding your greenhouse shade system.
6. What is your climate?
How much greenhouse shading you need will also depend on your USDA hardiness zone. If you live in a hot climate — such as gardening zone 9b — it will be more important than if you live in an area with mostly pleasant summers — such as gardening zones 5 or 6.
Consider which greenhouse shade options will work for our situation and budget. Ideally, the best greenhouse shading system will have a mixture of internal and external shades to create the ideal level of light and heat needed within a greenhouse.
Components of a greenhouse shade system
There are various components that are used to give the apt amount of shade to plants. Systems like truss-to-truss or gutter-to-gutter curtains and cable driven shades can all be mixed together and used to give optimum temperature and lighting control.
To understand the various components in greater detail, here are some of the key parts used by everyday farmers in their greenhouses:
Greenhouse Shade Cloth
A greenhouse shade cloth is a material that can be placed over the structures' walls and roof to block the sun's direct heat from entering the greenhouse. It provides uniform shading to your plants and vegetables by regulating the high temperatures caused by the constant sunlight and enables your plants to retain more moisture.
Shade cloths are an inexpensive method to lower the temperature within the greenhouse.
They are easy to install. Often you can simply place them over the greenhouse structure and holding it down with nails or rope. They are available in many sizes and can be customized as well.
White color shade cloths reflect the sun's UV radiation while black color tends to block it. Shade cloths are available with drawstrings for suspended installations, and also with movable screens.
These shade systems are flexible, lightweight, UV resistant, very durable and easy to spread and install. Sometimes, they contain recycled fibers. Choosing the type of greenhouse shade cloth will depend on the growing season and type of plants. Aluminet shade cloths are a good choice for most plants.
Greenhouse Curtain Systems
A curtain is a wide term which implies many types of movable panels of plastic, fabric or film used to uncover and cover as necessary. Screens, shades and even blankets are examples of curtain systems used in agriculture.
They provide for both cooling and heating needs and come in sizes ranging from 10,000 to more than 43,500 square feet.
Opening and closing curtains in a small greenhouse can be done using a hand crank, while in a large greenhouse, you can set up a motorized system to do the same.
Indoor greenhouse curtains are spread on the walls of the greenhouse. When it comes to heat retention, these systems are most useful at night. These curtain systems save energy by reflecting heat into the greenhouse structure, reducing the space needed for heating and by trapping a disassembled layer of air.
Exterior greenhouse curtain systems are used in two manners. In some cases, the system replaces the covering, while in other cases, the curtain is installed above the greenhouse.
Many curtain systems use polyethylene films, composite fabrics and knitted polyester where all the strips are aluminized. These also eliminate the recurring cost of labor and materials to apply or reapply shading paint. These days, aluminized polyester strips are very popular as they reflect light back out through the structure's roof. Film types used include greenhouse plastic, agricultural plastic and poly film.
Greenhouse Film
Greenhouse film is the material that is put over the greenhouse to create a structure effect over raised beds. It is a light-permeable, clear or semi-clear material that allows heat and light to get in.
Some greenhouse films also provides UV ray protection. These are powerful and endures harsh weather and are best for light penetration.
Which greenhouse covering material you choose depends on your needs and budget. Polyethylene greenhouse film is considered the best option to cover a temporary greenhouse structure. They are available to size or in custom-made lengths. Polyethylene film is not made to last long. Wind and storms may damage it over time.
However, if you purchase this greenhouse film from a reliable manufacturer, you can get quality film that will last for a long while. Most greenhouse film manufacturers have to sell a hundred foot minimum per customer. However, there are some manufactures who provide these films for mini greenhouses as well.
It will come in various different widths, lengths and thicknesses. You can also purchase custom-made film according to need. A strong greenhouse poly film will stand up to 4 years of UV barrage.
Greenhouse Covers
Are you wondering what would be the ideal materials for constructing greenhouse covers? We are going to explain just that so that you can make well informed decisions after knowing the merits and demerits of each type. To date, many materials have been used for covering greenhouses.
The more efficient, durable and popular ones are:
Glass
Polycarbonate flexible rolls or rigid panels
Plastic films (made of polyethylene)
Polyethylene flexible rolls and semi-rigid panels
Fiber glass flexible rolls or rigid panels
Rigid panels (made of acrylic)
Vinyl
Whatever might material you pick, you must make sure that the cover is installed properly. Some covers have do-it-yourself instructions laid out for you. You can try your own hand at installing covers by purchasing them from a greenhouse kit. Or you can hire external professionals to do the job neatly for you at an extra cost.
You can also install insect screens and metal shading for your greenhouse cover.
Greenhouse cover #1: Glass
You must be aware of the fact that glass happens to be the traditional material used for covering greenhouses. Glass covers require an extremely sturdy and expensive structural system. If you are ready to make a massive investment initially, you can expect these covers to last for a minimum of three decades.
The other benefit of using glass is that clean glass is known for its impressive light transmission. In spite of boasting of such amazing qualities, the popularity of glass as a greenhouse covering material has dropped in the recent years.
That's because glass fails to score impressively when it comes to its insulating properties. It insulates well enough only if you install double or triple panes, which would automatically increase the cost of your project significantly.
Another demerit of glass is that replacing the material is extremely difficult (and demands major expenditure) when broken.
Greenhouse cover #2: Flexible polycarbonate rolls or rigid panels
If you want your greenhouse cover to be both lightweight and sturdy, you should go for greenhouse covers made of polycarbonate.
Polycarbonate panels made specifically for outdoor use come with advanced UV treatment, which prevents them from becoming victims of deterioration and yellowing, even after being exposed to sunlight. You can expect these covers to be in perfect shape for around 10 years.
Greenhouse cover #3: Acrylic greenhouse covers
You may have seen skylights made out of acrylic and other kinds of Plexiglas materials. You can opt for these materials even when constructing a cover for your greenhouse. Acrylic greenhouse covers would particularly come in handy if you live in an area that frequently experiences strong winds, massive hail storms or severe snowfall.
Acrylic is particularly known for withstanding snow, hail and wind impact more efficiently than most other materials. They are also quite rigid and do not flex easily.
However, one thing you must keep in mind when using an acrylic greenhouse cover is that it would require very specific attachments for complementing its usual contraction and expansion.
Like glass, acrylic greenhouse covers will also require you to spend a hefty amount. On the flip side, you can expect the structure to last for more than two decades. According to some experts, the material is cost effective particularly for commercial greenhouses, where the heating expenses can be diminished by as much as 30%.
Today's greenhouse market presents multiple options to anyone shopping for acrylic panels. Some of the most widely used brand names for the material include Aristech, Polycast, Lucite, Acrylite and Optix.
Types of acrylic panels for greenhouses
Single layer panel greenhouse covers
These are corrugated clear panels that are usually 41 inches wide and 8 feet long.
Twin panel acrylic covers
These are marked by airspace in between the panels, which enable satisfactory insulation.
Triple panel covers
In this acrylic greenhouse cover, the airspace is more than that of the twin panels. And thus, it offers greater insulation.
Quad panels greenhouse covers
The quad panels come with maximum airspace, which allow it to provide good insulation.
UV blocking panel acrylic greenhouse covers
If you have UV-sensitive items in your greenhouse, opting for UV blocking acrylic panels would be a good idea as it will keep out unnecessary radiation rays.
Non-drip panels
The non-drip panels are marked by a special treatment done on one of their sides which prevents the build up of condensation. This, in turn, augments light penetration, which protects shrubs and other small plants from damages caused by dripping water.
As expected, the quad, triple, non-drip and UV blocking panels would require you to make bigger investments when compared to the regular single or two layer units.
Greenhouse cover #4: Polyethylene plastic film greenhouse covers
Polyethylene greenhouse covers are lightweight and versatile. They offer good protection from the elements, which make them a great material for your greenhouse shade system. However, not all polyethylene covers are the same. Let's look at some of their types to know their differences:
Utility grade polyethylene greenhouse covers
This type of greenhouse cover is extremely useful for movable greenhouses where the structure is not permanent. You can expect utility grade polyethylene covers to last just for a single season if being exposed to the sunlight, which is normal for any greenhouse.
You should never try to use it for an additional season as it might severely harm the items in your greenhouse. As the film is not durable, its cost is also quite low. A 10×15 feet roll of utility grade polyethylene costs around $30.
Polyethylene plastic film with UV protection
These films will last for a minimum of 4 years and would keep your greenhouse protected from harmful UV rays.
Polyethylene plastic film with thermal protection
These films work by reflecting IR (infrared radiation) back into the greenhouse. Studies conducted over the years suggest that covers made from this material are capable of cutting the heating expenses by 15 to 30% by maintaining a higher temperature after sunset.
Polyethylene plastic film with anti-condensation effects
By constructing covers with this material, you would prevent the items in your greenhouse from getting exposed to excessive heat. In addition, you would also succeed in reducing excess condensation around your plants.
Heavy duty custom polyethylene greenhouse covers
These are actually covers made from polyethylene. These polyethylene panels usually boast of a characteristic twin-wall construction. the two walls are separated by an air space that enables impressive insulation.
You can fit the shallow arches of your greenhouse depending on your preferences and requirements. Unlike the covers made of polyethylene films, these are extremely strong and durable. They should last for a minimum of 10 years.
What's more, in spite of being so durable, they are not very costly. According to recently obtained data, if you opt for 3 mm thick flexible rolls offering UV protection, you would need to spend around $8 – $10 for each foot of 49 inch wide panels.
The 5mm thick rolls offering UV protection would require you to spend around $10 – $12 for each foot of 49 inch wide panels. Due to its ability to provide amazing protection, panels made of polyethylene is one of the most preferred materials for greenhouse covers for raised garden beds.
Greenhouse cover #5: Fiber glass
Fiber glass panels made for greenhouse covering purposes are usually translucent or clear. They are capable of transmitting as much light into a greenhouse as panels made from glass. An advantage fiber glass has over pure glass panels is that when the sun is about to set, they allow more light to enter the greenhouse.
This happens because the material is capable of reflecting a small share of the light emitted by the sun. If you opt for this material, you can expect most manufacturing companies to offer a guarantee of at least 10 years against structural failure and yellowing.
However, some reports suggest that fiber glass panels might start deteriorating from the top, exposing fibers. These exposed fibers eventually start trapping dirt, thus blocking sunlight to enter the greenhouse. To reverse the problem, you would need to wash the cover and get it re-sealed by an experienced professional.
Greenhouse cover #6: Vinyl coverings
If you want to give your greenhouse, a neat showroom quality appearance, you can think of installing a vinyl cover. However, vinyl covers are not meant for covering the entire ceiling of a greenhouse. They are to be used only on the ends of the greenhouse to give the visitors a perfectly clear and comfortable view of all the items inside. Clear vinyl sidings tend to last for around 4 years and are used mostly in greenhouses built for commercial purposes.
Questions before choosing the a good cover for your greenhouse shade system
Get the following questions answered before making the final choice:
How often will you be able to replace your cover?
If you are willing to replace the covers frequently, you can go for a cheaper material. However, remember that would make you spend a certain amount of cash more frequently. We would suggest going for a moderately priced material that would require replacement once in every 4 to 10 years.
What's the ideal thickness for a greenhouse cover?
The thickness of greenhouse covers is one of the primary factors which influences their durability. The thicker the cover, the greater its durability. However, increasing the thickness also makes the cover heavier.
Polyethylene films, one of the most widely used cover materials, is available in various levels of thickness. There are films that range from 20 mil, 12 mil, 10 mil, 6 mil, 4 mil to as low as 3 mil. A thickness of 3 to 4 mil may not last for more than a year.
The ones that are 6 mil are expected to last for a minimum of 3 to 4 years.
What about panel clarity?
Depending on your needs, you should choose from opaque, translucent and clear panels for your greenhouse cover. If you want your greenhouse to get more heat, go for a clear cover. Having a clear cover is helpful particularly for those who are trying to germinate seeds.
The additional heat would enable smooth development of starter plants. Opaque panels work by diffusing light, allowing it to reach the greenhouse plants in various angles. This type of cover would help you when you are trying to keep maturing plants in good shape. Installing an opaque cover would assist you in preventing formation of hot spots.
Translucent or semi-diffused covers offer all the advantages you expect from clear covers, along with good light diffusion abilities. You will often come across greenhouses that have clear covers on the roof and translucent ones on their sides.
Do you want the cover to control condensation?
Anti-condensation or anti-drop covers work by preventing formation of droplets and allow the evaporated water droplets to flow down into the soil smoothly. Condensation tends to diminish light transmission and exposes plants to excess water. Plants exposed to such situations for long periods of time can develop health issues and collapse.
Installing an anti-condensation cover would ensure that your plants don't experience any trouble. You can also try an anti-fogging spray of any reputable brand to reduce the amount of condensation in the greenhouse.
Do you need a reinforced cover or a non-reinforced one?
Having reinforcement is essential for preventing further tearing of ripped plastic sheeting. If not reinforced, you would need to replace the cover even if it develops a small damage.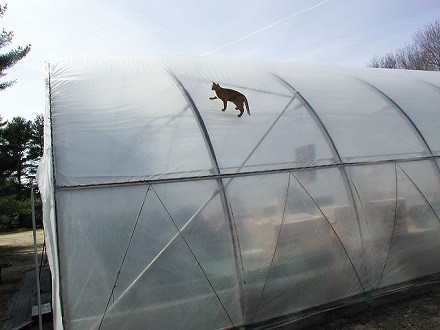 Whitewash or shading compound
The last component of a good greenhouse shade system is a shading compound. A shading compound or whitewash is a paint-like white colored substance which is applied onto the greenhouse walls. It diffuses or increases the amount of light reflected back onto the plants.
If we apply the whitewash in higher concentrations, more light will bounce off the walls, and vice versa. While applying whitewash, the walls of the greenhouse should be dry. A few renewed coats maybe needed every year. You can apply it yourself with a roller and need not necessarily use outside labor.
A greenhouse shade system is a critical element in the overall installation of your greenhouse. Choose the elements in it well to get the best yields from plants.
Best greenhouse shade
A greenhouse shade system is an essential part is an essential part of a greenhouse structure. It comprises of the entire set of internal and external coverings and parts which block excess light from entering through the ceiling of the greenhouse.
While fruit-bearing plants need a minimum of 6 hours per day, not all plants need full sunlight to grow. Most plants are able to use a limited amount of light. This is called the light saturation level. Therefore, shading properly is critical. The light levels that reach the top of the plant decreases for the bottom leaves.
Excess sunlight and UV radiation can cause several plants to deteriorate in health. A good greenhouse shading system can also reduce the amount of condensation forming within the greenhouse walls.
There are many ways of increasing and decreasing shade within greenhouses, some of them being using shade cloths, curtains, coverings, films, blinds, screens, and shading compounds.
Each type of shade mechanism has its own advantages and disadvantages and should be chosen considering their durability and effect on plants. For smaller greenhouses, a good film or covering can do the trick, while bigger ones may need machine-operated curtains and outdoor fittings to block light.
You can also naturally increase the shade in the greenhouse by layering furniture, erecting the structure between big trees and arranging bushy plants in planned manner. Greenhouse Design the Perfect Greenhouse