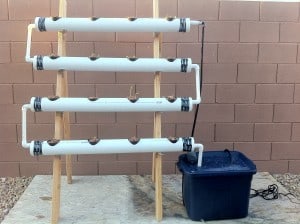 DIY Hydroponics System – Pete doesn't have any garden space or soil for planting in his yard.
But he didn't let that stop him from starting a vegetable garden.
Here he tells us about the hydroponic growing system he built and the veggies he grows.
Here's what he said about building a hydroponics system.
I live in a climate which is very hot and dry throughout nine months of the year.
While I have a small yard, there isn't usable soil for growing a garden.
I don't know much about gardening, but it's something I've wanted to try.
My goal is to have a year round system to produce herbs, lettuce and other greens.
Building a DIY hydroponic system was one of the first things I did. 

>>Hydroponic Systems and Equipment here
Building DIY Hydroponic PVC System
10 Realistic Ways to Overcome Food Crisis
Homesteading For Beginners Become Less Dependent
Complete Guide to Lettuce Hydroponics and What to Buy
How I Built My Hydroponics System
My DIY Hydroponic setup
My setup is a free standing, recirculating pump based hydroponic system. Best LED Grow Lights Review – How To Choose
It has a reservoir full of nutrient solution which is pumped through 3/4" PVC tubes up to system of four 4" PVC grow pipes.
The 170-200 GPH fountain pump can push water up to about 7 feet. Pumping about 170 gallons per hour through the system, it makes for lots of circulation.
Hydroponic System Reservoir
The reservoir is a standard plastic storage container with a lid.
I keep the reservoir covered to avoid evaporation and prevent debris from entering.
In addition, I put reflective insulation around the reservoir to help deflect direct sun, as that raised the temperature of the water considerably.
Even with the reservoir covered, I have to replenish the system roughly once every two weeks.
A lot of water is lost through the plants themselves and their pots.
Hydroponic Grow pipes
Each of the 48" grow pipes has four grow sites, spaced about a foot apart.
Each grow site has a net pot filled with clay pellets.
I used standard 4″ pipe caps (they were only about $2 each).
I didn't cement the ends because I wanted to disassemble and clean the unit as needed.
The pipe ends have a snug fit, but not enough to prevent water leaking, so I wrapped the ends with black PVC pipe tape.
That took care of the remaining leaks.
Each end of the horizontal pipe
At each end of each horizontal pipe, I drilled a 3/4″ hole in the PVC for intake or outlet.
You can see that the intake ports are positioned high on the end caps, and the outlets are low.
I did tests during construction to get the position just right.
If it drained too fast, then the standing water level would be too low, and conversely, if the outlet was too high, the pipe would fill up and overflow.
It was a bit of a balancing act there.
In each hole, I put a 3/4″ steel pipe plug with outside threads as a thread tap.
Worked pretty well and didn't cost nearly as much as a real 3/4″ tap and die set.
Hydroponic System Water pumped
The water is pumped from the reservoir up to the top grow pipe.
Then it flows through the top grow pipe, down to the next pipe below, and so on.
Finally it drains back into the reservoir.
I try to keep 2″ to 3″ of water in the tubes.
The nice part about keeping it so deep is that if there is a pump failure or other issue with the water supply, there will be some standing water that keeps the plant roots wet and fed for a while.
This happened to me once when the tomato plant roots blocked one of the pipes, causing the tube above to overflow and eventually drain the reservoir.
Once the pump shut off from lack of water, the tubes still had enough water in them to keep the plants alive until I noticed a day later.

Before planting in the hydroponics system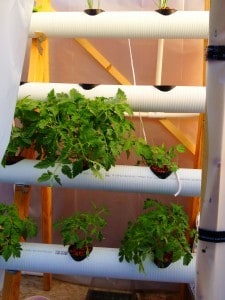 Before planting anything in the hydroponic system, I had started some beans, lettuce, tomatoes, green onions and peas indoors in a growth medium that I could easily transfer to the net pots.
Not all of my starts took off.
My beans did not survive at all, and all but one lettuce plant died.
I attribute this to planting too soon, before the starts had developed good roots.
In the photo here, you can see the tomato plants are taking off, peas are doing okay and the onions and lettuce are still slow to get going.
Small greenhouse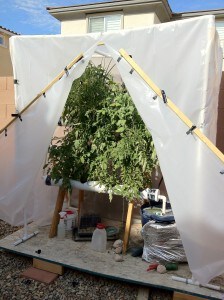 I put a "green closet" small greenhouse around the structure to help control temperature and filter out some of the intense sun.
The greenhouse is made out of PVC pipe, made rigid with wood bracing and covered in 7 mil painters plastic.
When this greenhouse photo was taken, the tomato plants had grown the most by far.
So much, that I had to remove a few plants due to their roots blocking up the pipes, and to allow for the other plants to get more light.
Later, I added string support for the plants to cling on to.
Root system
I was very surprised by the root systems.
Below is a photo of the root system of one of the tomato plants.
These roots actually started to become an issue.
They started to grow so much that they would block the pipes and cause water to back up in the system.
A little bit of a "hair cut" fixed that for a little while.
This is a pot I removed to thin out the garden.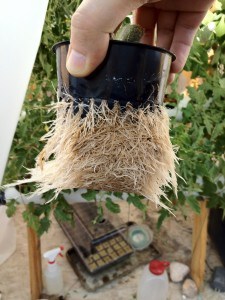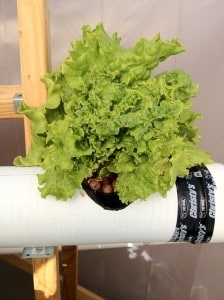 Enjoying the harvest
We used the green onions and lettuce from the setup to make a lot of salads for six (two adults and 4 kids).
Here is a photo of one of those plants. We just kept cutting leaves off, and they just kept growing back.
DIY hydroponics system cost
Overall, the bill of materials cost on the entire unit is well under $100.
I also bought some tools that I didn't already own, including a 4″ hole saw for $20.
Materials I used to build DIY hydroponics system
170-200 GPH fountain pump
27-gallon plastic storage container with lid
4" PVC pipe: 4@48"
3/4" PVC pipe:
4" PVC end caps: 8
3/4" PVC elbows: 8
3/4" steel pipe plugs: 8
Flexible PVC fountain tubing
Black PVC pipe tape
Wood for support frame
Hydroponics system supplies
Standard garden seeds and plant starts
Standard seed starting medium and starter cells
4" hydroponic net pots: 16
Hydroponic clay pellets
Hydroponic nutrient solution formulated for growth; I like FoxFarm.
Hydroponics system equipment
Hacksaw and guide for cutting pipe, Drill, 4" hole saw and 3/4" drill bit
Best Hydroponics Equipment All in all it's been a good experiment, and we've grown a lot of produce.
It was fairly easy to do, and it worked well in my small space.
I can't wait to build my next hydroponics system, refining my ideas.
Ultimate Comprehensive Guide on Generators for Sale
Comparing Generac Generators with other Generator Brands
Briggs and Stratton Generators
Champion Generator
Prices of backup generators
Everything You Need to Know about Generators