Best Garden Hose Nozzles – When it comes to watering your garden, washing your car, or doing other outside chores that need water, you need a hose. Then again, most jobs require a different spray pattern. For example, washing the car may require you to use a spray pattern with some pressure behind it, while spraying delicate plants means using a fine mist.
To achieve this, you need the best garden hose nozzle possible.
Best Garden Hose Nozzle Reviews
We are going to talk about five products, all of which are designed to make using the hose easier. We review them and discuss their features and their pros and cons
INNAV8 Heavy Duty Garden Hose Nozzle
INNAV8 LLC has proven its innovative style with its name. While the company has only been around since 2016, it has taken the online world by storm. It primarily sells INNAV8 and Pura Vida products.
With the INNAV8 Garden Hose Nozzle, you are going to have 10 different spray patterns. This means that you can use whichever one is best for your watering needs.
There is a high-pressure jet of water that can clean hard surfaces, and you've also got a soft shower option to wash your dog, water the garden, and much more.
It looks a little different than others because it doesn't have a lever to push. Instead, there is a thumb control, which is very easy to use. This is a no-squeeze version, which makes it ergonomic and doesn't require a lot of pressure on the button.
You also get easy flow control to help you with your needs. Simply adjust the dial at the front of the nozzle (where the water comes out) to get the right spray pattern.
The ergonomic handle features a soft rubber grip, so it's comfortable to hold for long periods. Plus, your hands won't slip if they happen to get wet from the spray.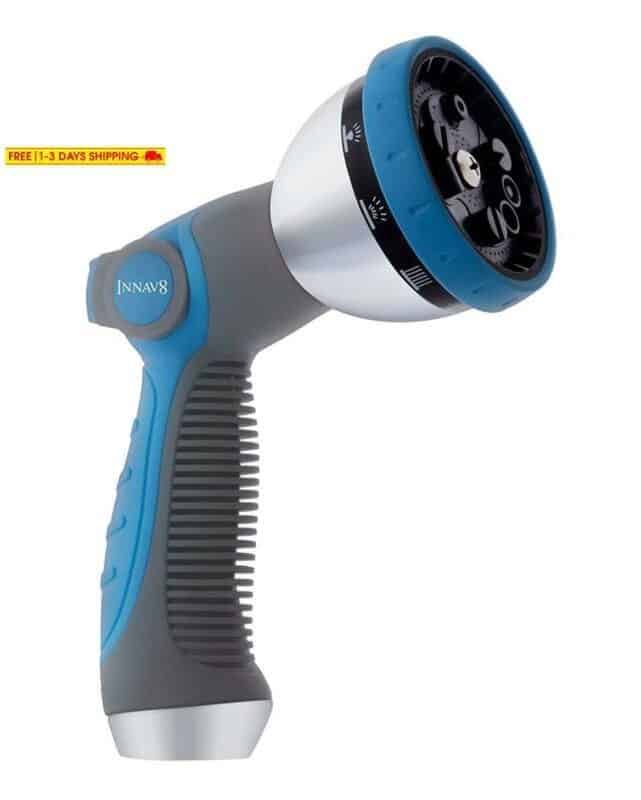 INNAV8 Heavy Duty Garden Hose Nozzle Pros and Cons
We were impressed with the precision thread connection with the rubber gasket included. This makes it so much easier to connect your nozzle to the hose. Also, you get a water-tight seal, so the nozzle isn't going to leak.
Thumb control is easy to use
Many adjustable pattern options
Ergonomic feel for comfort
Gasket and washer may fall out
Not very forceful spray settings
Plastic housing
There are no spare rubber gaskets or washers that come with the purchase, and the one included can fall out. While this isn't a huge concern, it does mean being extra careful when disconnecting the nozzle from the hose.
You may want to do so in good light and on a light-colored surface just in case.
ALMA Garden Hose Nozzle
ALMA is another brand that has recently hit the market. The brand focuses on providing innovative items that can make people's lives easier. This is also evident in their garden hose nozzle, where you can quickly see how beautifully designed it is.
If you're looking for something that's easy to use and looks similar to those you've used in the past, the ALMA brand has it.
This product features 10 different spray patterns, so you can get high pressure when you need it and lower pressure for delicate things.
The nozzle is heavy-duty and made of ABS plastic and zinc alloy. It also features a rubber coating, so it is more durable than others of similar materials.
The ABS plastic is resistant to corrosion, ensuring that the spray holes of the nozzle do not rust. This nozzle features an ergonomic shape with a slip-resistant rubber coating.
Therefore, it's comfortable to hold for long periods, and you aren't going to tire out your hands easily.
ALMA Garden Hose Nozzle Pros and Cons
We were impressed by the control of water flow here. Instead of pushing down on a lever, you push a button on top of the handle with your thumb.
Then, you adjust it to the right spray and lock it into place. This means that you do not have to continue holding the button while spraying the water.
10 spray patterns
Heavy-duty design
Ergonomic handle
Leaks are possible with some spray patterns
The thumb trigger is a challenge to get used to at first
The pattern symbols are difficult to understand
Though it is designed ergonomically and for comfort, the nozzle handle is quite small. As such, those with larger hands, such as men, might find it a bit cumbersome to use.
With time, though, you are going to get used to it and aren't going to have any problems.
Dradco Heavy-Duty Fireman-Style Hose Nozzle
Dradco hasn't been around that long, but it is becoming one of the most popular brands for fireman-style nozzles. It's taken old-fashioned products and improved them using many methods.
Of course, the brand focuses on using high-quality materials. Plus, it is an American veteran-owned family company. You can find that the brand is sold at a few retailers, but it primarily makes its sales on third-party e-commerce websites.
Those who like the old-fashioned fireman-style nozzles are going to enjoy this one from Dradco. It features high-grade stainless steel and brass, without any plastic, so it is almost indestructible and isn't going to leak.
You're going to find a variety of different spray patterns, too, which means that it can hold up to any job around the property.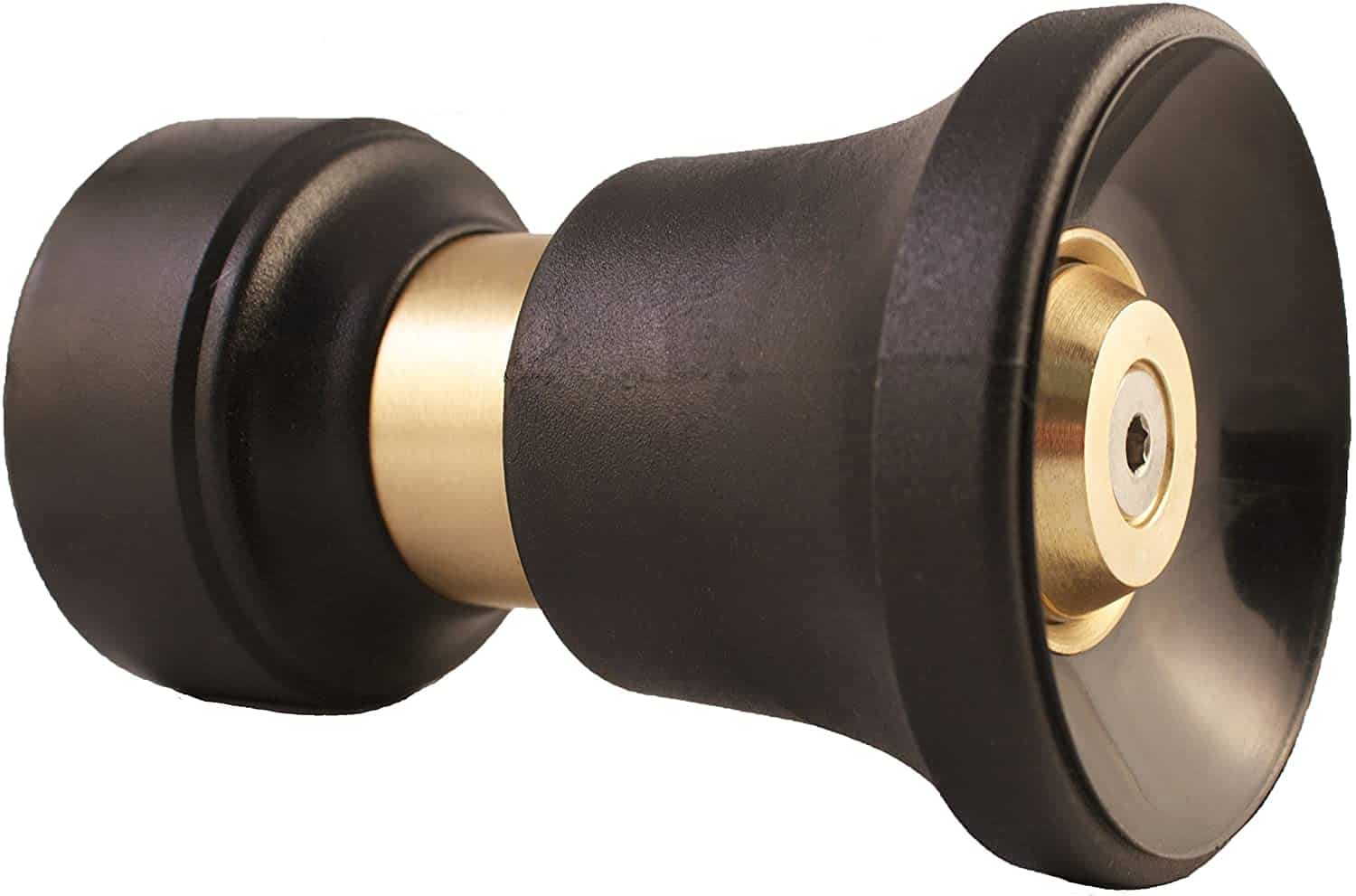 Dradco Heavy-Duty Fireman-Style Hose Nozzle Pros and Cons
We were impressed by the materials used in making this hose nozzle. The brass offers durability and rugged styling, and the stainless steel threads are designed for longevity.
There's also a rubberized grip at the base that's ergonomically shaped to make it comfortable to use for long periods.
Brass construction
No leaks
Easy to adjust and use
Unable to change the flow rate
The spray patterns are too high-pressure
Made in China
The one issue we found was that you couldn't control the flow rate of the water. You can change the pattern of spray, but you cannot stop the water from flowing unless you turn it off.
GREEN MOUNT Hose Nozzle
GREEN MOUNT is another up-and-coming business that features a variety of garden and home tools, which include hoses, recoil hoses, and sprayers.
Those who prefer a "normal" garden hose nozzle might like this one from GREEN MOUNT.
This nozzle features zinc alloy materials, which is stronger than plastic, so it can prevent corrosion and rust development. It is lightweight and small enough to fit in little hands, but it's also comfortable for larger hands.
You also get adjustable spray patterns, making it easy to choose what you need for the task.
GREEN MOUNT Hose Nozzle Pros and Cons
We were impressed with the trigger lock bar, which is integrated to the top of the handle. Thanks to this, the water can continue flowing without giving your hand cramps.
Locking mechanism
Durable construction
Adjustable spray patterns
Leaks possible
Hard to control how much water comes out
Issues with pressure
Though it is designed to be leak-proof, over time, it can leak at the base of the hose. You can often fix this issue by using Teflon tape on the threads, but it is an extra step you must take.
IRRIGLAD Hose Nozzle
IRRIGLAD is an enterprise that focuses on every part of the process, including design, development, and manufacturing. It offers many gardening products, and this sprayer nozzle is one of its top contenders.
If you prefer traditional hose nozzles, you are going to enjoy this one. It features an all-metal body, so it's more durable and can withstand corrosion.
Of course, it is designed with a locking mechanism to keep the spray going without having to hold the lever down.
When you need a different water flow, you simply change your grip on the handle, though it cannot be locked into place then. Nevertheless, it helps when you're watering a delicate flower or otherwise need different pressure.
IRRIGLAD Hose Nozzle Pros and Cons
We were impressed by the fact that you get two products for a similar price of one. Of course, we did worry that this indicated an issue with durability, but none were noted.
Though it looks like your average hose nozzle, this also means it functions similarly.
All-metal construction
Locking mechanism
Streamlined design
Leaking possible
The handle is not ergonomic
Possibly cheap design
The handle is not ergonomic, but there are finger grips.
Best Garden Hose Nozzles Buyer's Guide
When it comes to buying a garden hose nozzle, you need to choose something that is going to last. It must also be comfortable and fits in your hand appropriately.
Often, it is hard to find the right product, but we have created this short buyer's guide of the best garden hose nozzles to help you out. In it, you are going to find the information you need to make a wise decision.
Durability
We made sure that each nozzle we chose for our review had a solid build quality for durability. To do this, we looked at the materials used for the product.
Of course, we also focused on the individual components to ensure that there was a low likelihood they could break down or jam with time.
Another important consideration was the number of moving parts inside the nozzle. Often, garden hose nozzles are going to get dropped and are going to be wet a lot. Therefore, it is essential that the nozzle isn't susceptible to rapid wear and tear or corrosion.
Ergonomics
Ergonomics also plays a part in the right garden hose nozzle to buy. Washing your vehicle or watering your garden can mean that you have to hold the garden hose for a long period.
Many other outside watering chores also take a long time, and for that reason, it's important that you can easily hold the nozzle. We also considered the ease of holding it for people without a strong grip.
Particularly, we looked at nozzles that "locked" into place. This means that the water could continue flowing, even if the nozzle wasn't being squeezed by a hand.
Of course, every nozzle had a different locking mechanism, so we made sure that our finalists locked into place.
Comfort was also another factor here. If you're holding the nozzle for an extended period, you need to be quite comfortable. The locking mechanism also had to be easy to lock into place and switch between modes.
Functionality
When testing the nozzles, we also considered functionality for each. In practice, most people purchase garden hose nozzles for various reasons.
There's no single set of features that work best for each application. With that said, we looked at specific functions for each nozzle. The most important ones were locking mechanisms, spray patterns, and ease of use.
Plus, we looked at how far the nozzle could spray using the jet configuration. Of course, we also have to determine how easy these functions were to use, and if they worked well together.
Longevity
In most cases, garden hose nozzles are generally inexpensive. Therefore, most people believe they are going to have to replace them each year around spring or summer.
However, the cost of the product should not mean that you have to settle for something that breaks after moderate or light use. This is a waste of money and time.
Price
Again, many of these nozzles we reviewed are inexpensive. Price is a concern, but it shouldn't be the only one.
Plus, you may think it's a good idea to buy the most expensive one you can afford, but that might not be ideal either. If you only go by price, you may not get the features you want, or it might be uncomfortable to use for long periods.
Take price into consideration, but don't use it as the only factor to help you decide.
Garden Hose Nozzle FAQs
What is a hose sprayer?
A hose sprayer is an excellent tool to spray water from a garden hose. In some cases, it can also be attached (in some cases) to liquid gardening products to spray directly from the bottle.
In a sense, the hose sprayer is used to siphon out water from the hose and spray it in the pattern of your choosing. It makes it much easier to get an even spray or stream when using a hose sprayer rather than using the water directly from the garden hose. You can find many styles available, such as the pistol grip, fireman, and turret versions.
Pistol Grip
The pistol grip is a nozzle that's shaped similar to a gun, and it features a trigger or lever to turn on the water and control the rate of flow. Often, it's found on the front of your handle so that the fingers can depress it.
Generally, a pistol grip nozzle is made of plastic or aluminum; they have many moving parts, so quality is essential to prevent it from wearing out or breaking too soon.
Turret or Dial
You've also got the turret or dial version, which is a type of nozzle that is also often a pistol grip style, but they have one key difference. You adjust the spray pattern by turning a dial, which is often found on the front of the sprayer.
Often, they're made of plastic, but you can find some that are made of aluminum. Still, it's important to focus on quality to ensure that the product lasts a relatively long time.
Fireman
This version often features high pressure and a lot of water at once. They're perfect for washing vehicles but might not be best for tender seedlings and plants.
Generally, they are made of metal with a rubber coating to protect it from getting dropped. With that said, you can expect that they are often more expensive.
How do you use a garden hose nozzle?
The way to use a garden hose nozzle varies, depending on the style. With the pistol-grip version, you just point the nozzle in whichever direction you want to spray and then pull on the trigger.
It's easy to turn off the water by releasing the nozzle's trigger, and you can control the flow rate of the water based on how hard you depress the lever.
If you buy the turret or dial nozzle, the way to use it is similar to that of the pistol grip version.
You can still point and shoot the same way; the only difference is that you control the spray pattern using the dial on the front of the nozzle. In this style, the flow rate can also be adjusted based on how hard the level is depressed.
Those who want a fireman nozzle are going to find that it works similarly to the others.
You can attach it directly to the garden hose, just like you do the others, but you hold the nozzle in one hand while turning the dial with the other hand.
Generally, there is no "Off" feature to this nozzle; water just continues to flow until you shut off the hose at the source.
How do I get the nozzle off my hose?
In most cases, it is best to remove the nozzle from the hose after each use. In that way, there is less risk of it getting dropped or damaged.
Keep the nozzle in the house or a shed away from direct sunlight and the elements. To remove the nozzle from the hose, hold the connector for the hose's end and grip it tightly.
Generally, turning to the left is going to loosen the fitting (righty-tighty, lefty-loosey). Make sure that you are loosening instead of tightening; else, you could damage the threads that attach the hose to the nozzle.
Often, this is all you have to do, and you probably aren't going to need tools. If, for some reason, the nozzle becomes stuck, you may need to use pliers and appropriate force to remove the nozzle.
Just remember that too much force could do damage. If you can't get it off otherwise, you may just have to remove it with whatever force possible and purchase a new one.
Can you leave the hose on with the nozzle?
Yes, it is possible to leave the hose on with the nozzle attached, but you are going to waste a lot of water by doing this. Even if you put the nozzle in the "Off" position, the water can still leak out of the nozzle's head.
It is a safety mechanism so that the hose does not have too much pressure to spring a leak. Often, though, leaving the hose on is going to cause a leak.
The hose is stretchy and bendable, so it can swell to take on that extra pressure.
However, this is only possible for a short time before it becomes detached from the tap (base at the house), the nozzle breaks off, or the hose springs a leak.
Always remember to remove the nozzle from the hose and turn off the garden hose after each use.
How do I keep my hose nozzle from getting stuck?
Often, your hose nozzle is going to get stuck because of corrosion and calcium deposits. While this is natural, there are ways to prevent it.
The first thing to do is always remember to remove the nozzle from the hose after using it. You can then let it dry and then store it in the house or shed.
Consider using Vaseline or Automotive Grade Anti-Seize. Just put a bit on the threads of the hose. This will help the nozzle so it won't get stuck.
For those who water their gardens, this option may add some toxins to the water. If you worry about this issue, you can always put some Teflon tape to the inside of the hose nozzle to prevent it from getting stuck.
Our Best Garden Hose Nozzles Recommendation
When it comes to buying the best garden hose nozzles, we found that we were quite impressed with the INNAV8 Garden Hose Nozzle.
This product features an ergonomic handle and a button to start the water spray, and we also liked that it has 10 water patterns.