Review of the Best Garden Hose Splitters – Have you ever tried to water your plants only to find that the hose isn't long enough to cover your whole garden? This happens frequently, and most people wonder what to do about it or if there is a solution.
A hose splitter is an excellent product because it can help you connect your hoses to each other, making it easier to get to hard-to-reach places. Since there are hundreds of choices on the market, it can be challenging to find the right product, so we reviewed 5 options to help you choose the best garden hose splitter.
Best Garden Hose Splitter Reviews
You will also find that we included a garden hose splitter buyer's guide and FAQs section to help you understand what splitters are and how to choose one for your situation.
Morvat Brass Garden Hose Splitter
Morvat is a small company with a philosophy that focuses on treating its customers like family. It is focused on offering high-quality products with great value as well as in providing the best customer service.
When it comes to quality, metal is often better than most, but brass is the king.
This brass splitter from Morvat features the same high-grade brass as the older models, helping to ensure durability. It is designed to work with a variety of water pressure needs, so you get dependable performance each time.
Of course, the top connection is quite strong, so it can attach to your spigot without any issues. The handles are designed to be large so that you can grip them and turn them easily.
You get high-quality ball valves that offer water-tight shutoff, so you don't have to worry about leaks. You also get appropriate washers for both sections of the splitter, which then prevent leaking.
Morvat Brass Garden Hose Splitter Pros and Cons
There are several things we like and dislike about this splitter.
We like that this brass hose splitter is easy to install. Plus, it accommodates standard hoses, so you don't have to go out and buy something new. Along with that, the main connection (at the top) can be used on both plastic and metal threading.
Does not break easily or rust
Accommodates standard hoses
Doesn't interrupt water pressure
Leakage possible
The collar can detach from the body of the unit
May need to use hammer or pliers to turn on
While we like the leak-proof design, we find that it isn't quite up to par. For one, it is quite difficult to turn on each of the spigots because it is also made of brass. With time, it can get stuck, making it hard to turn on and off. Plus, we find that the top connector can disengage from the rest of the splitter, rendering the product useless.
2wayz Metal Hose Splitter
2wayz is a brand specializing in gardening and watering items. It was created in 2007 and is based in Israel under the G&S LTD manufacturing label. The company's goal is to produce the best products possible for its customers.
When you buy this 2wayz hose splitter, you get two products for a relatively low price. This allows you to either use both at the same time (one for the back and front yard) or have a spare just in case.
The product is designed to be used extensively without fail; in fact, it was tested by the company in lab trials for many months without an issue.
It's been recently redesigned to have the spouts fastened with metal bolts so that they cannot disconnect from the base. What's more, this hose splitter is quite easy to install, so long as you know the basic features of a hose splitter and how it works.
You aren't going to need any tools, so installation is quick and fuss-free. Along with everything else, you are going to find that this splitter rotates 360 degrees, so you can pull your hose in any direction.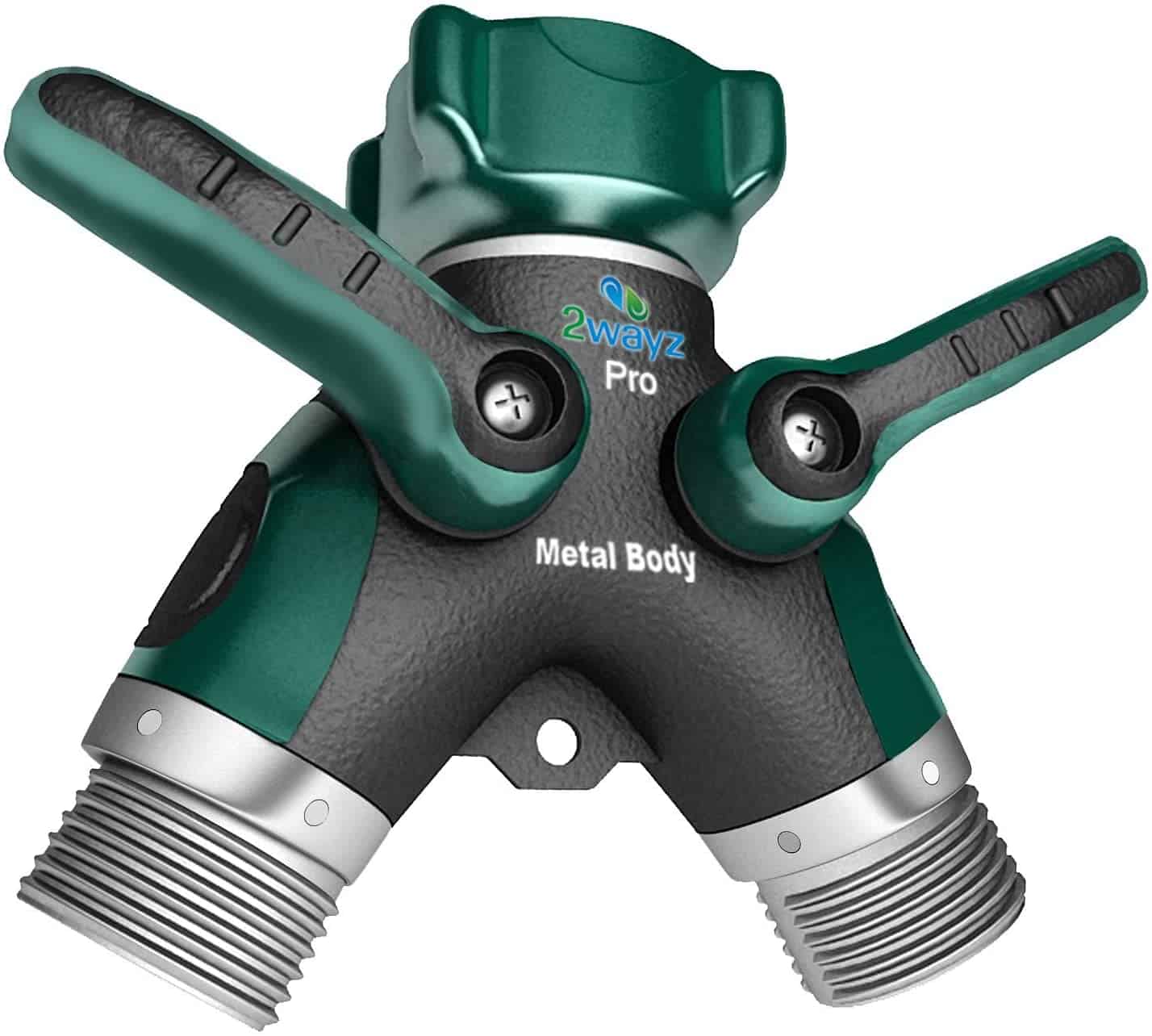 2wayz Metal Hose Splitter Pros and Cons
We like the fact that this unit features long spout handles. As such, it is much easier to turn it on and shut it off. Plus, if you have arthritis or large fingers, you can still turn it on and off easily without much fuss.
Metal body
Long spout handles
Two products in one package
Leakage is possible, especially over time
Spout handles weaken with time
Reduced water pressure when using the splitter
Though the body is made of metal, the spout handles are made of rubber, which means that they can break if you put too much pressure on them. In that case, it is advised that you be extra careful when turning the spout on and off.
IPOW Garden Hose Splitter
The IPOW brand is a global online retailer that focuses on a variety of products. You can find phone mounts for bikes and cars, sporting goods, and kitchen appliances, as well as items for the garden.
This company is committed to providing a variety of high-quality products from its factory while keeping prices low. At present, you can purchase directly from the brand's website or go to third-party e-commerce sites to buy.
If you're looking for a hose splitter that fits your standard garden hose and faucet, this one might be for you. The connector of the adapter is easy to turn and attach to your spigot and hose without the need for extra tools.
Also, it's made of solid brass, so it's going to be durable and corrosion-resistant. You're going to find that this product is covered with thermoplastic rubber, so it's easy to operate and grip the handles. Plus, the valves can be open or shut separately, so you can turn on one hose and not the other or change the flow rate as needed.
IPOW Garden Hose Splitter Pros and Cons
There are several things we like about this model. We are impressed that the company provides you with six extra washers. This is essential because the washer is one of the most common components to fail with time.
With these extras, you can continue changing the washers as needed to prevent leaks.
Tightly sealed ball valves
Extra hose washers included
Brass construction
Leakage possible with time
Can break if exposed to elements
Can be hard to turn levers even with larger handles
Some things we dislike are While the spout handles are designed to be ergonomic, we find that they are just a bit too short. When both are in the "On" position, they almost seem to catch under the top connector. It's not a huge concern, but it does mean focusing on finger placement to shut them back off.
Twinkle Star Garden Hose Splitter
Twinkle Star LLC is a top-rated seller on a popular third-party e-commerce website.The company sells products for the kitchen, patio, garden, lawn care, and home improvement departments.
I t's not as well known as some of the other brands, but this up-and-coming company has a variety of items designed to make life easier for a busy household. The company has been in business since 2017. This two-way splitter from Twinkle Star is a ¾-inch splitter designed for use with all standard faucets and hoses.
It's made of brass, so it is highly durable and solid. What's more, you get three connectors and two valves, so you can hook up hoses to your outside or inside spigot.
The adjustable flow control has large plastic handles, which means it is easy to grip and turn on and off. The splitter itself can handle water pressures of up to 80 PSI, making it strong enough to handle most home connections.
Twinkle Star Garden Hose Splitter Pros and Cons
We like how easy it is to install this hose splitter; all you have to do is hand-tighten the top connector to the spigot at the base. You don't need tools and, in fact, should not use them because they can damage the connector or strip it.
Easy to install
The spout handles are easy to use
Sturdy design
Thin metal construction
Durability concerns
O-ring quite bendable; leads to leaking
Though the product is made of brass, the metal seems a bit thin. As such, we do worry that it could start leaking or break completely with time. However, with normal use, we do not think it is an issue.
Eastrans Garden Hose Splitter
Eastrans is a newer company and has only been in operation for a few years. Nevertheless, it offers a variety of high-quality products for the home and garden. You can find hose splitters, hose hangers, PVC tubing, and items for the swimming pool, as well. Those who want an all-brass construction are going to like this Eastrans splitter.
It is completely made of brass, which ensures durability, and it can withstand high water pressure without rusting, breaking, or failing. It's quite easy to turn the grip handles on the outlets, and you aren't going to need pliers or other tools; just use your hand to open or close the spout.
The ball valves are high-quality, as well, so you get a tight seal to prevent dripping and leaks.
Eastrans Garden Hose Splitter Pros and Cons
We like that this product is designed to be used on both indoor and outdoor appliances. Plus, it has a ¾-inch connector, which means that it is compatible with standard hoses and spigots.
All-brass construction
Adjustable control of water flow
Easy turn swivel connectors
Screws can loosen over time; may need tightening
Small valve holes may affect the flow rate
Leaking possible with time
May require changing the washer periodically
Though the all-brass construction is nice, we did find that it could lead to rust or corrosion with time. Since water is going to flow through it, it might have been better to use durable plastic on the inside where water might go. Still, it is a decent design and doesn't seem to have many issues.
Best Garden Hose Splitters Buyer's Guide
When it comes to buying anything, you often wonder if you're getting the best product. There are many features to consider, such as what the item is made of and the price.
We look at some of the top concerns in this buyer's guide so that you are better prepared to make an informed buying decision. Here are some options and features to consider:
Number of Channels
The goal of the hose splitter is to have at least two channels, which look similar to spigots. This is where you connect the hoses together.
Generally, you are going to find that these splitters have two channels. Two-way splitters work well for areas with weak or high water pressure.
You can also find a three-way splitter, which is highly popular because you get one extra port for another hose. Though the two- and three-way splitters are the most common, you can also find multi-channel options with four-way splitters.
Just remember that if you buy one of these, you are going to need excellent water pressure so that the third and fourth hoses have a steady water stream, as well.
Splitter Material
Most manufacturers use plastic with some metal parts. Generally, modern plastic is quite sturdy and durable, and you also have the benefit of it not corroding like traditional metal.
There are also metal splitters, which can be better if you are going to use them as stationary objects without having to remove the hoses or unscrew the splitter.
Metal splitters do have one significant issue; attaching a hose to it is ultimately going to result in the hose leaking because the splitter is going to corrode with all that water running through it.
As such, brass is likely going to be the best choice for metal.
A word of caution here, though, is that if you do purchase a metal splitter of good quality, you should remove the hose from it after each use to help prevent rust formation.
Remember, a metal hose splitter is going to be more durable and last longer than plastic.
Price and Warranty
The price you pay is an important factor when looking for the best hose splitter. It is a good idea to compare the prices between two or three top products, but you must ensure that you're comparing them correctly.
For example, a plastic splitter is going to be less expensive and less reliable, while metal is going to be slightly more costly and more durable.
Of course, you have to consider your budget, but most splitters, even expensive ones, are only less than $30. You should also consider the product's warranty and whether or not it comes from the manufacturer itself or a reliable seller.
Most products come with a one-year warranty, but it is possible to find two- or three-year guarantees, as well. Some manufacturers even offer a lifetime warranty, but that is mostly for products made of brass or other metals.
Often, the warranty for a hose splitter involves replacing the product or refunding your money.
Garden Hose Splitter FAQs
How does a hose splitter work?
A hose splitter works by attaching to your hose spigot. This is often located somewhere on the house, where water can run through it.
It has an on and off valve, similar to that of your kitchen sink, which turns in one direction or the other. Once it is connected to the house spigot, you can then connect the hoses to it.
To do this, you are going to take two hoses and connect them to the splitter; then, you just open the spigot.
You can control the water's flow with the shutoff valves located on the splitter. Usually, they are designed to be flip switches.
Can you hook up a washing machine to a garden hose?
Yes, you can hook your washing machine up to your garden hose. You may need to do this if you don't have a washer hookup inside the house, or you don't have the proper hose for the washing machine.
Regardless, the steps are easy, and you aren't likely to need many parts to do it. Usually, the couplings used on your washing machine hose are the same as those on the garden hose.
This means that the threads needed to attach the hose to the washing machine are the same for both products.
The first step is to wrap some plumber's tape around the male end threads of your garden hose.
Then, you are going to insert that end into the cold-water inlet connector of your washing machine.
You're going to have to hold the hose in place while twisting the coupler connection clockwise around the hose.
Do this until it is tight, and then turn another quarter turn for safety to prevent leaking.
Now, you're going to have to wrap plumber's tape around the cold-water interior hookup threads of the washing machine or the threads of your exterior water spigot.
Take the female end of your garden hose, and tighten it to the washing machine's water hookup.
Now, it's time to wrap some more plumber's tape around the male end threads of your hot water hose; insert this end into the hot water inlet connection of the washing machine.
Again, twist the coupler's connection around the hot-water hose while holding the hose in place; make sure it is tight.
You're also going to wrap some plumber's tape around the hot water interior hookup threads of your washing machine to the exterior spigot for hot water.
Make sure to tighten the female connection of the hose to the water hookup for your washing machine.
Lastly, open the valve for the cold water and hot water hookups.
Can you connect two garden hoses?
Yes, you can connect two different garden hoses, and it isn't difficult to do. If both of your hoses have standard fittings already, all you have to do is screw one hose's male connector to the female connection of the other.
However, it can become more difficult if one or both hoses don't have the right connections. When that happens, you need to cut one hose end straight off with a utility knife.
After that, force a barbed rod into your hose until it is flush with your connector. Take a crimp and fit it around the end of your hose, joining both halves using the provided screws.
Tighten everything to ensure that the connection is leak-proof.
What is a female hose connector?
Generally, garden hoses use a male and female thread connection, which is called a hose union. You can find fittings for 1/2-inch, 3/4-inch, and 5/8-inch hoses.
Usually, in the US, thread sizes are 3/4-inch GH for female ends of the garden hose.
There are two different options to connect here. Fit the brass female ¾-inch threaded connectors to the hose, which have a bayonet or barbed section to push into the tube.
Of course, you can also screw in a ¾-inch plastic fitting to the tap so that the hose connector can be pushed onto the fitting.
Are all hose connectors the same?
Yes and no. All of the hose connectors are the same size, but they are specified by the internal dimensions of the hose. Therefore, typical fittings are either 5/8-inch (internal diameter) with an 11.5 thread pitch or ¾ inches in diameter with the same thread pitch.
They are not all the same because they can be made of different materials and may require the use of various fittings or couplings to get them to attach to the splitter.
Our Recommendation on Best Garden Hose Splitters
When it comes to choosing the best garden hose splitter, you've got many options. We thoroughly reviewed five products and have concluded that the hose splitter from IPOW is the best of the best.
The body is made of brass with rubber spout handles; plus, you get six extra washers, making it easy to prevent leaks for an extended period.