Best Greenhouse Kit – Greenhouses can be a real blessing for those with a green thumb. And building one with a kit saves you money and time.
In this article, we'll help you decide which is the best greenhouse kit for your needs from among the many options available in the market. We review 13 greenhouse kits, varying in size and price points.
Whether you're a gifted gardener or just love being surrounded by plants, there are many reasons why you would want to have a greenhouse. Having a greenhouse in the yard can aid in growing your own food and flowers, no matter the season. In addition, it can serve as a peaceful retreat after a tiring week.
However, they can cost you a lot of money. In the United States, building a greenhouse can cost anywhere from $7,000 to $25,000.
The expenses will vary depending on factors like the size of the greenhouse and materials. In addition, depending on the size and where you live, they may require excavation and permits, among others.
It's important to research the best greenhouse options available today. Likely, there will be several which will serve your purpose.
At a Glance: Our Recommended Greenhouse Kits
Palram Rion Grand Gardner Greenhouse
Palram Bella Hobby Greenhouse, Silver with Twin Wall Glazing
We also recommend:
Palram Snap & Grow Hobby Greenhouse w/Starter Kit
Palram Hybrid Hobby Greenhouse, Silver, Plant Hangers Included
Best Greenhouse Kit Reviews
While greenhouses can be quite expensive to set up from the scratch, a greenhouse kit (also commonly known as a 'greenhouse-in-a-box') allows for a more economical approach, especially for a beginner indoor greenhouse.
You will need to consider the space you have and whether or not you want to be able to move it. If so, consider a portable greenhouse
Palram Mythos Hobby Greenhouse – 6' x 4' x 7'- Silver
The Palram Mythos Hobby is an extremely durable greenhouse. It comprises 4 mm twin-wall polycarbonate panels, which not only block 99.9% of UV rays but also protects your plants by diffusing the sun's light and spreading it evenly.
The frame is made of durable rust-resistant aluminum and offers a bountiful 24 square feet of space for planting.
It includes a roof vent that can be easily adjusted according to your preference and need.
This kit includes rain gutters, a galvanized steel base to ensure a sturdy structure, frost protection, and a lockable door to keep your plants safe.
The estimated assembly time is 4-5 hours.
This deal includes a 5-year limited warranty and customer support (US-based) for a very reasonable price.
Palram Harmony 6×8 Green Greenhouse
It is nearly indestructible with solid high quality, crystal clear polycarbonate panels, and a rust-resistant aluminum frame.
The Palram Harmony Greenhouse is a viable option for anyone wanting to invest in their plant hobby.
Easy assembly is guaranteed with a slide n' lock system, and step-by-step instructions included for a stress-free experience!
The light transmission is maximized to over 90% to ensure optimal growth for your plants, vegetables, and flowers.
This greenhouse measures in at 247L x 185W x 208H cm for that bit of extra space to move around and not bump your head on the ceiling!
In addition, it includes a standard of 5-year limited warranty.
This is an excellent first choice for anyone who wants durability, safety, and optimal use of space.
Palram Rion 8×12 ft Grand Gardner Greenhouse
This spacious Palram Rion Grand Gardener luxury greenhouse with a beautiful barn-style design is excellent for those who are serious about growing plants, flowers, and vegetables and wish to do so in style.
With two different types of polycarbonate panels — heavy-duty and see-through — this greenhouse offers you that bit of extra protection, while not compromising on the crystal clear views.
A simple pin and lock system warrants an easy stress-free assembly, and the roof panels slide into place effortlessly.
This guarantees your new plant hobby will be stress-free, and you can get started quickly.
Over 70% of sunlight is diffused by the twin-wall roof panels to ensure a soft and even light for your plants.
With double-doors, a weatherproof Green Resin frame, and roof vents, the Grand Gardener Greenhouse is every gardener's dream!
Palram Hybrid Hobby Greenhouse
The Palram HG5508PH Hybrid Hobby greenhouse offers impressive quality.
With practically unbreakable 4mm twin-walls of crystal clear polycarbonate roof and side panels, it delivers 90% light transmission.
The panels diffuse sunlight for optimal light distribution, and it blocks up to 99.9% of the sun's harmful UV rays, protecting your plants from burns.
The rust-resistant frame made of aluminum, and a galvanized steel base for durability.
This greenhouse offers 48 square feet of growing space.
The included plant hangers optimize the use of space inside.
Other features include an adjustable roof vent, rain gutters, a door with a lock handle and a magnetic catch.
It offers a five-year warranty with US-based customer support.
It is a fantastic choice for those looking to really invest in their plant hobby.
Palram Snap & Grow Hobby Greenhouse
Upgrade your back garden instantly with this snazzy and spacious Palram Snap & Growth Hobby Greenhouse — which includes a starter kit.
With a whopping 68 square feet of growing space, you finally have the room to grow any and every plant you ever wanted!
You will never bang your head on the ceiling with 8.5' of headroom.
It's an amazingly durable greenhouse with a reinforced, double-walled and rust-resistant aluminum frame, with uncomplicated assembly.
It includes a starter kit that includes everything you need to start growing right away.
All you need to add is your plants.
The kit includes an automatic vent opener, an irrigation kit, heavy-duty shelves, anchoring kit, and 10 hangers for your plants.
An adjustable vent, rain gutters, lockable door, and galvanized steel base included.
A 5-year limited warranty included.
This greenhouse is a perfect choice if your motto is "Go big or go home!"
Palram BELLA SILVER GREENHOUSE 8×20 ft with Twin Wall Glazing
This beautiful design will steal the spotlight of any garden or backyard. But it's not only for show — the Palram Bella Silver greenhouse is an excellent choice for a plant pro!
Besides the pretty design, this greenhouse is also extremely durable, keeping your plants safe and cozy in an optimal growing environment.
The thick 6 mm polycarbonate twin-walls make this greenhouse one of the most durable on the market — the norm is 4mm.
The bell-shaped design for improved wind resistance, also allows for snow and rain to slide off easily without causing damage to the roof.
It has a rust-resistant aluminum frame for durability and longevity.
Additional structural support is provided by a strong galvanized steel base.
Thick walls mean good insulation and ideal temperatures.
Ideal for those who want versatility and a lot of options.
The panels provide 100% protection from UV rays.
It is an ideal choice for anyone who is not willing to compromise on quality or style!
Palram Oasis Hobby Greenhouse, 7' x 8' x 9', Gray
The beautiful design of the Palram Oasis Hobby Greenhouse will make your backyard look straight out of Pinterest!
This is a fabulous choice for those who want a good-looking and great quality greenhouse.
Up to 99.9% of harmful UV rays blocked by twin-wall roof panels for keeping your plants safe from the sun while filtering through the good natural lighting.
Wide double-hinged door, and side Louvre window offer optimal ventilation, and easily adjustable heat and humidity levels.
The see-through, crystal clear panels ensure you can see your plants progress from the outside as well as show them off easily without going inside.
Durable yet crystal-clear see-through polycarbonate panels provide a fantastic level of 90% light transmission.
The frame is made of heavy-duty anthracite, powder-coated, rust-resistant aluminum — an extremely durable and long-lasting solution.
This greenhouse is ideal for those who are looking for an effective and simple choice but do not wish to compromise on style.
King Canopy Fully Enclosed Greenhouse
The King Canopy greenhouse is a sun-resistant and durable option for gardeners who require a heavy-duty greenhouse.
It includes a sturdy all-steel frame, a clear, see-through 1-piece rip stop cover, with a half-moon shaped back window and a roll-up front door.
It is fully enclosed to keep your plants protected from the weather, birds, and possible pests.
Extremely simple and quick to assemble, and if treated well, it will last you for a while!
It is a simple, functional, and a good-value-for-money greenhouse kit.
This product offers a hassle-free start on your planting career, without the stress of tricky assembly with lots of tools.
It is also easy to assemble so you can get started on your new hobby as soon as possible.
For those who care most about the durability, it is weather and mildew resistant cover to protect your plants from bacteria and extreme temperatures.
Outsunny Clear Polycarbonate Greenhouse w/Slide Door (6ft x 8ft)
The best features of the Outsunny Walk-in Large Greenhouse include easy assembly, sliding front door for easy walk-in access, and a see-through PC board that allows you to observe the plants from the outside.
This greenhouse truly is a looker.
It is extremely strong and sturdy for great stability and durability.
It's a great, budget-friendly option that suits all levels of gardeners from beginners to pros.
It's made with a powder-coated aluminum frame, and polycarbonate sheets that filter UV-rays to protect your plant babies, while allowing natural light to enter.
The rooftop vent panel is great for optimizing ventilation and airflow, which you can easily adjust according to your needs.
The sliding front door provides easy access to inside without compromising on style.
A fantastic choice for keeping your plants happy all year round without breaking your budget!
Home-Complete Walk-In Greenhouse
This all-seasons walk-in greenhouse by Home-Complete is exceptionally versatile for it is suitable for both indoor and outdoor use.
Due to its compact size, it is ideal for those limited on space.
It is also ideal for growing herbs or seedlings.
The clear PVC cover ensures protection from pests or frost, providing an ideal environment for growth.
For optimizing space, this greenhouse includes 8 sturdy shelves for all of your trays, pots, and planters. Ideal for small plants or when you are just getting started!
It has an easy assembly with no tools required.
This greenhouse is a cost-effective, convenient, and space-saving option for those who want the option to use the greenhouse indoors as well as outdoors.
It's ideal for if you are not sure if you are going to use the greenhouse indoors or outdoors.
This option will suit both! You can use it in your basement or back garden all the same.
Best Choice Products Outdoor Portable Walk-In Greenhouse
Strong and stable with built-in shelves and spacious design make this product an excellent one.
This portable Best Choice Products Mini Walk-in Greenhouse is an excellent choice for a first-time buyer.
Organizing your plants has never been so easy with the strategic 3-tier built-in shelf design.
Shelves of different heights ensure your bigger and smaller plants will be happy side-by-side without struggling for space to grow.
It is ideal for growing herbs or small plants, or for someone who has a lot of different sized plants they want to grow in the same space.
The weather-resistant design ensures your plants are safe in every weather condition.
The steel frame is made of heavy-duty powder-coated steel can be easily set up and disassembled, without compromising on stability.
It's perfect for those who love the organization and efficiency.
Gardman R687 4-Tier Mini Greenhouse
This Gardman R687 Mini Greenhouse is an excellent choice for those looking for a space-saving, cost-effective, and adorable solution.
It's ideal for seed germination, plant breeding, or display — the options are plentiful.
The simple design of a tubular steel frame and a durable plastic cover ensures easy assembly and disassembly for storage when not in use — no tools required for assembly.
It has a stylish design and great for those who like staying organized — professionals and newbies alike.
The cover includes a roll-up door with a zipper, for easy access and protection.
It is a compact choice for those who have limited space yet wish to pursue their plant hobby.
Perfect for growing herbs, small plants, or when you're just getting started.
Flower House FHSP300CL SpringHouse Greenhouse
The very unique pop-up design of the Flower House FHSP300CL makes it one of the easiest greenhouses to assemble.
Get your plant hobby started without stress and hassle.
The screened vent openings offer optimized and easily adjustable ventilation and airflow for creating that optimal growth environment.
The UV-resistant PVC cover is there to protect your plants from plant burns — safety first!
It is easily folded away for compact storage for when you are not using or if you are moving the greenhouse.
The shade cover, staked, high wind tie-downs, and a free storage bag with a shoulder strap included in the package make for convenient storage or moving.
This greenhouse is made for someone who appreciates a simple, hassle-free design and wants easy assembly and storage.
The best greenhouse kit can be a life saver!
Greenhouse kits can be a real time and money saver.
Other than these two big savings, let's see why else a greenhouse made from a greenhouse kit will help you and your plants:
Why should you invest in the best greenhouse kit?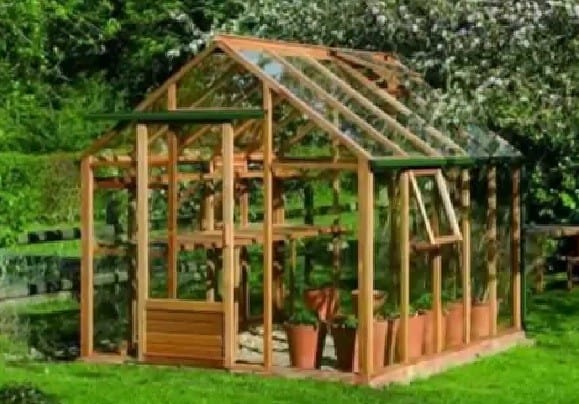 Modern farmers invest in greenhouse kits because they:
Are functional and easy to operate.
Lend strength to support the load of plant foliage along with its internal service system.
Allow for planting plenty of crops.
Are easy to service and recover with clouding material.
Use modern technology to maximize plant life.
Offer minimum shading.
Are strong enough to withstand natural climate conditions.
Factors to consider when buying the best greenhouse kit
It's important to know they don't require a lot of room. You can choose an easy-to-install mini greenhouse to start up summer plants and continue growing all year.
By purchasing the best greenhouse kit in the market, you can set up a cost-efficient greenhouse easily.
The best greenhouse kit or package will usually consist of do-it-yourself equipment for quick and simple greenhouse installation.
The kits include the frame, covering, and necessary hardware required to set up the greenhouse.
In the following article, we have discussed in detail as to what are included in a modern day greenhouse kit — Click here to read it.
There are a number of factors to consider before buying a greenhouse kit.
To know the type of greenhouse kit you should buy, you must first and foremost, think deeply about the purpose of your greenhouse.
Choosing the best greenhouse kit hack #1 — Why do you want to set up a greenhouse?
Is it just for a hobby?
Or are you planning to grow plants and produce in wide scale?
Are you growing something for a competition or do your plants need specific care?
Or are you just looking to set up a small oasis to relax in around the house?
Answering these questions can help you decide the 'scale of the greenhouse kit' you need.
Choosing the best greenhouse kit hack #2 — Cost of a greenhouse vs greenhouse kit
Did you know that the average cost of building a greenhouse from scratch is around $25 per sq. ft.?
This includes the materials, labor cost, lighting, ventilation and permit costs.
A complete greenhouse can easily cost above $10,000.
But guess what, the best greenhouse kit can cost anywhere in between $100 to $5000.
You can purchase a basic 6′ x 8′ steel frame kit for just $200 and wooden ones for $130.
So save your hard-earned money for better investments.
The best greenhouse kit can save you loads of dollars!
Choosing the best greenhouse kit hack #3 — Deciding the type of greenhouse you want
To select the right wholesale greenhouse kit, you have got to understand the very nature of a greenhouse.
This can help you decide which frame you need, the type of covering that's most apt and the constraints that might come up.
Using a greenhouse to grow flowers, vegetables or fruit has many advantages such as increased yield, longer growing seasons along with less stressful beginnings for starter seeds.
You can enjoy these amazing planter benefits by selecting high-quality greenhouse kit manufacturers.
More about greenhouses in our learning center here — Greenhouse FAQs and Learning Center.
What are the most common types of greenhouse kits
Greenhouses come in various styles, materials and makes to suit different growing conditions and environments.
The following YouTube video gives an excellent overview of the many styles of greenhouses available today:
Now that you have an idea of some of the greenhouses styles, I'd like to discuss some of the more common ones that can be purchased as kits:
Round Arch Greenhouse
These installations are also known as the "round greenhouse" by wholesale greenhouse kit dealers.
They require no foundation and is most often covered with plastic film.
This is ideal for hobby farmers or those who don't have much space on their property to set up larger greenhouses.
Sizes available in wholesale kits: from about 12' x 12' to about 14' x 28.'
Round Arch Greenhouse Pros:
Common and easy to set up
Excellent in mild climates
Round Arch Greenhouse Cons:
Generally not strong enough to withstand high winds or heavy snows
Depending on your region, they can be costly to heat in the winter
Gothic Arch Greenhouse
Gothic greenhouses come in an arch design with narrow upper areas gradually expanding towards a larger base.
Smaller buildings are about 8 inches tall, but they can range up to 10 inches in overall height.
They are usually spacious and may have trusses or crossbars added to help strengthen their frame.
Some people even add a center pole to their greenhouses in the winter, though this can interfere with the plants getting enough light.
These types of greenhouses are also available in kits and can be easily erected in less spacious areas.
Sizes available in wholesale greenhouse kits: from about 14' x 16' to about 18' x 36.'
Gothic Arch Greenhouse Pros:
Stronger in design than round arch greenhouses
Do not require a foundation
Can expand to a large size
Cheaper to heat in winter — depending on the cover and frame materials
Less prone to winter damage as snow tends to slide off the sides
Gothic Arch Greenhouse Cons:
Difficult to construct, a problem that can be mitigated with the correct wholesale greenhouse kit
Traditional Greenhouse
When many people hear the word "greenhouse," they picture a glassed-in building filled with flowers and surrounded by trees.
This is the traditional or "engineered" greenhouse.
These buildings are usually very sturdy and covered in plastic, Plexiglas or even pure glass.
These greenhouses are not commonly found in wholesale kits.
If available, they are generally smaller than the other styles.
They are more expensive also.
Sizes available in wholesale greenhouse kits: usually between 6' x 8' and 10' x 12.'
Traditional Greenhouse Pros:
A stronger frame that's permanent in nature
Offers good air circulation
Excellent lighting
Traditional Greenhouse Cons:
Needs a stable foundation
Can be expensive to heat, depending on frame and cover materials
Gothic-Traditional Greenhouse
The Gothic traditional greenhouse combines some of the best features of both the Gothic arch and traditional designs.
These may or may not need a foundation, depending on the size of the building and are often built with bent tubing.
They may be covered with plastic film or plastic panels.
Sizes available in wholesale greenhouse kits: available in a variety of sizes
Gothic-Traditional Greenhouse Pros:
Due to their construction, they are easy to vent for air circulation all year.
Heating costs will vary based on your region's climate, but these types of greenhouses tend to do better in cooler climates than the round arch or Gothic arch types.
Sunroom Greenhouses
A Sunroom greenhouse or passive solar greenhouse is one that forms an extension of the owner's home.
They are attached to the wall of a house.
Usually, these greenhouses are covered in glass or polycarbonate panels and should only be used for hobby or family farming and not commercial growing of plants.
Sizes available in wholesale greenhouse kits: from about 6' x 8' up to a whole side of the house or an 8' x 20' room.
Sunroom Greenhouses Pros:
Easy access to water, electricity and resources
Sunroom Greenhouses Cons:
Sunlight may become an issue if the shadow of the house falls on the greenhouse.
Temperature control is more difficult.
Types of greenhouse based on shape
If you have a large yard, you may want to build a traditional greenhouse with a rectangular shape, metal frame and a pitched roof.
It offers lots of growing space for your plants aside from maximizing light.
Moreover, the traditional greenhouse has a classic design that blends well with its surroundings.
You can also opt for a barn which has a similar shape to that of the traditional greenhouse but has a higher headroom.
It is thus more appropriate for growing taller plants as well as vines and climbers.
It also doesn't require any base, which makes it easier to build than the traditional greenhouse.
Another type of greenhouse design that you may want to build is the heptagonal greenhouse.
It is best suited for smaller gardens because it takes up minimal floor space while still giving a place to nourish your plants.
If you don't really have enough space for a traditional greenhouse, you can try to build a window-mounted greenhouse or go with a highly recommended mini-greenhouse.
As the name suggests, it is attached outside the window.
Ideally, these greenhouses should be on the south or east side.
The challenge, however, is to maintain a uniform temperature in this type of greenhouse.
Choosing the best greenhouse kit hack #4 — Greenhouse frames
Another factor that you must consider when choosing the best greenhouse kit is the frame needed to support the building.
It goes without saying that your greenhouse is only as good as the frame it is built upon.
The frame is the weight-bearing skeleton of the entire building and you need to choose it carefully.
If you intend to move your greenhouse occasionally, you will need a temporary lighter frame.
If you have decided to go for a permanent structure such as a traditional greenhouse, then a heavier material will not only suit your needs, but will also add visual appeal.
The cost of setting up a permanent greenhouse with a kit will be slightly lesser than if set up from scratch.
Types of greenhouses based on frame
When choosing a greenhouse kit, you should consider the durability and functionality of its frame.
Greenhouse kit frames are made of PVC, steel or wood.
There are pros and cons of each frame type.
Wood is a bit more difficult to construct although it is more attractive than steel frames.
Steel frames, however, are maintenance-free and can last forever.
But a steel frame is less energy efficient compared to wood.
A steel frame greenhouse
You can also opt for a hoop house frame made from a series of pipe hoops.
These are easier to build, but the problem is that they aren't as durable as steel or wood frames.
Let's look at each one of them in detail:
PVC-framed greenhouses
Also known as "hoop houses," PVC greenhouses are great for a temporary spring and summer growing seasons.
These lightweight frames are made of plastic pipes that resemble hoops.
PVC Framed Greenhouse Pros:
Extremely lightweight and portable
Generally the least expensive greenhouse frame material in the market
Rust and rot-free
PVC Framed Greenhouse Cons:
Vulnerable to high winds
The overall structure isn't very strong. Heavy icing or snow build-up can destroy the greenhouse very quickly. So this type of frame is not recommended for colder regions.
If these frames are not UV treated, they will warp from constant sun exposure.
Other plastic and resin frames are also good choices as they can withstand rain and light snow.
Like PVC, plastic and resin will not rust or rot.
These types of greenhouses are easily found in kits.
Steel-framed greenhouses
A steel-framed greenhouse is a work of art.
They are great options for permanent greenhouses and frequently come in kits with detailed installation guides.
They are very strong and long-lasting but are usually expensive
Wood-based greenhouses
Strong woods such as cedar and redwood are commonly used for most traditional greenhouse frames.
Like steel, wood frames are meant for permanent buildings.
Most wood that is used in building greenhouses today is pressure-treated to protect it against mold and warping.
But check with the manufacturer of your kit to ensure that this process has taken place.
Wood greenhouse kits come in a variety of styles and sizes.
For example, you can find Wooden Greenhouse kits in sizes from 8' x 8' to larger than the average garden shed.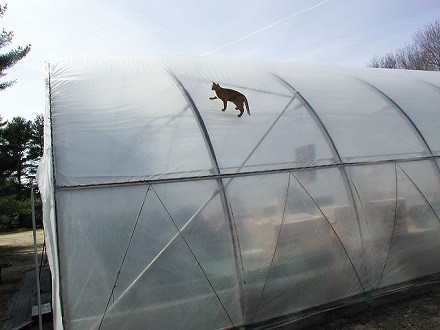 Choosing the best greenhouse kit hack #5 — What do I cover my greenhouse with?
Covering or 'glazing' your greenhouse correctly plays a big part in lengthening its life.
There are many glazing options like polyethylene which is available as sheet film or woven plastic.
Polyethylene is cheap, although it doesn't offer enough insulation.
You can also opt for glass, which is the most durable of all glazing types, although it is more difficult to cut and handle when compared to plastic glazing.
Fiberglass is another option, preferred for its strength and ease in cutting and handling.
There are other factors that you have to consider.
If you live in a windy area, you will have to buy strong glazing.
Polyethylene and hoop houses aren't ideal in this regard as they are very susceptible to wind damage.
You'd want fiberglass or multi-layer polycarbonate instead.
Common covering materials used in when setting up these buildings with greenhouse kits are:
Polyethylene Film — The Least Expensive Greenhouse Cover
Polyethylene film can be placed on your greenhouse in either a single layer or double.
It comes in both panels and rolls.
There are different grades of polyethylene film, all based on the expected life of the material which vary from 1 to 4 years.
This is the least expensive type of greenhouse covering.
Polycarbonate Greenhouses Covers
Polycarbonate greenhouse coverings are available in either corrugated or multi-wall types.
Both types are resistant to hail damage and are coated with UV protectant on the outer surfaces.
They come in anti-condensation varieties as well.
Some types of polycarbonate coverings come with a 10-year manufacturer's warranty.
Solexx Greenhouse Covers
Solexx greenhouse covering is a mixture of PVC, steel and tubing – a mixture that works great for many types of climates.
The panels are flexible and easy to cut, move and position around the greenhouse.
Traditional Glass Greenhouse Covering
Glass is the "traditional" greenhouse covering. And its the reason people still call the process of covering a greenhouse as "glazing."
Glass is not just the most expensive cover, but also the most economical one in the long run.
It can be purchased as double strength or insulated and has the longest lifetime of any other material, generally lasting 25 years or more.
Glass is highly UV resistant.
When insulated, it will keep you from losing heat in your greenhouse for many years.
Choosing the best greenhouse kit hack #6 —What flooring should I use?
The flooring you pick for your greenhouse is largely based personal preference.
Some people like rubber mats while others prefer a packed-dirt floor.
Whether you choose plastic, rubber, stone or dirt, consider the water run-off, ease of cleaning and overall wear-and-tear to help decide the best flooring for your greenhouse.
Greenhouse Flooring solutions has an excellent article on the different types of flooring available right here – Greenhouse heating, flooring and staging.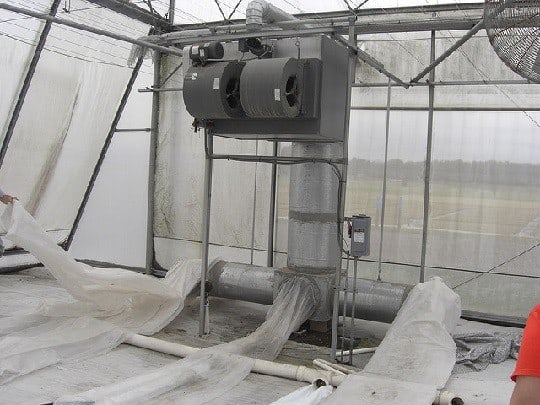 Choosing the best greenhouse kit hack #7 — Heating and cooling your greenhouse
When using a greenhouse kit, ensuring correct temperature control is of paramount importance.
The minimum temperature that most flowers, produce and fruit can withstand is about 55ºF.
The best greenhouse kit should provide for sufficient ventilation for your plants.
It should also account for the type of heating you will provide for the greenhouse.
There are two widely available choices for heating your greenhouse — electricity and natural gas.
This short video by Texas-based Doodley Dee Farm can help you with your heating and cooling your greenhouse decisions:
Cooling and ensuring good air circulation in your greenhouse can be done by fans or by vents.
Vents can be built right into the covering, especially if you are using plastic film or polycarbonate.
During spring and summer, glass windows and doors can be left open.
Choosing the best greenhouse kit hack #8 — Where to build your greenhouse
Have you decided where you are going to set up the greenhouse?
Consider these tips before installing your greenhouse structure:
Greenhouse Location
Location is important for more than just ensuring your growing plants get enough light every day.
You must consider your own needs as well.
Can you get back and forth easily to your greenhouse at least twice a day?
Your plants will need to be watered as well.
So consider the locations of nearby hoses and places where new water lines can be run.
Is the path from your house to the greenhouse level and easy to push a wheel barrel along?
Or is it rocky and difficult to walk on?
Maybe it is easy on dry days but becomes a swamp in the rain?
All these scenarios can be avoided with proper placement.
If getting to your greenhouse is difficult in the best weather, you aren't going to want to hang out in it in the worst.
Also, the slope of the frame affects how dead leaves, snow and ice accumulate on the greenhouse.
You might want to think about this technicality before finalizing on a greenhouse kit.
Sunlight for your greenhouse
Your greenhouse should be able to catch as much available sunlight as possible.
If you live in a more northern region, building it near a windbreak that won't create too many shadows is ideal.
Pick a greenhouse kit which offers coverings that allow for sufficient sunlight to enter the greenhouse.
Greenhouse Drainage
The base for your greenhouse should be slightly sloped.
Or if that is not possible, drainage pipes should be installed to take water away from the structure.
Pipes can also help deter burrowing rodents.
The greenhouse kit should allow for the constriction of pipes and drains.
Greenhouse and Cold weather
The door of your greenhouse should always be built away from the prevailing wind of your region to avoid losing too much heat in the winter.
Plants that are suddenly exposed to cold can go into shock and die.
Choosing a good quality covering and adding sufficient heating can mitigate these issues.
Greenhouse lighting
Another consideration when choosing the right greenhouse kit is electricity.
Do you have power sockets near you that can take on extra load?
Does the greenhouse pose any electrification dangers?
You may also wish to install lighting so that you can work with your plants throughout the year.
Consider hiring a professional to assess these matters.
An electrician can also help you decide whether electrical or natural gas heating will be best for your greenhouse.
The following article helps explain how to choose the location to set up greenhouses using kits in greater detail — GrowingProduce.com
Choosing the best greenhouse kit hack #9 — Location and regulatory permits
Before purchasing a wholesale greenhouse kit, it'll be a good idea to become familiar with your local laws regarding building sites.
There are very few greenhouses that can be properly built without a foundation being laid.
As many localities regard a building with a foundation as an "improvement," you may need to have a license to build it on your property.
Greenhouse panels
Panels made using film, plastic and plexiglass are cheap and durable options as you won't incur the large cost of replacement usually found in glass.
Most panels insulate well and let excess compaction run off.
They won't imbibe any water which causes issues such as mold and mildew.
They also spread sunlight very efficiently; even in direct sunlight, they will disperse rays throughout the structure.
Consider these features also when evaluating the best greenhouse kits in the market.
Greenhouse base
Another consideration when choosing the best greenhouse kit is deciding the base you need.
The base of a greenhouse can be made of wood, concrete, galvanized steel or aluminum.
There are a lot of considerations when choosing a greenhouse base, like insulation, drainage and sturdy construction.
Wood is an excellent base for a greenhouse
It is strong enough to support the hefty structure.
In terms of cost, it is also cheaper compared to steel or concrete.
But it can be prone to rotting.
You don't want to use treated woods for the greenhouse base because it can release harmful chemicals to the soil which can hamper the growth of your plants.
Instead, look for naturally resistant wood types like redwood, cedar and cypress.
Concrete Greenhouse Base
Concrete is the best material if you have a permanent greenhouse.
It can last for a long time, and need not be replaced or repaired.
Concrete is sturdy and can support heavy materials ranging from wood to glass.
The downside is that it is obviously a lot more expensive when compared to wood and doesn't allow for contact with the ground.
The concrete slab foundation would also need drains to be installed so as to prevent water build up which can result in mosquitoes thriving inside the greenhouse.
Another problem with concrete is that it can require hard labor, as there is a need to dig a level area aside from adding gravel and sub-floor materials.
Concrete base isn't exactly ideal if you have limited DIY skills.
Galvanized Steel Greenhouse Base
Galvanized steel is like concrete as it is very strong.
It is also similar to wood as far as price is concerned and is rather cheap.
Most greenhouse kits have frames made of galvanized steel.
They are durable and long lasting.
Moreover, they do not pose much shadows, thus blocking sunlight to plants.
Aluminum Base
Aluminum is also strong, but not in the same level as steel and concrete.
It's slightly more expensive than wood, easier to maintain and perhaps the longest-lasting base material as it won't rot or rust.
Aluminum won't also break down from UV rays.
Guide to buying the best greenhouse kit
Wholesale greenhouse kits are a big time and money saver for beginner gardeners. Of its many benefits, the main ones useful to gardeners everywhere.
Advantages of Greenhouse Kit
The best greenhouse kit is easy to install and can be set up quickly without much hassle.
These kits provide a stable growing environment in which you can grow many numerous types of plants, flowers and vegetables under one roof.
Wholesale greenhouse kits are an excellent way to start cuttings or seeds early so they will be able for early season planting.
Your plants have protection from the elements and seasons.
Small and moderate-sized greenhouse kits offer good temperature control.
Wholesale greenhouse kits are considerably cheap and economic for beginner farmers and have a lifespan which lasts a long time.
Their operational and upkeep costs are usually nominal than some of the larger greenhouse.
There is a lot that goes into building and maintaining a successful greenhouse structure.
Wholesale greenhouse kits help you make easier planting decisions regarding structure and planting conditions when you are low on time and money.
Where to buy the best greenhouse kit
Once you've decided to purchase a greenhouse kit, visit a few home and gardening retailers near your locality.
Ask their representatives if they have such kits or if they can guide you to places that sell them.
With a little bit of homework, you can locate a greenhouse supplier near your home or find one who is affordable and caters to your requirements.
While the majority of wholesale suppliers simply sell to retail supply firms, you can purchase the kits directly from them as well.
Search on shopping sites and other gardening websites for greenhouse pots, plastic and other accessories.
You're bound to find plenty of options for purchasing wholesale greenhouse kits on the web.
However, the downside to online shopping is that there is an extra charge for shipping.
Scope of greenhouse farming
Hobby greenhouses are rapidly growing in popularity.
With the overwhelming rise in modern technology, a lot of people are demanding natural plant and food products.
That's why most farmers have realized the success this kind of farming can offer.
Greenhouse growers also enjoy the gratification of knowing that they contribute to the environment and community.
Plus, the income from their craft is a big bonus!
Greenhouse kits are great for beginners
Greenhouses have contributed to the nation's farming economy and environment in many ways.
Greenhouse kits have found their place in today's quick and easy farming generation and are here to stay.
From miniature backyard farming to large scale plantations, farmers today make use of wholesale greenhouse kits in more ways than one.
The best greenhouse kit can be installed in places with minimal space. If you choose a mini greenhouse, your plants can thrive in a townhouse or city home.
Mini greenhouse models solve the challenges of space as well as allow you to eliminate less-than-ideal weather and climate issues.
What's best about using these kits is that you can install the entire greenhouse yourself! How To Build A Greenhouse
Consulting a wholesale greenhouse kit manufacturer before making your purchase can help you make correct buying decisions.
Before going ahead with the purchase, consider other competitors who can ship the kits to you at varying costs.
Geographical borders are no longer an issue for those selling the best wholesale greenhouse kits.
The best greenhouse kit can work wonders for your farming collection. Best Backyard Greenhouse
The versatility and cost-effectiveness of greenhouse kits make them assets worth the investment.
With all these points in mind, I wish you days of happy and productive gardening and farming!