Last Updated on
A portable greenhouse is a protected greenhouse structure, made with lightweight materials like plastic for the roof and walls, and sturdier materials like wood or metal for the frames.
It creates the ideal environment for plants to be grown all year round.
If you are someone who has to relocate often due to job requirements, then a great alternative to setting up new gardens wherever you go is buying a portable greenhouse.
While maintaining a garden is a wonderful hobby, when relocating to a new place, you would have to let go of all the efforts put into the garden and greenhouse.
But with a portable greenhouse, you can relocate without having to feel emotional about leaving your gardening endeavors behind.
Portable greenhouses are perfect for growing sensitive plants all throughout the year.
These plants are grown in container gardening methods in milder climates.
With a portable greenhouse, the cultivation can be easily moved according to weather and locality changes.
You can also change the positioning of the greenhouse in accordance to the sun rays in areas of limited sunlight.
If you want to extend your growing season, then these greenhouse structures are perfect for you.
Let's see why having a portable greenhouse can prove so advantageous in gardening: Best Greenhouse Kits
Advantages of a portable greenhouse in gardening:
You can comfortably move portable greenhouses to sunny areas throughout the colder season to give your crops maximum exposure to sunlight.
Hence, you can grow plants that are off season and enjoy tasty produce throughout the year.
You can protect plants from early and late frost.
A portable greenhouse is very affordable because of its small size. Some of them cost as little as $25.
Because of the small size, they can be used by apartment owners or by those who have modest spaces.
You will not need heavy and expensive materials to maintain it.
They are great for beginner gardeners who are just starting the hobby.
A portable greenhouse is also a good investment for those who constantly move from locality and locality based on job requirements.
A lot of green gardeners don't realize they have the alternative of setting up a portable greenhouse structure in their yard or home.
All you need for a portable greenhouse is a bit of space, some tools and an easy-to-assemble greenhouse kit.
Why a portable greenhouse is good for sensitive plants
Sensitive plants like orchids get affected by changes in the weather very quickly.
They grow perfectly in milder climates where the temperatures do not go below 0°C in the colder season.
Also, humidity needs to maintained at an optimum.
Refer to our complete guide on growing orchids in our blog post here.
You might have to recreate a tropical environment inside your structure. This is where a portable greenhouse can work wonders.
In a portable greenhouse, you can plant seeds in trays inside the greenhouse and move the entire structure indoors.
Later, when the sun is out in its full summer glory, you can move your greenhouse outside and replant the seedlings into bigger pots.
Once the harvest is done, you can close up the greenhouse and store it in any indoor storage area without much fuss.
Portable greenhouse types and models
There are numerous different types and styles of portable greenhouse structures available for gardeners.
Some are small in size while others are large enough to hold many plants with shelving.
The average size of the structure is about 10 to 6 feet and about 7 feet high, unless it is specifically mentioned to be a mini greenhouse.
Common types and models of portable greenhouses
Pop up portable greenhouse designs are those that can be simply opened and placed over fragile vegetables and plants.
Some portable greenhouse structures consist of shelving, glazed in protective plastic.
In others, you have to roll up the front panel and unzip it to gain access to the vegetables and plants inside.
Mini portable structures made of vinyl, plastic, or glass with a carrying handle for transportation are also seen in gardens these days.
Window greenhouses made from old windows are another type of portable greenhouse.
Other types of portable structures consist of a plastic or metal frame.
Others use lightweight vinyl and plastic panels that slide into the area along a frame.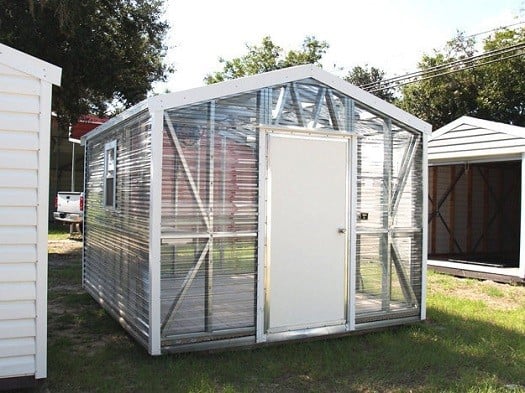 Portable designs are available at prices that suit nearly every budget.
High-end fully functional designs can cost upwards from $1000 to $2000.
But overall, they are more affordable than permanent greenhouse structures.
Quality also differs according to price range.
Read the reviews thoroughly before purchase.
Most portable structures can be installed directly over a patch of yard to protect vegetables or plants.
When choosing a portable greenhouse, some features that ought to be looked into are the doors, ventilation, benches and shelving along with wind resistance.
Portable greenhouse kit
A portable greenhouse kit is a high-quality greenhouse kit, ideal for small flowers and sensitive plants.
It is great for starting a nursery or gardening hobby.
Due to its lightweight and compact design, you can comfortably carry it wherever you go.
These greenhouses are similar to a tent and is made up of ten highly flexible rods.
The roof is made up of a PVC canopy which is waterproof.
This protects the plants during heavy rains, hail and snowfall.
The covering which surrounds the greenhouse frame protects the plants inside from insects and rodents.
All the components needed for the installation of a portable greenhouse is available in the form of a portable greenhouse kit.
These kits comprise of steel or aluminum frames, plastic sheets for the wall and the other pieces of equipment like well-ventilated shelves.
Portable greenhouses can be assembled quickly due to its lightweight materials.
Most of them are made of high-quality durable materials.
Key features of a portable greenhouse kit:
12 ventilated shelves to provide plenty of space for plants and allow water to drain.
A transparent plastic cover is reinforced with green robust webbing.
Zippered door, that provides easy access and is also good for ventilation.
If you're considering the purchase of a greenhouse structure, you ought to take the time to research all the different types of greenhouse kits available in the market today.
Bear in mind that portable greenhouses can be toppled over in high wind areas. In such places, they will need to be held down by rods and clamps.
A portable greenhouse kit is extremely beneficial for a beginner level gardening enthusiast.
And as it comes in different designs and sizes, it can be synced with the outdoor color and decor your house while giving a touch of aesthetic appeal.
Greenhouse designs and other mini greenhouses
80 Acres Farms Indoor Farm of the Future
Portable Greenhouse for Limited Space
A smaller mini greenhouse is an excellent option for those who are always on the move or have limited space for gardening.
These structures can be erected in places with minimal spaces, indoors or even on windowsills and balconies.
They often come with wheels so that they can be moved from inside to outside as the weather changes.
These buildings are also great for growing sensitive plants as their small sizes allow for climate and humidity control.
Plants like orchids need special care and a portable greenhouse can provide just that.
They can also be great for seed starting and raising baby plants.
Mini greenhouses come in high-quality greenhouse kits as well.
These are lightweight and can be easily assembled.
Be warned that these greenhouses can topple over in high wind areas unless they are held down by clamps and rods.
However, otherwise, these come in beautiful designs that can match the paint of your house, lending a nice look to your outdoors and garden.