Learn about the best greenhouse plants for a successful garden, no matter the climate or season. Whether you want to grow vegetables in the greenhouse or grow exotic plants, some will do better than others.
Greenhouse plants are a pleasure to the eyes and a feast for the senses. Growing plants and actively engaging in gardening is one of the most rewarding ways through which you can boost your mental and physical health.
The hobby has been scientifically shown to relieve stress, ward off dementia and keep you mentally fit while fighting depression and other mind-related ailments.
And of course, growing your own vegetables can give you your own locally-sourced food! For a beginner, gardening may be a bit of a challenge.
Greenhouses are the most cost-efficient ways of growing plants in places with extreme climate variations.
The best greenhouse plants can yield good produce, year-round flowers and healthy herbs if cared for well.
Why greenhouses are a preferred method of gardening
Extends the growing season
Way to start seedlings
Ability to garden in cold climate zones (at least in the warmer months)
Excellent climate control, heating and ventilation
Can grow plants that may not do well in your USDA hardiness zone
Protect plants from the elements and pests
Come in various sizes and setups, from basic to elaborate
Good for growing sensitive greenhouse plants like orchids that thrive in tropics
Can set up hydroponics inside
There are portable greenhouses which you can move as necessary
With these benefits in mind, here are my top ten best greenhouse plants anybody can grow easily in greenhouses.
Best Greenhouse Plants You Should Grow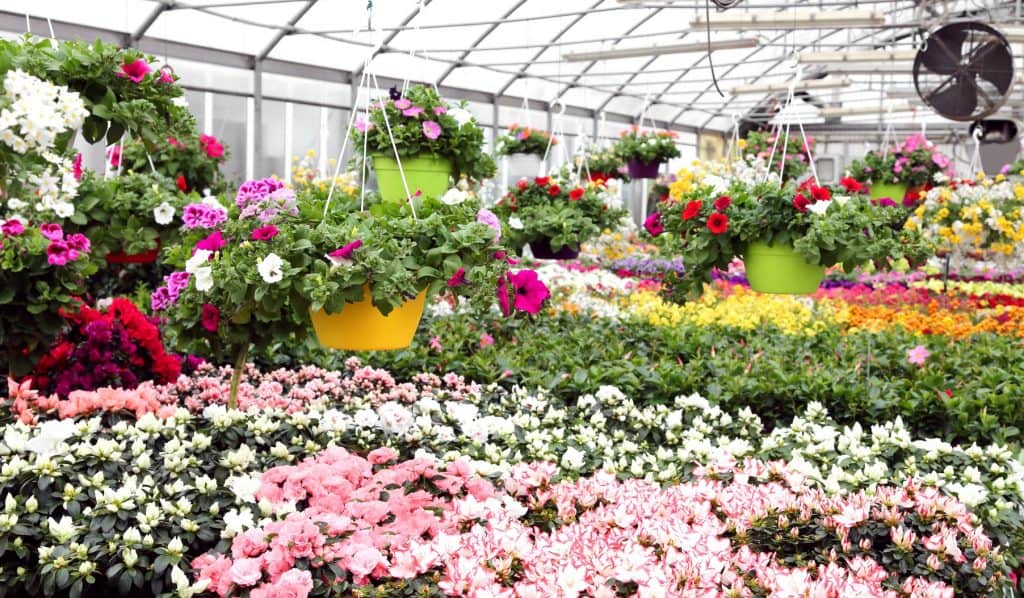 Greenhouse plants guide — Growing vegetables in greenhouses
Perhaps the best part of growing greenhouse plants is the fact that you can harvest your own food. Vegetables of numerous kinds grow comfortably in the controlled environment of a greenhouse.
Some of the most common classifications of vegetables grown inside greenhouses.
Grow Vegetables in Greenhouses
Cool season vegetables
Which do not need high heat environments, such as carrots, broccoli, peas and lettuce.
Warm weather vegetables
Which need temperatures between 55 and 85 degrees Fahrenheit, such as peppers, tomatoes, squash and cucumbers
Depending on your crop of preference, you will need artificial lighting, heating and ventilation as well.
How to grow spinach in a greenhouse
If you're looking for one of the best greenhouse plants for beginners to grow, this Popeye-approved leafy green is a great plant to start with!
First of all, if you have a heated greenhouse (or simply live in a warmer climate), you'll be able to grow spinach all year round.
Just make sure that you don't subject your delicate spinach to sudden shifts in temperature.
Also, you'll need to water it frequently and cut it several times throughout the season.
How to grow cucumbers in a greenhouse
Cucumbers are high-yield produce with a rough output of around 20 pounds of fruit per plant.
To plant them, fill wide shallow pots with equal parts of potting soil, perlite, peat moss and compost.
Plant seeds around 2 feet apart as these tend to grow in width.
They will climb upwards as they grow and will need support systems.
Feed the plants fertilizer every week and harvest them when the fruit is about 6 inches.
Pick them before they begin to turn yellow.
Greenhouse plants guide — Growing flowers inside greenhouses
Flowers can be grown for both hobby and commercial purposes inside greenhouses.
The biggest advantage greenhouses have when hosting flowers is that it can create apt climatic conditions all through the year.
Which means you can plan for variations in demand and supply flowers constantly even during off-season.
How to grow geraniums in greenhouses
Geraniums are some of the best greenhouse plants for hobby farmers, and they make wonderful home decor and gifts for friends!
You'll need to grow these inside pots, which means they're a great option for those who prefer a mess-free greenhouse.
Mix 3 parts of potting soil with about 1 cup of perlite, then add a bit of fertilizer.
Plant no more than three seeds in a single pot.
Mist your geraniums gently each morning, and trim off any seedlings that don't seem healthy.
Keep the temperature in your greenhouse between 60-75 degrees Fahrenheit.
How to grow begonias in greenhouses
These stunning and colorful flowers are known for their aesthetic value, especially with the beautiful patterns their swirls create.
They are a welcome addition to any greenhouse.
Interestingly, begonias should be planted in what are referred to as small "tuber" pots.
Put your tuber pots in a larger, 5-inch square pot.
The pot should be filled with an equal mix of normal potting soil and seedling mix.
Don't completely submerge your tuber into this soil, but be sure to get it as deep as you can.
Then, just sprinkle a little soil on top.
Avoid over watering, as this can cause the plant to rot.
The best way to water your Begonias?
Water around the tuber, not directly on top of it.
If possible, ensure that your begonias are exposed to humid conditions, and never keep the temperature lower than 60 degrees.
How to grow African Violets in a greenhouse
African violets are stunning flowers and need to be exposed to temperatures between 60-75 degrees.
Luckily with a greenhouse, you can plant them at any time of the year with any sort of climate outside.
The one thing to remember is that these plants will likely need their own grow lights.
To ensure each part of the plant gets the light, rotate them once a week.
To keep things fresh, re-pot your African Violets about twice a year.
When it comes to watering, only do it when the soil is dry, and avoid getting water on the leaves.
How to grow orchids in greenhouses
Orchids are a rare beauty and usually difficult to grow for beginner gardeners.
But if you follow our advice, you can grow them easily with minimum care.
For an orchid, the temperature in the greenhouse should be between 60-80 degrees.
It should also have proper ventilation.
For best results, consider adding a ceiling fan to prevent disease while growing orchids indoors.
Fill the pot of your choice about halfway with moss or bark, not soil, which can harm orchids.
Put the orchid in your pot, and fill the rest of it with your moss or bark.
Once you notice that your bark or moss is dry, it's time to water the orchids.
However, this should be fairly infrequent, since orchids do well in dry conditions.
How to grow the best roses in greenhouses
To close our list of the best greenhouse flowers, it's time to talk about everyone's favorite — Roses!
Greenhouses are the ideal environment for roses, as they usually don't do well in cold weather.
Keep your roses in a greenhouse between 70-80 degrees.
Plant them during fall season for best results.
We suggest planting your roses in 9-inch wide pots, with a 1.5 layer of small rocks lining the bottom.
This will help the water to drain.
Next, fill the pot about halfway with soil, add your rose plant and fill the rest of the pot with soil.
When you water, which you should do often, try to avoid watering the stem.
Greenhouse plants guide — Growing herbs inside greenhouses
Is there anything better than fresh herbs from your greenhouse?
Herbs are perhaps the easiest of greenhouse plants you can grow without any investment or space.
They can be propagated from store-bought cuttings or seeds and can be grown in glass jars with water on your kitchen windowsill.
How to grow basil in a greenhouse
The best time for you to plant basil in October.
While you can start basil plants in water, they grow better and faster when placed in soil, especially fertile soil.
To ensure pests don't harm the basil, plant peppers and tomatoes alongside it.
One thing you need to be careful about is accidentally over watering your basil plant.
If you notice that the leaves near the bottom of the plant are yellow, it's time to stop watering for a bit.
Water once a week for best results.
Greenhouse plants guide — Growing fruits inside greenhouses
The sweetness of fruits is enhanced when grown with your own hands.
Let's look at what are the easiest ways to grow common fruits in a greenhouse:
How to grow strawberries in a greenhouse
Place your young strawberries in a 6-inch wide planting container, half-filled with organic compost.
Only put one transplant into each pot, and then cover their roots with soil.
Water your strawberries from the bottom to avoid rotting.
Don't be afraid to water them frequently when you first plant them, especially if you live in a dry climate.
In general, the best time to plant your strawberries is in February.
These greenhouse plants need to be kept at around 60 degrees Fahrenheit.
How to grow citrus fruits like lemon, oranges and tangerines in a greenhouse
Citrus fruits can be grown in permanent greenhouses with cool temperatures of around 55 degrees Fahrenheit.
Though these trees may take time to grow, their rewards are sweet and worth the wait!
How to grow peaches in a greenhouse
Another type of fruit commonly grown in greenhouses are those from the nectarine class.
Peaches are all-time favorites of hobby farmers as they do not take up much space and have compact root systems.
They need high humidity and constant watering for best results.
Greenhouse plants guide — Growing tropical and specialty plants inside greenhouses
Greenhouses are used to mimic native conditions for plants.
Because of this, a wide variety of sensitive and tropical plants can grow easily within their walls.
Some of these plants complement the growth of others and can be planted on crop rotation method.
Specialty plants that you can propagate inside greenhouses are:
Cacti
Bamboo
Succulents
Venus flytraps
You're Ready To Grow The Best Greenhouse Plants
Thanks to this post, you now have a list of some of the best greenhouse plants, herbs and flowers you can grow in your sanctuary.
Where can you find the right greenhouse?
That's where we come in.
Spend some time on our website to learn more about wholesale greenhouse kits, customization structures, mini greenhouses and other investments that can take your gardening hobby to the next level.
Sooner than you think, the garden of your dreams will be well within your reach.
Greenhouses are fantastic investments to grow plants indoors.
They also help combat harsh climates and make up for deficiencies in humidity and lighting by employing artificial systems.
Greenhouse plants are a pleasure to the eye.
And they also provide nutritious food made with the grower's own hands.
The best greenhouse plants to grow depend on the type of greenhouse you have – whether it is indoors, cold or warm, small or big, etc.
Note that a variety of tropical, sensitive and commercial greenhouse plants can be cultivated in different segments of the same greenhouse.
The best greenhouse vegetables to cultivate include tomatoes, lettuce, spinach, cabbage and peppers.
Fruits like tangerines, peaches, lemons and strawberries also hold very well in greenhouses.
But with the right guidance, practice and equipment we suggest on our website, you can stand a chance to becoming better at your craft and eventually become an influential gardener.
Cacti, succulents and bamboo are also good choices for greenhouse plants grown by hobby farmers who have a dearth of time.
If you have the right tools and equipment needed for cultivation, then growing greenhouse plants can be a lasting hobby that can give you pleasure, relaxation and nutrients, all at the same time.