Orca Backpack Cooler – Whether you are camping in the Rocky Mountains, hiking the Grand Canyon rim or bringing beverages for a sporting event, you will love having your Orca backpack cooler with you.
Outdoor enthusiasts know Orca for its exceptional line of coolers and drinkware. We own the Orca Pod backpack cooler. Living in hot, dry Tucson, AZ, it's been a lifesaver for us.
Orca Backpack Coolers
Orca offers a variety of coolers. They make their backpack coolers in two sizes. We've never owned or even seen a backpack cooler until getting the Orca Pod. We weren't sure how it would work, what we would be able to fit, and how easy it would be to carry.
Realtree Max 5 Pod Backpack Cooler
The Pod holds 7.13 gallons (28.5 quarts). This is the larger of Orca's two backpack coolers. We have the camo print, called the Realtree Max 5. My husband plans on taking it elk searching this fall.
To give an idea of it's size, you can put 15 pounds of ice in it along with 24 cans.
While carrying all of this for a long time might pose a challenge for some, what's great about this cooler is you have the option to carry it many different ways.
With traditional coolers you can only carry them by the handle, oftentimes with the cooler hitting you in the leg as you carry it.
With the Pod, you can easily carry it on your back, using your body to manage the weight of whatever you put in the cooler.
While many people wouldn't hike for miles with the max load of 59.5 pounds on their backs, it's great the cooler can bear this weight, as drinks and ice are heavy.
Also, you can definitely comfortably carry it from your car to your campsite or picnic when it's filled. The straps are padded. They are also adjustable, so whoever carries the cooler can get a good, stable fit.
It keeps food and drinks very cold, so even if you want to use it for hiking, you can manage it. You may just not want to use as much ice, so it will be lighter. If you will be drinking the drinks within a few hours, you may want to refrigerate the drinks before putting them in the cooler and then not using any ice — to make it lighter. They will still stay cold.
Orca Pod cooler review
We've used this cooler so far for camping with Boy Scouts, local sightseeing, on road trips, putting groceries in it while driving home, and for our kids' sports.
Our favorite use has been taking it along with us when we sat through our kids' brutally hot May and June weekend sports games and tournaments. Again, we live in Tucson, Arizona. Sometimes we would be there all day — up to 8 or 9 hours — and having this cooler was an absolute blessing.
In the mornings we would load it with ice, lots of water, sandwiches, lots of snacks, and even four cool towels. Sometimes my husband would carry it, and other times we put it in our portable, collapsible wagon with our chairs.
Even in the 100+ degree heat, we enjoyed cold drinks and intact food. My kids liked that their granola bars and sandwiches were as they would have been at home — cool and not melting.
We've also taken our Pod backpack cooler on road trips and local sightseeing. We have family that lives two hours away, and we often bring snacks for our kids as well as food for dinner for everyone.
In the summer months, we've put food in it — ice cream novelties, etc. — so it would keep on our 30 minute commute home from Costco. We didn't even put ice in it always; it was just to keep it out of the sun.
It fits easily in our car, isn't cumbersome, and is a great size for food, ice and drinks. While we occasionally wipe it out, we always air it out to be sure it's dry before we close it.
More features of the Orca Backpack
The interior is anti-microbial. It's BPA-free and made with FDA-approved, food-grade materials. The cooler walls are sturdy and reinforced.
You can stack things on top of the cooler without worrying about it caving in. Your drinks will stay cold in this cooler, for hours longer than you need them to.
Just for fun, I put ice cubes in the cooler — filled about a quarter of the way — with nothing else. I put it outside on the sun-exposed hot brick on a 110 degree June day. I put it out in the morning by 8am (already in the nineties) and there was still ice in it by 7pm. Some had melted, but the vast majority was remaining which is incredible.
You can just tell it's very well made. There is a heavy-duty zipper that's very sturdy and seals completely.
We really enjoy using our Orca Pod backpack cooler. It's been our go-to cooler now, no matter what we are doing or where we are going. We like that it's fairly light when it's empty — 6.6 pounds (3 kg) — and that it doesn't take up a lot of space in our trunk.
It measures: 18″ length x 11″ width x 18″ height.
Podster Backpack Cooler
The Podster, the smaller of the two, holds 3.5 gallons (14.25 quarts). Orca describes it as a day pack. We own the larger one, the Pod, and haven't used this cooler, the Podster.
However, while we don't own it, I wanted to discuss how practical this cooler would be due to its smaller size. The Podster would be a great cooler to take hiking, short trips, really anywhere. I could see our family using the Podster often.
Being we live in a hot and dry climate, we carry water bottles with us everywhere we go, all year. From April through November, when we set out across town, or sometimes even jaunts that are just 30 minutes, we usually pack extra water, just in case.
Also, with kids, I'm forever packing snacks. During the hot summer months, you can't leave anything in the car with the heat, especially food.
It would be perfect to put everything in this Podster, eliminating the need for multiple bags, etc. I would easily just put my ice or ice packs in it along with water and snacks. This seems like it would be convenient to take to the zoo, sporting events, and trips to the park.
You would be able to carry it hiking or pretty much anything you wanted to do. It comes in the following colors and patterns:
Fuschia
Seafoam/Grey
Coral/Grey
Realtree Max 5 Camo
It's a bit smaller than the Pod, measuring 15″ length x 9″ width x 15″ height. Empty, it weighs 3.6 pounds (1.6 kg). Even though it's small, it can hold up to 28.5 pounds.
Best backpack cooler
These are such high-quality coolers, and depending on your situation, both sizes are convenient. They are made to withstand weather and elements, keeping your food and drinks cold.
If you packed it with ice and put frozen foods inside, like steak, fish, etc., they would stay frozen for a long time safely.
The Pod would be great to take if you are wanting to vacation off-the-grid for awhile or going to a rural or remote location.
Orca backpack coolers are portable, lightweight, and roomy.
Orca Backpack Coolers
There are many other great things about their backpack coolers. They are handy for hiking, fishing, camping, road trips and even for airplane traveling.
The compact sizes allow them to fit well in the overhead storage compartments of planes and trains, making them useful for almost any type of travel that your creative mind can dream up!
And while they are soft-sided, they are very sturdy and aren't collapsible; they would withstand the demands of traveling.
Other features include padded straps with the addition of a T-strap across the chest to help distribute the weight when it is full. The Pod and the Podster are manufactured with vacuum-sealed inner and outer walls.
While the Pod holds up to 24 cans with 15 pounds of ice, the Podster can accommodate 12, 12-ounce cans with 7.5 pounds of ice. You can open and close either cooler and after days, most of the ice will still be intact.
What characteristics do the Orca Coolers have in common?
Both the Podster and the Pod include a tough inner shell made of foam and reinforced inner and outer walls that keep the cooler's shape and prevent crushing and scratching.
Both models have doubly sealed waterproof zippers that prevent air and melted ice from leaking from the flip top. The material surrounding the zipper is equally as tough and is designed to prevent rips, cuts, and is BPA-free and antimicrobial.
Orca has built them to keep your food not only cool and but safe, too. Besides being covered with a tough vinyl, the Pod and the Podster include several sets of canvas straps. These straps allow you to add a variety of accessories, such as a wine bottler opener or maybe your eating utensils.
Inside these backpack coolers is a shell made of a closed cell foam that prevents leakage and maintains stability, keeping your food and beverages at the correct temperature.
The well-padded shoulder straps of the Pod and Podster help distribute weight and keep the person carrying the cooler comfortable.
The Podster also has a third strap, called a T-strap, for use across the chest to help balance the cooler when it is full. (Remember, this one holds 59.5 pounds!)
If you are packing foods such as meat, eggs, and dairy, be sure to follow the cold food storage information for food safety. It's important to keep cold food cold. Also, it is wise to limit the amount of times you open the cooler. Keep it zippered shut / completely closed when you aren't putting something inside or taking something out. This will help keep the contents cold.
Orca backpack cooler is built for functionality
These coolers are built for functionality. No oddly shaped pockets adorn them, only the canvas straps useful for accessories and tools.
With the lifetime warranty offered by Orca, the Pod and Podster backpack coolers will serve you for years.
Once you realize all the ways these coolers can be useful, you'll find yourself using them for more than just hiking and camping.
Orca Chaser Travel Mug
We love our backpack cooler, and we were equally surprised at how much we enjoy the Orca Chaser.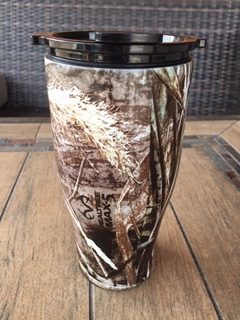 This tumbler holds 27 ounces. We have the Realtree Max 5 Chaser which is one of over 10 of their camo patterns. The Realtree Max 5 matches our Pod cooler.
We own a lot of travel mugs, travel cups, hot/cold cups, etc. "It's just another travel mug," is what I thought when I saw it. However, it has quickly become my husband's ABSOLUTE FAVORITE to use.
He uses his Orca Chaser on a daily basis, at home and while commuting. He uses it all the time, so much so, that I haven't ever used it.
However, on a long car ride, I asked him what made it his favorite — and he has a lot of tumblers, travel mugs, etc. "What makes the Orca so much better?" I asked him.
He really couldn't say enough about it. He likes that it fits well in his hand and in the cup holder in both of our vehicles. And yes, it keeps his coffee hot and his ice and drinks cold.


But what he loves is the most is the tight seal and the lid. He loves the lid. It doesn't snap on; there's a piece that fits into the mouth opening and holds it closed.
He said, "The lid makes the cup." It's what sets it apart from all the others.
Orca Chaser holds 27 oz
They are made with 18/8 stainless steel and have a vacuum-sealed body to keep cold drinks cold and hot drinks hot. The lid is Tritan polymer. It has a sip hole that can be used as is or with a straw.
Orca Chaser colors
There are dozens of color varieties and patterns available for the Orca Chaser. Unlike the stainless steel option, all of the other colors and patterns come with a transparent polymer lid in colors that compliment the travel mugs.
They have a stunning array of pastels, including floral patterns, including desert cacti, palm leaves, and flamingos.
There are also high gloss finishes in solid colors. You can even get an Orca tumbler with one of the state flags, NCAA teams, NHL teams, and more.
What else makes Orca travel mugs the best?
All of the travel mugs include self-sealing lids, easy-to-clean exteriors and interiors, and the double-wall vacuum-sealed technology found in Orca's popular hard- and soft-sided coolers.
The Orca travel mug easy fits most cup holders.
It holds 27 ounces and measures 7″ in height.
What is the Orca company?
Orca, the Outdoor Recreation Company of America, is based out of Nashville, Tennessee. Some of their coolers are made in the USA. They have been in the business of planning and producing useful equipment for campers, hikers, and hunters since 2012.
Orca quickly gained a name for itself for its hard-sided coolers but it is the soft-sided backpack coolers that are becoming the company's most popular products. It's a company that gives back locally and nationwide.
Orca products for outdoor recreation
People who love the outdoors founded Orca. They regularly test their products in real situations, under the same types of conditions that their customers would use the coolers and travel accessories.
Among its product line, Orca offers travel mugs and drinkware, camping coolers ranging in size from 20 quarts to 120 quarts, and its very popular line of smaller backpack coolers.
Again, being we live in the southwest, in the desert, it gets really hot. We wanted a backpack cooler to get us through our kids' outdoor sports. Our kids play their sports year round.
We asked Orca for the Pod backpack cooler so we could try it out. Our usual chest coolers weren't enough.
Little did we know it would become our favorite cooler. We use it often. The Pod backpack cooler is portable, holds a lot, and the perfect size for our family and adventures.
Weather Emergency Radios, important emergency preparedness!