Having a hobby greenhouse is a wonderful method to grow your own plants, flowers, herbs, fruits and vegetables in the comfort of your own backyard. For lots of people, the most important part of having your own greenhouse garden is knowing exactly what has gone into their flowers or the food they serve their families.
A hobby greenhouse accomplishes their goal of growing food economically and sustainable.
Advantages of a hobby greenhouse
A hobby greenhouse can be any small greenhouse structure that is not used for business. These buildings can be of any size, even though most of them are tiny enough to be worked by a single grower.
Major advantages of a hobby greenhouse
Everything you grow in a hobby greenhouse will be completely fresh and possibly more organic than anything you receive at a grocery shop. A hobby greenhouse also enables the grower to experiment with several growing methods and grow unusual exotic plants.
Having a hobby greenhouse structure is an excellent way to have fresh flowers or plants all year long, with very little maintenance and work.
Winter plans can be grown all year with these structures. Greenhouses also protect your flowers and plants from Mother Nature's rigid elements like harsh storms and blizzards.
Beans, tomatoes and other vegetables can be easily uprooted by sturdy winds. Delicate plants or flowers can be ruined by a late or early frost.
Having a hobby greenhouse with a few additions like a heater can prevent plants from getting tossed about in bad weather while providing adequate growing conditions.
These greenhouses do not inevitably need to be permanent either. Certain greenhouses simply rest on the lawn or yard like a tent and can be adjusted according to needs. This offers the advantage of flexibility.
Adding a hydroponic element in a hobby greenhouse can further boost yields, thereby, also utilizing all the room available. Best Greenhouse Kits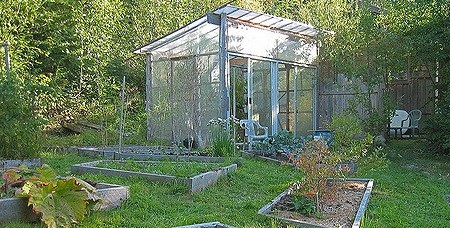 Hobby greenhouse structures and styles
The structure of a hobby greenhouse can be built with lots of materials. The simple ones are made from clear plastic sheeting and PVC piping. Most of them can be created for less than 100 USD and are easily assembled.
You don't have to be professional to buy or use hobby greenhouses. You just need the resources and time to make the purchase and maintain a routine that keeps plants alive and flourishing.
Hobby greenhouses include cold frames and miniature structures called "season extenders" for those with limited space. Many of them can be placed directly over plants for protection and propagation.
These lightweight, portable structures are often simple and effective ways to start seeds early, extend the harvest, and even create a more continuous supply of food.
Tomatoes, carrots, onions, cucumbers, lettuce, corn and pumpkins are just a small sampling of what can be grown with the help of cold frames. Hobby greenhouses can resemble Quonset huts, tents, tunnels, geodesic domes and other innovative shapes.
Best shade systems for greenhouses styles are often made from UV-blocking, transparent material that allows heat and diffuse light into the space. The more permanent structures are often made of steel frames covered in shatterproof panels made of resin or glass.
Other common greenhouse frame materials are wood and aluminum. Plastic frames are generally considered too weak to meet wind and snow load requirements.
Hobby Greenhouse – Display Houses
A display house is a type of hobby greenhouse that protects plants and seed starters from the elements, whether indoor or outdoor. It has a clear, vinyl cover that keeps humidity in and reduces the need for watering, while adding warmth when needed.
The front zips open and rolls up for ventilation in these models. You can remove the entire cover and use the structure as a charming plant stand.
Patio Greenhouses
A patio greenhouse is a common type of hobby greenhouse used in city homes and small apartments. Growers who have very limited space for growing vegetables and plants often buy a small patio greenhouse.
A patio greenhouse is a portable and usually temporary greenhouse that has a much smaller working area than a permanent one. A patio greenhouse can be made with very simple greenhouse materials and be moved around during summer and winter months.
However, they are not as robust as a conventional greenhouse structure. But they are good for transitioning new vegetables and plants outdoors. They also give protection from pests.
These hobby greenhouses can be small or large; some are simply boxes with glass walls. Some of them have wheeled bases and others are made without a base which can be placed over plants early in the spring season, when there is still a risk of frost.
More on patio greenhouses in our detailed article for small space gardeners.
Factors to consider when choosing hobby greenhouses
Building a hobby greenhouse or DIY greenhouse is one of the most rewarding activities that you could do for yourself. You will get a good bit of exercise while enjoying plump, juicy produce all through winter.
You may even get a chance to decorate your home with tropical flowers throughout the year. A hobby greenhouse can be big or small, designed to suit the casual hobbyist or serious gardener.
Thanks to technological advances in building materials and features, constructing a high-quality greenhouse doesn't necessarily require a lot of money or time. All you need is a bit of careful planning.
Think about using salvaged materials if you want to build a large hobby greenhouse. This will lower costs, so that more resources can go into heating and irrigation systems. Also, take your climate into account.
If you live in a temperate or cold region, then you'll want to build an insulated greenhouse. If you live in a warmer climate, then you'll want to have shade control as well. In a desert region, you'll need both.
Decide on a proper location for your greenhouse.
Locate the building in a place that gets maximum light.
Exposure to sunlight all day is ideal, but morning sunlight is usually sufficient for plants.
Plus, it is also the most desirable because it initiates the plant's food production process early in the day, thereby, maximizing growth.
Also, consider what type of plants you intend to grow. Reproductive fruiting plants, such as tomatoes and cucumbers, require more heat, light and control than vegetative plants like herbs and lettuce.
The design possibilities for a hobby greenhouse are endless.
When it comes to size, plan the interior layout on graph paper, accounting for the width, number and spacing of plant benches, as well as the walkways between them.
Allow for storage space, and consider enough room to add a small table and chair. A concrete foundation is recommended, but a concrete floor may not be a good idea.
Water and soil can make a greenhouse floor a slippery, soupy mess.
Instead, make sure your hobby greenhouse floors are covered by several inches of gravel that easily drain water from the structure.
A 2- to 3-foot stone or paved walkway can be laid out between benches for easy access to plants.
Ventilation and temperature monitoring are also very important elements for growing plants inside a hobby greenhouse.
Your ventilation system should be chosen according to the region in which you live and the size and design of your structure.
Sometimes, just opening the doors in the morning creates enough airflow to ventilate.
If you need to ventilate in a hurry, open any ceiling vents and hose down the floors and the whole greenhouse will cool down in a hurry.
Hosing down the floors is obviously something that is done in larger, more permanent structures, but the idea applies at smaller levels as well.
You might need electrical access also for attaching fans, heaters, misters and propagators as well, especially if you are planning a medium to large sized hobby greenhouse.
Best Hobby Greenhouse Kits in the Market
Using greenhouse kits to set up indoor and mini greenhouses is rapidly becoming popular around the globe. We recommend using a greenhouse kit designed for a hobby greenhouse when setting one up.
Best hobby greenhouse kits
Best Greenhouse Watering System | Greenhouse Irrigation
The Propagator
The Lit'l Propagator is a compact 4×4 foot design and is a great hobby greenhouse suitable for balcony plants, rooftop plots or small gardens.
It is 72 inches tall and comes with adjustable benches that leave more room for tall plants. These benches can even be completely removed for more storage. And it's all covered in shatterproof, insulated, twin-wall Solexx panels.
Solexx panels are sturdy and strong. The thin-wall panels bring in evenly diffuse sunlight. This insulation keeps heating costs low-to-non-existent.
The SeedHouse
SeedHouse is a portable, full-zipper enclosure that creates the perfect environment for germination, development and harvesting. It uses 100% waterproof Gro-Tech material that protects plants from wind, frost and snow.
Screened vents keep out most insects, birds, and pests. Its open-bottom design means that it can be placed directly over existing plants, hard surfaces, raised beds or even containers.
It comes with a shade cover, wind stakes and a carry pack. To know more about great greenhouses and equipment, consider browsing our website.
Greenhouse kits and hobby greenhouses:
A hobby greenhouse is a small structure designed for growing plants in places that are limited in area like city homes and apartments.
Gardening in hobby greenhouses has become a trend recently as it contributes to sustainable food growing culture and cost efficiency.
They can also add aesthetic value to a garden by increasing its zen. The structure of a hobby greenhouse can be made with wood, aluminum, galvanized steel and even plastic.
Many of the models in the market come with UV insulation.
Display houses and patio greenhouses are two types of hobby greenhouses that can fit in small spaces. They come with plastic roll-ups for ventilation and security.
Choosing a good hobby greenhouse requires careful consideration of factors like climate, heating, ventilation, lighting, type of plants, design, etc.
Using greenhouse kits makes setting up greenhouses easier. Top 3 Amazon Best Seller Greenhouses
Two popular hobby greenhouse kits are the Propagator and the SeedHouse, each with their own features to protect and grow healthy plants.
Thank you for visiting RuralLivingToday.com/ and make sure to refer back to this site often as we continuously update our information to be relevant and useful to gardeners of all capabilities.
Related articles: