Best Selling Folding Knives – A reliable, well-made folding knife is like a trusted friend. It's always there for you when you need it, whether you have to defend yourself or just need it as a useful tool for camping, fishing and other everyday activities. The most worthwhile folding knives are up to all of these tasks and other challenges. Choosing one seems difficult, which is why looking at best seller knives is such a great place to start. Each of these models offers the best in performance, durability and usability. You really can't go wrong with any of them, but one of these knives may be better suited to your purposes than the others.
Comparing the Best-Seller Folding Knives
The first model in our comparison is the TAC Force TF-705 Series Assisted Opening Folding Knife. One-handed opening is possible thanks to the spring assist, then a liner lock ensures that the blade stays open when you want it to. The handle is lightweight but sturdy aluminum, and the blade is stainless steel and features serration along half the blade. Other features of the knife include a screwdriver, bottle opener and glass breaker that is suitable for shattering car windows in an emergency. A pocket clip makes it easy to have this tool always at your side.
The second knife is Kershaw's 1990X Brawler. This model has the company's exclusive SpeedSafe opening system, which includes a liner lock and a "flipper." Opening is activated by a push on the thumb stud or by pulling back on the flipper for extra flexibility. The Brawler's blade is steel while the handle is glass-filled nylon, which is both lightweight and durable. With a straight-edge blade, this knife is easy to sharpen. The blade may be thin, but it also is powerful enough for tough tasks. The pocket clip may be moved to one of four positions.
The Smith & Wesson Extreme Ops rounds out our comparison. This model has a high-carbon steel blade and an aluminum handle. There is no spring-assisted opening feature, but it is still possible to open the knife with one hand thanks to the ambidextrous thumb knobs. A partially serrated blade appeals to users who want to cut through anything. The pocket clip makes it easy to keep this knife close to hand at all times.
How Much Do These Folding Knives Cost?
The TAC Force knife sells for anywhere from eight to 11 dollars, depending upon which color you choose. Kershaw's offering sells for approximately low twenties while the Smith & Wesson folding knife sells for around the sames as the TAC Force. The bottom line is that all of these folding knives are affordably priced. You could easily buy two or three of any of them so that you can keep one in your vehicle, another with your fishing and camping supplies and a third to be carried on you at all times.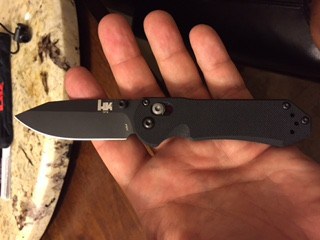 Comparing Folding Knife Features
Without a doubt, the TAC Force knife boasts more features than the other models. With its screwdriver, bottle opener and glass breaker, it's somewhat closer to a true pocket knife or a multi-use tool than the other knives in our comparison. However, if you are only looking for a sharp blade, then any of the three knives that are described here could suit your purposes. With its lack of serration, the Kershaw is probably the easiest to sharpen, and that may appeal to you if you are a heavy user.
What About the Opening Mechanism?
The TAC Force and the Kershaw have the advantage here as there is no spring-assisted opening mechanism on the Smith & Wesson. Nonetheless, all of these can be opened with just one hand. This can be a distinct advantage over other knives, particularly in a high-stress situation. The more you practice with the opening mechanism, the faster you'll be. Also, you'll find that the movement becomes more natural with repeated use.
Are These Knives Legal?
A great deal of confusion persists regarding whether or not it is legal to possess these knives. This typically arises because of the one-handed opening mechanism that is a feature of all of these models. However, none of these knives is a true switchblade. A genuine switchblade opens automatically, while these knives only have mechanisms to assist with quicker, one-handed operation. Accordingly, it should be legal to own and use these knives in all 50 states. It may not hurt to review local ordinances and rules in certain buildings so as not to run afoul of other restrictions.
Comparing the Blades Best Selling Knives
The TAC Force knife has a stainless steel blade. This is good news as stainless steel resists corrosion and does a fair job of maintaining an edge. TAC Force does not disclose the precise stainless steel used in this model, but it's safe to say that it is 440-type steel. This is an economical choice, which may translate to being more prone to rust and not holding an edge for an extended time. The Kershaw uses an upgraded 8Cr13MoV steel blade with black oxide coating.
With the coating, the blade does not reflect light, which may be valuable for some users. This steel blade may be more corrosion resistant and offer improved edge retention over the TAC Force model. With the Smith & Wesson model, you get a 7Cr17 high-carbon steel blade. The company says that the blade is stainless, which is unusual for high-carbon steel, which tends to corrode more than true stainless steel. You just might find that the high carbon steel in this blade gives you superior edge retention and hardness.
Choosing a Folding Knife
For even more tips and hints about choosing a folding knife for yourself, check out the video. It provides an educational look about several considerations that you may want to weigh as you choose a folding knife. For their affordability, functionality and durability any of these best-selling knives are a great choice.
Light My Fire Swedish FireKnife (Fixed Blade)
The Swedish FireKnife is a wonderful camping knife made in collaboration by two companies, Light My Fire and Mora, a Swedish company. Mora from Sweden has been in the knife manufacturing business for over 120 years. The Light My Fire Swedish FireKnife is more than just a handy knife. Although it is really sharp and durable, the most interesting feature of the knife is its fire starter located at the base of the handle. Simply put, you can use the knife to skin, gut and clean a fish and also light a campfire using the fire starter. All you need to do is split the kindling and light a fire. It is a great outdoor tool.
The knife is reputed for aiding in several tasks while on a camping trip but can also be taken along on a expedition. The Swedish FireKnife amalgamates dependability through its fire steel and a superior cutting blade to bring you an all purpose tool. To build a campfire, all you need to is take out the fire starter from the bottom of the handle and slide it forcefully against the back of the blade and presto, there's fire.
Light My Fire Swedish FireKnife Benefits
Sharp and durable blade designed by Mora. High-friction rubber handle, which is easy to hold and work with. Sheath with clip for mounting. FireSteel remains unaffected in extreme weather conditions and in water. The FireSteel produces a 2980°C spark to light a fire.
Available in 3 colors.
Blade Length: 3.9″ (10 cm)
Dimensions (in sheath): 8.9″ x 1.8″ x 1.2″ (22 cm x 4.5 cm x 3 cm)
Weight (w/ sheath): 3.4 oz. (94 g)
Knife Length: 8.5″ (21.5 cm)
Light My Fire Swedish FireKnife Specifications
So, there you have a detailed description of some of the world's most incredible survival knives. Choose one from the list and rest assured it will aid you on your next camping or hiking expedition. This is not a recommended Survival Knife per se because it is a folding survival knives, but it is a great tool that I personally use and carry in my bug-out pack.
Kershaw Ken Onion Blur Folding Survival Knife with Speed Safe
The Kershaw Ken Onion Blur folding knife is a blade which has a Speed Safe installed for added protection. The Speed Safe design provides for a safe and quick release of the blade from its fold. You can open its release using either your left or right hand. This makes the knife ideal in different sporting scenarios where you can open the knife with only one hand if the other is occupied. So when you go fishing, you don't have to worry about using both hands to use a knife.
Specifications of the Kershaw Ken Onion Blur
The Kershaw Ken Onion Blur blade is manufactured using 13c26 stainless steel which is rust and corrosion proof. The blade is designed to be sharp and brutal with added durability and reliability. The 13c26 stainless steel is renowned for being deadly sharp, and unlike a plethora of survival knives and combat knives, this particular knife does not need to be sharpened before its initial use.
The knife is measured at 3-3/8 inches long and the blade is designed to be partially serrated and is a tanto blade which is perfect for piercing and sawing tough materials. The tanto design is meant to provide brute strength for puncturing thick objects such as wood and animal skin and bones. The total weight of the knife is approximately 4.2 ounces.
The entire casing and the handle of the Kershaw Onion Blur knife is made of anodized aluminum which provides for a firm and solid grip and frame. You can hold and use the knife safely without injuring yourself. The handle is manufactured using complex materials to provide the user a safe and firm grip, even in the most severe and intense conditions and scenarios. The handle also has a Trac-tec grip installed that provides the users an extra firm grip.
The main benefits of the knife include speedy release of the blade, thanks to the Speed Safe torsion bar mechanism which allows users to release the blade using just one hand. It has a wonderful grip, even in rainy weather. The blade is incredibly sharp and durable and does not require frequent sharpening no matter how roughly you use it.
Survival Knives Guides: