Wielding the best survival knife gives you the confidence you need to venture into the wilderness prepared. As one of the essential aspects of any survivalist's gear, you must find the best of the best ones. With a multi-purpose design, the best outdoor knife can help you prepare meals, set up camp, and act as a self-defense weapon. I am experienced with survival knives and explain what to look for, depending on your needs. Here's what to know.
Best Survival Knife

1. KA-BAR Becker BK2 Campanion Fixed Blade Knife
If you're someone who spends a lot of time in the wilderness, you'll need a high-quality and reliable blade. This KA-BAR knife is sleek, practical, and one of the highest quality options on the market. It is designed for heavy-duty purposes, so it is best suited for camping.
Product Highlights
The KA-BAR Becker BK2 Campanion is a spectacular knife built with heavy-duty tasks in mind. With it, you'll easily be able to skin game, break apart kindling, or cut paracord for the tarp above your tent. Also, the sheath included is specially designed to attach to MOLLE systems, so it's easy to pack.
You can also release the knife by pressing a single button on the back of the sheath, providing you with safe but easy access. The blade is also exceptional. It's constructed from 1095 Cro-Van steel and has a 20-degree angle, which helps its multi-versatile uses. The knife has a drop-point blade.
For your comfort, the handle is made from Grivory, which helps balance the handle and the blade for consistent use. Another exciting feature is the five-and-a-half inch blade that fits perfectly into the glass-filled sheath to keep it sharp.
What to Like About It
The KA-BAR Becker BK2 Companion is designed with everyday hunters in mind. It fits securely in its sheath but is still easy to remove. It feels exceptionally balanced in your hand. The blade will maintain the majority of its sharpness, and you'll find that it's convenient for a vast number of jobs. More about KA-BAR:
Pros:
Feels balanced
Maintains sharpness when sharpened
Comfortable when held
Fits securely in the sheath
Useful for extensive jobs
What Not to Like About It
Because it's heavy, this knife isn't your best option for fighting, and it can add substantial weight to your pack. Also, you might not be able to spark Ferro rods unless you strip the patina and sharpen the knife's back edge. Upon arrival, you may find imperfections in the steel blade familiar with mass-produced knives.
Cons:
Not recommended for fighting
Cannot spark Ferro rods
Plenty of imperfections in the steel
Could be too heavy
2. ESEE Knives 6P Fixed Blade Knife
When searching for the best fixed blade knife, there's a lot to consider. The ESEE Knives 6P is a hefty contender, thanks to its highly versatile design.
ESEE Knives 6P Highlights
Looking at its features, it's easy to see that this knife is made with wilderness survival in mind. You'd notice that its lightweight feel and high carbon 1095 steel construction offer optimal sharpness and durability. In addition, you'll also appreciate the linen Micarta scales and plain black-finished cutting edge. With every order, you'll receive a coyote brown molded sheath, paracord, cord lock, and clip plate.
Overall, the knife feels particularly balanced and is rather light for its size (just over 11 inches). You will also like how the handle has a lanyard to keep it readily available.
You'd be thankful for the blade's versatility, thanks to the fact that it's made from thick steel and is full-flat ground. As such, you can immediately tell the knife is designed for harsh environments or generic outdoor tasks.
Still, when properly cared for, you won't have to worry about staining or rusting. To improve your grip, you'll find that there's jimping on the spine, so your thumb will feel secure. Lastly, with the help of the added clip, you can carry the knife in numerous ways.
What to Like About It
If performance is what you're looking for, the ESEE Knives 6P Fixed Blade Knife is an excellent choice. It will require very few sharpenings over its lifetime, and if it needs to be sharpened, doing so is quite simple. Fortunately, it handles small and big tasks effortlessly, and it feels incredibly lightweight and sleek when held.
Pros:
Requires few sharpening's
Feels lightweight and sleek
Tears through wood with ease
Very easy to sharpen
What Not to Like About It
Without proper treatment, your knife is going to show significant signs of rust, especially when constantly exposed to humidity. Also, the sheath could do with a lot of work, as it feels like flimsy plastic compared to the knife's quality. You'll also find that unclipping the sheath does not go smoothly.
Cons:
Edge shows rust quickly in the tropics
Poor quality plastic sheath
Difficult to unclip
3. Fallkniven A1 Fine Edge Fixed Blade Knife
The Fallkniven A1 is a useful option for skinning and other outdoor use. Why is this a great choice? Firstly, the beautiful drop-point design makes it incredible for penetrating game. Secondly, you're also bound to love how swiftly you can use it thanks to its perfectly sized swedge (also called swage) and belly.
It sharpens very quickly, too. Although it's not as durable as 1095 carbon steel, it's still great for most uses.
Fallkniven A1 Highlights
The knife is about 11 inches, with a blade just over six inches. Overall, it weighs a moderate 12 ounces. The most notable feature of the knife is its cutting power, as it features a convex, flat ground edge that is an impressive 0.24 inches thick only.
You will love how easily you can skin and chop with this knife, although it's not the best option for getting through sturdy material. This means that it's not going to slice through wood like butter, but it works adequately.
Unlike other knives made from one type of steel, this model uses a couple of unique materials. You'll have a fixed blade made with a VG-10 core and a 420J outer cladding, with the core being hardened to 59 HRC, improving overall integrity.
Compared to lower quality knives, the VG-10 core is far more resilient for heavy-duty tasks. The superior stainless steel construction holds up reasonably well to heavy use.
The high-density polymer handle is heaps better than the brittle plastic on most knives. You'll love the texturing and scaling, which helps maintain grip, even in wet conditions.
Instead of settling with poor-quality sheaths, this knife allows you to choose from different designs, such as Zytel sheath, lefty sheath, or leather sheath. Opting for a leather sheath can be a great choice, especially if you don't like your knife grinding.
What to Like About It
Using the Fallkniven A1 is an experience you won't soon forget. The high-quality handle and blade feel well balanced and comfortable in your hands, even with gloves. Also, it is designed for cold and warm weather use and shouldn't slip even if your hands are wet.
Pros:
High-quality and balanced
Fantastic for food prep
Useful for cold weather
Ideal for wet conditions
What Not to Like About It
The knife can be challenging to sharpen, and you might find the handle is too small if you have large hands. Many suggest it would be much better if the blade and handle were both beefier, especially for hardened jobs. If you opt for the plastic sheath, it's not weather-resistant and extremely tough to work with.
Cons:
Challenging to sharpen
The handle could be small
4. Benchmade Leuku Fixed Blade Bushcraft Knife
The Benchmade Leuku is another option for the best fixed blade. It's a relatively new design brought to the market that has plenty of useful features. This knife is designed to be a drop point, allowing you to use it in several ways. With the addition of the Santoprene handle, it's particularly grippy so it's perfect for wet conditions.
Benchmade Leuku Highlights
This knife could easily be considered one of the best fixed blade knives because of its impressive toughness. If you're interested in using new tech, you'll love the innovative CPM-3V steel blade. It boasts incredible edge retention and offers optimal durability.
Compared to other knives, such as the 200 Puukko, this model is more valuable. With it, you'll no longer have to deal with thin and lacking blades that don't feel strong and secure.
Unlike most of the knives on this list, this comes with a high-quality leather sheath. For easy access, you will be able to hold the knife on your hip thanks to the leather sheath.
Apart from carrying the knife directly on your hip, it also comes with a Ferro rod loop. Another essential feature is the knife's warranty. The Benchmade Leuku comes with a lifetime warranty for you to put to good use.
What to Like About It
The phenomenal blade quality is what makes this knife one of the top contenders on this list. It has razor-sharp blades, and the sheath is just as high-quality as the rest of the knife. Also, you'll love its streamlined design that maintains its edge over consistent months of use.
Pros:
Phenomenal blade steel
Arrives razor-sharp
High-quality sheath
Streamlined design
Maintains its edge
What Not to Like About It
You might have to consider professional sharpening for this blade, as it requires a diamond sharpener. Some suggest the blade is slightly too dull out of the box, although this appears to be a limited issue.
Cons:
Will require a diamond sharpener
Could need immediate sharpening
5. Tops TBT02-TAN Tom Brown Tracker T-2
Hunters and survivalists looking for a knife ready upon arrival will love this model. It's built with expert attention to detail, allowing you to complete many cutting tasks quickly. All of their knives, including the TBT02-TAN Tom Brown Tracker T-2, are made for Navy SEALs, Airborne Rangers, and other military outfits.
Tops Tom Brown TrackerHighlights
TOPS Knives is one of the superior brands to consider when searching for a high-quality knife. Their quality also comes with a heftier price than most other manufacturers. You'll not only be receiving a beautiful knife to keep on display but also a tool you'll use for many years.
Compared to the Tom Brown Tracker #1, this knife is slightly smaller, making it easier for travel. It's over two inches shorter than the Tracker #1, and the blade thickness is 3/16″. You can efficiently complete the same tasks as you can with the larger blades, but this model is far more lightweight.
With its fixed blade design, the blade is five inches with a 4.88-inch cutting edge and a two-inch secondary edge. The entire knife weighs just under 10 ounces, making it the lightest one on this list.
The Tops TBT02-TAN's handle is quite comfortable and made from green canvas Micarta. Also, the beautiful coyote tan finish on the blade helps offset the natural tone of the handle.
Every order receives a coyote tan Kydex sheath with a rotating spring steel sheath clip. The blade is made from 1095 RC 56-58, which is heavy-duty steel used with most knives. It maintains up to 95% of its sharpness over time, even when used for cutting wood.
What to Like About It
As with any 1095 steel knives, the blade performance of this model is quite impressive. You'll be able to use it effortlessly for plenty of outdoor tasks, making it a great all-around knife. Also, it arrives sharp out of the box, which is convenient.
Pros:
Great all-around knife
Sharp out of the box
Incredibly efficient
What Not to Like About It
The Tops TBT02-TAN is smaller than other TOPS knives. It's not as comfortable as the #1 or #3 for large hands. You surely won't want to use the knife for prying, as it could break the blade in half.
Cons:
Not ideal for prying
Not for larger hands
6. Gerber LMF II Survival Knife
The Gerber LMF II could very well be the best survival knife. After all, it was designed with input from former military man Jeff Freeman. The entire design for this model was to ensure that you would be more than able to defend yourself in the wilderness.
If you're searching for a long blade, this isn't the one for you; the blade is under five inches and is quite thin at 0.18 inches. These parameters are what you should consider for an everyday survival knife. The blade material is lacking compared to more modern-day knives, as it's 420HC stainless steel.
Gerber LMF II Highlights
This knife features a drop point blade, but as an added benefit, it has a serrated edge. Although this makes it more challenging to sharpen, it adds more versatility to its performance. The knife's overall length is just over 10 inches, and it weighs under 12 ounces.
The 420HC stainless steel is less weighted and more brittle than most materials. It holds up to rust and is relatively robust over extended use, especially when working with wood. Within your sheath, you will receive a built-in sharpener, which is ideal for survival situations. Also, the sheath is compatible with MOLLE, making it exceptionally simple to carry.
With the complete separation between the butt cap and the tang, the knife helps prevent electrical shock. It reduces hand and wrist fatigue by absorbing shock from hammering and heavy-duty use. Even with its serrated edge, it sharpens easier than other serrated blades and will fit into any hiking gear. Overall, it's a comfortable knife to get your hands on for emergencies.
What to Like About It
The Gerber LMF II Survival Knife holds an edge well and can easily puncture plexiglass. You'll be able to wield the knife when working with electricity. Also, it's quite sharp upon arrival, and the sheath's built-in sharpener works effortlessly, even with the serrated portion of the blade.
Pros:
Holds an edge well
Easily punctures plexiglass
Eliminates fear of electrocution
Incredibly sharp
The built-in sharpener works well
What Not to Like About It
Signs of wear are the most prevalent issue with this knife, as the blade finish wears away quickly. Also, the handle will wear down over time, as it continually rubs against the sheath. Another issue is that you'll have to make sure you frequently sharpen the knife to keep it razor sharp.
Cons:
Finish wears quickly
Handle wears quickly
Will require frequent sharpenings
7. SOG SE38-N Force Fixed Blade
Knife enthusiasts looking for a lightweight blade are bound to like the SOG SE38-N Force Fixed Blade. The unique material used in this knife makes it easy to sharpen. With a thickness of just 0.24 inches and a length of six inches, it will hold up to moderate tasks when you're hiking or camping. This knife has a straight edge, making it highly versatile. Also, the clip point makes it great for prying.
SOG Force Fixed Blade Highlights
The most notable feature of the SOG SE38-N Force is its handle. It is entirely constructed using glass-reinforced nylon with an ergonomic grip. You will like that the specialized contouring fits comfortably in your palm for a more controlled grip without abrasion.
You will also love how it weighs 10.5 ounces, making it a lightweight yet durable option for everyday use. The AUS-8 stainless steel blade is exceptionally easy to sharpen and holds a relatively stable edge.
The beautiful black finish is particularly notable, making it one of the sleekest knives on this list. You'll love the TiNi finish, too, which withstands plenty of wear and tear over years of use.
Ideally, you'll want to use this knife primarily for slicing, prying, and carving, especially with the respectable handle.
Along with preventing abrasion, the contouring stops hot spots from forming in your palms. With the tang's butt end, you can break glass, but it's not as efficient as other survival knives.
You'll like the sheath that comes with your order, as it's made from high-quality nylon. It's compatible with MOLLE systems, and you'll also have the option of using hook-and-loop closures. As another carrying option, there's a lanyard hole drilled into the handle, and you'll receive one with your order.
What to Like About It
The SOG SE38-N Force is a well-designed budget knife for most situations. Its medium-grade design holds its edge relatively and feels good when held. Also, you'll love the razor-sharp design of the straight edge and the limited slippage with the comfortable handle.
Pros:
Holds its edge well
Medium-grade design
Straightforward design
Feels good
Sharp, straight edge
Solid grip with limited slippage
What Not to Like About It
The most significant disadvantage of this knife is that the sheath is hard to use, making it tough to draw the blade. You might also find that the handle is a little rougher against your skin than anticipated. With the poor-quality hook-and-loop closures, you might want to consider hip or lanyard carrying.
Cons:
Low-quality hook-and-loop closures
Hard-to-use sheath
Rough handle
8. Spyderco Bushcraft G-10 Plain Edge Knife
Another to consider is Spyderco. While they are primarily known for its folding knives, the Bushcraft G-10 is a hefty survival knife. It's made from high-quality materials that excel in durability and overall performance.
With design input from bushcraft expert Chris Claycomb, you can guarantee it will be a useful tool. You'll fall in love with the exceptional sharpness of the flat edge that makes it particularly useful for woodwork.
Spyderco Bushcraft Highlights
This knife emerges onto the market with the durability you wouldn't expect. The blade is made from O-1 steel, which is substantially heftier than other steels. You can also expect impressive durability, thanks to the fact that it's made of a combination of carbon, silicon, manganese, vanadium, tungsten, and chromium.
Over time, you'll find the blade can handle plenty of wear and tear, especially compared to other carbon steels. However, it's not stainless, so you will need to maintain the blade to prevent rusting. The blade is 0.14 inches thick and four inches in length, making it an exceptional choice for most tasks.
With a specialized Scandinavian grind and a fully tanged design, it's comfortable, sleek, and stylish. The handle on the Spyderco Bushcraft G-10 Plain Edge Knife is another notable feature. You'll like the fiberglass laminate that is perfectly contoured for comfortable wielding.
Also, you'll notice a hole for a lanyard at the edge of the handle, or you can opt to carry it with its sheath. If you're in the market for a classic appeal, the handle's beautiful wood grain is sophisticated.
What to Like About It
The Spyderco Bushcraft G-10 arrives with near-perfect sharpness. You'll also love how the grip feels natural in your palm, and the edge retains its sharpness over months of use. It's one of the superior options for experienced users, and it's quite easy to sharpen at home.
Pros:
Enhances the natural grip
Very sharp upon arrival
Sparks Ferro rods easily
Fantastic edge retention
Perfect for experienced users
Very easy to sharpen
What Not to Like About It
If you look closely at the Scandi edge, you'll find that there's a slight rough grind, taking away from the mirrored finish. Also, with the exceptional sharpness of the blade, beginners need to be wary of how they use the knife.
Cons:
Arrives with a rough grind
Challenging for beginners to use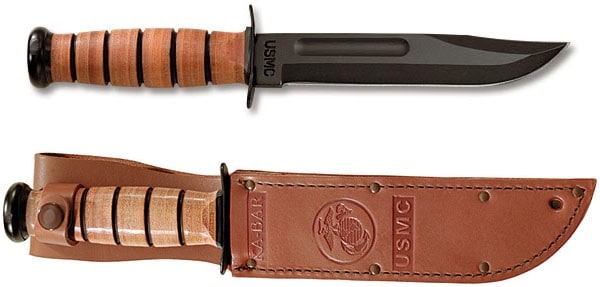 9. KA-BAR Full-Size US Marine Corps Fighting Knife
There's much more to the KA-BAR Full-Size US Marine Corps Fighting Knife than what meets the eye. It is the original design for exceptional performance that inspired modern knives. In fact, this is easily one of the best options for fighting and survival. It's easily one of the best-weighted knives for survivalists; it's 11.2 ounces, which is not too heavy or too light.
KA-BAR Highlights
The main thing to love about this knife is that it's simple and does every job effectively. You'll also love that the handle is available in leather or Kraton.
Compared to the other knives on this list, the original KA-BAR blade length is seven inches. The knife is just over 11 inches long, which makes it a unique option for fighting, meal prep, and more. You can use it to slice, dice, pry, and penetrate, thanks to the 1095 Cro-Van carbon steel blade.
It's 0.165 inches thick, making it a versatile option for several tasks, whether in your backyard or the field. This is a 20-degree angled knife, so having one means you'll have one of the most popular knife designs. Also, the 100% leather sheath only adds to its authenticity and attractiveness.
What to Like About It
The KA-BAR fighting knife is an exceptional survival knife designed for wear and tear. The blade is easy to sharpen, and you'll find that it pierces anything. With its unparalleled quality, it holds up to consistent abuse and displays a USMC stamp and embossing proudly.
Pros:
USMC stamp and embossing
Designed for wear and tear
Holds up to consistent abuse
Very easy to sharpen
Pierces anything
Unparalleled quality
What Not to Like About It
The main concern with this knife is that it's quite slippery, especially in wet conditions. If you're inexperienced with wielding knives, this model is not recommended. Also, the sheath is made from genuine leather and scratches quite easily.
Cons:
Could be slippery
Sheath scratches easily
Not for wet environments
10. Gerber Bear Grylls Ultimate Pro Knife
The Gerber Bear Grylls Ultimate Pro Knife is one of the most prestigious knives in the Bear Grylls Survival Series. There are a ton of exciting features packed into this moderately sized knives to make it a well-versed design. With this drop-point knife, you'll have a flat edge blade under five inches in length. It weighs just over 11 ounces and is 10 inches in total.
Although you might be skeptical because of the attached celebrity name, it's quite impressive.
Gerber Bear Grylls Ultimate Pro Knife Highlights
If you've had concerns about handle quality with other knives, this one features a textured rubber with ergonomic contouring. Instead of losing your grip or having hand fatigue, you'll find you can maintain a firm and comfortable grip for hours.
You'll appreciate the lanyard hole with the included lanyard and the emergency whistle packed with your order. The innovative sheath also features a Ferro rod that can strike against the knife blade's back for fire starting.
Another advantage of the sheath is its diamond sharpener, which is ideal for spur-of-the-moment sharpening.
A new guide is packed with your knife, which includes the "Priorities of Survival," including air rescue instructions.In terms of general performance, the Gerber Bear Grylls Ultimate Pro Knife boasts a 9CR19MoV stainless steel blade.
Overall, it offers optimal performance for extended periods with limited signs of wear and tear. The sheath is mildew-resistant, which is perfect for inclement weather and rust prevention.
In between sharpening, the stainless steel blade maintains its edge far better than most other survival knives. With this, you can easily fillet, chop, slice, or puncture a variety of materials with ease. It's a highly reliable military-grade full-tang knife that can prove to be quite useful in survival situations.
What to Like About It
The Gerber Bear Grylls Ultimate Pro Knife is highly versatile for cutting, batoning, and carving. The built-in fire rod is also essential, and the quality of the blade's steel is better than expected. You'll like the sharpness of the flat edge, and the convenient built-in sharpener in the sheath.
Pros:
Useful for carving, cutting, and batoning
Built-in fire rod
High-quality steel
Full-tang metal pommel
Survival guide fits into the sheath
Perfectly sharp flat edge
What Not to Like About It
Unfortunately, this knife doesn't have MOLLE straps, and the sheath is far too inferior for the quality of the blade. Some users found they were only able to get up to 70 cuts before the blade on the knife broke.
Cons:
Poor quality sheath
No MOLLE straps
Can break under force
General Rules of Buying a Good Survival Knife
When you're out in the wild, you'll want to make sure you have a quality knife at your disposal. Because they can be used for skinning game, preparing shelter, or defending yourself, you'll need plenty of features. Before you spend your hard-earned money on a specific model, let's explore the general rules of buying a proper survival knife.
Fixed Blade Survival Knives vs Folding Knives
Although using a folding knife is ideal for everyday use, you'll want the best fixed blade knives when it comes to survival. You'll want a knife that doesn't have weaknesses, and the joint where the knife folds can be significant. Your knife will go through a lot of abuse and cannot be at risk for failure.
With fixed blade survival knives, you'll have something ready to be used as soon as you unsheathe it. In comparison to folding knives, you have to take them out of your pocket and unfold them. When it comes to speed and safety, you'll want a more reliable design that is easier to wield.
Full Tang Knife vs Partial Tang Knife
You'll often find that most models are advertised as a full tang knife, which is where your money should be spent. A full tang design is when the blade runs through the unit's entire length, from the hilt to the tip.
Partial tang breaches the very tip of the handle, which doesn't have as much durability. Also, partial tang knives have the tendency for the blade to loosen, which makes them dangerous to use.
You'll surely want a full tang model if you need to use the blade on a hard object or if you will need to pry with it. Although full tang knives can be more expensive, it is well worth the investment, as it will be far less likely to break.
High Carbon Steel Blade
The best knife will have different blade materials. You're most likely to find examples like carbon steel, stainless steel, and more, all with their own set of pros and cons.
Opting for a high carbon steel blade is your best option, especially if you want to make sure you're buying quality. High carbon is incredibly durable and is still lightweight enough to be wielded with ease.
Compared to stainless steel, it will withstand plenty of wear and tear, allowing you to abuse it more often. With their added durability, you will also need to ensure that you maintain them adequately. High carbon is quite likely to stain and rust, so you'll have to make sure your knife is protected from the rain.
As an added benefit, this material is also straightforward to sharpen compared to other materials.
A few examples of high carbon steel blades to consider include:
1095: Great for all-purpose use, quickly sharpened, high-quality
AUS-8: Stainless steel, corrosion-free, lightweight
440C or 420HC: Stainless steel, corrosion-free, lightweight, easily sharpened
S30V: High-end steel, maintains its edge longer
Blade Length
It's tempting to invest in a lengthy survival blade that looks like it could tackle a bear, but it's not ideal. When it comes to survival, you won't want the heftiest equipment, but instead the most efficient.
With a moderately sized knife blade, you can handle snares, chopping, batoning, or starting a fire. The best-made knives also give you more than enough confidence to defend yourself, if necessary.
Our recommendation is to consider a blade that's between four and seven inches. This length should allow you to tackle thick chunks of food, dressing your game, and more.
If you find yourself falling into the 12-inch knives territory, it'll be too big to handle and be productive. Not to mention, it can also be dangerous to have such a large knife strapped to your body, hindering your survival.
Try to keep the overall length of your knife between 10 and 11 inches.
Blade Thickness
One of the essential survival tips is to make sure you're not carrying more than you need. If your knife has a thick blade, it's going to add an exceptional amount of weight. Ideally, you'll want to stay between 0.17 and 0.25 inches for blade thickness to cut back on its heaviness.
With that said, you don't want to choose the thinnest blade on the market, which can prove deadly. The thinner the blade, the more likely it will be to snap, especially when prying. You'll need to find a model that has a moderate girth that allows you to work with delicate and heavy-duty tasks.
Handle and Grip
Above all else, it's essential to pay special attention to the handle and grip attached to your knife's end. Considering this is the part responsible for giving you comfort and control, it's essential. Make sure you choose a shape and material that is durable, ergonomic, and reliable.
It's far too often that survivalists invest in knives that cannot be used in inclement weather because of weak grip. You'll want to ensure the handle is specially contoured to fit securely in your palm when dealing with sturdy materials. Also, you'll want to make sure it's ergonomic to prevent cramping, abrasion, and hot spots.
Three main things to focus on when choosing a handle are:
Strength
Durability
Grip
Try to avoid plastic or hollow handles that can easily snap off the blade or crack under pressure. You'll also want to consider designs that don't have canvas or material that can wear away after consistent use.
As it's a survival knife, the grip should be comfortable to hold in warm and cold weather, with and without gloves. The handle's circumference is also imperative, as it should fit perfectly in your palm without being too small.
A couple of examples of top-tier synthetic materials for your knife handle include:
Glass-reinforced nylon
Fiber-reinforced nylon
Micarta
Kraton
Zytel
Valox
Other Survival Features
It's essential to make sure you're as prepared as you can be when in the wilderness. If you're able to find high-quality knives that also feature other survival features, you'll be off to the races.
You'll want to consider knives that feature fire starters, multiple carrying systems, and more. Many users note that MOLLE compatibility is essential for their knives, so they don't have to wear them with a lanyard.
Sometimes, the best camping knife might come with an emergency whistle or bear whistle to keep you safe. However, it's important to remember the quality of your knife as well as other survival features.
Even if you think you've found the superior outdoor knife because it has 10 extra items, the knife quality could be lacking. Always opt for blade performance over added features.
Survival Knives to Avoid
Just as there are things to look for in the best knives, there's plenty to be wary of. These are a few of the most notable things to avoid when you begin shopping for a hiking knife.
Survival Knife Kit
As comprehensive and fun as a survival knife kit seems, it can be a horrible investment. The vast majority of these kits are designed to offer as many products as possible, rather than consistency. More often than not, the included knife will be weak and difficult to wield.
Even though you'll receive plenty of other items, such as waterproof matches and a compass, it's not worth it. As the knife is the most crucial part of any survival kit, it should be the highest-quality item. Often, you'll need modifications to these kits to make them moderately useful.
Swiss Army Knives
There's no doubt that Swiss Army knives are incredible contenders for everyday tasks around the house. Like some multitools, they have very versatile designs and are exceptional for small tasks, but they are not strong enough for actual survival.
If you're in a life-or-death scenario, you'd be more prone to reach for a severe knife that packs a punch. They're great for your keychains, but Swiss Army knives are best as a suburban hiking knife. This is especially true when it comes to finding a self defense knife, as these models are too small. The best knife for self defense will allow you to puncture a variety of materials easily.
Cheap Knives
When we say cheap, we don't mean inexpensive. Instead, this means a price that seems too good to be true. As with most things, if you think you're getting a steal with the regular retail price of a knife, it's a sham.
When you're looking for quality, you can expect to pay for quality, so it's best to avoid cheap $20 knives. Remember, your self defense knife could mean the difference between life or death, so you'll need to wield reliability.
Otherwise, you could be dealing with handles that get chewed up, thin blades, partial tang designs, and worse.
Best Survival Knives FAQs
Why do you need a survival knife?
Are you wondering why do you need a survival knife? These knives serve an excessive number of purposes. You'll find that they act as the best knife for self defense and the best outdoor knife. Whether you need to break apart firewood, cut through a deer, or prepare onions, your knife should make it simple.
Also, there's the fact that you could be facing life or death situations where a knife is necessary. You might need to break glass, cut rope, or defend yourself from animals and intruders. All of these hazards can easily be managed with a top tier knife.
What is the best steel for a survival knife?
The most common steel for the best survival knives is 1095 high-carbon steel. As survival knives boom in popularity, newer technologies are being used to create innovative materials. Because of this, the answer to what is the best steel for a survival knife will continue to change as time goes by.
A strong contender to 1095 high-carbon steel is CPM-3V steel, which offers optimal durability and edge resilience. However, the more innovative the material is, the most expensive it can be, and many CPM-3V steel knives are over $300. Choosing 1095 high-carbon steel knives gives you the resilience and durability you'd expect with a more affordable price.
How sharp should a survival knife be?
There is some debate when it comes to determining the best sharpness for a survival knife. Many suggest that when it comes to how sharp should a survival knife be, aim it to be as sharp as possible without putting the blade at risk for snapping.
Ideally, you should be able to shave the hairs off your arm with a single swipe for the knife to cut through anything easily. You should be able to apply as little pressure as possible to cut through a piece of paper vertically.
Is a Kukri a good survival knife?
The Kukri is a unique knife in that it is the traditional knife of the Nepalese army, but is a Kukri a good survival knife? This knife has a functional design for survival and utility and easily tackles combat, everyday chores, and chopping.
Nevertheless, it might not be the ideal option for everyone, as they can be quite large. On average, you can expect a Kukri to fall between a survival knife and machete in size. With a decent weight, it's relatively easy to wield and is excellent for dealing with overgrown vegetation. However, their large size can be hazardous and inconvenient for travel.
What knife do Navy SEALs use?
Curious to know what knife do Navy SEALs use? The standard-issue survival knife for the Navy SEALs is the Ontario MK 3 Navy Knife. With a stainless steel blade, it's resistant to corrosion and is quite compact, making it easy to carry. However, plenty of Navy SEALs prefer to carry personal knives. You'll find all of the armed forces of the United States have different issued knives.
Best Survival Knives: Top Recommendations
Depending on the task, here are our recommendations for the best knives for survival.
Best Fixed Blade Knife
The Gerber LMF II is the best all-around fixed blade knife with functionality and convenient features. It has a separate design to protect you from hammering and electric shock with a unique sheath material. Its handle is one of the most comfortable on the list, and the stainless steel blade is corrosion-resistant.
Best Outdoor Knife and Best Camping Knife
If you're in the market for a utility knife that can make survival simpler, we recommend the Gerber Bear Grylls Ultimate Pro Knife. With a ton of valuable information in the "Priorities of Survival" pocket guide, you can have key tips for any survival situation. The knife is also designed to have military-grade features, spectacular performance, and an on-board fire starter.
Best Self Defense Knife
The only option for the best self defense knife is the KA-BAR Full-Size US Marine Corps Fighting Knife. As the knife that started it all, it is an incredibly versatile knife that is particularly useful for protecting yourself. The 7-inch straight-edge blade is perfectly sharp, and it features a high-quality leather sheath.
KA-BAR Fighting survival knife review
Things hunters don't know about whitetail deer
Night vision thermal imaging protect home