Facing a Food Crisis – Are you ready for what's around the corner?
Along with many of our readers, our family is preparing for some challenging times to come.
Facing a Food Crisis: Realistic Ways to Prepare and Beating Food Challenges
Beating Food Challenges: Growing Veggies, Herbs, and Fruit
Beating Food Challenges: Growing Veggies, Herbs, and Fruit
Almost anyone anywhere can grow some vegetables, herbs, and fruit.
This is a great place to start on a quest to provide more for yourself and rely less on outside sources of food.
It's still possible to plant some cold season veggies in many areas–see our fall and winter veggie gardening info sheet for suggestions.
Fall is definitely a good time to prepare a garden plot for next year.
And winter can be the perfect season to study, learn, and order seeds in preparation for spring planting.
Why is it so important to raise our own food?
Aside from shortages and high prices, there are other reasons it's crucial that we take control over what we eat.
We've talked about GMO foods before, and at the time of this posting, a must-see movie is available for free viewing.
You won't want to miss Genetic Roulette: The Gamble of Our Lives.
Gardening basics
The Year-Round Vegetable Gardener by Niki Jabbour
Four Season Harvest by Eliot Coleman
All New Square Foot Gardening by Mel Bartholomew
THS Learning to Garden Part 1
THS Learning to Garden Part 2
THS Grow More With Companion Planting
Gardening and Plant Propagation Forum
Sites, soils, amendments
RLT Gardening Where Soil Is Poor
THS Natural Nutrients for Plants
THS How to Properly Mulch a Garden
Garden seeds
The Difference Between Open Pollinated, Heirloom, and Hybrid Seeds from Seed Savers Exchange
THS Learning How to Grow From Seeds
THS DIY Heat Mat for Seed Starting
THS DIY Grow Rack for Seed Starting
Our favorite seed companies: Baker Creek Seeds, Seed Savers Exchange, Seeds of Change
Creating a Personal Seed Bank from Rural Spin
Saving Seeds by Jackie Clay
Vegetable gardening
The Vegetable Gardener's Bible by Edward C. Smith
The Vegetable Gardener's Container Bible by Edward C. Smith
THS Learning to Garden: Growing Vegetables
Herb gardening
Homegrown Herbs by Tammi Hartung
THS Learning to Garden: Growing Herbs
Propagating Herbs from Homestead Revival and friends
Fruit gardening
The Fruit Gardener's Bible by Lewis Hill & Leonard Perry
THS Learning to Garden: Growing Fruit
Cold-season gardening
RLT Fall and Winter Gardening Series
Alternative gardening concepts
Self Watering Containers from Preparing Your Family
Beating Food Challenges: Raising Meat, Eggs, and Dairy
Beating Food Challenges: Raising Meat, Eggs, and Dairy
From rabbits and laying hens to dairy and beef cattle, there are food-producing animals for everything from small backyards to huge ranches.
That's a good thing, because drought-caused grain shortages are filtering down to supplies of meat, eggs, and dairy products.
An example is the effect on dairy herds, explained by the Daily Dairy Report:
Extreme drought this summer meant higher prices to feed dairy cows, and now the U.S. faces the smallest dairy herd in almost a decade.
That means higher milk prices, and not just for the kind you drink.
Lots of types of food companies are affected, and the impact depends on the type of milk product they use. (Read more in this article at Marketplace.org.)
Feed issues are causing similar shortages and price hikes in factory and small-farm meat, poultry, and egg production.
What does that mean for us?
Now is the time to be thinking about raising some meat, poultry, eggs, or dairy.
Not only will it help with supply challenges, but it's a great feeling to know that you can provide a complete meal with protein sources to go along with what you raise in the garden.
Best Farm Animals: How to Populate a Healthy Farm
But you must also Caring for Livestock
Think about what will work for you and learn all about it!
5 Important Tips on Raising Roosters
Homesteading for beginners making a living homesteading
Our Homestead Livestock Resource List
Best Farm Animals: How to Populate a Healthy Farm
Livestock for the backyard or farm:
Backyard Homestead Guide to Raising Farm Animals by Gail Damerow
Small-Scale Livestock Farming: A Grass-Based Approach by Carol Ekarius
Which meat animal should you raise? at HobbyFarms.com
Poultry in general:
Storey's Guide to Raising Poultry by Glenn Drowns
Pastured Poultry Profits by Joel Salatin
The Small Scale Poultry Flock by Harvey Ussery
Raising Backyard Chickens Made Simple Part 1
Raising Backyard Chickens Made Simple Part 2
Chickens:
Storey's Guide to Raising Chickens by Gail Damerow
Success With Baby Chicks by Robert Plamondon
The Chicken Encyclopedia by Gail Damerow
The Chicken Chick blog
Fresh Eggs Daily blog
Other poultry:
Raising Quail by Allen Easterly at Backwoods Home Magazine
Raising Ducks by Liz Wright at Mother Earth News
Raising Turkeys at Home by Herman Beck-Chenoweth at Mother Earth News
Raising Guinea Fowl by Jeannette S. Ferguson
Beef cattle:
Salad Bar Beef by Joel Salatin
Storey's Guide to Raising Beef Cattle by Heather Smith Thomas
Raising Beef Cattle on a Few Acres from Utah State University Extension
Dairy cows:
Mini Milking Cows: What Are Small Breed Milk Cows?
The Backyard Cow by Sue Weaver
Dairy at Home from Hobby Farms Magazine
Pigs:
Storey's Guide to Raising Pigs by Kelly Klober
Raising Your Own Backyard Pig by Kay Wolfe from Countryside Magazine
Goats:
Storey's Guide to Raising Dairy Goats by Jerry Belanger
Storey's Guide to Raising Meat Goats by Maggie Sayer
Raising Goats for Fun and Profit
Everything you need to Know about Pygmy Goats
Rabbits:
Guide To Raising Rabbits for Meat
Storey's Guide to Raising Rabbits by Bob Bennett
Whisper's Rabbitry
How to Raise Backyard Rabbits by Aubrey Vaughn at Mother Earth News
Sheep:
Storey's Guide to Raising Sheep by Carol Ekarius
Basics of Raising Sheep from Sheep 101
Camelids:
About Alpaca Meat from AlpacaFarmBC.com
About Camel Milk from Oasis Camel Dairy
Camelid Husbandry from Camelidynamics
All About Raising Alpacas by Janet Wallace from GRIT Magazine
All About Raising Llamas by Jon Geller from Mother Earth News
Fish/Aquaponics:
Is Fish Farming for You?
How to Raise Fish for Food at Home from Mother Earth News
Honey bees:
Storey's Guide to Keeping Honey Bees by Richard E. Bonney
Raising Honeybees from Beekeeping for Beginners
Needs for livestock protection!
Livestock guardians:
RLT Livestock Guardian Animals (donkeys, llamas, livestock guardian dogs)
Beating Food Challenges: Finding Local Products
Beating Food Challenges: Finding Local Products
This week we bought several boxes of fruit from a local orchard.
Our own young fruit trees won't meet our demands anytime soon, but there are a number of fruit orchards in our region.
We bought a variety of apples and pears for fresh eating and for preserving.
Earlier in the season, peaches and cherries were available too.
By buying quantities of fruit from these orchards, we're contributing to the local economy while stocking up our family's supply of fruit for the coming year.
Plus, it was a fun outing with friends and family members.
We'll be canning some of the fruit together, too!
Many communities have sources of locally raised produce, eggs, meat, and poultry.
Product sales regulations and permit requirements exist on city, county, state, province, and federal levels.
To learn about requirements in your area, consult your local extension office or department(s) of health, agriculture, or food safety.
How to find local foods?
Look for a local food farm guide at your chamber of commerce or library.
Visit local farmers markets or contact their managers during the off season for names of local producers.
Check local newspaper classifieds and online classifieds such as Craigslist.
Do an Internet search for the food you're looking for plus the name of your city, county, or state.
Buy fresh" and "buy local" are good search terms.
Visit local butchers and small produce markets to purchase local products or get names of producers of products.
Inquire at your county extension office or other agricultural support agency.
Look for a fresh food co-op in your area.
See if your area is one of many with a year-round online fresh market.
In the U.S., check the USDA Food Compass Map.
In Canada and the U.S., look at the Eat Well Guide, Local Harvest
Helpful resources
Rural Living Holiday Gift Ideas
Why Buy Local? from LocalHarvest.org
How to Buy Local from Foodroutes.org
Know Your Farmer, Know Your Food Compass
All About CSAs: Community Supported Agriculture
Seasonal Buying Guide from FieldtoPlate.org
Eat Seasonable from SustainableTable.org
How to Freeze Corn on the Cob: The Three Best Ways
About meat and poultry
Availability of various types of meat and the corresponding sales regulations vary from area to area.
For example, here in Washington State, pork to be sold by the cut must be USDA inspected and specially handled.
The packages in the photo at the right are labeled "not for sale" because the meat is from a whole-carcass purchase and was not processed for retail sale.
Regional department of agriculture
USDA (United States Department of Agriculture) Food Safety
For United States individual state department of agriculture offices, click here.
Canadian Food Inspection Agency
USDA publication Slaughter and Processing Options and Issues for Locally Sourced Meat
Beef and Pork Whole Animal Buying Guide from Iowa State University Extension
Custom meat processing charts for beef and pork
Grass fed meat requires slower cooking at a lower temp than grain fed.
Here's some basic info and a simple chart by cookbook author Shannon Hayes.
Shannon's cookbook: The Grass fed Gourmet Cookbook: Healthy Cooking & Good Living with Pasture Raised Foods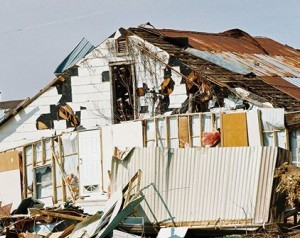 Beating Food Challenges: Storing and Preserving Foods
What happens when a food distribution network breaks down?
Storing and Preserving Foods Many of us have seen what happens.
We've seen it in small scale after an unexpected snowstorm or local flooding.
And now, in the wake of Hurricane, we see it on a greater magnitude.
Anyone who remembers any huge catastrophe knows how life as we know it can change in a matter of minutes.
Disastrous weather is one of many events that could make it very difficult to find food and other supplies for our families.
Hurricane Sandy was not even on the radar when we planned this Rural Living Today series on "Beating Food Challenges."
We actually had the economy and current events more in mind, but in general we just felt it important that people be prepared for anything.
If you're wondering why we encourage people to have some food and water stored up, read Distribution Disruption by blogger Nicola Twilley.
When Grist re-posted the article, it was titled "Hurricane Hunger: What Happens When A City's Food Network Breaks Down."
As you read and view the photos, think in terms of anything that could disrupt your own supply chain.
Catastrophic or even just unusual weather, civil unrest, fuel shortage, financial collapse.
Add to that personal challenges like job loss, serious illness, unexpected large expenses.
You get the idea.
While it's possible that evacuation will take you far from your stash at home, statistics show that it's much more likely that you will be able to hunker down in your house and eat what you've stored when you can't purchase supplies, cooking with alternative fuel sources when the utilities are down.
With Hurricane Sandy's effects still very fresh on our minds, many of us are aware that we could be immersed in an emergency situation at any time.
Personally we're not preparing for anything specific, like an EMP situation or a zombie attack, but we like to be generally prepared for most anything.
As you know if you're following our series "Beating Food Challenges," we are expecting to encounter food shortages and high prices in the coming years.
So we're getting ready, and we hope you are too.
It's far better to be prepared and encounter no challenges than to be caught without food and supplies when you really need them.
Home Preserving Stocking up
Two keys to emergency stash food choices are to store foods your family already enjoys and to make sure you have ways to prepare the food.
And don't forget water, that essential ingredient that all humans, pets, and livestock require.
If your well or tap goes dry, you'll need water for drinking and food preparation.
It's also helpful to have water on hand for flushing toilets, cleaning, laundry, and other household uses.
Our progress towards a sustainable self-sufficient lifestyle centers around producing much of our own food.
But storing food raised elsewhere is definitely a part of our plan.
For one, we enjoy some foods we'll never be able to grow.
Secondly, our farm is still in its growing years and we don't yet produce everything we'd like to.
So we use several methods to stock up our food storage pantry.
We preserve whatever excess we have from the summer growing season.
After enjoying fresh produce and sharing some with others, we usually have some fruit, veggies, meat and poultry to dehydrate and can for long term storage.
We also freeze food, but since our freezers require electricity that could become unavailable, we don't rely on them for the bulk of our stored food.
We purchase bulk meat, large bags of dry staples, tropical spices, and packaged goods.
We routinely buy extra packaged food, but once in a while we make a special effort to fortify our emergency food storage program.
Spices will lose their potency over time, but since we can't grow them they will still be appreciated.
While some of our meat and poultry is already frozen, in the event of a serious power loss we could use our alternate-fuel stoves and pressure canners to get the meat into jars fairly quickly.
We think beyond food itself to include food-related items.
We try to expand the foods themselves to include peripheral needs.
Cold and room temperature food can get boring, so a way to heat it can be a huge plus.
And if power is unavailable or scarce during the prime harvest season, we want to have a way to preserve our produce.
Here are some ideas for food-related items:
Matches, propane, kerosene, extra equipment, supplies, packaging, and containers for dehydrating, freezing, and canning.
Garden seeds (even if you save seeds each year, it can't hurt to have a stash of extras), feed/feed seeds for the livestock that produces your meat and Turkey Eggs.
Storing food and water
Our first year in this four-season climate, we discovered that our barn/garage gets freezing cold in the winter.
One shattered bottle made us wake up and smell the apple cider vinegar!
During the summer, the barn gets too hot for some foods.
So our ideal food storage system includes a cool root cellar, an insulated utility closet in the barn, and a closet in an indoor room that's kept at a low level room temp.
What do you need in order to start or augment your food storage plan?
There's a solution for your food storage challenges, too!
Here's where our friends in the Internet community come in.
Thanks to the Internet and blogosphere, there are tons of excellent resources on storing food, water, and other household supplies in various situations and configurations.
And a couple of print books of note
Emergency Food Storage and Survival Handbook by Peggy Layton
Root Cellaring by Mike and Nancy Bubel
Preserving food
Again, the Internet, libraries, and bookstores are full of excellent resources, ideas, and recipes for food preservation.
But one of the best ways to learn to preserve food is to join a friend who knows how or take a hands-on class where you can "learn by doing" alongside someone who knows the ropes.
Besides, it's much more fun and efficient to can with a friend than all alone.
Please preserve safely!
We encourage you to pay special attention to food safety.
Your stored food will do you no good if it spoils or makes your family sick.
The main food preservation safety rule we live by is to use a pressure canner (not a pressure cooker, not a water bath canner) for all low-acid foods including meats and vegetables.
This includes high-acid fruits that are canned with low-acid herbs or vegetables.
This is for your own health and safety and that of your family.
Food poisoning and botulism are never fun and they can have disastrous results.
Be aware that over the years, plants are continuously adapted for resistance and resilience in the garden, and many products that were originally high in acid are no longer high in acid.
This is especially true with hybrid tomatoes.
Even though our great-grandmothers canned something in a water bath canner, it may not be safe today.
Knowing your varieties makes good sense.
Excellent places to start
To ensure food safety, we rely heavily on information based on scientific research, usually from universities or university extension offices.
The National Center for Home Food Preservation
Some good mainstream books, articles, and websites
Ball Canning website at FreshPreserving.com
Ball Complete Book of Home Preserving by Judi Kingry and Lauren Devine
Put 'em Up by Sherri Brooks Vinton
The Home Preserving Bible by Carole Cancler
Canning for a New Generation by Liana Krissoff
Safe Food Storage for Fruits and Vegetables by Kris Wetherbee at GRIT.com
Canning and Preserving at Hobby Farms
Learn How to Pickle by Eugenia Bone at Mother Earth News
Rendering and Preserving Lard by Kellene Bishop at Preparedness Pro
Homesteading with Jackie Clay food preservation archives at Backwoods Home
Got more favorites?
Please share them in the comments section!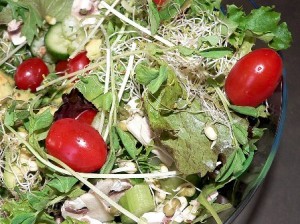 Beating Food Challenges: Sprouting and Foraging
We've been talking about ways to provide food for your family if the going gets tough.
Two more ways to add nutritious foods to your meals and snacks are sprouting and foraging.
Both are fairly easy to learn, requiring little in the way of equipment.
Sprouting seeds and legumes
This is a great way to grow some nutrient-dense fresh food right in your own kitchen.
It can be done all year round, but many people find sprouts especially welcome during the winter when fresh greens are not readily available.
If for any reason fresh produce is hard to come by, sprouting could be a valuable part of your food preparation.
Sprouted greens are also nutritious supplements for livestock, especially during the months when there's little forage available.
As an added bonus, eggs will benefit from the extra vitamins when hens gobble down a snack of sprouts.
Why sprout?
The sprouting process increases the nutritional value of the seed itself.
So a radish sprout has more vitamins than a radish seed.
A bean or lentil sprout adds extra nutrients not provided by unsprouted legumes.
We have found that sprouted wheat, when ground, even boosts the leavening of whole grain bread.
Be forewarned though, that sprouts used in baked goods can shrivel up to give the appearance of unappetizing little hairs in your food.
We recommend grinding sprouts before putting them into a batter or dough.
What to sprout
Most untreated legumes, seeds, or whole grains you buy for cooking will sprout well.
Alfalfa, radish, mung bean, and other seeds for sprouting can be purchased in grocery store bulk food aisles, health food stores and nutrition centers.
They're also available from Wheat Grass Kits and of course The Sprout People.
Sprouting equipment
Sprouting is fairly simple and requires little in the way of equipment.
While manufactured sprouters are available, many people use colanders or glass canning jars.
Anything will work as long as it allows for the basic process of repeated rinsing and draining while the seeds are sprouting.
Containers such as colanders that drain through the bottom can be set in a pan or sink.
Canning jar tops may be covered with cheesecloth or circles cut from plastic needlepoint canvas, secured by a canning jar ring.
Manufactured caps are available for wide mouth canning jars.
Upended jars may need a rack of some kind to hold them in place over a dish or tray that will collect the drained water.
Sprouting process
Seeds, grains, or legumes are rinsed and soaked in water, then drained and placed in the sprouting container.
The seeds and sprouts should be rinsed and drained twice a day till they reach the size you'd like.
The time will vary depending on the type of seed and the temperature of your kitchen, but most sprouts take 2-4 days to grow.
For the last 1-2 days, the sprouts will green up if the container is exposed to some light.
More Sprouting Ideas
A complete guide to sprouting is found at the website of The Sprout People.
This great site also has a variety of sprouting setups and lots of supplies.
Sprouting Edible Seeds is a basic primer written by Amy at Homestead Revival.
And here's a helpful Soaking and Sprouting Chart from Prepper Chicks.
Foraging in your own backyard
Many families routinely forage on their own property or in other areas to add to their food supply. You may have fond memories of berry picking or gathering mushrooms in years gone by.
With an investment of time, you could potentially come home with gallons of produce to preserve.
If your backyard consists of a well-groomed lawn and immaculate flower beds, there may not be much to eat there.
But you might be surprised to learn how many edible plants grow in naturalized areas.
Even the common dandelion and its neighbor purslane are enjoyed by many.
In addition to what you may find growing wild, some farm and orchard owners are happy to have people come in and glean, gathering up what is left after the harvest.
Beware of foraging in areas that have been treated with pesticides or on roadsides fanned by the exhaust of passing vehicles.
Other than that, edible native growth should be safe to eat.
But not all vegetation is edible.
It's important to learn which plants are toxic so you can steer clear of them.
That's where a great book with color photos comes in very handy as you learn to identify edibles around your environs.
Growing Watermelon ~ How to Grow Watermelon
Recommended books
The Forager's Harvest by Samuel Thayer
A Field Guide to Edible Wild Plants: Eastern and Central North America by Lee Allen Peterson and Roger Tory Peterson.
It's too bad they didn't write an edition for the western side of the continent, but a number of the plants in this book also grow elsewhere.
Foraged Flavor by Tama Matsuoka Wong (Includes recipes too!)
More info online
Wildman Steve Brill has quite a website of foraging info.
Many think of him as the guru of foraging, and he's happy to share what he knows on his site.
He goes far beyond the backyard in his explorations for edibles!
Laurie at Common Sense Homesteading shares a lot of foraging info and describes a different plant each week at the Weekly Weeder.
Lamb's Quarters, a plant many of us have seen growing wild, is featured in When Life Gives You Weeds, Eat Em' by Jill at The Prairie Homestead.
The 3 Foragers is a blog dedicated to foraging and wild edibles.
Blogger Karen says, "Nutrition, organics, self-reliance, preparedness, education and respect are all closely tied together with wild food foraging."
And we'll end with Edible Weeds: Weed Them and Eat! by Ellen Sandbeck at Mother Earth News.
Beating Food Challenges: Bartering and Lifelong Learning
As we wind up our "Beating Food Challenges" series, we're amazed at the new roadblocks that have arisen just since the first post.
Yes, challenges in the food supply chain.
The most obvious were caused by Hurricane Sandy's devastation on the U.S. east coast.
Sadly, a number of lives were lost during the treacherous storm.
Many people were injured, and others became ill in the following weeks.
Our hearts have been touched by news reports and videos.
Additionally, countless homes and other buildings were destroyed.
But to add to the distress in the area, grocery stores and food warehouses were also damaged.
Roads and bridges were washed out, causing shipping delays.
Challenges in the food supply chain.
And then there are world events that threaten to limit international exports and imports.
Severe weather around the world. Wars, uprisings, financial collapse.
The writing is on the wall.
Challenges in the food supply chain.
We hope you're finding ways to expand your own food source, storage, and production options.
Our family has sure been giving some extra attention to those aspects in the past weeks.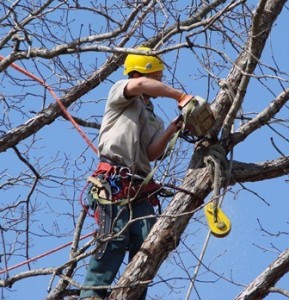 Bartering challenges – Becoming a barterer
Bartering, or swapping goods and services, was once a very common practice among neighbors and community members.
It kind of fell out of use in many areas due to the availability and affordability of necessary items and services.
But recently, bartering has become popular and even trendy in some places.
We think it's a great idea, and we think it will literally be a lifesaver in the coming years.
We encourage you to take some time to evaluate the products and services you can use for bartering.
This may include things you produce in your home or on your farm, extra supplies or equipment you can part with, and services you can provide for others.
Then think of some of the things you'd like to receive.
Start looking around your neighborhood and your greater community.
Look at advertisements, too; you never know when someone might take an item or service in lieu of cash.
Ask yourself two questions:
Who has what you need?
Who might need what you have?
While an older friend or relative may be your best source of tips for bartering, here are some online resources we've found.
Some have lists of suggested bartering items.
See what ideas you can adapt in your own community!
Bartering at the Savvy Survivalist
The Barter Economy: Coming Soon to a Backyard Near You at Grist.org
Bartering for Goods and Services on the Small Farm or Homestead at About.com Small Farms
Edible Exchange at The Barter Group
Great Bartering Websites at Pakalert Press
The Trading Post on Facebook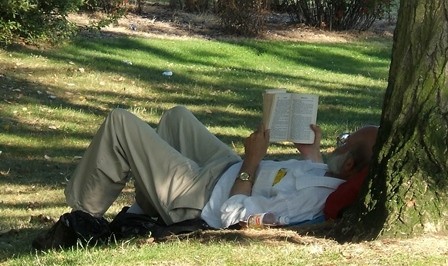 Becoming a lifelong learner
No matter how much you already know, there's room to expand your knowledge and your skill set.
Besides, science tells us that perpetual learning will keep our brains functioning well in old age.
We like that concept!
We happen to enjoy learning, and always seem to be researching the next new skill or project.
And we highly recommend the practice!
Whether you're improving your abilities in an existing field of expertise or learning something totally new, you're increasing your chance of smooth sailing when times get tough.
Learn some new ways to raise, preserve, or store food. Learn some new skills (or hone some old ones) that you could use for barter.
The more you know, the better you'll be able to provide for yourself and your family when
Cruise the Internet for new ideas and info. Become familiar with your local library and used book stores.
Watch for book swaps and freebies.
Keep your eyes open for classes and workshops where you can learn from someone who already knows what you want to learn.
Here are a few resources, including some we've repeated from our series introductory post:
We've reviewed a number of helpful publications here at Rural Living Today.
We read Extension publications as well as articles and blogs at GRIT, Mother Earth News, Backwoods Home, and Hobby Farms.
There are some great books about gardening, livestock, food preservation, and other homesteading topics.
Lots of bloggers post ideas and tutorials for doing all sorts of things.
Some of our favorite blogs are listed on our Resources page.
Preparing for Challenges Coming Our Way
Something Is Wrong With This Picture
10 Realistic Ways to Overcome a Food Crisis
7 Reasons to Be Concerned About the Future
Winter Vegetables List to Plant for Year-Round Growing