Caring for livestock can be difficult if you don't know the basics. While different animals may have certain different requirements, there are some basic needs that are common for all livestock. You need to take some necessary steps to ensure your livestock gets through the toughest seasons.
Basics of Caring for Livestock – Provide Shelter
The most basic part of caring for livestock. You can't leave your livestock outside all the time; they will need a shelter to get inside for the night. Milk producing livestock like goats, cattle, pigs or cows can be vulnerable at cold nights and can get frozen teats. This can result in lower milk production.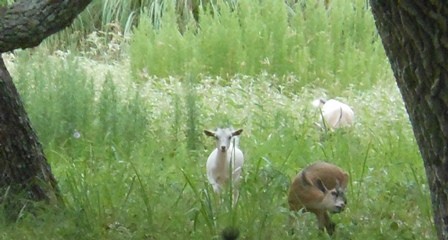 Providing protection for your animals will keep them happier, more productive and relaxed. It also depends on your climate. Shelters come in a variety of forms and types such as barns and pole sheds, solid or semi solid fences, tree belts and thickets. Make sure that the shelter is dry and clean.
Build a shelter according to the size of your livestock, giving proper ventilation but not making it too drafty. Having many animals means you should build a larger shelter with adequate space and proper bedding. The bedding will require regular cleaning as soiled bedding leads to pneumonia.
Learn about the best miniature cattle breeds for your small farm for a great supply of milk.
10 Tips for Raising Backyard Chickens for Beginners
Provision of Adequate Water
Providing your livestock with adequate amounts of water is essential. Especially for those animals that are being milked. Water fills them up, which in turn requires less feeding. Water helps regulate body temperature so make sure to provide water that is not cold. In winter it is better to heat the water up a little.
Giving cold water will lower the body temperature, which means the livestock will need to burn more calories to increase their body temperature. This will require you to feed them more. The right amount of clean water is crucial for your animals' health. It helps to prevent risks of impaction or colic.
Nutritious Feed
Livestock need nutrients to maintain their health; an important aspect of caring for livestock.  You need to provide them with food, a proper supplement formulated balanced nutrition. Having a nice percentage of minerals, vitamins and protein, these provide more energy than forages. For winter the feed needs to be increased.
The lower the temperature, the more the livestock will need to consume in order to maintain body heat. It is important to monitor the intake of your individual animals. Feeding small amounts after every few hours will help reduce waste, if you have a small number of livestock.
Manure and Mud
Having large quantities of mud and manure accumulate in your livestock's shelter can make your animals uncomfortable. Rain and night chills don't help the situation. This is a prerequisite to getting sick. Reduce the buildup of manure and mud mixture. Use fresh sand, woodchip, gravel and tile across the shelter floor as and when necessary.
Caring for livestock can be a rewarding venture. Whether you are looking to run a livestock farm as a major source of income or just for the sake of having a farm that you always wanted, these basic guidelines will help you care better for your livestock.
The Backyard Homestead Guide to Raising Farm Animals
The Backyard Homestead Guide to Raising Farm Animals
Basics of Caring for Livestock
What Is a Livestock Guardian Dog?
How to Be a Livestock Guardian Dog
Do You Need a Livestock Guardian Animal?