Emergency Lighting – You're more likely to encounter a power outage now than ever before. With the increase and severity of natural disasters, it's time to be prepared.
Emergency lighting is affordable. And technology is making smaller and more efficient lighting options which don't rely on costly disposable batteries to operate.
The new emergency lights on the market are easy to store and practical to use. After reading hundreds of reviews and trying over 10 lights at home, these are the best emergency lights.
Vont Emergency Lighting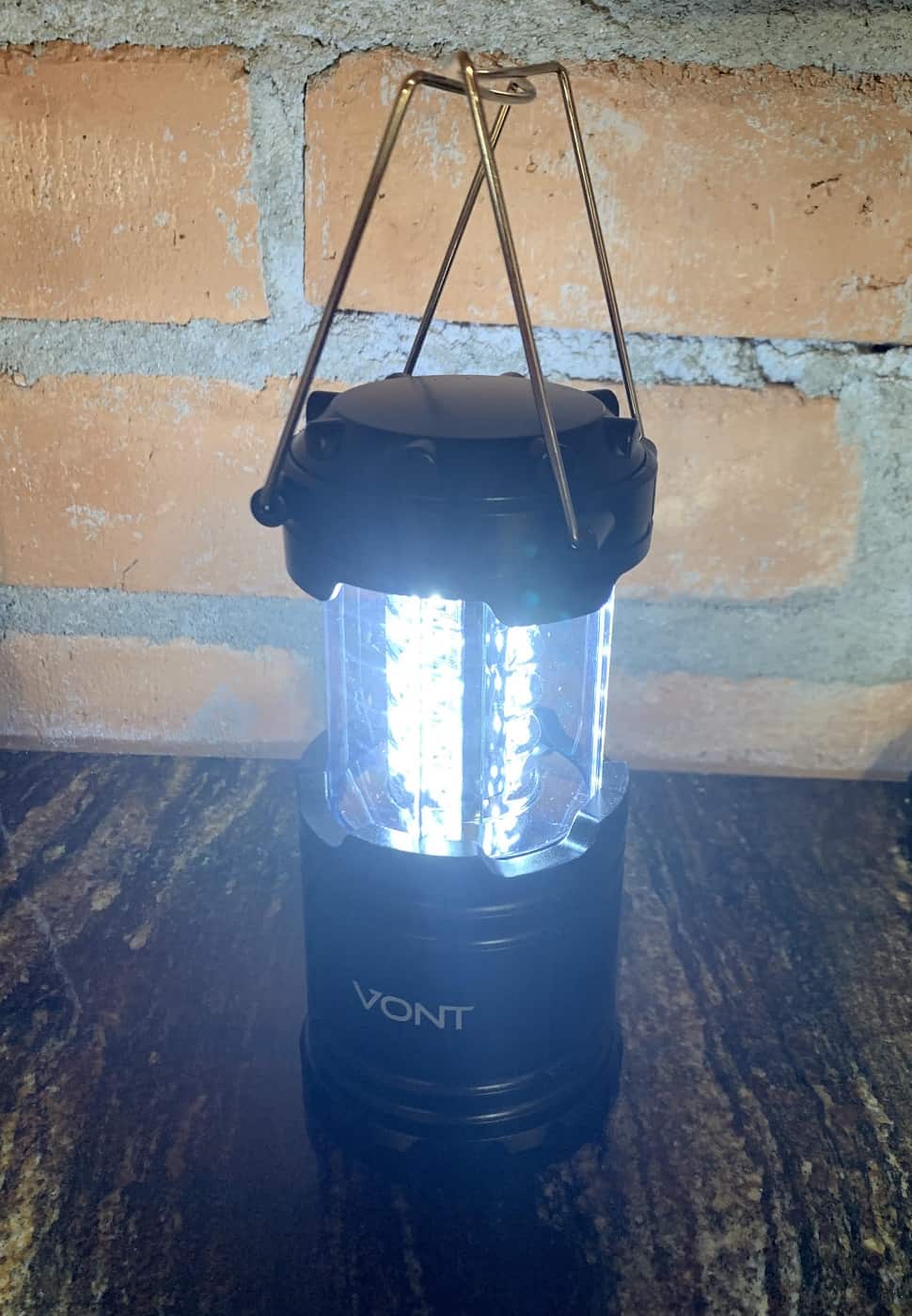 Vont's LED Lanterns are an excellent choice for emergency lighting. With vibrant brightness and 90 hours of battery life, the Vont LED Lantern cuts through the night beautifully without the need to ever fumble for a switch.
This lantern earns points for its compact size and collapsible design. You can actually control how much light the lantern casts by simply collapsing and expanding it in your hands.
Another thing I like about these lights is that they use three AA batteries. I do not like built-in batteries that I cannot replace or use in other things.
I prefer the flexibility of using my own rechargeable batteries. Also, non-chargeable AA's are readily available.
Long battery life
The battery life on this lantern is long-lasting. Expect to get about 90 hours of use before you need to think about replacing the batteries. Each lantern includes three AA batteries.
The light is bright and enough to power a decent-sized tent. You can use several around your home for emergency lighting during power outages.
Collapsible
An unexpected perk is that this lantern collapses. It's a canister shape. When fully extended, it measures 7.25″ in height and when collapsed, it measures 5″ (12.7 cm). Think of it as around the size of a soup can.
While it may not be an expedition lantern, this model easily cuts through pure darkness when you use it at night. It does a good job of creating really pure visibility inside an area that's roughly the size of a tent or small cabin. The light you'll see is the product of 30 small LEDs that create a focused glow.
Another perk is that this lantern is designed to be waterproof. It also seems to stand up nicely to low-impact falls and tumbles. They have a nice convenient handle that can be easily hung up as well. You can also use the handle to carry it.
Vont Camping Lantern
The bottom line on the Vont LED Camping Lantern is that it's a really handy lantern to have around. It's ultra-portable configuration makes it a great go-to light to keep in your car or cabinet in your house for emergencies or power outages.
Vont bundles these collapsible lanterns as two-pack sets. That means you can give one to a camping companion or tuck an extra one away in an emergency kit.
It's hard to top the amount of light you'll get in such a portable, low-nuisance design.
Vont LED Night Light
We use and have been pleased with Vont's Lyra LED night lights for several years. They are small and unobtrusive, use very little energy, and turn on-off automatically. They produce the right amount of lighting.
I have them strategically located in hallways, kitchen, bathroom and the garage. They plug into standard sockets.
Because we have been very satisfied with them, we were happy to try Vont's lanterns as well.
Luci Inflatable Solar Light
The Luci Inflatable Solar Light is one of the best options when it comes to emergency lighting. It's an extremely durable solar LED lantern that only requires sun to operate.
With seven hours in the sun, the Luci will stay lit for twelve hours on a single charge. The Luci is collapsible, lightweight (4.4 ounces), and entirely waterproof with an IP67 rating.
It's an extremely versatile light that can help you get through hours of darkness. It can also serve as a camping, patio, or barbeque light.
This solar light comes with 10 powerful white LEDs that shine in three different settings: bright, super bright, and flash mode.
You'll always know exactly how much charge is left in the light with the charge indicator so you know exactly when you'll need a recharge.
It comes with a one-year manufacturer's warranty. This light offers everything you want in a lighting source.
It provides up to 200 hours of light from one charge. This is practically unheard of and essential in an emergency. This is the light to have to prepare for hurricanes and tornadoes.
There are low, medium and high light settings. Other features which make it great for emergencies are the SOS beacon light and the red hazard flashing features. Another awesome bonus is you can charge your cell phone with it.
It charges with a rechargeable lithium ion battery (included). You can also charge it with a USB.
What's great is you won't waste money on costly disposable batteries. Reviewers loved bringing this light camping and hiking.
It's light and portable at just 1.3 pounds. In addition, it's also water resistant. You will want to use this light for a lot more than just emergencies.
Bigfoot Outdoor Compact Solar Camping Lantern
Be prepared! This compact solar camping lantern and flashlight isn't only great for camping, hiking, and trekking, it's great for use as an emergency light.
It's also an incredibly affordable option. The light has three lighting modes:
Let anyone know you're in trouble with the SOS option as it will send out a lighting pattern that rescuers will recognize.
You can charge the light with solar power or with the USB. One charge provides 10 hours of light.
This light is compact. You can put multiple lights in your basement and one in your car for roadside emergencies too.
Something special about this camping lantern is you can charge your phone in the USB port. This is a great feature to have as an emergency, when camping, etc. You wouldn't want to rely on it to charge your phone from 0%, but it's nice to keep it from dying out.
We just love the using solar power and this light takes advantage of it. You can leave it out during the day so you can use it each night.
GRDE Zoomable 3 Modes Headlamp
This headlamp comes with rechargeable batteries, a car charger, wall charger, and a USB cable. That makes for a plethora of recharge options when it comes to emergency lighting.
With a lifespan of up to 100,000 hours, this headlamp will get you through multiple emergency situations.
It has brightness capabilities of up to 1800 lumens. With a 3-in-1 multi-function capability, you can use this headlamp in a variety of ways.
Depending on the situation, you can use the lamp on your head, around your waist, or set it on down to light a room.
It's zoomable, adjustable, and extremely durable. The lamp also has three different modes: low, mid, and strobe.
This is a highly portable light source that you will likely find many uses for even outside of emergencies. It's great to take camping, running, hiking and more.
Eastshien Professional Flashlight
This compact flashlight will provide great lighting in an emergency. It is 1,000 lumens. You can use the rechargable batteries or charge it with the USB. According to online reviews, this is the flashlight of choice for military and law enforcement professionals.
It will be great to take with you on camping trips.
You can charge it up in your car. You will be surprised at how robust this flashlight is, and how light too… just 4.8 ounces.
Coleman Northstar Propane Lantern
If the sun isn't going to be coming around for some time to recharge your solar operated emergency lighting, then kick it old school with a propane lantern.
This reliable option is a lamp that sits on top of a small propane tank. No power outage can take your propane away. This leaves you with a solid option for light.
The Coleman Northstar Propane Lantern is a great choice. It will generate light for long periods of time, has adjustable brightness levels (up to 1543 lumens), and is easy to use.
You will find multiple uses for this, not just for emergency preparedness. It's sturdy, easy-to-use and practical to take camping.
This Coleman propane lantern comes with a case which keeps it together, protected and organized.
Note: Propane lanterns do require very specific sizes based on brand, so pre-purchase a supply of propane that will last you for weeks.
These lamps can also come in handy during a winter power outage or summer storm.
Serenga 2 for emergency lighting
These emergency lighting lamps can be placed in your ceiling at heights of up to twelve meters.
They have a futuristic design that offers a high degree of operational reliability and can distribute light throughout large rooms and corridors.
The lights can light up stairwells and will guide you to safety. The minute the power goes out, these lights are designed to immediately switch to the battery powered built-in support system.
You don't have to forgo design in your business or home just to have emergency lighting options with the Serenga 2.
It's important to consider a backup power generator for outages as well.
Parrotuncle Emergency Light
This light can serve as both an emergency light and a handy, powerful lantern for camping trips. It's a portable LED lantern that requires batteries for use.
A single bulb in the lantern provides up to 100,000 hours of light. The Parrotuncle is also adjustable for various lighting levels during your emergency.
Konig Rechargeable LED
The Konig rechargeable light has 13 LED emitters and a built-in rechargeable lithium battery. Make sure the battery is always charged in case of an emergency, and this light can be an effective and efficient source of light during an outage.
It provides 5 hours of continuous light.
Best Emergency Lighting
Power outages are inevitable, so have these go-to lights the next time you are without power.
With high percentages of power outages happening, it's important to be prepared with the best portable generators.
There are certain things you can do to prepare for a power outage. Buy several, and keep them in an easy-to-access cabinet or your emergency preparedness box so you will have them when you need them.
The last thing you want to do is to have to rummage around for them in the dark.
Prepare for a power outage with emergency lighting
Emergency preparedness is a necessity. Planning for food storage, as well as emergency lighting, is important for optimal preparedness.
It's very important to be prepared for a power outage with a propane generator. Having proper lighting will calm your animals during an emergency situation too.
Having lighting is one of the most basic and easiest things to do. Unfortunately, natural disasters and epidemics are on the rise.
Best Dual Fuel Generators Complete Reviews With Comparisons
Ways to Secure Home in the Country from Household Burglaries
How Long Will a Generac Generator Last
Generac GP2200i ~ Find Out If It's for You