Here we discuss the best portable generators you can buy. Whether you are interested in disaster preparedness, recreation, an extra power source to work around your property, or one to fulfill all these needs, keep reading to learn more. A portable generator is a must and will come in handy when you least expect it.
Best Portable Generator
There is lots to consider when choosing a portable generator. Chief among these decisions are how portable do you need it to be? Should it be a very small generator you can lift yourself and put it in your trunk to take tailgating or RV-ing? Or can it be a larger, heavier portable generator that you can maneuver with wheels.
Also consider the fuel types. Do you prefer just gasoline or do you want the option to use natural gas, propane and/or diesel fuel? What access to fuel will you have when you use it? Perhaps you want to consider a dual fuel generator (also sometimes called a bi fuel generator) or a tri-fuel generator. Keep reading to see how we discuss solar powered portable generators as well.
In addition to providing backup power in the event of emergencies, consider what uses will you have for your portable generator. There are many brands of generators to learn about. Some of them are Generac, Honda, Yahama, Predator 3500 generator, WEN, Duromax generator, and more.
Ryobi Quiet Series RYi2200 Inverter Generator
Consider a Ryobi generator which offers an easy-to-use, quiet series inverter generator, the Ryobi 2200 generator. It's engineered to be very quiet.
The Ryobi digital inverter generator has a sound level similar to that of a normal conversation. Unlike many traditional generators, it produces pure, clean power for tools, lights, and all kinds of sensitive electronics standard generators can damage.
Auto-idle allows the inverter to idle up and down based on how much power is required, saving fuel and wear and tear on the engine. It has a simple, three-step starting procedure. Other generators have up to seven.
Plus, it has parallel capability. You can link two Ryobi digital inverter generators and get twice the power. The telescoping handle and rugged wheels make it easy to transport. Backed by a Ryobi three-year warranty, the RYi2200 is a great choice for dependability and value.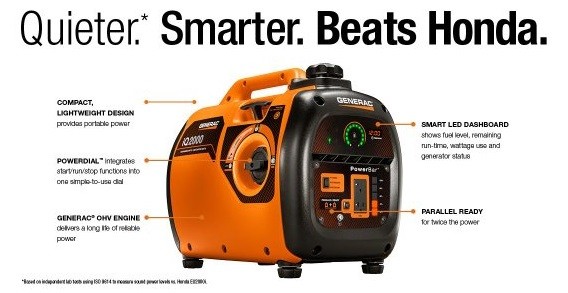 Generac 2000 Portable Inverter Generator
If your outdoor activities require electricity, a portable inverter generator is a must. Generac 2000 watt generator portable inverter generator is parallel. It's perfect for tailgating, camping, or anytime you need to power up your outdoor adventure.
Inverter generators use a different type of alternator than standard portable generators. Digital inverter module converts raw power produced by the generator from DC to AC power.
Best of all, the iQ2000 varies its engine speed based on electrical demand with significantly reduced levels and fuel consumption.
One of the main considerations with any generator is noise. A loud generator can stress out your family, your pets and your neighbors. The Generac 2000 watt generator is quiet. In fact, when tested in a third-party lab, the Generac 2000 generator ran quieter than its competitors.
When you're tailgating or at a campsite, there's nothing worse than running out of fuel when you least expect it. You don't have to worry about that with this handy run-time remaining display. It shows how long before you need to refuel. That's just one of the helpful features on the Generac 2000 that you won't find on any other portable generator. Compare it to other Generac portable generators.
Easy-to-Use Generator
For starters, it is super easy to use. The power dial puts start, run, and stop functions right at your fingertips. The simple switch lets you choose between turbo, standard, or economy power modes.
Choosing the lower modes reduces noise and fuel consumption. Status indicators alert you to low fuel, low oil, overload, or overheating.
The exclusive power bar monitors and instantly displays the wattage you're producing at any given moment. The generator's 2000 starting watts is enough to power all your tailgating or campsite appliances.
Of course, there are times when you need more power. Fortunately, the Generac's 2000 watt generator is parallel-ready. Just connect two Generac's 2000 watt generators using the optional parallel kit to get almost twice the power. Setting it up is as simple as plugging in an appliance.
The Generac's 2000 watt generator weighs less than 50 pounds, making it very easy to carry wherever you need it.
Generac generators compare very well to other competitors, see our reviews here. Portable generators bring comfort and convenience to your outdoor activities and for Portable air conditioning.
Pack a Generac iQ2000 portable inverter generation to power up your next expedition. They are also great to have in case you ever experience a power outage.
Checkout our Honda Inverter Generator vs Generac Inverter Generator, and which one we recommend. If you have specific reasons for wanting a generator, consider Best Generator for Travel Trailers and Best Portable Generators for Hurricanes.
Champion Power 3100-Watt Inverter
Champion Power Equipment's new 3100-watt inverter. It's portability and power-combined to provide you with quiet and clean energy whenever you need it. Perfect to use while camping or around the house, and it's powerful enough to run various appliances on your RV, including an up to 12,000 BTU air conditioner.
Just plug it into provide Champion 3100 watts of power directly to your RV. This inverter has a built-in econ switch that can be used when the inverter is running under a light steady load.
This not only makes the inverter even quieter, it also idles down the engine and conserves fuel. In the event of a power outage, this unit can power your refrigerator and lights, as well as all your sensitive electronics to keep you feeling safe and secure during your power outage.
Champion's new 3100-watt inverter is your perfect choice for quiet, clean, portable power.
Polaris 2000 Digital Inverter Generator
Polaris has a new line of Polaris Power digital inverter generators. The Polaris 2000 generator is the ideal all-around digital inverter generator with 2000 watts of output. It features a 53-pound lightweight and ergonomic design enabling it to be highly portable while delivering significant power.
The Polaris 2000 generator is exceptionally fuel-efficient. When the smart throttle is turned on, it can run for up to 10 hours at a 25% load. Also, remarkably quiet, the Polaris digital inverter generator is only 54 dB at 25% load.
This is the perfect generator for portable power at the campsite or if you want to power your RV with a quieter and more fuel-efficient solution than your on-board generator unit.
Polaris Power validated each generator's sound levels in real life outdoor environments like campsites and tailgating lots, so we feel confident in decibel level accuracy, and you can too.
Polaris Power portable digital inverter generators are built for your recreational lifestyle and are tested to the same rigorous standards as every Polaris product.
Polaris 1000 generator, 2000 generator, and 3000 generators e-models are all easy to use and provide hours of clean inverted power which means they deliver a consistent, stable level of voltage anytime, anywhere.
WEN 4750-Watt Generator
Remember when the electricity went out? When the sump pump quit working and your entire basement flooded? You can now rest assured, with the WEN 4750-watt generator. It's resilient, powerful, heavy duty, and easily transported.
Just add in four gallons of gasoline for up to 11 hours of half-load operation. The keyless electric start let's you turn on your generator at the push of a switch with a pulse start magnet.
We've run a 15-amp electric log splitter using nothing but the power of a WEN generator. Now that's reliability. The three outlet choices include two 120V 20-amp wall outlets, 120V 30-amp three-pronged locking outlet, and one 120V RV outlet.
The key-less electric start lets you turn on your generator at the push of a switch while the spark arrestor allows for safe and approved usage in national parks and forests.
Low oil shutdown and overload protection safeguards lithium damage. For better monitoring your unit, the fuel gauge and the engine hour counter work together to help track gasoline usage and maintenance schedule.
Powermate's IX Series Inverter
Powermate inverter generator are low noise portable generators that are great for tailgating, camping, and more. With a fully enclosed engine for quiet operations, and featuring one of the longest run times in history, the Powermate Inverter gives you the power and run time you need without the loud noise.
Powermate's standard features make it one of the best portable generations on the market. It offers an industry-leading three-year warranty and 24/7 US-based call-center.
Powermate stands behind each generator, helping you be prepared to live, giving you the power when you need it.
Powermate's SX Series Generators
Powermate's SX series generators help you be prepared and powered up quickly during a storm, on your RV, on the job, and more. The SX series generators come fully assembled right out-of-the-box. They feature quick starting time, making it easy to get powered up quickly. Run times are longer than 10 hours.
Stanley 2250 Portable Generator
The Stanley portable generator is beautifully designed with black housing and premium stainless steel accents. The outlet panel removes and the cord then unwinds. You can leave the generator outside and bring the panel indoors through a window or opening.
This Stanley portable generator is designed with portability in mind. It is lightweight and powerful. The design also makes transporting and storage effortless.
The Stanley generator has a quick assembly time of about five minutes. Getting started with your generator is easy. A few easy steps and you can expect a run time of up to 3 ½ hours, depending on the load.
It's ideal for camping, fishing, and tailgating. It's also powerful enough for construction sites and emergency backup.
EnerPlex Y1200 1200-Watt Battery Portable Generator
The first thing I noticed about the EnerPlex Y1200 1200-watt Battery Portable Generator is its weight.
Now, inside this battery here is several lithium ion batteries which make it extremely lightweight compared to the competition. Many similar models use lead acid batteries and is easily over 100 pounds. This generator is easy to carry around and take car camping, tailgating, use in emergency prep kit, or whatever you need.
It offers 1200-watt hours which will enable you to charge up your devices hundreds of times. Regarding the ports here, there are 12V inputs which are compatible with the Commander solar chargers.
Now, also, these inputs are also compatible with standard wall outlets, and overall, this battery will take about 60 to 100 hours to fully charge. There are three standard AC outlets, which are compatible with standard wall outlet devices such as laptops, mini fridges, televisions.
One standard 12V output, two barrel 12V outputs, as well as three USB ports which charge smaller devices such as tablets, smart phones, MP3 players, and digital cameras.
This will charge a smartphone or digital camera over 150 times, a tablet between 25 and 50 times, and a laptop around 20 times.
You can charge standard devices such as TVs and mini fridges, and it will give you 10+ hours of power.
What's good about this generator is I can charge devices simultaneously. I can put the laptop into the standard three-prong input while charging a smartphone through its integrated USB input.
Overall, this is a powerful lightweight generator you can take with you on the go to keep you charged up for days at a time.
Our Recommendations for the Best Portable Generators
Using a Portable Generator Safely
Generator safety is essential when using portable generators. Shocks and electrocution from improper use can occur. In addition, they can emit carbon monoxide (CO) from a generator's exhaust. The dangerous part is that you can't see or smell it. Never put a generator indoors, this includes a basement, garage or crawlspace, even if you keep doors and windows open. Using a generator outside can also be dangerous if you use it too close to the home. Point the exhaust away from open doors, vents, and windows.
KaliPAK Portable Solar Energy
We consider solar generators to be among the best portable generators. But sometimes we choose to enjoy the nature off the grid. Sometimes there are disaster scenarios.
The KaliPAK is a portable solar energy kit that meets dozens of off-grid energy needs, including recreation as well as disaster scenarios. The KaliPAK can fully charge from either the sun, a car, or a wall charger.
Its 38 AH battery is powerful enough to charge your iPhone up to 120 times and powerful enough to provide energy for our entire set for a whole day, including a fridge.
You can even add a rain cover to keep the power going in case of rain and a Bluetooth app for easy management.
Being able to harness solar energy is a benefit, especially in certain parts of the country. The KaliPAK generator is a great choice for off-grid scenarios. Fully portable, it provides you with natural free energy wherever and whenever.
Goal Zero Portable Generators
Goal Zero is hands down my favorite best solar backup generator. When ever I'm visiting Salt Lake City, I make it a 'must do' to stop at Goal Zero's Factory Store, located in Bluffdale, UT.
I've been there many times and through the years have found some great bargains on Goal Zero products. Although you are paying a premium price for a Yeti, you are getting a premium and superior product.
In my two years of using a Yeti 1250, Yeti 400 and the Yeti 1400 Lithium, Goal Zero products perform better than any of its competitors.
I only trust Goal Zero Yetis with my CPAP, iPhone and laptop. In regards to laptops, not all laptops are made the same. Quality of components vary wildly. You get what you pay for. The same with Goal Zero products… quality quality quality!
Yeti 1400 Lithium Portable Power Station
There are different options available when it comes to portable power, from portable power banks, UPS systems, and generators.
A portable lithium power station is better than all the options. Portable lithium power stations have a longer battery life compared to other portable power options.
Different lithium power options have been available for quite a while, but the Goal Zero Yeti 1400 Lithium is one of the best portable power options available in the market.
The Goal Zero Yeti 1400 Lithium portable power station is among the first generators to use lithium power cells.
Lithium cells deliver great improvements regarding the generators size and weight over its predecessors which used lead acid batteries.
Goal Zero Yeti 1400 Lithium is a powerful portable power station device that weighs 45 pounds with large metallic handles to help you move it around.
This mobile power station can be recharged in different ways and can power any electronic device you have in your house.
It doesn't matter if you will store it in your basement in case of power outages or you're going to use it for off-grid camping trips, owning a Goal Zero Yeti 1400 Lithium portable power station is incredibly useful.
Apart from reducing the size of these portable power stations, Goal Zero also improved on how they work with our electronic devices.
The Goal Zero Yeti 1400 Lithium generator has a patent pending AC inverter which enables the device to charge smartphones, laptops, and tablets.
Moreover, this device can run heaters, refrigerators and other high capacity tools without making too much noise or fumes as other generators do.
Choosing a Portable Generator
These are the best portable generators you can buy for recreation and disaster preparedness. You will be able to count on it when you need it. Consider the ways you plan to use the generator as well as the fuel sources you will have access to.
We favor Goal Zero for a portable solar generator and Generac portable generators for ease of use and versatility. Learn more about choosing one that's right for you.