Honda Inverter Generator vs Generac Inverter Generator – We're going to talk about the best inverter generators currently on the market. We will be specifically comparing Honda Inverter Generator vs Generac Inverter Generator so you can choose which is best for your situation and anticipated needs.
If you've narrowed your choice to either Honda or Generac, know you can't go wrong with either generator.
Inverter generator definition
First, what is an inverter generator? Without getting into the technical details, an inverter generator uses circuits to change direct current (DC) to alternating current (AC). The overall power and voltage depend on the model.
Inverter generators are designed to be quieter and portable. They don't take up a lot of space to store.
Inverter Generators vs Generator
Portable Power Station – Emergency Power Backup
RockPals 200 Watt Portable Generator
FLOUREON Portable Power Station, 300 Watts
imuto Portable Power Station Generator
ISUNPOW Portable Generator Power Inverter Emergency Power
Honda Inverter Generator vs Generac Inverter Generator
When comparing, Honda Inverter Generator vs Generac Inverter Generator, How are the Honda Generator EU2000i and the Generac iQ2000 inverter generator the same?
They both put out around 2,000 start-up watts; 1,600 running watts. In addition, they are both lightweight, portable, and relatively small.
They're great for powering a refrigerator, fans, and some basic things that you might need to get through a hurricane, a winter storm or as a food truck generator. They are very convenient as backup power.
When you used to think inverter generators, Honda was the industry leader. But now there's a worthy contender from Generac. The key question is whether a Honda inverter generator is worth (the usually) hundreds of dollars more than the Generac?
Generac inverter generators vs Honda inverter generators features
Generac Generators are Quiet
The Generac inverter generator is a little bit quieter on the econo mode than the Honda. Both of these models are the quietest motor powered generators you can find. The Honda generators and Generac generators are very similar. They both have several outlets on them.
The Generac 2000 generator has a really low power mode. That's the quietest mode. You can even bring it camping and not be a nuisance to others.
In the normal mode, it's going to be very similar to the Honda. And on the turbo mode, which is for loads with motors, it's going to be the loudest. Learn about more about a Generac portable generator.
Generac Generators have Fuel Gauge
The Generac has a fuel gauge to monitor how much fuel you have. You don't have to just look in the cap or wait until it stops. You can actually see it from a distance. This will help remind you to get additional fuel.
The Honda EU2000i generator does not have a fuel gauge.
There's really no easy way other than looking under the fuel cap or when it runs out of fuel. Then you know it needs to be filled up again.
Generac Generators Watts
While this is a relatively new product from Generac — Generac has been around for decades. They make whole house generators. They make bigger generators and the ones that you need wheels on to move them around.
But, these particular Generac generators are good for about 1,600 running watts. That's one typical house circuit.
They can handle a little bit more juice, like for start-up of motors like on refrigerators and things like that. So you could get refrigerator running and charge your phone and computer.
However you are not going to run your whole house on something like this. Consider what size generator you need based on what you want to be able to run. For double the power, you can daisy chain two of these together, as long as they are the same brand.
You would need to use two Hondas generators EU2000i or two Generacs for them to work in tandem for more power.
Generac and Honda both have small generators and large generator models. Check out Honda EU7000iS
Generac iQ2000 Portable Inverter Generator
How Long Will a Generac Generator Last
So what do we recommend? The Honda EU2000i, Generac iQ2000 or the Goal Zero Yeti 400?
We own all three of these generators. I keep my Goal Zero plugged into my wall outlet so it is always charged and ready for when I need it.
No maintenance, no gas, no noise, never needs to be 'started.' It's always ready and always works. Anybody in my family can use it if I'm not around when it's needed.
I like and trust the pure sine wave power the Goal Zero puts out. But, it has a finite amount of power I can use before I need to recharge it.
I really like both of the Honda generator and Generac inverter generators that give me the flexibility to re-charge my Yeti and power other things.
Overall, I prefer the Generac inverter generator. It provides nice clean power, and I think it offers a tremendous value. The Generac is portable and handy to have around.
It gives me options and the flexibility to use it camping, picnics or whatever but they are also great to have around for this coming hurricane season.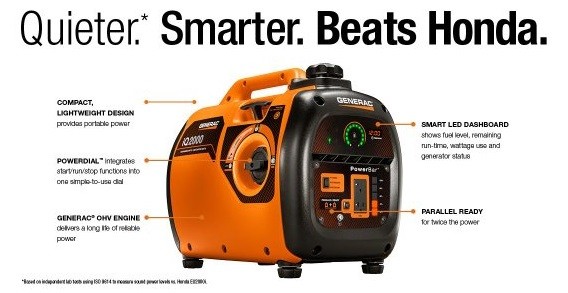 Related: