Honda Generator vs Champion Generator vs Yamaha Generator, which is the best 2,000 watt generator?
We are taking a look at the small portable 2000 watt inverter portable generators from Honda, Champion, and Yamaha. Learn about the pros and cons of each and how they compare.
Best Small Quiet Portable Generator
All three of these portable generators are CARB-compliant, and all three are inverter technology. Generators produce very little noise for generators, with the Honda being the quietest full load with 59 decibels.
The Yamaha being the quietest on a ¼ load at 51.5 dB which makes it great for the campground.
Generator Engine Size
Honda has the largest engine of the three at 98.5 cc. Champion and Yamaha have 79 cc engines.
Yamaha is the lightest weight. Without gasoline and oil, it's only 44.1 lbs. Champion is the heaviest at 48 lbs.
Yamaha has the longest runtime of the three at 10.5 hours while Champion and Honda are around 9.5 hours runtime.
The Champion is the largest of the three at 3.5 cu ft. Compare this to Honda and Yamaha which take up much lower room at 2.2 cu ft.
Honda Generator Review
Reliable
Low maintenance
Quiet
Fuel efficient
Engine cover easy to remove
CARB compliant
We reviewed the Honda EU2000i generator, and among the three brands, Honda is the most reliable and lowest maintenance of the three. It's a quiet portable generator you can take camping, RVing, tailgating, and more.
It works as advertised and is a reliable source of backup power. If you have the need for a smaller and less robust model, consider the Honda EU1000i watt generator.
Honda Generator 2000 Cons
It's the most expensive initial cost
Narrow fuel opening
The voltage could drop during higher loads but the motor did not bog down
No fuel gauge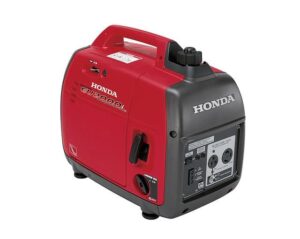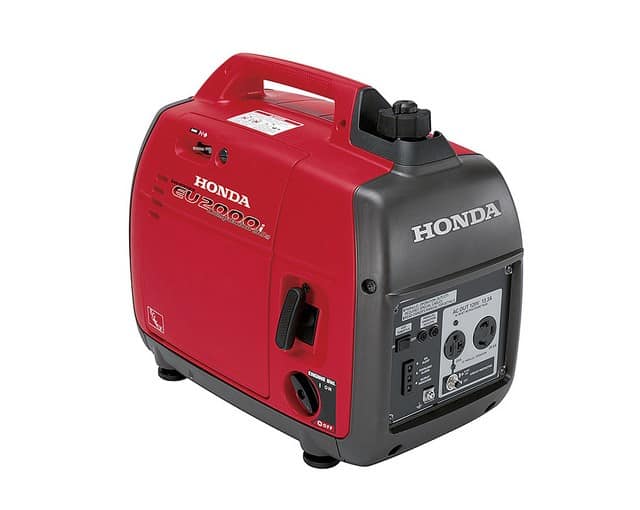 Champion Generator 2000 Review
The pros of the Champion 2000 watt generator are:
It's the cheapest initial cost
CARB compliant
Champion Generator 2000 Cons
It's the heaviest at 48 pounds
Largest generator the the three at 3.5 cu ft
It has issues with higher wattage loads, it has a tendency to bog down
Electric Chainsaw at 1560 watts – failed
Skil saw at 1495 watts – failed
No fuel gauge
No gas or oil drain plug
Because there isn't an oil drain plug, you're going to have to drain the gas through a pump of some sort.
You won't be able to run as many appliances with Champion. However, with the Honda, you could load it right up. It could handle everything. Learn why everyone loves a Champion generator for backup power.
Yamaha Generator 2000
Has a fuel gauge
CARB-compliant
It works as advertised, usually starts on one pole
Quiet
Fuel efficient
When comparing Honda vs Champion vs Yamaha 2000 generators, Yamaha is the most fuel-efficient of the three. People choose Yamaha also because of the fuel gauge.
With it's good reputation for generators, we were told the Yamaha generator is by far the top selling of the three. However, we could not find verification of that claim. Learn everything you need to know about Yamaha generators.
Yamaha Generator 2000 Cons:
Make sure to complete the warranty card
Engine cover hard to remove
When using the Yamaha generator, I found the engine cover hard to remove. Yet the Honda has an engine cover that's very easy to remove.
Test your Yamaha generator upon purchase. I have heard that some have Yamaha generators did not initially work, but were promptly replaced by Yamaha warranty.
Yamaha Generator vs Honda Generator vs Champion Generator – Which is the Best?
When considering which portable generator to choose, it's important to consider weight and maneuverability. You'll also need to be sure you get one with enough capacity to power the devices you want.
Learn what size generator you need so you have enough power while being safe. You'll want to be able to support your electronic devices without having a model that's too heavy for your needs.
We compared Yamaha vs Champion vs Honda generators to compare the size and reliability. See also Yamaha EF3000iSE vs Honda EU3000iS generator review if you want additional power. If you need a more powerful generator, consider the Honda EU7000iS.
We've also looked at Generac inverter generators. If you want to see how they compare against Honda, check out Honda Inverter Generator vs Generac Inverter Generator.