Yamaha EF3000iSE vs Honda EU3000iS: Yamaha 3,000 watt vs Honda 3,000 watt inverter generators – When you're looking to buy a 3000 watt generator the two names that spring to mind are Yamaha and Honda.
Both Honda and Yamaha manufacture 3000 watt generators but which one should you choose?
The gas powered Yamaha 3000 watt features inverter technology to stabilize the power that's delivered.
The generator has a 13 liter fuel tank, fuel gauge, electric starter.
You can use it to charge 12v batteries.
The Yamaha generator is very quiet when it's running with noise levels of 48 – 52 decibels.
The Honda 3000 watt also uses inverter technology and it runs on unleaded gas.
Like the Yahama, the Honda unit has the same 13 liter fuel tank as well as a fuel gauge, electric start and a charging point.
The Honda generator is also very quiet when it's being used with noise levels of 48 – 58 decibels.
Both of these portable generators are designed to be used to power various electrical items.
The units are particularly useful to power appliances when camping or as a backup power supply for your property.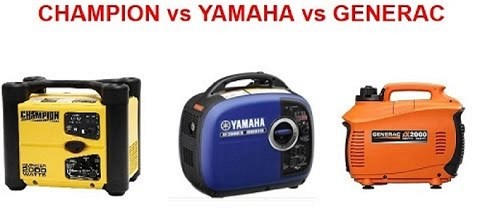 What is a Portable Generator?
A portable generator is a mobile unit that's powered by a gas engine to provide electricity.
When the engine is running, it turns an alternator that provides the power.
You are then able to plug appliances directly into the generator or you can hook the unit up to a motor-home or trailer.
Who needs a Portable Generator?
You may need to use a portable generator when you're travelling in a motor home or when on a camping trip.
Portable generators can also be used as a backup if the power to your property fails.
Generators are also useful for providing power on construction sites or when you're refurbishing a property.
You can also run a Portable air conditioner with a portable generator.
What to look for in a Portable Generator
Before you buy a generator it's handy to know some details about each model so you can make an informed decision.
Here is an at a glance list of things to look for when choosing a portable generator:
Price
Output
Efficiency
Reliability
Weight
Portability
Yamaha EF3000iSE vs Honda EU3000iS Generators
When it comes to choosing a portable generator, the two brands that stand out are Yamaha and Honda.
Both are established brands known for their quality products.
Of course, this is a major factor in choosing any product, having a brand you feel you can put your trust in to ensure a certain level of quality and durability is an important point to consider.
Both offer their own options that inch above the rest in the market – but how do you choose which one is right for you?
Let's look in detail at both generators to get the real facts to help you choose a suitable power plant.
Yamaha Generator
The Yamaha EF3000iSE is currently available on Amazon and the price is subject to change.
You can search for the generator on Amazon and check the price when you plan to buy.
Yamaha EF3000iSE Generator Efficiency and Output
Running at ¼ load, the Yamaha will run for 20.5 hours on a full tank of unleaded fuel.
The generator has a built-in smart throttle that adjusts the engine to maximize fuel efficiency.
The 2800 watt output provides enough power to run air conditioners, washing machines and other appliances.
Yamaha Generator 3000 Reliability
The Yamaha generator is very reliable and looking at customer reviews there have been no problems with reliability.
The generator is sturdy and well made to Yamaha's high standards.
Yamaha back their generator with a 4 year warranty which is always useful.
Yamaha Generator Weight and Portability
The Yamaha EF3000iSE generator weighs 67 kg with an empty fuel tank.
Two people can typically lift it.
The generator has a built-in set of wheels which are useful and make the generator more portable.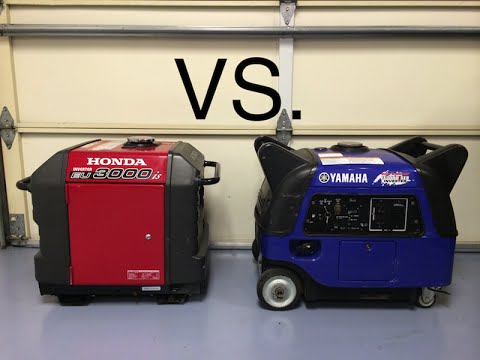 Honda EU3000iS Generator
You can find the Honda EU3000iS on Amazon.
You'll need to search the site and check the price at the time of buying.
Generator Efficiency and Output Honda 3000
The Honda 3000 is a little more expensive to run and will operate for 20 hours at ¼ load on a full tank of gas.
Honda generator also has a smart throttle to match energy load which helps with fuel efficiency.
The 2800 watt output is adequate for powering appliances in motor-homes, trailers or for emergency backup power.
Honda Generator EU3000iS Reliability
The Honda generator EU3000is is also reliable and no customers have reported an major problems.
The unit is sturdy and built well, just as you would expect with any Honda product. Honda also offers a 48 month warranty to cover mechanical or electrical failures.
Honda 3000 Generator Weight and Portability
The Honda 3000 generator weighs 60kg when the fuel tank is empty.
Two people can lift this generator. You can purchase aftermarket wheels to make the unit more portable.
When to choose the Yamaha 3000 Generator
If you need a generator that's easy to move around the Yamaha 3000 generator is the one to go for.
The wheels make it easy to move and takes away the need for lifting.
This generator is a good choice when you travel in a motor-home or parked at a campsite.
The Yamaha is also slightly more fuel efficient than the Honda but the difference is minimal.
When you're running generators on more than ¼ load they're both going to use a similar amount of fuel to provide power.
Pros: Built-in wheels, Sturdy, Smart Throttle
Cons: Expensive, Heavy
When to choose the Honda Generator
If you need a reasonably priced generator that's well made the Honda EU3000iS generator is a good choice.
If you're not looking for a generator that needs to be moved a lot the lack of wheels is not a big issue.
The Honda is suitable for use on the road but it can be difficult for one person to move.
The Honda EU3000iS also has parallel connection capability which the Yamaha doesn't. This parallel connector allows you to connect the generator to another one when you need more power.
Having this option makes this generator versatile and more useful for powering larger motor-homes or properties.
Pros: Compact, Well built, Parallel connectivity capability
Cons: No wheels…but you can purchase a Honda wheel kit (Honda 3000 Wheel Kit)
Final thoughts on Yamaha 3000 vs Honda 3000 Generators Review
The Honda and Yamaha generators are very similar in design and the way they work.
These are established manufacturers who make reliable, solid, sturdy, durable and dependable generators.
We'd have to say that after weighing up all of the options, the Yamaha generator Yamaha 3000 the best choice for portability due to the built-in wheels.
On the other hand if you want a generator that's versatile then the Honda 3000 watt generator Honda 3000 generator offers one extra feature.
The fact that you can hook it up to another unit for more power makes it better value for money.
Related Articles: