Yamaha EF3000iSE vs Honda EU3000iS: Yamaha 3000 watt vs Honda 3000 watt inverter generators
When you're looking to buy a 3000 watt generator, the two names to consider are Yamaha and Honda. Both Honda and Yamaha manufacture 3000 watt generators.
Which one should you choose? Both can power a variety of appliances. Each feature a large capacity fuel tank and can run up to 20 hours on a single tank of fuel. Here are some quick features:
Yamaha 3000 generator
The gas-powered Yamaha 3000 watt features inverter technology to stabilize the power that's delivered.
This generator has a 13 liter fuel tank, fuel gauge, electric starter. You can use it to charge 12v batteries.
The Yamaha generator is very quiet when it's running with noise levels of 48 – 52 decibels.
Honda 3000 generator
This generator also uses inverter technology and it runs on unleaded gas.
One feature this model has that the Yamaha doesn't is parallel connection capability. This allows you to hook up another generator. Connecting two will increase the power available. This can be helpful when you experience a power outage at home.
It's something to consider for the future. As you use the generator and see what you want it to power, you may decide to buy another generator to connect to it. At least you will have that option.
Also, it may be more useful to have two small portable generators than to have one large one should you be considering a higher wattage generator.
Like the Yamaha, the Honda unit has the same 13 liter fuel tank as well as a fuel gauge, electric start and a charging point.
The Honda generator is also very quiet when it's being used with noise levels of 48 – 58 decibels.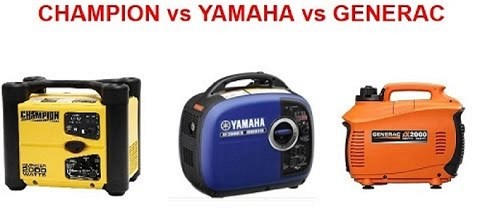 What is a Portable Generator?
Both of these models are portable generators. A portable generator is a mobile unit that's powered by a gas engine to provide electricity. When the engine is running, it turns an alternator that provides the power.
You are then able to plug appliances directly into the generator or you can hook the unit up to a motor-home or trailer. An advantage to the Yamaha 3000 and the Honda 3000 is they both offer clean power. This means the power is more consistent.
Who needs a Portable Generator?
You may need to use a portable inverter generator when you're travelling in a motor home or when on a camping trip.
Portable generators can also be used as a backup if the power to your property and home fails. Individuals living in an area prone to electrical outages from storms, hurricanes or tornadoes, should consider one if they don't have a whole house generator.
They can be essential for people who rely on medical devices. You can run a portable air conditioner, a furnace, or space heater with a portable generator.
They are also useful for providing power on construction sites or when you're refurbishing a property and want to run power tools.
What to look for in a Portable Generator
Before you buy a generator it's handy to know some details about each model so you can make an informed decision.
Here is a list of things to look for when choosing a portable one:
Price
Output
Efficiency, Reliability, Continuous Operation
Weight
Portability
Yamaha EF3000iSE vs Honda EU3000iS Generators
When it comes to choosing a portable generator, these are two brands that stand out. Both are established brands known for their quality products.
These portable generators are designed to be used to power various electrical items. The units are particularly useful to power appliances when camping, in an RV, or as a backup power supply for your property during a blackout.
We reviewed both generators to get the facts to help you choose a suitable power plant.
Yamaha EF3000iSE Inverter Generator
Overall, it's reliable and will help in times you experience a power outage. It offers clean power.
Another feature is it's Smart Throttle / Economy Control which automatically adjusts engine speed to match the load. This will save fuel and minimize noise and engine wear.
Another advantage is the Oil Watch Warning system. This will minimize down time and prevent engine damage.
It's quiet too. The muffler and the molded fan ensures unbeatable noise reduction.
There is also a 12V DC output which enables you to charge 12V batteries.
Yamaha EF3000iSE Generator Efficiency and Output
Running at ¼ load, the Yamaha will run for 20.5 hours on a full tank of unleaded fuel.
The generator has a built-in smart throttle that adjusts the engine to maximize fuel efficiency.
The 2800 watt output provides enough power to run air conditioners, washing machines and other useful appliances.
Yamaha Generator 3000 Reliability
The Yamaha generator is very reliable and looking at customer reviews there have been no problems with reliability.
The generator is sturdy and well made to Yamaha's high standards. Yamaha back their generator with a 4 year warranty.
Yamaha Generator Weight and Portability
The Yamaha EF3000iSE generator weighs 147 pounds (67 kg) with an empty fuel tank. Two people can typically lift it. It's considered to be a lightweight inverter unit.
This quiet generator has a built-in set of wheels which are useful and make the generator more portable.
When to choose the Yamaha 3000 Generator
If you need a generator that's easy to move around, the Yamaha 3000 generator is the one to go for. The wheels make it easy to move and takes away the need for lifting.
This generator is a good choice when you travel in an RV motor-home or parked at a campsite.
The Yamaha is also slightly more fuel efficient than the Honda but the difference is minimal.
When you're running generators on more than ¼ load, they're both going to use a similar amount of fuel to provide power. The Yamaha EF3000iSE is available at authorized dealers, including Home Depot and Lowes.
Pros: Built-in wheels, sturdy, smart throttle, inverter technology, CARB compliant, Oil Watch Warning system, noise block for super quiet operation
Cons: Expensive, heavy, no timer to show engine run time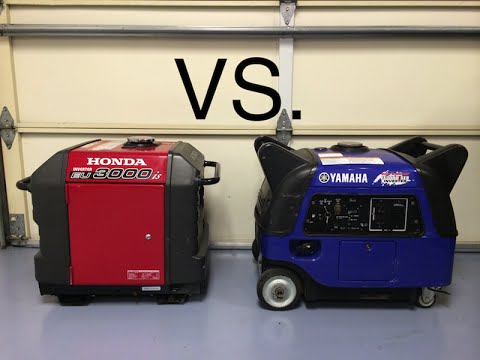 Honda EU3000iS Inverter Generator
This popular generator will supply clean power to help run devices and appliances day and night. This is important for all appliances and devices, including power for computers.
One of its distinguishing features is the Honda EU3000iS has parallel connection capability. This means you can increase the power capacity by connecting another generator to it.
It operates at 49 to 58 dB (A) making it very quiet. This is quieter than a normal conversation and ideal for individuals living in apartments, condos, and to use while camping.
It's outfitted with 30-amp locking plug, a 12-volt DC outlet, and 125-volt household outlets.
Generator Efficiency and Output Honda 3000
The Honda 3000 is typically a little more expensive to run and will operate for 20 hours at ¼ load on a full tank of gas. It has a single cylinder engine. It's a reliable source of overnight power.
Honda generator also has a smart throttle to match energy load which helps with fuel efficiency.
The 2800 watt output is adequate for powering appliances in motor-homes, trailers or for emergency backup power. It is CARB compliant.
Honda EU3000iS Generator
The Honda generator EU3000is is also reliable and runs without major problems.
The unit is sturdy and built well, just as you would expect with any of Honda's high quality engines. They offer a 48 month warranty to cover mechanical or electrical failures.
Honda 3000 Generator Weight and Portability
It weighs 132 pounds (60kg) when the fuel tank is empty.
Two people can lift the EU3000is. You can purchase aftermarket wheels to make the unit more portable.
When to choose the Honda EU3000iS
If you need a reasonably priced generator that's well made this one is a good choice.
If you aren't planning on moving it regularly, the lack of wheels is not a big issue.
The Honda is suitable for use on the road but it can be difficult for one person to move.
Honda EU3000iS also has parallel connection capability which the Yamaha doesn't. This parallel connector allows you to connect the generator to another one when you need more power.
Having this option makes this generator versatile and more useful for powering larger motor-homes or properties. You can find this super quiet generator at authorized dealers such as Lowes and Home Depot.
Pros: Compact, well built, parallel connectivity capability, inverter technology, quiet
Cons: No wheels but you can purchase a Honda wheel kit (Honda 3000 Wheel Kit accessory), no hour meter to show engine run time.
Features of the Honda EU3000is
A portable inverter is a great and sometimes necessary tool for many different situations.
If you're an avid camper or enjoy off-the-grid living, they provide an invaluable energy resource.
And many people affected by the recent hurricanes and other extreme weather need alternative power in order to stay safe.
Honda's 3000-watt portable generator has been getting great reviews.
Its reliability and compact design is unmatched.
Its ease-of-use and fuel efficiency are making it a top seller of 3000-watt inverters.
Let's break down the features of this portable inverter so you can get a better idea of the type of generator Honda has built.
This may be the portable generator you've been looking for.
If you're thinking of buying a portable inverter, you'll most likely have an idea of what features you need beforehand.
There are a number of portable generators on the market that offer efficient energy solutions.
This particular model of generator has the ability to operate many appliances and devices, including refrigerators, microwaves, and 13,500 BTU RV AC units.
It utilizes the Eco Throttle System which allows for top fuel efficiency.
It can run for up to 20 hours on a small 3.4-gallon tank.
Inverter generators work by outputting an AC current and then converting it to DC.
It is then inverted back to AC power which maintains a single phase.
This type of technology makes for cleaner and more efficient energy.
Inverter technology has been refined by Honda and this generator is a great example of that technology at its finest.
Although this model is a bit more expensive than other Honda 3000 watt generators, it provides a more reliable source of energy with many other sought-after features.
You will certainly know where the extra money went when you buy this inverter generator.
Less Noise Than Other Portable Generators
A huge downside to using a traditional generator is the high noise levels.
It can be infuriating to you and your neighbors.
Sometimes the situation you're in requires a quieter Honda generator.
When you're on a camping trip, you can't always be running a loud generator at night.
In fact, many campsites and parks have noise ordinances that restrict you from using loud equipment.
If you're using a generator at home you have to take your neighbors into consideration.
A loud generator is a major annoyance to you, your family and the people around you.
Honda is known for their quiet engines.
A huge advantage of the Honda EU3000is is that it's significantly quieter than other generators its size.
This model was designed with an enclosed body which drastically cuts back on noise coming from the 196cc engine.
Generators are typically labeled with a decibel rating which tell you how loud they get.
Each time the decibels are increased by ten points, the engine is ten times as loud.
This particular model runs at between 49 and 60 decibels, which is no louder than a normal speaking voice.
Honda Generators are Durable and Compact
When you're shopping for a small generator you don't want to compromise portability for design.
You need a machine that is both well-made and small enough to transport easily.
When thinking about your next generator, ask yourself:
Where am I going to be taking it?
Who will need to be able to use it?
How easy is it to transport?
How durable is the unit?
The Honda 3000 generator provides quality craftsmanship along with easy mobility.
This generator weighs about 131 lbs. and has two durable handles for transport.
Very easy for two people to carry.
The motor is enclosed nicely to provide a compact design and quiet functionality.
This unit can easily fit in a RV, trailer, pickup truck or be tucked away nicely when not in use.
Honda tests its products extensively and has used the best possible materials in designing the Honda 3000 generator.
Honda Generators Ease of Use
A trademark of Honda products which is not lost on the Honda 3000 watt generator is ease of use.
This model contains an electric starter along with a backup recoil starter.
And the recoil starter is extremely easy to pull.
The control panel on this unit is very straightforward and only includes the following: Engine starter switch, Choke knob, Fuel valve, Output and overload indicators, Oil valve, Eco-Throttle Switch, AC receptacles, DC receptacle and Parallel operation ports
Operating the control panel is very easy compared to other small generators.
Another big advantage of the Honda 3000 generator is the ease with which oil can be added and changed.
The oil compartment is located on the side of the unit and opens for easy access to the oil compartment.
One downside to this generator is that it was not designed with wheels attached.
However, Honda generators provides a two or four wheel kit that can be used with the inverter for easier mobility and transport.
Other accessories available for this unit include a storage cover, DC changing cord, parallel cables and a transfer switch.
Honda Generators Fuel Efficient with a Long Run Time
If you're in a situation like many have experienced during the recent hurricanes, you may be without power for quite some time.
You want a generator that is fuel efficient with a long run time.
Like many of their products, the Honda 3000 provides both of these.
This portable generator has the ability to run for up to 20 hours on only 3.4 gallons of gas.
Even if you're running at the rated load, you will still have over seven hours of run time.
The Honda 3000 generators also has the Eco Throttle feature.
Using the Eco Throttle will adjust the engine speed to match the exact amount of power needed.
Using this feature ensures maximum fuel efficiency if power is needed for longer amounts of time.
The Eco Throttle feature works by slowing down the RPMs of the engine based on the application being powered.
It uses a speed control governor that automatically adjusts the engine speed to the optimum level.
Because the engine will not have to run consistently at full speed, the Eco Throttle feature can reduce fuel consumption by up to 40 percent.
This feature also helps reduce exhaust emissions from the generator.
Honda Generator 3000 generator Power Output Specs
The power output of generators is controlled by voltage regulation.
It's important that your generator maintain consistent power output.
Any fluctuations in output could result in shutdown or damage to the appliance.
The Honda EU3000is uses a GX200 engine that provides a 196cc displacement.
The AC and DC output specifications are as follows:
AC output – 120V 3000W max. (25A) 2800W rated (23.3A)
DC output – 12V, 144W (12A)
Receptacles – 20A 125V Duplex, 30A 125V Locking Plug
While there are a number of different ways to regulate output on a generator, this unit is an inverter.
Inverters will produce the cleanest power.
This means they are ideal for powering sensitive electronic appliances, even computers.
Inverter generators like this one are also lighter and more fuel efficient than other traditional types of generators.
They are typically quieter as well.
The EU series is a great example of Honda's reputation as a pioneer in the field of inverter generators.
Parallel Capability for More Power
Another benefit of the inverter technology used in this unit is parallel capability.
This allows you to link two of the same generators together to get double the power.
This means that if you need more power you don't have to upgrade to a larger, heavier unit.
You can maintain the same convenience and portability by connecting two units together.
And linking two units together is easy and straightforward.
Honda offers the parallel cables as accessories to the EU3000is.
If you think that you'll need to link two generators together for more power, this is a feature you'll want to have.
Honda's Reliable Service and Warranty
When you make the decision to buy a Honda 3000 generator, you are making a huge investment.
Honda has a track record of backing up their products with quality service and support.
Their generators are backed by a comprehensive warranty and first class service all over the country.
Parts and service from trained Honda professionals is never hard to find.
Finding the Best Generator to Fit Your Needs
Whether you're a seasoned camper or live in an area that is frequently affected by harsh weather, you need a generator you can count on.
Honda has been refining their generators to provide energy efficient solutions when power is needed.
Their inverter technology has taken generators to the next level.
If you're looking for a new portable generator, the Honda EU3000is is one of the best on the market.
The simple and compact design has been coupled with durability and maximum fuel efficiency.
This unit provides reliable and easy-to-use functionality that will last years.
For a great generator that provides the clean energy found in inverter technology, consider the EU3000is.
You will quickly see why it has become such a successful and popular product.
Rural Living provides information on generators and general outdoor living.
Our articles cover everything from off-grid living to sustainable food practices.
Final thoughts on Yamaha 3000 vs Honda 3000 Generators Review
The Honda and Yamaha generators are very similar in design and the way they work. Both will be invaluable in times the power is out or when you want a backup power source.
These are established manufacturers who make reliable, solid, sturdy, durable and dependable generators.
We give both models five stars. It really comes down to two decisions:
Yamaha EF3000iSE the best choice for portability due to the built-in wheels.
The Honda EU3000is generator offers one extra feature. The fact that you can hook it up to another unit for more power makes it better value for money.
Whichever you choose, be sure to choose compatible accessories specific to these models. Also, have them serviced or repaired by authorized dealers who will provide customer service specific to these models.
Related articles: