Buying Honda Generator? Let's face it. A power outage is an unavoidable situation. Many outages can last up to 12 hours or more. This can affect your stored food and supply purchases. The good thing is that you can mitigate such situations with the use of a Honda generator.
Having a backup or emergency power source can keep your refrigerator and other systems running efficiently. Here we discuss factors to consider when buying Honda generator.
In addition to having a backup power source for your home, you can carry it with you when camping or during other outdoor activities if it's portable.
But before owning a generator, there's the task of buying one.
Need a Honda Generator?
Honda is well known for its vehicles, but it has a product line of generators, too. Honda generators are quiet and fuel-efficient and also come with varied features for convenient use.
Whether you're a camper, vacationer or a homeowner, you can be sure to get a portable or stationary option that suits you.
Model lines include the EB, EG, EM, and EU, and most are gas-powered to meet most homeowners' needs.
Take the time to look at the wattage, noise level, and fuel capacity of different generators before making your decision.
Factors to Consider When Buying Honda Generator
Honda offers different emergency generators that work well with transfer switches, but not all of them will meet your needs.
In this post, we'll explore some of the key factors to take into account when shopping for a backup generator. Read on to learn more Buying Honda Generator.
Fuel Capacity
The amount of fuel a Honda generator uses determines its runtime before the next refill. For average home use, you'll want to get an option that holds at least five gallons of gas.
These models can provide up to seven hours of operation. However, there are fuel-efficient options like a Honda 2000 generator, which can run up to 9.6 hours on a single gallon of gas.
Consider these quiet Honda generator models:
On the other hand, a commercial option like Honda 6500 watt generator uses one gallon of gas per hour when running at its full capacity.
Honda EB, EM, and EG series generators have large fuel capacity. This means you can run them for long without regular refueling.
The EU generators boast high fuel efficiency, so they can run up to 20 hours on a single tank of gas.
So, when looking for an ideal generator, you want to know your power consumption needs and volume. Keep in mind those that use less fuel power are priced higher than heavy fuel generators.
Honda Generator Power Output
When it comes to power output, first calculate the total watts of all systems that you want to power using your Honda generator. The generator must offer consistent power that meets all your needs.
Keep in mind that power fluctuations can ruin your systems and equipment. Most portable generators do not have significant power output to power everything in your house but can run multiple systems.
For example, a 120-volt generator like the Honda 1000 watt generator is just enough for your computers, TV, lights, and tools. These options are usually fuel-efficient, portable, and quiet.
If you want something that powers most of your home equipment and systems, you want to choose a generator, such as Honda EM6500s generator, which outputs between 120 to 240 volts.
With this generator, you can power your air compressor, power washer, and large power tools.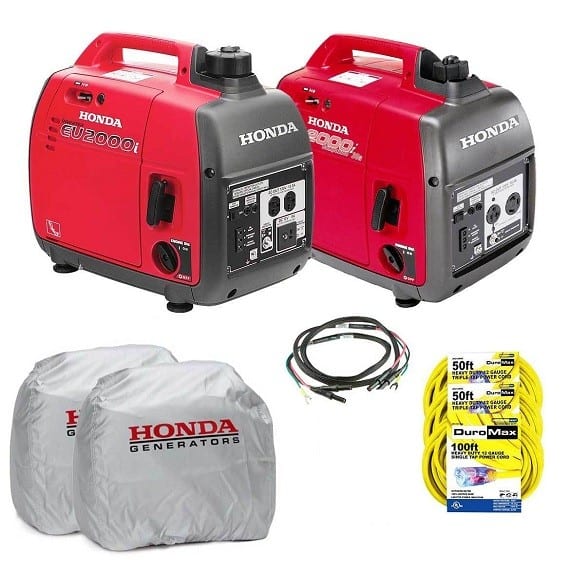 Honda Generator Portability
Do you want a Honda generator just for your home or the RV, too? If you're going to move the generator around, then portability is an obvious factor to consider.
In this case, you'll want to pick an option from the Honda EU series. Portable generators from Honda can weigh less than 46 pounds and are easily carried.
Most of these options output 120 volts of power, with only a few hitting 240 volts. Also, they are super quiet, so you can rest assured that you won't be bothered by constant noise. But still, most heavy options for home use feature a wheel kit for easy transportation.
Generator Durability
The last thing you want to do is acquire something that breaks down after few years of use. So, when shopping, you want to assess the construction and assembly of the generator. Look at the components and try to compare them to the competition.
It should be made with high-quality materials that can withstand different environmental conditions. A good Honda generator should run year after year with minimal downtime.
You may want to pick an option with full frame protection to keep the components secure. Some come with reinforced standing legs to prevent direct surface contact and wear.
User-Friendly
Some Honda models can be quite complex to operate. For instance, you might find one with a starter rope that requires extra strength to start. Instead, go for a Honda generator that has an electric start with the recoil start as the backup.
Another tip is to avoid generators with the mechanical-point ignition and find one with an electronic ignition. This can help with performance improvement and make operation easier.
A useful feature that most stationery generators possess is the automatic start. In this case, when there is a power outage, the generator kicks in without any manual help. This is a great option if you don't like a system that you have to start manually.
Generator Voltage Control
This is where you should spend the most time when comparing different generators against a stated price. However, remember that different models have different voltage regulators, which generally impact the sale price.
For instance, there are brushless generators, which boast inexpensive yet robust construction.
They are among the most popular but have the least voltage control, and this can cause power fluctuations.
In this case, pick a Honda generator that features an Automatic Voltage Regulator (AVR) for voltage control. There are also some models that come with a Digital Automatic Voltage Regulator (DVR).
This regulator maintains the voltage stability within a +/- 1 percent change when the generator is running. It has a thermistor that protects it from overheating.
Some Honda EB and EM Series generators feature a new technology known as Intelligent Automatic Voltage Regulator (iAVR).
The system features a digital ignition, a current transformer, a control unit, and a self-tuning regulator.
An iAVR allows your generator to run above its maximum rating for about 10 seconds to initiate high amp draw situations. This ensures consistent power flow for different loads.
Generator Transfer Switch
Transfer switches can be either automatic or manual. For an emergency Honda generator, the switch is usually automatic.
The good thing is that all Honda EM and EU generators work seamlessly with a transfer switch, so you can easily power your essential home appliances. Learn about the Honda EU7000iS
If your unit doesn't have an automatic switch, you can get a manual one. However, the concept of automation doesn't offer any cost benefits.
For manual switches, your choice and switch location will depend on whether you want to power the whole building or just emergency loads.
In this case, your technician will help to determine the best switch that suits your energy usage. Learn more about generator transfer switch types and installation.
Honda Generator Noise Level
Generators are known for their constant noise, which can cause ear irritation during extended exposure. The noise can also be quite disconcerting during the night, and such generators may not be ideal for camping, RVing, and outdoor activities.
So, check the decibel rating of a Honda generator when shopping for one. For example, for every 10 decibels, the noise level of a generator is 10 times more powerful.
Honda 4-stroke engines are known for their quiet operation. You can check this helpful decibel chart to see the noise levels of some of their models.
You can find an ideal option in the Honda Super Quiet EU series models.
Generator Fuel Type
When it comes to fuel type, the most common options for emergency generators include propane, diesel, and natural gas. Gasoline may seem like a great choice, but it's viewed as a weak fuel because of its short stability life. Learn about the best dual fuel generators.
Cost can also be a factor when looking at fuel type. Your generator's fuel capacity will determine how much you'll be spending on fuel.
The availability of a particular fuel type within your area is also an important factor. For example, some local codes restrict the presence of propane within certain city limits.
So, it helps to think carefully about the different fuel options, and their availability and prices when shopping for the right unit.
Honda Service and Support
How easy is it to access support for the Honda generator you wish to buy? It can take significant time to get connected with a technician for your specific model if you buy a complex or delicate unit.
Generators tend to be forgotten for lengthy periods between power outages. Depending on how and where you store it, it's vulnerable to failure, especially when you need it most.
In this case, you will need a technician to maintain or fix it. In particular, you should be able to find the parts easily whenever you need repair.
Make sure the generator comes with a warranty, which should provide adequate information on covered repairs and services.
Do you have any thoughts on Honda power generators? Feel free to share them with us in the comments!
Related content: