We've reviewed the top best generators for hurricanes.
If the recent string of damaging hurricanes has taught us anything, it's how important it is to be prepared with hurricane supplies.
Hurricanes can cause flooding, power outages, and damage from high winds.
Due to our history of violent weather, including hurricanes, people have purchased backup power sources and hurricane generator.
Among the different power sources, you want one of the best portable generator for hurricane season.
FEMA declares that September is National Preparedness Month
Hurricane Irma is tracking to strike southern Florida head-on, and will 'devastate' parts of the U.S. FEMA and Grid operators are bracing for the worse, as more than 4 million people be without power for days and weeks — perhaps even months."
Best Portable Generator for Hurricane Season
Portable generators provide backup electricity when power fails.
However, you need to determine what you need to power when the power is out.
We discuss what we think are the best portable generator for hurricane season.
Most of the best generators for hurricanes are available with free shipping.
Best Generators for Hurricanes: Our Recommended Best Generators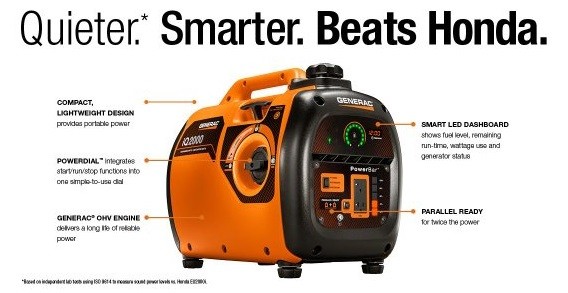 Generac 2000 Generator
Generators are mostly very noisy.
However, this Generac 6866 iQ2000 generator is super quiet.
The Generac is one of the best generator for hurricane and is "smarter" than most and displays wattages as well.
Also, there's a power dial that integrates start, run, and stop functions.
This generator is fuel efficient thanks to the turbo modes of operation.
Generac 2000 generator is also capable of generating twice the power with the parallel kit.
However, Generac Parallel Kit for the iQ2000 Portable Inverter, this kit does not come with the package.
At 25% load, this generator can run for 7.7 hours.
Honeywell 10,000 BTU Portable Air Conditioner with Dehumidifier & Fan.
Briggs & Stratton P2200 Power Smart series
Briggs and Stratton is a trusted name when it comes to generators.
Briggs & Stratton 30651 P2200 Power Smart series has a beautiful sleek design and is very easy to move around.
This quiet and fuel efficient generator provides 2,200 starting watts and 1,700 running watts.
The best thing about this model is that it's safe for laptops, TVs, and game systems so you won't have to wait for the power to resume.
The P2200 generator can be used with parallel connector port that will allow connection between two units for increased power.
Champion Power Equipment Generator
For those looking for an economical yet smart generator, the Champion Power Equipment 75537i generator is the one they should consider.
It comes with a wireless remote.
Using this remote, you can start and stop the generator from a maximum distance of 80 feet.
This is one of the best portable generators which has the capacity to run 8 hours on a full tank of gas.
Unlike most of the generators, this generator is quiet, lightweight, portable, and powered by a reliable 171 CC Champion engine with clean power.
It comes with a warranty of three years and free lifetime technical support.
Read our review of the Champion Dual Fuel 9000 Watt Gas and Propane Generator here
WEN Portable Inverter Generator
In terms of affordability and performance, the WEn 56200i with four-stroke gas-powered portable inverter generator is one of the best portable generators.
It is extremely quiet and lightweight; however, there's no compromise on the performance.
The four-stroke engine produces 2,000 surge watts and 1,600 rated watts.
This generator is equally good for camp cars, construction sites, and homes.
The clean power generation ensures the safety of sensitive electronics like smartphones, televisions, and computers.
Review of one of the Best Selling Generators – WEN Inverter Generator.
WEN Portable Generator
In the list of 10 best portable generators, WEN portable generator comes at the top.
It's also the Number 1 best selling generator on several websites.
All the features that you seek in a portable generator are present in this model at a tremendous value.
It is affordable, durable, and reliable with respect to power.
1,800 surge watts and 1,500 running watts provides power for both times of emergency and recreation.
There's no match for its fuel efficiency, and it can run for 7.5 hours off 1.45 gallons of gasoline.
What more can you get, or ask for, at this price?
Prepare in advance.
While there isn't much you can do about the weather, you can buy a portable generator to help you through it.
These generators will all work to help your family regain a sense of normalcy when dealing with a power outage, blackouts, inclement weather, major storms, tornadoes, or hurricanes.
No matter the emergency, a generator may help your family in dire situations.
These are the 10 best portable generators that you should consider if you are looking to buy a backup power source for your home.
Be sure to prepare your family for the worst.
Honda 2000 Inverter Generator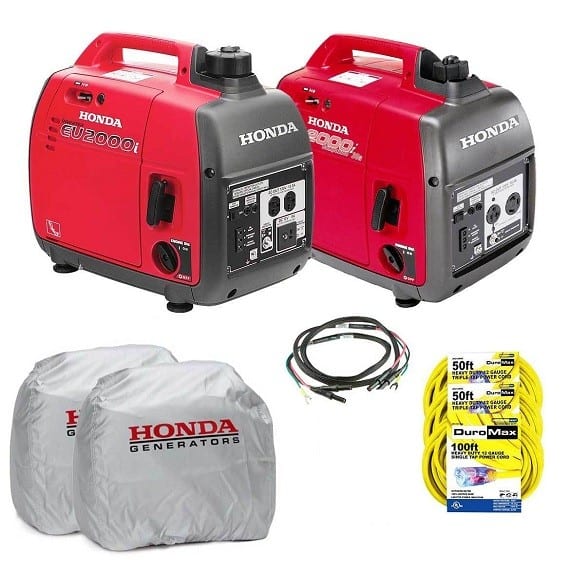 Honda EU2000i Inverter Generator is one of the most popular models of portable or the Generac iQ2000.
PowerPro portable generator
PowerPro generator PowerPro is all about affordability, reliability, and terrific performance.
Equipped with a carrying handle, stabilized with four rubber pads, and weighing less than 36 lbs, this generator is built keeping portability in mind.
The one gallon tank can provide power for five hours at half load.
The generator is extremely quiet.
It comes with one year warranty.
Having 1,000 watts starting power and 900 watts running power, it is the best you can get at the price.
DuroStar Portable Generator
DuroStar Generator DuroStar DS4000, is one of the most acknowledged names in the generator industry.
The DS4000S has many exciting features, including a cooled OHV engine with low oil shutoff.
The heavy duty steel frame ensures durability and makes it quiet as well.
At full tank, it can run for eight hours.
DuroMax Portable Generator
Talking about the best portable generators, DuroMax XP4400E is a gas-powered portable generator.
This generator comes in at #3 on our list.
It has a four-gallon gas tank which can provide power for eight hours.
There's an automatic low oil shutoff which automatically turns off the generator when the fuel level passes the low end.
The generator is very easy to start courtesy of the electric key start system.
The wheels of the generator ensures easy portability.
Westinghouse Portable Generator
Westinghouse portable generator is a unique portable generator with tons of exciting features.
Also, the 6.6 gallon fuel tank provides 16 hours run time at 25% load, which is the best run time as compared to other generators. Read our review here!
It has wheels which makes it easy to move this generator.
The engine comes with an iron sleeve which provides durability to the generator.
If you buy it, you will also get a three year warranty.
Hurricane Prep Emergency Generator Hacks
Hurricane Prep – One of the best things you can have after a hurricane is a portable generator.
And we have listed some of the Best Portable Generators For Hurricanes.
When the power is out, generators can make your family more comfortable while you're waiting for the power to be restored after a blackout due to hurricane.
To be prepared with supplies for hurricanes, it's best to purchase your generator before the storm, and to do that, you need to walk through your house and figure out what items you want to power.
It's good to power the refrigerator, pumps, a few lights, and a radio or TV.
Each item should have a tag or owner's manual that lists rated wattage, and then some larger items may also list surge wattage.
Rated wattage is what's required to keep the item running.
Surge wattage is how much power is needed to start the item.
Add up the total rated watts for all of your items, and then add to that the largest surge wattage.
This is how many watts your generator will need to supply.
Best Generator for Hurricane – Using an Emergency Generator
Picking the best generators for hurricanes for your needs, is crucial.
Once you have your generator, read the owner's manual and assemble it according to the instructions.
To operate your generators safely, there are a few things you need do remember.
First, don't overload your generator.
You could damage your appliances.
Also, you want the appropriate generator extension cords.
Run your generator outside on a level surface at least five feet away from your home.
You'll just have to run your extension cords through a door or a window.
Before you plug into your generator, walk through your home and check for gas leaks, because storms can sometimes damage gas lines.
If you do smell gas, don't turn on any appliances, and call a professional to fix the lines.
It's a good idea to have a CO detector on every floor of your house.
Also, don't plug your generator into a wall outlet.
That can back feed power into the lines, which is dangerous for the workers trying to restore your power.
If you want to run a hard-wired appliance, ask an electrician to install a power transfer system.
Starting a generator is a lot like starting a lawnmower or a string trimmer.
Begin by unplugging any cords and making sure that it's outside on a level surface.
Turn the fuel on, and then turn on the choke.
Push the engine switch to on.
Now, pull the recoil cord.
When the engine starts, move the choke to run.
If the engine doesn't start, move the choke to half-run and pull the recoil cord again.
When it starts, switch the choke to run.
Backup generators provide power during outages and storms.
Safety is the key concern with generators.
Place your generator at least 5 feet from any building and 10 feet from windows and doors.
Never place inside a garage or under a covered porch. (use a storm cover)
Leave several inches above fuel in the for the fuel to expand.
Never fuel the generator while it is hot, running or electrical cords plugged in.
Plug what you want to run with you generator directly into the generator or use a HEAVY duty extension cord into the generator.
Do not overload your generator's circuit.
Test you generator several times a year.
If it doesn't start, try again.
Let the generator run for a few minutes before plugging anything in, and make sure the circuit breakers are on.
When you plug in your items, start with the one that consumes the most power.
Turn it on, and let the engine stabilize.
Do the same for your other items, and when you plug them in, alternate them between the circuits.
When you need to add fuel, turn off your electrical items and let the generator run for a few minutes.
Then, turn off the generator and move the fuel switch to off.
Unplug the cords, add fuel to the baffle level, and restart.
Your generator will last longer if you perform some routine maintenance.
Just check your user guide for specifics like changing the oil, cleaning the spark plug, and changing the air filter.
You can find all of your maintenance supplies at Lowe's, where you can also find other tools and supplies to help you prepare for heavy storms and find the Best Portable Generators For Hurricanes.