Last Updated on
Westinghouse Portable Generator – There are many good reasons why you may need a portable generator.
They make a good backup for your home electricity especially in case of emergencies involving extreme weather.
But you can also use them for a job site, for any outdoor party on your lawn, or when you want to go on a road trip with your RV.
Of course, it matters a lot which portable generator you use.
And many satisfied customers are saying that you need to pick the Westinghouse Portable Generator Model WH7500E (Check prices here).
Features of Westinghouse Generator
Like it says on the complete name of the Westinghouse Generator Model WH7500E, you get 7,500 watts of running power and a maximum of 9,000 watts for starting output.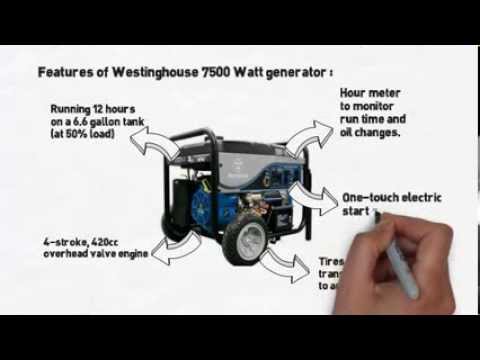 Westinghouse Generator features include:
Dimension measurements of 27.2 x 20.5 x 22 inches (L x W x H) and a weight of 201 pounds.
You have a high leverage handle along with solid wheels measuring 10 inches in diameter.
The dual folding handles are designed with ergonomics in mind, and the tires never go flat.
The touch-points are also color-coded
The fuel tank carries up to 6.6 gallons of fuel, and that's enough to run for up to 12 hours at 50% load capacity.
There are Four 5-20R 120V outlets, with a (L14-30R 120/240 twist)
Starting it requires only pressing the one-touch electric start system, and it also comes with an LCD display for the hour meter.
The three position electric start makes it easy to operate, and it also comes with a Comfort Grip manual recoil handle, compression release, and transistorized ignition.
The noise it produced is significantly reduced by the Pulse-Flo muffler.
The construction includes an overhead valve design, cast iron cylinder sleeves, and forged pistons and connecting rods.
The construction is all-steel and the electrical connections are fully enclosed.
The Automatic voltage regulation offers precise and dependable power.
Additional safety is provided by the cast iron fan guard.
You get two 120 volt push button circuit breakers for over current protection along with a toggled mainline 240 volt circuit breaker.
The quarter-turn Nema twist lock connector also gives a secure connection for available power cord and other devices.
Easy maintenance is guaranteed by the maintenance-free brush excitation.
There's also a 3-year warranty.
Benefits of Westinghouse Portable Generator Model WH7500E
If you look around online, you'll probably notice that the Model WH7500E gets a lot of rave reviews.
Its Amazon page is quite typical.
Out of the 276 reviews, 216 of them give it a full 5-star rating, with another 50 giving it 4 stars.
In contrast, you only have 3 (three) one-star rating reviews. (Comparing other Generator Brands)
So why all the love for the Westinghouse Generator Model WH7500E?
Undoubtedly, part of the adulation is due to the 7,500-watt capacity.
That's a lot of power.
One buyer hooked up his furnace and a couple of refrigerators, along with turning on the TV and DVD player plus the lights in the various rooms of the house, and it didn't go past the 50% capacity mark.
This is the kind of capacity that a job site may need.
It's also very easy to use, starting with the simple assembly upon delivery.
It even comes with a rather basic spark plug wrench along with a few wrenches, plus the handles, the wheel kit, and a bottle of oil and a funnel.
While it certainly does make it easier if there are two of you to put the generator on its side to attach the wheels, it's easy enough to do it all on your own.
Starting it is a snap with the one-touch electric start system, and you can monitor your usage with the LCD screen.
And if you have any questions, you can call and actually get a customer service rep who know what they're talking about.
The construction is also superb in build and quality.
You get a hint that Westinghouse built this thing to last because of the 3-year warranty which not every generator manufacturer can match.
But many of the first buyers of the Westinghouse Generator Model WH7500E have reported that it still works flawlessly even after a few years of use.
The safety features are top notch as well.
Finally, even though it weighs more than 200 pounds the wheels and the handle make it very easy to move from location to location.
Is Westinghouse Generator Perfect?
Well, it does have some weaknesses which you may need to address.
Let's start with the wheels, which are integral for portability.
It doesn't use a threaded bolt and nut, and instead a pin and hairpin cotter attaches the wheel.
It still works well even on muddy or rough terrain, however.
It also comes only with a single 30 amp outlet.
Anther 30 amp outlet would have made it more versatile.
And of course, some people may be worried about the rather late entry of Westinghouse in the consumer generator industry.
The company doesn't have an extensive history in this kind of appliance, although Westinghouse itself has a fine reputation for quality build.
Benefits of Owning the Super Quiet Honda EU2000i Generator
Honda EU1000i Watt Generator
Honda 7000 Watt Generator
Best Features of the Honda EM6500S Generator
10 Factors to Consider When Buying Honda Generator
Honda Generator vs Champion Generator vs Yamaha Generator
Honda Inverter Generator vs Generac Inverter Generator
So Should You Buy the Westinghouse Generator WH7500E Portable Generator?
If you need the 7,500 watts in available power, then this is probably an excellent option.
You get the power you need, and you that power on a pretty much consistent basis.
The Westinghouse Generator WH7500E is very easy to use and will last a long time.
Just make sure you actually need the 7,500 capacity.
Westinghouse offers lower capacity portable generators, and they may be more suitable for you if you only modest power.
You can cut down on the expense, and the generator becomes more portable and easy to bring along.
But if you need to use it for a job site, go buy this one.
In fact, you can buy this one even for modest power consumption if you also intend to use it to backup your home power supply.
Even in a power outage, you can power PC for work, your TV for entertainment, your lights for convenience, the refrigerator to preserve your food, and your heating and air conditioning system for your comfort.