Comparing Generac Generators – Are you shopping for a home backup generator? Learn about the top generator brands, including Generac, Champion, Onan, Yamaha, and Honda.
Industry leaders consider Generac generators to be the best in the market. This article will help you understand why.
When it comes to generators, users consider Generac to be the most trusted and most popular brand. The company has been around since 1959, and has built a reputation for producing robust and quality emergency power generation units for industrial and residential use.
Generac Generators is believed to be the largest maker of home generators with a market share of around 75%. Generac generators have output ranging from 800 watts to 9 megawatts.
They also have generators for industrial use, providing energy solutions to hospitals, data centers, schools, gas stations, groceries, hotels, and restaurants. Generac's other products include pressure washers and water pumps.
Check out our Honda Inverter Generator vs Generac Inverter Generator, and which one we recommend.
Top Best Portable Generators You Can Buy and our Generator Reviews: Generac vs Ariens
Generac Generators Reviews – Are they highly recommended for homes?
Generac Powerful Engine
Its generators are powered by OHVI engine designed for extended use. This is the same engine that powers most of its popular generator units for commercial use. In fact, this engine can run three to four times longer than the engine of other generator brands.
Broad Range of Options
Generac generators also offers the broadest range of home backup solutions in the market. You should be able to find a generator that best suits your needs.
The output of Generac standby home generators ranges from 6KW to 50KW.
If you don't have enough money to buy a permanently installed standby home generator, you can still get a cheaper, portable generator for home use from Generac. You can choose a Generac portable generator as an emergency backup power source as well as for recreational needs such as tailgating, camping, and RV-ing. You will also find them handy to provide extra power for power tools and other equipment if you are doing work on your property.
Again, Generac has very affordable portable generators. You can get an entry-level portable generator with an output of 800 watts.
Generac Nationwide Dealer Network
Aside from having a wide range of generators, Generac also boasts of an extensive, nationwide dealer network. It has more than 5,000 dealers in the country.
Hence, getting a Generac generator delivered to your house should not be a problem wherever you are in the United States. Learn how to get the best price on Generac generator.
Generac Generators are Easy to Maintain
Moreover, maintenance of a Generac generator is easy. Generac backup power units perform weekly self-diagnostic tests. Plus, these standby generators come with the company's patented Quiet Test function. This feature lets the generators conduct a self-test without disturbing the neighborhood.
Generac G-Flex Technology
Another key feature of standby Generac generators is the company's patented G-Flex technology. This feature allows the engine to run only as fast as necessary, depending on the electric load demand.
This is a feature that sets apart Generac genset engines from the competition, as other generator engines run at a constant speed regardless of the electricity demand.
With the G-Flex technology, Generac generators are more fuel-efficient and quieter when in operation. Generac gensets are safe.
Most of these units are housed in galvanneal steel with RhinoCoat that provides enough protection to the generator and prolongs its life.
These generators are equipped with a low fuel, shut off function that prevents damage caused by low fuel. And these gensets have circuit breakers that can protect your appliances in case of overloading.
Generac Generators Environmentally Friendly
Generator units made by Generac are environmentally-friendly. These generators are designed to consume less fuel and emit fewer emissions. And the gensets are less intrusive compared to the generators of other brands.
There are even some Generac standby units that are up to 19 decibels quieter than competitor units when operating.
With all these great features of Generac generators, it is not surprising that it is the only generator brand to have received the prestigious Good Housekeeping Seal of Approval.
It's not surprising that whenever a weather disturbance like a storm or blizzard threatening an area, most homeowners buy Generac generators because of the wide range of generator models and the extensive dealer network of the company.
How Long Will a Generac Generator Last
Kohler Generators
Kohler is not really a new player when it comes to generators. In fact, it is one of the first companies to offer generators that provided electricity to farms.
However, the company did not have a generator for home use until the '80s. Its foray to the production of portable generators was also fairly recent, having done so in 2013 when Kohler started making portable generators.
Still, Kohler generators are a good choice for residential use.
Kohler Generator Warranty
One of the main selling points of Kohler generators is that these units come with a five year, 2,000 hour warranty. Kohler generators are also built to last.
All 14 and 20KW models also have corrosion-proof enclosures, while other models have corrosion-resistant enclosures.
In terms of power output, Kohler has generators that can produce as low as 6KW of electricity to as high as 150KW.
Prices of Kohler Generator
Kohler Backup Generators prices, however, are quite higher than Generac generators. Portable generators from Kohler are priced at the higher end as well. A 2 KW portable generator available, while the biggest portable generator from Kohler has a maximum output of 12.1 KW.
Impressive Kohler Generator Engines
The engines of Kohler home generators are quite impressive, too. The Kohler Command Pro engines are typically used in generators for industrial use, yet a handful of Kohler residential generators have them as well.
This engine type features integrated oil coolers, so it would take a longer time for the engines to require oil change.
The engines even have highly efficient air filters that protect it from debris, as well as extra-large sleeve bearings both of which ensure longer service intervals.
Because Kohler generators are powered by engines that are used in commercial applications, you can be assured of long lasting power for your house.
Kohler Generator Automatic Transfer Switch
Kohler home generators are equipped with automatic transfer switch that monitors the electricity coming from the grid. It works all the time to detect the flow of electricity from the utility grid to the house.
There's a power indicator that is located on the automatic transfer switch which would tell you where the power is emanating. Whether it is from the utility grid or from the generator.
When there is a power outage, the automatic transfer switch tells the generator to start running. In just 10 seconds, the ATS would facilitate transfer of electricity from the grid to the generator.
Once the generator has started supplying electricity to the house, its other advanced features will start working as well.
One of these high-tech functions is the PowerBoost technology that enables the genset to handle large starting loads like air conditioners, without affecting the starting load of other appliances.
While Kohler generators for residential use are almost at par with Generac generators in terms of technology and features.
The affordability of Generac models is what makes Generac generators a better choice than Kohler.
Champion Generator
Champion Power Equipment, the company that produces Champion home generators, does not have a long and storied history like Kohler and Generac. The firm is newer, having been founded in 2003.
It is based in Santa Fe Springs, California with a production facility in China.
Aside from generators for residential use, it also has pressure washers, transfer pumps, winches, and log splitters in its roster of products.
Since this is a new player in the home generator market, it is not surprising that Champion Power offers a limited number of gensets for residential use.
The smallest home standby generator from Champion Power has an output of 8KW, while the largest can produce 12.5KW.
The smallest Champion home generator has a retail price that's pretty reasonable. Its output is good enough to power refrigerator, heaters, lights, television, freezer, and computers. It is encased in an all-weather steel enclosure, and is powered by natural gas or LPG.
Champion Power offers a five-year, limited warranty on this home generator.
The biggest home generator from Champion has an output of 12.5KW. It is also encased in an all-weather steel enclosure and comes with a five year limited warranty.
In case you want a portable generator from Champion, the smallest one you can get has an output of 1,200 KW.
The biggest portable generator from the brand can produce 7,500 KW.
One disadvantage of Champion compared to Generac is that it does not have a wide dealer network as that of the latter.
Plus, Champion does not have the build quality and the solid reputation that Generac generators have.
Onan Generator (Cummins Generators)
Onan branded generators are designed and manufactured by Cummins Power Generator which is a subsidiary of Cummins, Inc.
Aside from generators for residential use, Onan has generators for use in marine, light commercial, and commercial applications.
Cummins Onan has been in the business since 1920.
Cummins Onan Generators Have Four Product Lines to Choose From
There are four product lines of Onan gensets—Quiet Connect, Power Connect, Air Cooled Series, and Liquid Cooled Gas series. As the name suggests, the Quiet Connect series features home gensets that are quiet when in operation.
These generators are ideal for those who live in the city, as the machines won't be distracting the neighborhood.
The Onan Quiet Connect generators have an advanced sound attenuation design plus durable enclosure to minimize the noise generated while in operation.
The Quiet Connect series has gensets with a minimum output of 22KW and maximum output of 40KW. These generators are ideal for use in medium to large houses.
The Power Connect series, meanwhile, features the Cummins QSJ2.4 engine and a brushless alternator with heavy-duty design for first-rate performance.
The generators under this series are built to operate well even in extreme environmental conditions.
And the machines feature a flexible exercise mode that lets the customer choose the time, frequency, and duration of the generator's exercise.
Output of the gensets under the Power Connect series ranges from 30 to 60 KW.
Then there's the air cooled series, with power output from 13 to 20 KW.
Generators under this series have features like Internet remote monitoring, automatic load management, and powerful motor starting.
The liquid cooled gas air series can provide backup power ranging from 45 to 100 KW.
The 16 generators under this series feature an aluminum and steel enclosure to ensure that the units would last for a long time. The gensets are also fully automated, having been equipped with the Cummins automatic transfer panel.
Prices of Cummins Onan Generators
While Onan generators appear to be good when it comes to build and performance, the gensets are quite expensive when you compare them with Generac gensets.
The cheapest generators are those under the air cooled series.
Moreover, Onan does not have portable generators that are designed for residential use, so you would really have to pay for the standby generators of the brand, in case you decide to get an Onan genset.
Yamaha Generator
If you've heard of Yamaha generators before Then you may know this is a Japanese company that is into the production and distribution of motorcycles, marine products like boats, and other motorized products like portable generators.
Motorists might be surprised to learn that Yamaha does produce portable generators that they can use whenever there is a power outage at home.
Yamaha Generator are actually inverters that produce alternating current (AC).
Yamaha's gensets are intended for outdoor use like camping given their lightweight and compact design, although the units can also be counted upon during a power outage at home.
But unlike Generac, Yamaha does not make standby generators at this time.
Yamaha Generators Have Many Key Features
There are several good features that you'll appreciate in a Yamaha portable generator. For example, most of these gensets have an oil watch warning system that eliminates risks of damage caused by low oil levels.
Yamaha generator units have an advanced warning system that informs the user that the genset needs to be shut down to prevent damage to the engine.
Another key feature in Yamaha portable generators is the patented technology called Smart Throttle that helps in regulating the load and keeping the unit fuel efficient.
It is a load sensing control that can also contribute to lower noise emission of the gensets.
This feature makes it possible for many units to operate up to 12 hours.
Noise Block is a patented sound reduction system of Yamaha, and this feature is present in many of the portable generators of the Japanese brand.
For example, the EF1000 can produce 57 decibels of noise while in operation which is a lot quieter than most Generac gensets emitting 60-plus decibels.
Most Yamaha generators also have the Warm Up feature that allows the engine to run at a higher speed for six minutes, or before it produces electricity.
This feature prevents any potential problems at start up, while making the generator even more fuel efficient.
Yamaha Generators Portable and Lightweight
One of the things you'll enjoy about Yamaha generators is that they are very easy to transport. The inverters are portable and lightweight, with some systems weighing 26 pounds.
Thus a Yamaha inverter is one that you would likely bring for camping out. Yet it would still have enough power for a couple of lights during emergencies. Yamaha generators, however, are not as affordable as those from Generac. The least expensive inverter from Yamaha has a maximum AC output of 1KW.
Honda Generator
This is another Japanese company that is best known for its cars and not for generators.
Honda is popular for its cars like the CR-V and City, but what many of us don't know is that the company actually started making generators after World War II.
The man who founded the firm, Soichiro Honda, outfitted bicycles with generators in the 1950s.
By the next decade, the company was expanding its roster of Honda generators products.
Part of the motivation for such a move came from the widespread use of electrical appliances, as well as leisure activities that were increasing in popularity.
Honda thought there was a demand for portable generators, and this pushed the company to specialize in this aspect.
Many Honda Generator Models to Choose From
Although it is now more popular for its cars, Honda still makes pretty decent generators for outdoor and home use.
There are 18 Honda generators in the market today, and these are classified into four product series—economy, deluxe, industrial, and super quiet. Output ranges from 2KW to 10KW.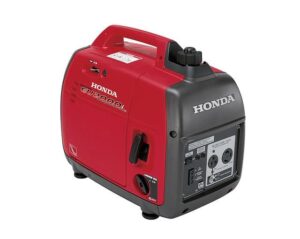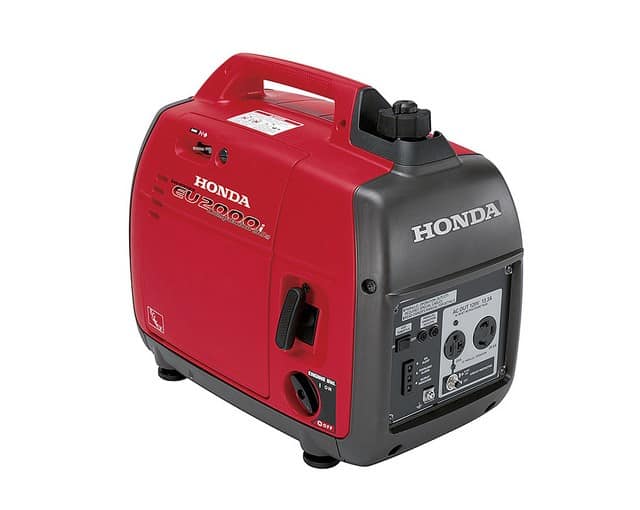 Honda Quietest of the Generators Available
All Honda generators have four-stroke engines, making the units among the quietest in the world. A Honda generator for residential use would have an average noise of 60 decibels.
If you buy a generator under the Honda Super Quiet series, then you are getting a unit that can operate at noise levels as low as 49 decibels. Compare more features of Honda inverter generator vs Generac inverter generator.
Honda Generators are Compact and easy to store
Honda generators are also compact and easy to store. Some generators, particularly those with output of 2KW, can be easily carried and stored in vehicle compartments, making them ideal for out-of-town trips.
Yet these generators have enough power to provide electricity during power outages. A 2KW generator can power a refrigerator coffee pot, and TV when power from the utility grid is cut.
The Deluxe series is particularly recommended for homeowners who want a quality, portable generator.
Gensets under the Honda Deluxe series are available in 4KW, 5KW, and 6.5KW sizes. These units feature electric start function as well as remote start.
Moreover, these generators have the proprietary iAVR power feature that boosts their performance.
Pricing of Honda Generators
However, one disadvantage that Honda generators have is that the prices of the units tend to be higher than those of Generac generators.
Honda Generator Recalls
Honda generators have also been hounded by controversy. In 2012, the company recalled about 150,000 portable generators because of fire and burn hazard. Two years later, the company recalled some 8,000 units of its 7KW, gasoline-powered generator.
Thus in terms of price and product reliability, Generac holds a very clear-cut advantage of this Japanese multinational firm. (Though since then, Generac issued a recall on Generac generators due to finger amputations.)
Thinking about harnessing solar energy?
Maybe a solar backup generator would work in your area.
Generac Generators Get Best Reviews Overall
Based on the reviews of the generators from Generac and other firms like Kohler, Champion, Westinghouse, Onan, Yamaha, and Honda, it is easy to understand why Generac is the clear-cut leader in the residential generator market.
Generac has Best Pricing and Features Overall
One of the reasons why Generac has maintained its lofty status in the industry is its very competitive pricing. As you have learned after reading this article, Generac offers the most affordable home generators.
You can buy a Generac portable or standby generator at half the price of the competitions' gensets. Despite being cheaper than its competitors, a Generac generator for residential use is designed to last long.
Generac gensets are housed in galvanneal steel with RhinoCoat, providing sufficient protection against debris and weather conditions and prolonging the life of the unit.
You can also expect a Generac generator to be fuel efficient, and to operate quietly.
The inclusion of the G-Flex technology feature in most Generac gensets has significantly improved the fuel efficiency of the units, aside from reducing the noise of the generator while producing electricity.
Generac Generator Maintenance
Maintenance of a Generac generator won't cause you to have headaches. Generac genset units can perform self-diagnostic tests on a weekly basis.
Additionally, the fact that you can get a Generac generator wherever you are in the United States further adds up to the solid reputation of the company.
Finally, Generac has a wide range of home generators you can choose from. Select the Correct Home Generator Size Calculator to find what size generator do I need.
It has portable and standby generators, with varying sizes which make it easier to find a genset that is suited to your requirements.
So if you are shopping for a generator for home use, there is clearly one brand that you should trust—Generac.
As you have learned, Generac generators are not only high quality and efficient, but are also cheaper than other genset units in the market.