Answering how long will a Generac generator last can help you guarantee that your home and commercial property are protected.
Depending on the size and power of the unit you choose, the run time can vary significantly. Aside from that, there are also plenty of steps that you can take to help improve your generator's lifespan.
How Long Can I Run My Generac Generator Continuously?
Knowing how long can a generator run non-stop depends on a few variables.
1. Generator Design
There are two main types of generators that you can choose from, standby and portable. Standby generators are typically designed to provide power to your whole house, while portable units often for recreation as well as for emergencies. Learn what you can do with a Generac portable generator.
You'll most likely refer to a portable generator to run vital appliances, while a standby model allows your home to operate as usual. Due to their smaller size, portable generators are going to last substantially shorter than standby models. You will also find that portable units are likely to become overheated or overloaded, causing them to fail quickly.
2. Fuel Type
The fuel your generator will need can be natural gas (NG), diesel, or liquid propane (LP). Generac generators are factory built to use one type of fuel, natural gas. However, you can opt to have it reconfigured at the time of installation if you prefer it to run on liquid propane.
The most significant differences between the two fuels are the rate of consumption and fuel burn. On average, a fully loaded generator on propane will consume up to 122 cubic feet of gas hourly. Natural gas will consume up to 245 feet of gas per hour, which means liquid propane can be a more efficient option.
Many have also noted that liquid propane provides up to 15% more power to the engine than natural gas. With that said, it doesn't mean that liquid propane lasts longer than natural gas.
When you connect the generator to your home's natural gas line, it will continue running until you shut it off. The only concern will be the amount of gas it consumes, thus increasing your utility bills.
With liquid propane, you will only have as many hours as the fuel tank will give you. Natural gas can be a far better option as it gives you a continuous source of fuel.
3. Tank Size
As with any engine, the fuel tank's size has a significant bearing on its possible use duration. But the size of the generator engine and the electrical load (output energy consumed) will also be a significant factor. The larger the tank, the longer the generator will produce electricity before having to be refilled.
I categorize my needs by the following:
Short-term – few hours to 24 hours
Medium-term ~ 2-3 days to a week
Long-term Disaster Scenario before tank can be refilled ~ 2+ weeks
I expect my propane powered generator to burn 2-3 gallons an hour. So I expect my 500-gallon tank will power my home continuously for a week in the non-summer months for a full week before I have to refill.
In the summer (heavy air conditioning 24 hours a day) months, 3-4 days of continuous run time.
You can find much smaller tank sizes, especially with portable generators. For example, the Generac iQ2000 has a one-gallon tank and allows up to eight hours of run time at 25% load.
My first thought and step is to try and determine why the power is out. Is it a local neighborhood temporary power outage, an outage caused by minor weather event or an event of substance that has the possibility of being an extended outage.
Based on what I determine as the why, I will immediately access what load reductions I need to make. My next step is to start calling local propane suppliers to order a refill/top off of my tank…I want to get on their schedule as soon as possible.
4. Running Watts and Load
The final two things to consider when figuring out your generator's run time are its running watts and load. Load refers to the amount of power being put on the generator that it has to provide power for.
Running watts is directly related, as it is the amount of power output by the generator. You will want to take all of your essential appliances into account when asking how long can a generator run non-stop.
Otherwise, you might only be able to provide power to a fraction of the items you had hoped to use.
When it comes to Generac, there is the possibility of talking to an associate and having a free in-home assessment. If you're opting for a standby generator, it's highly recommended you receive an assessment.
The process helps to make sure your whole house is managed and covered adequately by the model you choose. However, choosing a portable generator is a little less time consuming, but requires some math.
For example, if you want to power a fan and charge your electronics while camping, all you do is calculate the required power. You can then consider portable generators with the ideal running watts for the power you'll need.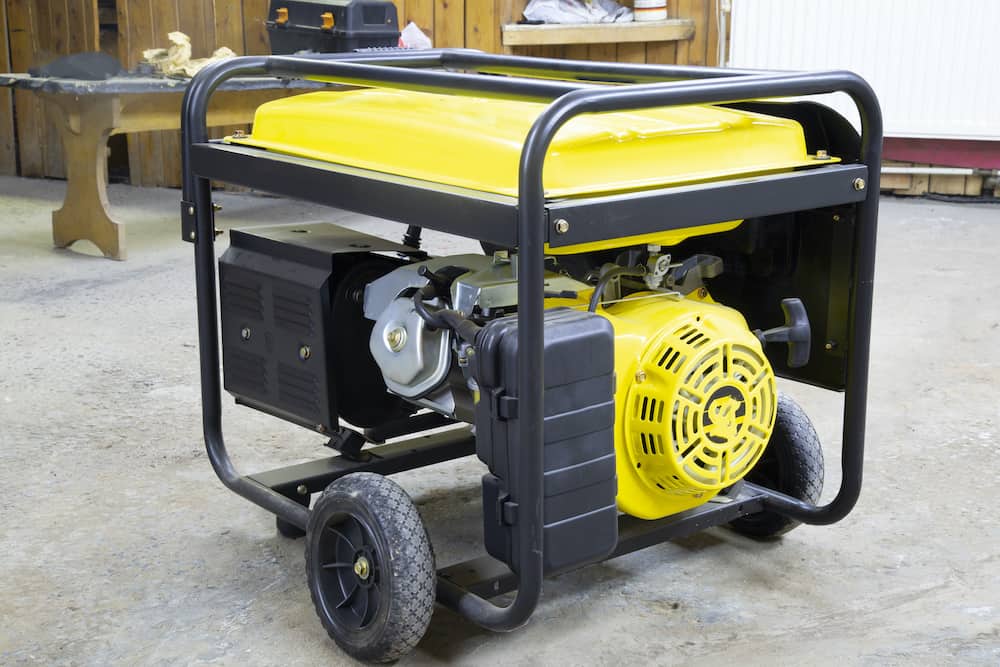 How Long Do Generac Generators Run?
Apart from limitless run time with natural gas hookups and up to a week with a 500-gallon tank, Generac generators have impressive overall run time. With the appropriate maintenance and servicing, these generators can last up to 3,000 hours of use.
If you get an extended warranty, you can get up to 30 years of servicing to prolong its life far beyond 3,000 hours.
Fortunately, as you won't be running solely off your generator 24/7, this is a substantial length of time for emergency power outages.
How Often Should a Generac Generator Be Serviced?
One of the most important parts of owning a generator is to make sure it gets regularly serviced.
You can choose to purchase a service package from Generac or opt to get one through a third party. It's important to note the manufacturer recommends finding an authorized independent service dealer.
With the scheduled maintenance kits, they come at an additional cost, but they can take the hassle out of owning a generator. At regular intervals, they will remind you to schedule a service call for a technician to change the oil and filter.
Ideally, you will want to have your generator serviced every six months, regardless if it is used or not.
How Reliable are Generac Generators?
Generac generators are highly reliable; after all, this brand is one of the top-tier manufacturers in the United States. Its products' impressive build quality is a testament to them being built in the United States. What's more, Generac also offers plenty of assistance.
For example, homeowners can contact customer service 24 hours a day, seven days a week, either online or via phone. With lifespans of up to 3,000 hours with regular maintenance, they can be a fantastic option for at-home or travel use.
If you have chosen to forego the maintenance package, you must regularly inspect your generator. By doing so, you can determine if servicing is needed earlier than six months.
There are many reasons to get a home generator. Generac is a reliable brand.
Maintenance Tips for Generac Generators
Looking for ways to prolong the life of your Generac generator? Here are tried and tested tips from the experts:
1. Check the Mounting Surface
Be sure to take the time to inspect the mounting surface for your generator. The surface should be clean and clear, as well as free of any cracks. If you notice the surface has become uneven, you will need help to adjust the surface's stability.
2. Inspect the Intake and Exhaust Louvers
To ensure the louvers don't get clogged during operation, you need to check if they are free of debris regularly. Fortunately, you can build an enclosure with enough clearance to prevent items from getting caught in the exhaust and intake.
3. Protect the Control Panel
If there is any damage to the exterior or interior of the control panel, you should address it immediately. Otherwise, you could be exposing the sensitive technological components to rain and snow. The panel fuse must also remain closed at all times.
4. Inspect the Battery
Just like with your car, regularly inspecting the battery on your generator is of the utmost importance.
The terminals should be clean and tight without any traces of debris.
How Long Will a Generac Generator Last?
When you're trying to figure out how long will a Generac generator last, there are many key features to note. Not only will you want to make sure you have the correct sized unit for your home, but that it also takes the correct fuel.
With an average lifespan of 3,000 hours, you can guarantee you'll get plenty of use from the best standby generator from this brand. Follow Generac's maintenance instructions to ensure you use it safely and get as much use out of it as possible.
See related: