Last Updated on
Inverter Generators Vs Conventional Generator due to the similarity in usage, most people interchange these terms a lot, and there seems to be confusion among consumers on the differences between a inverter generators and conventional generator.
And after knowing the differences, which one is better between the two?
We will try to provide the most detailed answers to all these questions, so read on! You can also checkout this Inverter Generator Reviews
We have also reviewed what we think are two of the best inverter generators on the market: Honda Inverter Generator vs Generac Inverter Generator
What is a conventional generator?
Conventional generators have been around for quite some time, and the core principles used to make them have always been the same.
They are made up of an energy source, which is usually a fossil fuel such as propane, diesel or gasoline.
This energy source is used to power a motor that's attached to an alternator to produce electricity.
The engine needs a constant speed of about 3000 rpm to produce a standard current that's used by most households.
If the engines speed fluctuates, the power output will also fluctuate. Honda EU1000i Generator
What is an inverter generator?
Inverter generators draw power from a DC source (e.g., a solar panel or a car battery), and converts the DC power into AC power using electronic circuitry.
The converted electricity can be produced in different voltages and frequency, depending on the equipment to be used.
Most inverter generator convert the 12V DC power from a DC source and convert it into the 120V AC power used by most appliances.
Honeywell 10,000 BTU Portable Air Conditioner with Dehumidifier & Fan
Inverter Generators Vs Conventional generator – which one is better?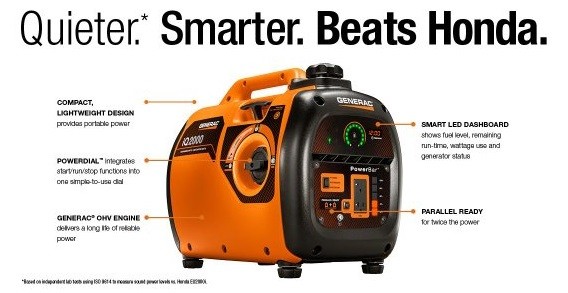 First, let's not think of the traditional old inverters because they cannot power appliances which can be powered by generators.
Here we're going to talk about two devices that can generate electricity well.
So which is the best between the two?
The difference depends on some factors, which includes the appliances to be powered, the number of appliances, and your budget.
Let's discuss some of the most important portable energy device factors and how each device stacks up for them.
Inverter Generator Size, weight, and portability
Many inverter generators are quite small for the amount of power they carry.
Inverter generators are easy to store and transport, and for those who want some power for hiking or camping, inverter generators can easily fit in your car.
In contrast, many generators are usually noisy, heavy and bulky, which requires them to to be mounted on frame and wheels.
While they are also portable, they lack the convenience factors of being smaller, quieter and lighter.
Inverter Generator Fuel efficiency and run time
Generators are mostly designed to generate a certain amount of power needed to keep electrical appliances running.
With generators, factors like the size of the unit have not been mainly considered.
On the other hand, inverter generators are designed to be compact and lightweight since they don't need big fuel tanks like generators.
Although a limited fuel capacity means they have shorter run times, inverters have fuel efficient engines which adjust the power produced to match the load's requirements.
Inverter generators save up to 40% of the fuel and have run times of approximately 10 hours, which are just enough for most users.
Inverter generators also help to reduce exhaust emissions.
Noise levels of an Inverter Generator
According to GreenGear global, the main difference between inverter generator and a conventional generator is the noise levels.
Generators are usually very noisy and run at constant speeds of typically 3600rpm to produce electricity.
The engine speed should remain constant to generate electricity.
On the other hand, inverters can adjust the amount of power produced using microprocessors.
This means that the device can regulate its power output depending on the load applied making it quieter than generators.
The quality of power generated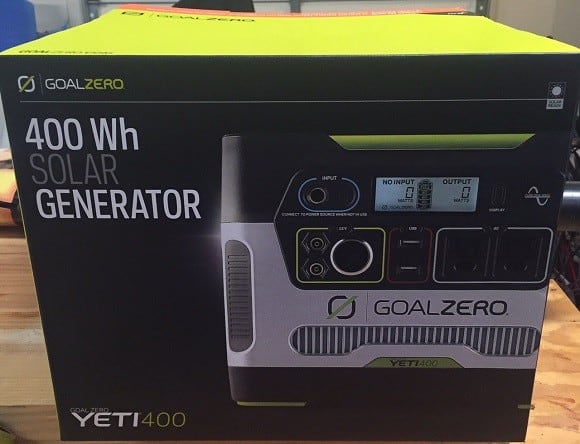 Since a generator is only an engine running at full speed to produce the desired frequency regardless of the load on it, the engine throttles up to keep the amount of generated electricity the same.
The alternator's output is directly connected to the load without processing.
With inverter generators, AC electricity is produced by converting direct current into alternating current.
DC capacitors smooth out the current produced to a certain degree before it gets converted into alternating current and the desired voltage and frequency.
Inverters produce consistent and reliable power which does not rely on the engine speed.
The power generated by inverter generator is much "cleaner" than the power produced by conventional generators.
This power is almost of the same quality as the electricity typically supplied by your electric company.
What's the importance of using a cleaner power source?
Well, today most products including your Televisions, mobile phones, and computers have microprocessors that are very sensitive to the quality of electricity used.
If these devices use a power source that's not clean, they may end up malfunctioning, or they might even get damaged.
Which is why I personally have, and truly trust, a solar generator.
Goal Zero Yeti 1400 Lithium Solar Generator Portable Power Station
Any application that requires sensitive electricity (most devices do) will benefit from the cleaner power produced by inverters.
I personally have and use a Goal Zero Yeti, but it has a finite amount of power stored.
Inverter Generator Price comparison
There are fewer advantages when it comes to generators unless you need a very high power output.
Conventional generators are also cheap and less costly to repair.
Its simple design and functionality make the spare parts easily available at fair prices.
Although inverter generators are more compact, quieter, convenient and fuel efficient with controlled power outputs, they are available at higher prices.
But it's up to you to evaluate how much you need each factor and how much you have budgeted for the device.
Review of one of the Best Selling Generators – WEN Inverter Generator
Parallel device operation Inverter Generator
Most inverter generators can be paired with identical units to double the powers capacity.
With parallel capability, you can use smaller inverters to produce the same amount of power produced by one large generator.
Conventional generators do not have this feature.
Conventional generators need special cables to connect them to their output, and they cannot be paired with identical units.
Read our review of the Champion Dual Fuel 9000 Watt Gas and Propane Generator here
Inverter Generators vs Conventional Generator, which is the best?
It's up to you to weigh the pros and cons of each of the devices.
If all you need is some power where there isn't any, and your more concerned about the budget the quality, a conventional generator will work for you.
But most people have realized that convenience, quiet operation, clean power, and portability is exactly what they need.
Watch the video for a categorical breakdown of the differences between inverter generator and a conventional generator and how to choose your best options.