Thanks to modern technology, generators are smaller, quieter and more reliable than ever. They are great to have in case you need backup power due to a hurricane, wildfire, storm or another type of man-made orr natural disaster. Generators can help in so many situations, including your campsite, job site, home or small business.
Buying one can make a big impact toward your emergency preparedness. Yet, you can enjoy it in the meantime for recreation. Here, we review the WEN Inverter Generator options.
"Hurricane Irma is tracking to strike southern Florida head-on, and will "devastate" parts of the U.S. FEMA and Grid operators are bracing for the worse, as more than 4 million people be without power for days and weeks — perhaps even months"
Inverter generators have lower wattage capabilities than conventional generators, but they still supply enough electricity to power the basic equipment in your home office. Power inverter generators offer power without making noise, and the output voltage and frequency are regulated efficiently. Power Inverters Vs Generators – Which is the Best?
Favorite portable WEN Inverter Generators
You can be assured knowing you have one of the best portable generators around. The WEN Inverter Generator is available with receive free shipping.
WEN Inverter Generator
WEN inverter generators are an excellent alternative to more popular brands such as Honda and Yamaha. The generators all come with a 120v outlet which makes it ideal for camping.
What are the features of the WEN CARB compliant inverter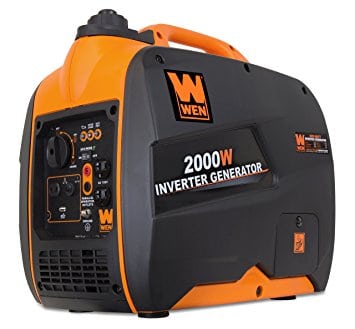 One of the best features of the WEN 56200i 2000 Watt Inverter Generator is the power it provides for being so quiet.
Less costly than its competitors
This quiet inverter generator also retails for half the price tag of its competitors and still boasts of similar portability features. The power produced by this generator makes it compatible with sensitive electronics like mobile phones and laptops.
You can watch this video for the Wen Inverter generator sound check in and out of "Quiet" Box.
Extension Cords for Your Generator:
Good: 50 Ft All-Weather Heavy Duty 12/3 Gauge Extension Cord With Lighted Triple Tap Outlets -125 Volts 1875 Watts
Better: 50ft 10 Gauge Heavy Duty Lighted Triple Outlet Extension Cord – 10AWG 125Vac 15Amp 1875Watt
Best: 100 Ft. Heavy-Duty 10/3 Gauge Extension Cord with Lighted End
Must Have: 
What's the power output of the WEN 56310i Inverter Generator?
The WEN Inverter Generator produces 2800 rated watts and 3100 surge watts. Surge watts are meant for electric appliances such as air conditioners and refrigerators which need massive amounts of power to start. On the other hand, rated watts are the typical watts required to power appliances.
What devices can the WEN Inverter Generator power?
The WEN inverter generator can run your refrigerator and still spare a few watts for your lighting and mobile phones in an emergency setting. In a typical environment, you can power several appliances simultaneously without any hassle. Most power tools can run when they are operated independently. However, you should check your tools wattage requirements before running them since this inverter generator unit is only able to handle up to 2800 watts power.
Which devices cannot be powered by the WEN Inverter Generator?
The WEN inverter generator is a quiet generator, but won't be able to power your water heater since its power demands are higher than what the unit can supply. It's also not able to power a 15000 BTU AC unit which needs more surge watts.
The WEN Inverter Generator is also not sufficient for running large power tools at the same time. If you need to run larger power tools, you may run two or more inverter generators in parallel.
Other features of the WEN Inverter Generator
The generator has a control panel which has:
3-in-1 power switch
Three indicator lights
Mode switch
Grounding nut
Various power outlets protected by circuit breakers
Use the power switch to adjust the choke before pulling the recoil cable. The indication lights will inform you when you've overloaded the unit or when the oil is running low. The mode switch ensures the engine runs at a speed relative to the applied load. A grounding nut allows you to ground the unit when supplying electricity using a transfer switch.
All in all, you will be glad you have a WEN inverter generator when you need it.