WEN Inverter Generator – Thanks to modern technology, generators are smaller, quieter and more reliable than ever. With greater fuel efficiency and low emissions, you will find you can use inverter generators in many scenarios.
If you are looking for an inverter generator, WEN is a great option to consider. With a wide variety of models available, you can find one that fits your needs. WEN inverter generators are high-quality, reliable, and affordable. They are perfect for camping, tailgating, other outdoor activities, and backup power.
An inverter generator is great to have in case you need backup power due to a hurricane, wildfire, storm or another type of man-made or natural disaster.
Generators can help in so many situations, including your campsite, job site, home or small business. Buying one can make a big impact toward your emergency preparedness. Yet, you can enjoy it in the meantime for recreation.
Here we review several WEN generators. Inverter generators have been growing in popularity for a few years now, and for good reason – they're a great option for anyone looking for a portable power source. WEN has long been a trusted name in the generator market, and their inverter generators are some of the best available.
WEN Inverter Generator Options
"The latest Hurricane is tracking to strike southern Florida head-on, and will "devastate" parts of the U.S. FEMA and Grid operators are bracing for the worse, as more than 4 million people be without power for days and weeks — perhaps even months."
WEN inverter generators have lower wattage capabilities than conventional generators, but they still supply enough electricity to power the basic equipment in your home office.
Power inverter generators offer power without making noise, and the output voltage and frequency are regulated efficiently.
Favorite Portable WEN Inverter Generators
WEN 2,000 Watt Inverter Generator, CARB Compliant
This generator has three outlets, a USB port and comes with adapter cables. It's quiet and perfect to take with for recreation and reliable to use for emergencies. Creates 2000 surge watts and 1600 rated watts.
WEN 13,000 Watt Portable Standby Generator with Wheel Kit and Electric Start
This is the best of both worlds. You get the capacity of a standby generator and the convenience of a portable generator. It features eight outlets.
There's an 8-gallon fuel tank which will give you 7.5 hours of run time at half load.
It works to power more robust appliances and tools yet will create clean power to recharge your electronics.
It produces a surge power of 13000 watts and 11000 rated watts of power. This is WEN's most expensive model.
WEN Generator 1,250 Watt Gas Powered, CARB Compliant
It works for sensitive electronics. It's exceptionally portable and has a 0.7-gallon tank that will operate for over 5 hours of half-load run time.
This is a great one to bring to tailgates, camping, etc. It's not loud, and it's a great backup generator to have, just in case.
You can get the connection kit to connect any two WEN generators, if you had this and a larger unit. It generates up to 1250 surge watts and 1000 running watts.
WEN 3,100 watt Inverter Generator with Built-in Wheels and Handle
Produces 3100 surge watts and 2800 rated watts of power.
The 1.85-gallon fuel tank will provide over 7.5 hours of half-load run time.
You can use this for sensitive electronics; it has six outlets.
It's efficient, quiet and easy to tote.
You can be assured knowing you have one of the best portable generators around. The WEN Inverter Generator is available with receive free shipping.
WEN Inverter Generator
WEN inverter generators are an excellent alternative to more popular brands such as Honda and Yamaha. The generators all come with a 120v outlet which makes it ideal for camping.
What are the features of the WEN CARB compliant inverter
One of the best features of the WEN 56200i 2000 Watt Inverter Generator is the power it provides for being so quiet.
Less costly than its competitors
This quiet inverter generator also retails for half the price tag of its competitors and still boasts of similar portability features. The power produced by this generator makes it compatible with sensitive electronics like mobile phones and laptops.
You can watch this video for the Wen Inverter generator sound check in and out of "Quiet" Box.
WEN 56200i 2000 Watt Inverter Generator
In certain situations, using a portable power generator is the only way of getting a reliable, constant and consistent supply of electricity.
In order for that to be true, however, it's important to use a generator with certain characteristics and features, as well as a high level of quality.
Undoubtedly, the WEN 2000 Watt Portable Inverter Generator ticks all those boxes.
In addition, it has specific features that help improve its usability and efficiency.
Below, I will give you all my thoughts on the 2000 watt WEN generator. Hopefully, this info will help you decide whether it's right for you.
Specifications of the WEN 56200i Super Quiet 2000 Watt Portable Inverter Generator
Dimensions: 18 x 11 x 18 inches
Weight: 48 pounds
Wave type: Sine
Engine: 4-stroke, 79.7 cc OHV
Max Output: 2000 watts
Running Output: 1600 watts
Oil level: Low oil level indicator, automatic low oil shutdown
Warranty: 2 years
EPA III and CARB compliant
Main Features of the WEN Super Quiet 2000 Watt Portable Inverter Generator
Gas-powered, compact, lightweight and fuel-efficient, the WEN 2000 Watt Portable Inverter Generator is a high-performance portable generator.
It includes a USB port and other types of outlets for connecting a variety of devices. Without a doubt, this variety adds to the device's versatility.
In addition, this power generator offers options for adjusting its fuel consumption. As a result, it provides great fuel economy. Apart from being good for your pocket, this helps the environment.
WEN 2000 Watt Generator Performance
Expertly constructed with high-quality materials, the WEN 56200i 2000-Watt Portable Inverter Generator is capable of producing a stable and continuous stream of electricity.
By not generating any voltage jumps or instabilities, the device is perfectly compatible with home appliances such as laptops, stereos and so son.
What is more, this clean, sin wave-based power output prevents your electric equipment from becoming damaged over time.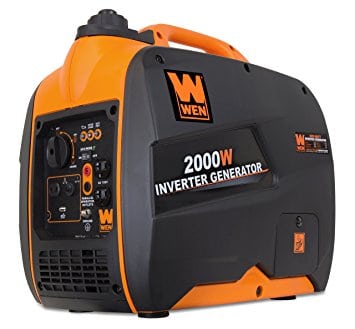 The WEN 2000-Watt Portable Inverter Generator uses a 4-stroke 79.7 cc engine to produce enough power to operate various appliances at the same time. Despite its power, though, this engine is remarkably quiet.
Producing a steady supply of power, this engine is also very reliable and stable. In addition, it has the capability of adjusting its fuel consumption depending on the amount of power that is being used.
At the same time, the WEN 56200's engine can be manually adjusted. Furthermore, when it's not being used, it will go into an auto-shutdown mode. As you can imagine, these characteristics make this a truly versatile and efficient generator.
Efficiency and Fuel Consumption WEN 2000 Watt Generator
Speaking of efficiency, it should be noted that, using one gallon of gas, the WEN 56200 allows four hours of run-time at full capacity. Meanwhile, when working at half capacity, the device provides up to six hours of continuous functioning.
If the machine's full capacity is not enough for what you have in mind, however, you can always connect two WEN 56200i generators in order to provide twice as much power with equal efficiency.
Unfortunately, the only way to connect two WEN 56200i generators is by using the WEN Parallel Connection Kit, a product that is sold separately.
This means that, in addition to buying two generators, you will have to spend some more money on this accessory.
Even worse, the connection kit is difficult to install and use, making the feature a lot more frustrating than it should ever be.
At this point, it should also be mentioned that WEN 56200i generators are also somewhat difficult to refill with gas, particularly when two of them are connected.
At any rate, though, once you get the hang of it, it quickly becomes second nature.
In addition to its main characteristics, the WEN 56200i 2000-Watt Portable Inverter Generator includes a few optional features that can enhance its efficiency and reduce its fuel consumption.
Without a doubt, one of the most notable is the device's Eco-Mode, a feature that allows the motor to auto-adjust its fuel consumption depending on the amount of energy required by the devices and appliances you decide to connect.
Additionally, this power generator gives users the ability to adjust the engine's speed, potentially decreasing both its noise level and its fuel consumption.
WEN Super Quiet Generator Acoustic and Environmental Pollution
In addition to being fuel-efficient and stable, the WEN 56200i's engine is remarkably quiet.
As a matter of fact, it produces only 51 decibels when operating at a low capacity and 55 decibels when operating at a high capacity.
If you want to put that in perspective, according to the US Department of Health and Human Services, 55 decibels is the same amount of noise a regular human conversation makes.
Without a doubt, this is a fantastic feature as it prevents the annoyances and disturbances that loud equipment so often produces.
Apart from being acoustically-friendly, the WEN 56200i Super Quiet 2000-Watt Portable Inverter Generator is environmentally-friendly.
Without a doubt, being able to produce up to six hours of continuous power with only one gallon of fuel makes it one of the most efficient portable power generators on the market.
In addition to being remarkably fuel-efficient, the WEN 2000-Watt Portable Inverter Generator is fully EPA III and CARB compliant. Simply put, this means that it produces clean energy.
WEN 2000 Watt Portable Generator Pros
Extremely quiet
Produces clean energy
Very stable
Allows connection with another generator
Fuel-efficient
Lightweight and portable
WEN Super Quiet Generator Cons
May be difficult to refill with fuel
Not as powerful as other similarly-sized generators
WEN 56200i – Wen Generator 2000 Watt
Taking into account all that was discussed in this article, it is easy to state that the WEN 56200i Super Quiet Portable Inverter Generator is very much worth looking into.
Apart from being reliable and powerful enough to be used with regularity, this device has various features that add to its functionality.
For one, it's very compact and lightweight, resulting in complete portability.
In addition to its portability, it's remarkably fuel-efficient, making it a fantastic option for those who are looking to save up some money and spare the environment at the same time.
What's the power output of the WEN 2800 Watt Inverter Generator?
In the list of 10 best portable generators, comes at the top. It has 1,800 surge watts and 1,500 running watts provides power for both times of emergency and recreation.
There's no match for its fuel efficiency, and it can run for 7.5 hours off 1.45 gallons of gasoline. What more can you get, or ask for?
WEN Portable Generator ~ 2,800 watt Generator (WEN 56180)
All the features that you seek in a portable generator are present in this model at a tremendous value. It is affordable, durable, and reliable with respect to power.
Prepare in advance. While there isn't much you can do about the weather, you can buy a portable generator to help you through it.
These generators will all work to help your family regain a sense of normalcy when dealing with a power outage, inclement weather, blackouts, major storms, tornadoes, or hurricanes.
No matter the emergency, a generator may help your family in dire situations.
These are the best portable generators that you should consider if you are looking to buy a backup power source for your home. Be sure to prepare your family for the worst.
The WEN Inverter Generator produces 2800 rated watts and 3100 surge watts.
Surge watts are meant for electric appliances such as air conditioners, portable a c units and refrigerators which need massive amounts of power to start.
On the other hand, rated watts are the typical watts required to power appliances.
What devices can the WEN Inverter Generator power?
The WEN inverter generator can run your refrigerator and still spare a few watts for your lighting and mobile phones in an emergency setting.
In a typical environment, you can power several appliances simultaneously without any hassle. Most power tools can run when they are operated independently.
However, you should check your tools wattage requirements before running them since this inverter generator unit is only able to handle up to 2800 watts power.
Which devices cannot be powered by the WEN Generator?
The WEN generator is a quiet generator, but won't be able to power your water heater since its power demands are higher than what the unit can supply.
It's also not able to power a 15000 BTU AC unit which needs more surge watts. The WEN Generator is also not sufficient for running large power tools at the same time.
If you need to run larger power tools, you may run two or more inverter generators in parallel.
Features of the WEN Inverter Generator Control Panel
3-in-1 power switch
Three indicator lights
Mode switch
Grounding nut
Various power outlets protected by circuit breakers
Use the power switch to adjust the choke before pulling the recoil cable.
The indication lights will inform you when you've overloaded the unit or when the oil is running low.
The mode switch ensures the engine runs at a speed relative to the applied load. A grounding nut allows you to ground the unit when supplying electricity using a transfer switch. All in all, you will be glad you have a WEN generator when you need it.
Conclusion
Owning a WEN inverter generator is a great decision for anyone looking for an affordable, reliable, and portable power source. With a variety of wattages to choose from, there is a WEN inverter generator perfect for any need. Whether you are powering your home during a power outage or taking your generator on the go, WEN portable inverter generators can be a good choice.
With a variety of wattages to choose from, there is sure to be a WEN inverter generator that is perfect for your needs.