Best Generator for Food Truck – Compared to a traditional restaurant, a food truck has many advantages, the most important being the mobility it allows.
Unfortunately, however, the mobility of food trucks has a side-effect that is also one of its biggest disadvantages: More often than not, when you find the perfect street corner or parking lot, there will not be a reliable power source nearby.
For that reason, having a power generator for your food truck — a culinary generator — is an absolute must. Running on gasoline, diesel or propane, these machines can provide enough electricity to power all your food truck appliances and lights for hours at a time.
Do Food Trucks Need Generators?
It's something to think about: Do food trucks need generators? Since food trucks fully rely on electricity to run their businesses, it's absolutely imperative that your food truck has a proper generator in case something happens.
Even if the venue offers a power source, there's no guarantee that it won't short out or sputter during the event.
In the worst-case scenario, you could lose power altogether; a disastrous prospect when you are trying to run a business.
Competition in the food truck world is especially fierce, and you'll quickly find yourself frozen out if you don't have reliable guaranteed power source you can trust.
Not only does proper power allow you to cook your food fresh and to order, but it also ensures that certain ingredients don't spoil.
When you work with chicken, fish, pork, or beef, you need to maintain certain temperatures for your raw products. If you don't, you could run the risk of getting people sick and possibly even having your business closed down.
Your food truck generator needs to be reliable and fit well in your food truck. It needs to be efficient and ready to go at any moment. All of your employees should be educated on how best to use the generator and when to employ it.
What Size Generator Do I Need?
What size generator do you need for your food truck will depend upon what electrical items you need powered. If you need only lights and maybe charging a smart phone, a small solar generator like a lithium battery generator.
The size of your food truck generator depends largely on the size of your food truck. Larger food trucks or food trucks with multiple amenities that run on electricity will require bigger and more efficient generators.
You need to take an inventory of how many appliances you have, and realistically look at how many of them will be running at once.
Do not discount anything. Take into account everything from the refrigerator to your blenders, and then add on a little cushion for yourself.
You also need to look at what wattage your appliances start off at. Some appliances require different wattages, so make sure that you get a generator that will work with everything in your food truck.
Even if you think that you know, never guess. It's better to be safe than sorry. I highly recommend sizing up one size generator larger than you think you need for the future. You should also know whether your appliances use 12 volts vs 24 volts.
Also, be aware of appliances that suck up a lot of energy when they are starting or stopping. Examples include toaster ovens and light bulbs. They are appliances that run constantly, like refrigerators.
How Many Amps Does a Food Truck Need?
How many amps does you food truck need? The number of amps that you will need depends on what kind of truck you have, and what your overall energy needs are.
Generally speaking, food trucks need 42 amps to operate, as long as you don't have too many big appliances running at once.
To determine what you need, look at all of the appliances that you will be running.
Determine what sort of loads comprise these appliances and overestimate it by a little bit, just to give yourself a small cushion.
Best Culinary Generator for Food Truck – 5 Reviews
With that in mind, I will go over five of my favorite culinary generators. Hopefully, this will help you find the best generator for food truck on the market.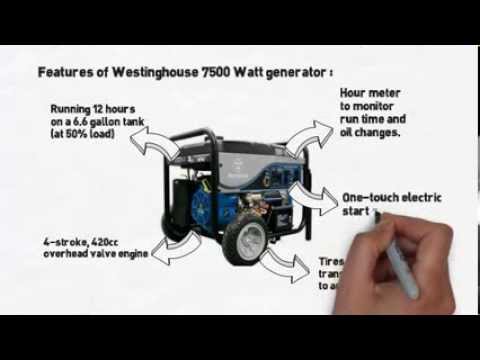 Westinghouse WGen7500 Portable Generator
If you are looking to serve food for many hours at a time, consider an efficient and powerful culinary generator like the Westinghouse WGen7500.
It has a great run time, and its fuel-conserving features enable it to run for up to 16 hours with only a 25% load. In terms of portability, the Westinghouse 7500 generator is very decent.
Considering that this generator is capable of producing 7500 watts of consistent power, its 192 pounds are not too bad.
Apart from heavy, however, its 306cc engine is slightly noisy. In the end, though, the product's consistency and reliability will easily have you overlook many of its failings.
Westinghouse 7500 Food Truck Generator
Very powerful
Reliable
Long run time
Slightly heavy
Somewhat noisy
Briggs & Stratton Q6500 Inverter Generator
Those who own a food truck with limited space would be wise to look into this product. Compact and lightweight, the Briggs & Stratton 30675 Q6500 Inverter Generator is capable of producing a very substantial amount of power for a very reasonable amount of time.
Despite its reduced size, this culinary generator can produce a running power of up to 5000 watts.
While this Briggs & Stratton generator may not be enough to keep all the appliances in a larger food truck running, it's a perfect amount of electricity for powering a smaller operation.
What is more, the machine is remarkably smooth and consistent in its delivery.
One of the biggest advantages of a smaller device like this one is that it tends to produce less noise.
With noise levels of only 66 dB at 23 ft, the Briggs & Stratton Inverter Generator will not prevent your guests from talking to you or with each other during service.
Briggs & Stratton 30675 Q6500 Inverter Generator
Lightweight and compact
Smooth and consistent delivery
Very quiet
Not powerful enough to power large operations
Pulsar 5250W Dual Fuel Portable Generator
While it is usually considered an emergency generator due to its compact size and amazing versatility, the Pulsar 5,250W Dual Fuel Portable Generator can be a great addition to a small food truck venture and other culinary pursuits.
Even the Pulsar Dual Fuel Portable Generator is very small and lightweight, the machine can generate 5250 watts of running power.
Without a doubt, the fact that it can do so using both gas or propane makes this a very convenient and practical option for food truck owners.
Unfortunately, the Pulsar 5,250 Watt Dual Fuel Portable Generator does not feature any type of noise suppression system.
As a result, it is a very noisy power generator, particularly when you take into account its compact size. At any rate, though, its practicality, versatility and size make it a great portable generator option for small food truck operations.
Generac also has several generators to consider. Learn about a Generac portable generator and if it is right for your food truck operation.
Pulsar Dual Fuel Portable Generator
Compact and lightweight
Functions with either gas or propane
Very portable
Very noisy considering its reduced size
Honda Eu7000is Inverter Generator
If you are looking for a generator that is extremely powerful, you would be remiss not to take check this one out.
Featuring a large engine of the highest quality, the Honda Eu7000is Inverter Generator is capable of producing enough power to feed various appliances at the same time.
Without a doubt, this can be a game-changer for owners of a large food truck with many menu items and, therefore, a great need for cooking various items at the same time.
While it is undoubtedly capable of generating a great amount of power, the Honda 7000 watt generator product does not stand out in terms of running time.
In fact, being capable of running for a mere 6 hours and a half with a 25% load, the generator has the lowest run time of any item in this review roundup.
Another big problem is that the device is very heavy. However, if reliable power is what you are looking for, the Honda Eu7000is may be a great choice.
Honda 7000 Watt Inverter Generator
Very powerful
Very reliable
Easy start
Heavy
Short run time
Champion 3400 Watt Portable Inverter Generator
If keeping noise levels down is very important to your business, the Champion 3400 Watt Portable Inverter Generator may be a great choice. Being very compact and lightweight, the machine is not capable of generating a great deal of electricity.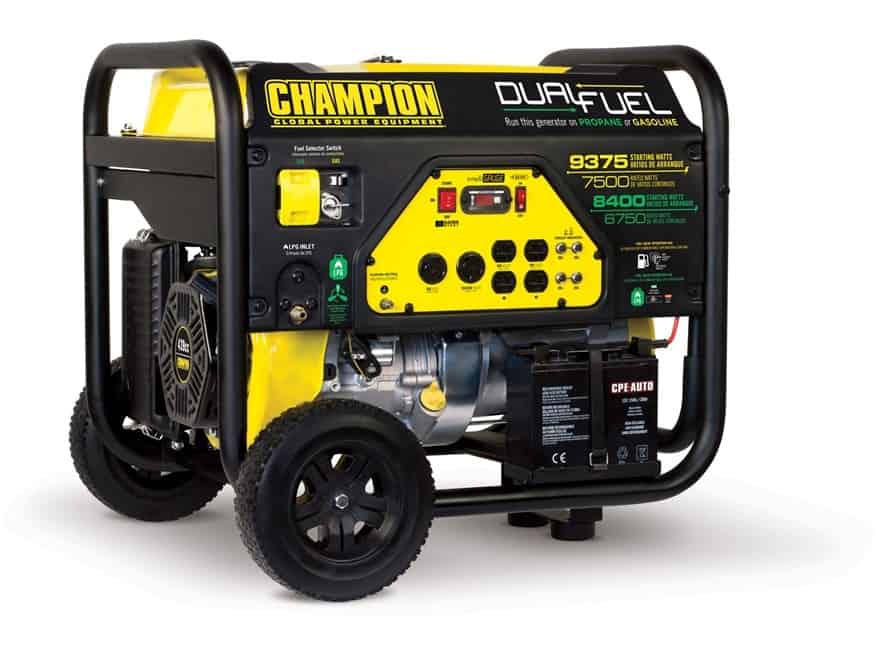 However, its 3100 running watts are more than enough for powering a couple of appliances at the same time. Even better, you will barely realize it's functioning due to its extra-quiet engine.
In addition to being portable and practical, the Champion 3400 Watt Inverter Generator is versatile enough to work with both gas and propane.
No matter what type of fuel it uses, however, the generator is capable of running smoothly for almost 15 hours straight with a quarter of a tank.
Champion 3400 Watt Inverter Generator
Very portable
Works with gas and propane
Very quiet
Only capable of generating 3100 watts
Best food truck generator
Without a doubt, all the food truck generators featured in this review are worth looking into. Reliable, efficient and portable, each of the food truck generators is capable of helping your food truck venture be successful.
At the end of the day, however, it is up to you to choose the right food truck generator and culinary generator for your particular needs.
Hopefully, you can use the information to choose the ideal food truck generator for your situation. Honda generator vs Champion vs Yahama