A propane generator is a good option for you if you need a power source for a camping trip or an emergency at home. However, knowing which unit to buy can be difficult. Not many people know what to look for in one of these generators, making the buying process overwhelming.
We have picked, reviewed, and compared five products that you can consider purchasing and talked about propane and propane-powered generators. Best Dual Fuel Generators
Overview of What Propane Is
Propane has a high energy content and burns well with oxygen. It burns clean, and the chemical reactions only leave behind heat, water, and carbon dioxide.
The heat from those reactions will power the engine, which turns and creates electricity for you to use.
Why Is Propane a Common Fuel?
Propane is common and becoming more popular because it produces electricity through a generator in such a simple way.
That also leaves behind no pollutants or nasty fumes. It also has a low boiling point, which makes it a great option, as it evaporates if it is released from its container too soon.
Propane is also becoming more common in households in the Midwest because many rural areas do not have access to gas pipelines.
Propane is also a popular fuel choice for cooking on a grill, so you might see it more often in the summer.
These are all reasons why you might have noticed propane usage becoming more and more common. Overall, it is gaining use with barbecues, portable stoves, other camping uses, and as a stock for emergencies.
With propane increasing in popularity, you will be noticing a lot more propane generators in the upcoming years.
What Are the Disadvantages of Propane?
There are some disadvantages to propane. It is a safe energy source, although it is still combustible.
It's also expensive to initially switch from gas to propane, but will go down for the next purchase. If misused, it can also cause suffocation, but unlikely if you follow all directions.
What You Need to Know About Propane Generators
When going through the buying process with any large item, you want to know enough about the product to make informed decisions.
That is especially true with a propane generator that will provide you with power to your home or camper.
How Does It Work?
These machines convert mechanical energy into electrical power that you can use. They come in different forms, although gas is the most common method available right now.
You can use generators to power any external appliances, devices, tools, or other objects that require electricity to function.
That makes them ideal for emergencies where you lose power for an extended period.
Why Do You Need One?
Generators have plenty of different uses. You would most likely want one to use in emergencies or as a back-up for buildings.
Camping is another popular reason as to why people buy generators. They provide power for necessities and are great if you plan on camping in areas with little to no other power sources.
You would need one if you wanted to power your fridge, internet, lights, air conditioners, or heating systems when you would otherwise not be able to.
That could be if a power outage swept across your area.
Benefits of Propane Generators
There are many benefits to owning a propane generator. One of the advantages to owning a propane-powered model is the convenience. You won't need to winterize the generator. It will be ready when you need to run it.
In addition, you won't need to worry about running out of gas like you might with a fuel-powered model. With propane, you can install an onsite storage tank with a monitor so you know how much propane you have. In this way, you will be ready when you need to use the generator.
Also, propane stores easily and well. It doesn't go bad or expire. Many people also choose a propane generator because it burns cleaner than other fuels which impacts the environment less.
Are Propane Generators Better Than Gas Ones?
There are advantages to both fuel systems, but propane is better for keeping pollution down. Plus, propane is kinder to your generator, as it is a clean-burning fuel, making the machine last longer.
Gas is more accessible since there are gas stations all over the USA. However, in an emergency, it can be hard to get a hold of and is dangerous and flammable.
That means you can not keep a stock of gas at home for long periods, as it is a hazard to you and your family.
Propane is cheaper and can be stocked up easier. Keep in mind that all the generators on this list are mainly used for propane, but they can easily be switched to use gasoline, making them versatile to your situation and efficient.
If you switch from gas to propane, the planet will thank you for using fewer fossil fuels in your day-to-day life.
That is a large part of why so many people are starting to look into using propane over traditional options like gasoline.
Is It Cheaper to Run a Generator on Propane or Gas?
Propane is not widely available at gas stations, although gas runs out first when everyone is scrambling to get it in an emergency. You will be glad to have propane on hand, as it has a longer shelf life.
Are Propane Generators Reliable?
Yes, as mentioned, propane burns cleaner than gasoline. As such, it is healthier for the generator and creates fewer fumes. A propane generator is reliable, as you can store propane longer than gas, so it is available in a pinch.
How Long Will a Generator Run on Propane?
A generator will typically burn two to three gallons of propane in an hour. Most underground propane tanks can hold up to 1,000 gallons, meaning that your generator will be able to run for two weeks. With a monitor, you will know when you are low. Be sure to have an access road to the propane tank so the truck can easily access it to refill.
Best Propane Generator Reviews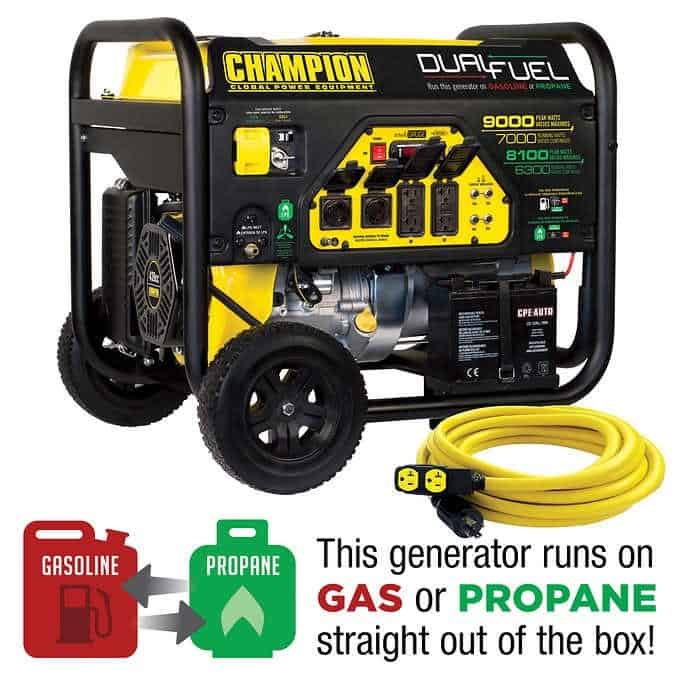 Champion Power Equipment 7500 Dual Fuel Portable Generator
The Champion company has many years of experience in building quality power products. It engineers and designs all its products in the USA and strictly follows standards.
For this particular model, you can use both gas and propane for it to run.
Features
This Champion generator is perfect if you are switching from gas to propane and have some leftovers before you start.
It makes this switch easy, too. You can change between using gas or propane in the generator by just tapping a button. It also is easy to get running and comes with the battery.
The Champion 7500 also has many outlets, making it perfect and reliable for use in an emergency.
This generator also comes with a wheel kit so that you can move it easily. That is something you should look for in any propane generator, as they can get quite heavy.
It has a maximum fuel tank capacity of six gallons and can run for eight hours. It weighs around 96 pounds and has a starting and running watts 9375 and 7500 on gas, and 8400 and 6750 on propane.
Pros:
Can use gas or propane

Offers a lot of power

Large fuel storage

Quiet for a generator
Cons:
Burns through a lot of fuel

Vibrates roughly when in use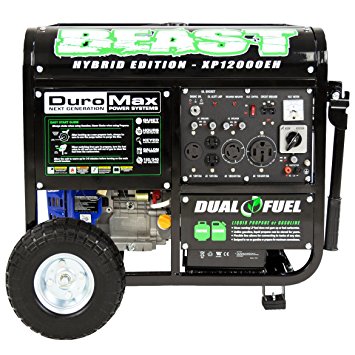 DuroMax XP12000EH Dual Fuel Propane Generator
DuroMax Power Equipment is another USA-based company that has been manufacturing generators, inverters, pressure washers, pumps, and engines for years.
It is one of the leading companies in terms of dual-fuel technology for portable generators.
This DuroMax backup generator is durable and very reliable, not to mention powerful. You can use it as a propane generator for home or any other number of situations.
Features
The DuroMax XP12000EH Generator offers a starting and running watts of 12,000 and 9500, meaning that it can handle any emergency too.
It offers power like a stationary generator, but can also function as a mobile generator. You get the best of both worlds with this model.
It also is easy to use and start-up, plus it has five different DC and AC outlets available, namely one 120V 30A with a twist lock, two 120V GFCI, one 240 V 30A, and one 240V 50A.
The DuroMax generator has a strong frame made of solid, quality materials. The only fragile area seems to be the wheels. It also comes with a muffler that reduces the noise and keeps it quieter than other propane generator models. Learn more about the 12000 Duromax generator .
The DuroMax XP12000EH Generator is perfect for if you need the power to work outdoors, have an electrical emergency, or need something powerful to take camping with you. It can run for up to 7.2 hours and has a sound rating of 74dB.
Pros:
Runs on propane or gasoline

Noise-reducing muffler

Durable mechanical parts

Easy to start and use

Generates a large amount of power
Cons:
Wheels are not durable

Auto-idle not available with propane use
Pulsar PG10000B16 Dual Fuel Portable Generator
As another brand starting to make a name in the generator industry, Pulsar offers quality products at an affordable price.
This specific Pulsar generator has a large fuel tank, an extended running time, and exceptional ease of use.
Pulsar generators also come in various watt usage, so you can choose one specific to your power needs.
They include 5,250, 7,750, and 12,000 watts models, which are all great options for whatever you need.
Features
This propane generator is reliable and easy to use. You can simply switch between gasoline and propane use, all while the generator is running.
Plus, it offers an electric starter system, with a recoil only as a backup.
This generator is one of the best propane gas generators for homes because it comes with plenty of outlets and offers a good amount of power.
The display also shows low fuel and oil, and will automatically turn itself off when it drops to a low level- saving you from worrying.
With a fuel tank capacity of six gallons, you would expect the Pulsar PG10000B16 Generator to run for a maximum of 12 hours. It will offer you a starting watts of 10,000 and a running power of 8,000 watts.
Pros:
Switch between gas or propane during use

Easy to transport or store with wheels

Long run time

Large fuel tank
Cons:
Minor issues reported with start-up button

Very heavy and hard to lift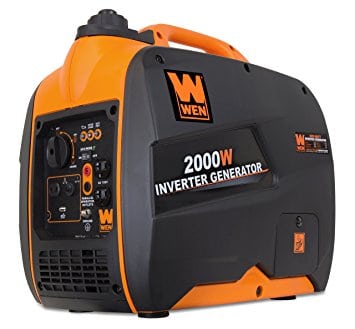 WEN DF1100 Dual Fuel Portable Generator
Established in 1951, WEN is a name familiar to people who purchase and use power tools, lawn equipment, and generators.
This specific model of WEN generator is one of the most recommended propane gas generators for homes, emergencies, or campsite vacations.
It is reliable and offers an engine that can use both propane and gas, an electric start-up system, and returns a high wattage.
Features
The WEN DF1100 Propane Generator is easy to use. All you need to do to swap between gas and propane is turn a dial.
There is no ripcord to tug on for start-up. Instead, you can just simply push a button. The fuel tank is also decently sized at 6.6 gallons, making it run for eight hours.
Plus, this generator is safe and includes overload protection through an automatic voltage regulator.
This feature also keeps the machine from overheating, making it much safer for your home. It comes with starting watts of 11,000 and running watts of 8,300.
Pros:
Easily switch between propane and gasoline

Durable metal frame

Sturdy wheels for transporting

A lot of power and a good-sized fuel tank
Con: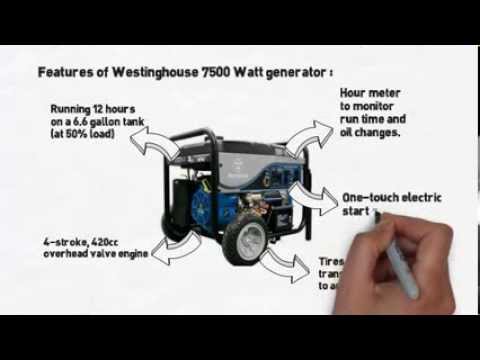 Westinghouse WGen3600DF Portable Generator
Westinghouse is a century-old manufacturer that specializes in producing and designing portable generators.
This particular product from their line is one of the few propane generators to offer a remote FOB key so that you can start it up from a distance.
It also takes little set-up; just take it out of the box, and you are good to go!
Features
This portable generator by Westinghouse is easy to run and has a button start-up, plus the FOB key. It includes four different outlets, and the engine is potent.
Plus, the mechanical parts are covered in a long-lasting iron sleeve to increase durability.
This model is compact, making it portable too. It can also switch between gas and propane easily.
Additionally, it will let you know when it needs to cool down and recharge.
It has a four-gallon fuel tank, an 18-hour running time, and starting and running watts of 4,650 and 3,600.
Pros:
Remote start FOB

Runs on propane or gas

User-friendly

Ready to go upon unboxing

Portable with durable wheels

Extended running time
Con:
Does not have a muffler; can be loud
What Do I Need in a Propane Generator?
Should you decide to go with one of the machines we listed on our propane generator reviews, we assure you that you are purchasing a high-quality product that is sure to help you when you need it the most.
We understand, though, that you might be confused with all the features and not know which is useful for your needs, especially if this is your first time to purchase your home generator.
As such, here's a list of features to keep in mind and when to choose one over the other.
Starter Type
Every generator will come with a start-up method, either electric or recoil. Recoil uses a rip cord, which is similar to how you would start running your lawnmower.
Electric is easier to use since it usually just involves the push of a convenient power button. Most electric models also include a rip cord, which is beneficial in case the electrical system fails.
Remember to think about what kind of start-up system you will need: electric or one with a rip cord. Be sure you are comfortable operating a rip cord if you plan to go that route.
Rip cords can be difficult to pull, depending on the model of propane generators for home. If you do not feel that you have the strength to get the engine started, your best bet is to choose an electric start generator.
Some newer models even offer a key FOB, much like the ones attached to your car keys. They can be used to start the machine from a distance
It is a very convenient feature, especially if your generator is too far from your home.
All of these starter types do work for turning the engine on; you just need to keep an eye out for whichever method you prefer.
Portability
If you want a generator, chances are you want to be able to move it easily, especially if you want to maximize its use.
If you need to move the generator frequently, purchasing one that weighs over 300 pounds is probably not in your best interest.
With a portable generator, you can bring it to your workshop and a camping site. That means you don't need to purchase different models for each of your needs.
Unfortunately, propane generators can get pretty hefty, depending on the model. Many generators include handles and wheels to simplify transportation.
Having wheels on one of these machines makes a world of difference if you need to move it often, so it is best to consider these units.
Wattage
Before thinking about what wattage you want, you will need to know what you are using the generator for. Generally, the more power you need, the higher wattage you need, too.
If you wanted to use your propane generator for tailgating, camping, or an emergency, between 2,000 and 6,500 watts of power is good.
You will only want to go higher if you plan on using a lot of electricity. Higher wattages are better for powering buildings or for use in construction sites.
Fuel Gauges
Each generator has a maximum fuel capacity to give you an idea of when to refill, but you will want a generator that offers fuel gauges.
Without one, it can get pretty annoying seeing the generator shut down due to low fuel all because you were unable to correctly estimate the remaining amount of fuel.
That is why fuel gauges are important. Some generators will only light up when the fuel is low, but others will give you a more precise count of what you have left in the tank.
Either way, you will be aware of when the machine is running out of fuel. It will keep the generator from receiving damage and prevent it from shutting down without warning.
What Else Should You Consider When Buying a Propane Generator?
We have covered the main important features in propane generators, but there are other considerations to keep in mind to ensure your safety and that the machine matches your needs.
What Specific Fuel Is the Generator Using?
Knowing the kind of fuel your generator needs is important to prevent damages and safety issues. Always be sure you are using compatible fuel with your machine.
You should also learn if you can safely store the correct type of fuel for an emergency. Otherwise, it will all be put to waste. Consider also access to fuels during extreme weather events. Not only may roads be closed but ports may be closed or fuel shipments may be redirected to more critical areas.
How Powerful Should Your Generator Be?
To estimate how much power you are going to need, you should list down the essential items in your home that you would need to use in case of outages and disasters.
Remember, items like heating systems and microwaves are necessary for daily life, but something like a hairdryer or TV might not be.
You will also want to be sure you can access the internet during an emergency, in case you need to contact someone or need to stay informed of vital information.
Unless you are looking to supply back-up for an entire building or construction site, you are not going to need a generator that produces over 10,000 watts.
Something lower may be good for your home. Consider what you need, so you do not overspend on a generator.
Do You Have Carbon Monoxide and Fire Detectors?
Fire and carbon monoxide detectors are essential to any house storing propane or gasoline for their generators.
That is because they will alert you of any fires or leaks, potentially saving your life and your property.
Never use a generator without being sure that you are going to be kept safe; your health should be your priority in an emergency. You should only use a generator outdoors.
Propane manufacturers purposefully add a smell to the gas so that you can detect it easily. If you are using propane in the home and smell rotten eggs or skunk spray, you may have a leak somewhere.
If this happens, you should close the propane valve, leave the building, and call your propane manufacturer right away to report it.
Propane is also flammable, so you will want to put out any open flames immediately.
Even a spark could cause it to ignite. Once you are safe, dial 911 to get your local fire department to respond to the leak.
A detector in your home can give you peace of mind, knowing that there are no propane or other gas leaks.
Propane Generator for Disaster Relief
Generators are essential items for disasters. You want to be prepared before the emergency. Not only will it give you peace of mind knowing you have a safe generator, but it can be helpful when the time does come to utilize it.
If you live in an area with the frequent threat of natural disasters, consider a propane generator. Unlike with diesel, which lasts 6 – 12 months over 86 degrees, propane doesn't go bad.
Also consider that it may be difficult to acquire gas or diesel when you need it. With propane, you can install a tank so propane is available for your home-sized generator when you need it. This is one of the important reasons to consider a propane-powered model.
Which Generator is Best for Homes?
Knowing as much as you can is vital when making a large purchase, such as buying a propane generator.
It is comforting to know that you will always have access to electrical power, whether on a camping trip or during a storm that caused a power outage.
If you are still using gas, propane has many advantages that you should think about. It has a long shelf life, is relatively cheaper, and is more likely to be available during severe emergencies.
Propane also burns clean, so it produces less pollutants than gasoline or diesel. It is a great option for an energy source if you are worried about creating fumes or polluting the air.
Either way, the propane generator products on this list can use both of the common fuel options.
So, now that you decided to go for a propane-powered generator and know what to look for in a generator, which propane gas generator is best for homes?
Any of the options listed above are great choices, but the WEN DF1100 Propane Generator has the most safety features available.
When buying your generator, you will want to consider how safe it is, the wattage, portability, and the starter system. The WEN fits most of these needs on a family level.
Keep in mind, though, that having a generator will not be enough. You would need to purchase the right transfer switch to hook up your generator to your home electrical system.