These days many people rely highly on packaged mixes, precooked dishes, and ready-to-serve meals. Some don't know how to prepare anything much from scratch. It's really not their fault, since our culture has veered in the direction of fast food and easy meals. Home economics classes are no longer required in many schools. The majority of TV commercials for food are selling products wrapped in plastic and cardboard, not skin and peels.
Due to the economy and cost of living, grocery shopping is more likely to be Dad or Mom stopping on the way home from work than a family outing where kids see what fresh food looks like. A basket of farm-fresh products, even honey from a local beekeeper, might baffle many people today. But it's not unlikely that we'll all need to cook most of our meals from scratch at some point.
A key to sustainability when times get tough is the ability to prepare fresh foods and to preserve them for later use. And it's also an important element of a disaster survival kit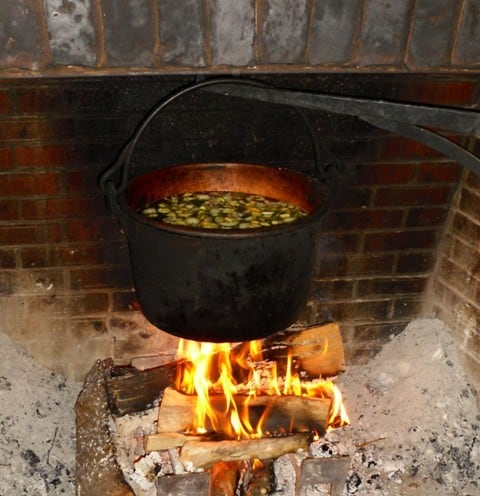 Path to Sustainability is Preserving Fresh Food
In this discussion, we're using the word "fresh" as opposed to processed or precooked foods. Some foods like grains, rice, and dried beans may not be fresh from the field when we buy them, but they have been stored in their natural form and have not been previously cooked.
We're not discouraging the use of canned, frozen, or dehydrated ingredients. In our kitchen we use both commercially and home-preserved foods regularly and include them in our food storage system. We also use mixes and quick fixes.
But there may come a day when it's crucial to know how to prepare foods that have not been previously processed.
We may even have to rely on foods that have been grown in our own communities.
Preparing fresh food from scratch
Some of us already prefer cooking from scratch, using fresh ingredients and doing most or all of the preparation at home.
But for others, this means learning some new skills and a return to cooking like Grandma did in years gone by.
If you're in the latter camp and want to learn how to cook like Granny, have hope! There are oodles of books, magazines, websites, blogs, local classes and workshops out there to help you get started.
Better yet, find a cooking granny or a friend who cooks from scratch and ask for some co-cooking sessions, tips, and recipes. Cooking with a friend can be lots of fun, and it's hard to avoid learning something new while you're at it.
If you hesitate to go whole hog from the start, you can ease into it, using a combination of prepared and fresh ingredients. Gradually you can move toward using more and more fresh food.
Preserving fresh food for later use
To many of us, there's something very satisfying about putting up summer's bounty for the rest of the year.
But it's much more than just a pleasing activity.
Preserving food to last for several months or the entire year can save you money, frustration, and time. And it may ultimately save you from doing without some of your favorite foods. Who knows–"shopping" from your pantry instead of the grocery store may be a necessity at some point.
The most common means of food preservation for long-term storage are freezing, canning, and dehydrating. Some people use only one method, while others combine two or more.
We think it makes sense not to "have all our eggs in one basket," so we freeze, can, and dehydrate. While freezing is the best way to store raw meat and our preferred method of preserving most veggies, in the event of a power outage or freezer breakdown, we'll be glad not everything is frozen.
Libraries, bookstores, and the Internet are full of resources for learning to preserve food. We suggest starting at the National Center for Home Food Preservation and becoming familiar with food safety issues and various processing methods.
We've shared more info on food preservation in a previous Rural Living Today post, Beating Food Challenges: Storing and Preserving Foods. A list of food preservation resources is included in our new book, Getting Started on a Food Supply Plan, which is part of a Real Food Storage & Preparedness eBook Bundle (see below) this week. Getting Started on a Food Supply Plan will also be available for purchase at Amazon.com and Smashwords.com.
Continuing year after year
In order to prepare and preserve food for a period of years, it's wise to accumulate a good supply of equipment and a stash of supplies.
While most of us have basic cookware and utensils in our kitchens, it's not a bad idea to have extras available.
And when it comes to food preservation, it seems one can never have too many canning jars and rings, which are reusable, as well as one-use lids and storage containers for frozen and dehydrated foods.
Please add your ideas for food preparation and preservation sustainability in the comments section.
You're reading The Path to Sustainability Series:
The Path to Sustainability: Is It Really Important?