Rocket Stove Review – We invested in a solar oven for emergency preparedness but wanted a portable stove as well.
These rocket stoves don't rely on propane.
We tried the popular models and liked three rocket stoves.
These stoves work for camping enthusiasts, backpackers, preppers, and survivalists.
FireFly Lantern Cookstove – rocket stove
If you're looking for a way to make your camping and backpacking adventures more streamlined and efficient, then you've got to take a look at the FireFly Lantern rocket stove.
There are many reasons to love this relatively new product from Oregon-based StoveTec.
FireFly Lantern Cook stove rocket stove
This innovative product isn't just a lantern that makes it easier to see at night in your campsite.
It's also an efficient cook stove.
Just as attractive, this rocket stove easily breaks down into its component parts so that it can be conveniently and efficiently transported.
The idea behind this dual-purpose rocket stove product is great.
It's perfectly sized to sit on a tabletop where it can shine a bright light on the entire surface.
This makes it possible to do meal prep work even while you've got water boiling on the cook stove.
How Does the FireFly Cook stove Work?
The FireFly Lantern is made up of several components.
These include a sturdy base that provides plenty of support.
The lantern is largely made of stainless steel, ensuring years of trouble-free use.
Included components are a combustion chamber, a stove unit and a lantern unit that features a removable glass cylinder.
It only takes a few minutes to set up the lantern and get it going.
All you need is about three cups of clean-burning pellet fuel.
This fuel will last about 45 minutes, easily long enough to complete a meal or read a few chapters in your favorite book.
One of the best features of the FireFly Lantern Cookstove is that it's so clean burning.
The wood pellets leave virtually no ash behind, so cleanup is a snap.
Wood pellets are small and light, making them easy to take with you wherever you go.
Moreover, all of the components that make up this combination lantern and stove can be nested together for efficient transport.
When set up for use, this lantern and stove is 11 inches tall with a diameter of four and three-quarter inches.
When nested, the lantern is just six and one-quarter inches tall.
At four pounds, this is an easy and convenient tool to add to your backpacking gear.
It takes just 10 minutes to boil a half liter of water on the cookstove top.
That's because the FireFly stove is an efficient Top Lit Up Draft, or TLUD, cookstove.
Whether you need a little illumination or to cook some breakfast, the FireFly Lantern can do it all with ease.
EcoZoom Versa Rocket Stove
Our favorite stove is the EcoZoom Versa.
This rocket stove has proven to be a great cooking alternative for camping and emergency preparedness at home.
What fuel does the EcoZoom Rocket Stove use
Wood
Charcoal
Dried biomass fuel
The hinged doors enable a seamless conversion to charcoal from wood fuels.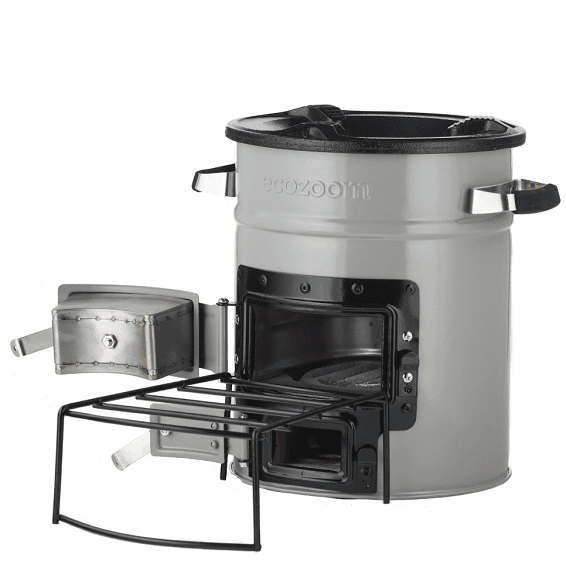 EcoZoom Stove info
It weighs 14.25 pounds, making it doable for camping trips and other outdoor adventures.
It's a fairly streamlined unit and easy to manage.
Measurements: 9.5″ tall with a diameter of 11.2″
EcoZoom's combustion chamber
The biggest plus of EcoZoom Rocket Stove is its durable and abrasion resistant ceramic combustion chamber.
The chamber's vertical section has a diameter of 10 cm, which allows the flame and the released gases to blend well with each other and thereby prevent harmful emissions.
Another highlight of the Versa is the refractory metal lining inside its combustion chamber.
This feature will:
Keep the chamber's ceramic insulation protected
Enhance its combustion efficiency
Allow the stove to last for years.
EcoZoom makes all its products undergo strict tests for safety.
Both the main door of the unit's combustion chamber and the damper (bottom) door come equipped with reinforced metal casing.
Besides ensuring that the doors are secured closely, the hinges also play vital roles in regulating airflow.
I like Versa's three-pronged, reformulated stove top.
It's made out of cast iron and offers easy heat transfer irrespective of the kind of pot you are using.
Most videos I found showed people using the Versa with a flat bottomed pan.
However, I found using a round bottom pan on this stove works equally well.
When well-fueled, you can use the stove as a water bath canner which can be great for homesteading.
EcoZoom Versa Rocket Stove is very portable
There's a sturdy stainless steel handle which makes it easy to carry.
It has a silicone grip so the handle remains cool even if the stove turns extremely hot.
It's easy to carry on its own, and even more so with the EcoZoom Stove Carrier Bag.
However, you have to buy this bag separately.
It's a nice way to protect the stove when you're not using it.
There is a one-year warranty.
EcoZoom Dura
We didn't test out the EcoZoom Dura rocket stove though it receives good reviews.
It is a tad less expensive than the EcoZoom Versa.
Stovetec Big Foot Deluxe Multi Fuel Cookstove
We enjoy using the Big Foot Deluxe rocket stove from Stovetec.
Fuel to use in Big Foot Deluxe Stove
Wood (sticks)
Charcoal
Big Foot Stove Product info
22 pounds
Measures 17″ tall and 15″ in diameter
This stove is heavier and larger than the Versa but it was compact and fairly easy to carry.
I carried it from my parking spot to a faraway campground.
However, if I had one of those foldable, collapsible wagons (my next purchase!) it would have been a cinch!
Stovetec Big Foot's combustion chamber
The most prominent feature of the Big Foot Deluxe is its kiln-fired, rugged combustion chamber.
It is ceramic.
The chamber comes equipped with an intelligently designed internal chimney.
Like the EcoZoom Versa, this stove also forces the gases/smoke to blend well with the flame ensuring that there's no harmful emission.
You can easily fry, boil or simmer foods.
The combustion chamber in the Stovetec unit carries a durable metal alloy liner.
This feature of the stove increases its life.
It's simple to clean as well.
Stovetec Deluxe's Rocket Stove doors
Another feature that common both in the EcoZoom Versa and the Stovetec Deluxe is that both their doors (the door leading to the combustion chamber and the damper door) carry reinforced metal casings.
The smooth hinges added to the doors, on the other hand, ensure that optimum airflow gets regulated when the stove is in use.
You can also use this on a tabletop if it's heatproof.
Kelly Kettle Ultimate Base Camp Kit
This unit is perfect for scout events, family picnics, and car camping.
It's also a top pick among survivalists.
The kettle takes just a few minutes to boil water and will enable you to cook small meals at campsites very easy.
Fuels to use in the Kelly Kettle stove – Twigs
Unlike the two products, reviewed above, this one only uses twigs as fuel.
4.95 pounds with everything
It's so easy to take with you, wherever you are going, including hiking and backpacking.
Older scouts would find this easy to tote and easy and safe to use.
The build and appearance of the Kelly Kettle is also significantly different from the Versa and the Big Foot Deluxe.
The Kelly Kettle is made entirely of stainless steel.
It's super easy to clean.
The best feature is that it uses a small amount of fuel.
Two other highlights of the product are its orange stopper (it seals the kettle's water opening) and carry handle.
How to use the Kelly Kettle
The bigger opening of the two allows steam/air to escape.
The second opening allows the water to enter a secret tank.
The tank can hold six cups (or 50 ounces) of water.
The Kelly Kettle is located on top of a bowl (also made of stainless steel), which has a tiny hole on its side.
You'll have to place a few twigs inside that hole and light the fire.
That's it; you are now ready to go.
Kelly Kettle Ultimate Base Camp Kit includes:
2 stainless steel cups
Plate set
Hobo stove
Pot supporting braces
Cook set pot
Carry/storage bag
The braces fit the opening snuggly and are capable of holding a medium sized pot (a pot capable of holding four cups of water) comfortably.
Emergency preparedness stoves, Rocket Stove and camping stoves
So which of these portable rocket stove is best?
We are partial to EcoZoom's Versa as it's the most versatile.
We also love EcoZoom's focus to help people in developing nations.
It's a quality stove that is drastically changing people's lives abroad.
However, if you are looking for something extremely light and portable, you will be happy with the Kelly Kettle.
Any of these rocket stoves will do the job for your disaster survival kit.
These are great to have for when there is a power outage as well.
Read our review of our beloved American Sun Oven
Advantages of Using a Solar Oven
There are so many reasons to use a Sun Oven / solar oven.
It's great for camping, off-the-grid living, and being more eco-friendly in daily activities.
We wanted to try a top-rated solar oven and chose All-American Sun Oven, arguably the best solar sun oven today.
It's easy, portable and convenient to use.
We absolutely love it.
Here's our All American Sun Oven review.
All American Sun Oven review
This sun oven is a one and done type of product:
You buy it and that's it.
You don't need to buy anything else to use it.
Dehydrating and Preparedness Accessory Package
We have been using the All American Sun Oven with Dehydrating and Preparedness Accessory Package.
This is the deluxe model and comes with everything you need to cook and bake.
Here's what's included:
All American Sun Oven
Two 3-quart pots which stack; one glass lid and one enamel lid
Two Baker's Secret loaf pans for bread, cake, meatloaf, etc.
Multi-level dehydrating and baking rack set (3 racks)
Earth-friendly parchment paper (70 square feet)
Water pasteurizing indicator
Two stakes to keep it mounted in the wind
CD with recipes, instructions, tips, etc.
All American Sun Oven ships their sun ovens for free in the contiguous US, which is fantastic.
This sun oven is a unique product and one that is practical and fun to use too.
All you need is the energy from the sun.
Where can I use a solar oven?
You can use a sun oven anywhere you have access to sun.
Out and about: Camping, boating, picnics
At home: Use for recreation, off-the-grid living, when power is out, to be more eco-friendly, to keep kitchen cool in the summer; fun with family
Educational events: school, scouts, science and STEM activities
Advantages of a Sun Oven
There are many benefits and advantages of using the All American Sun Oven.
Here's what we like about it:
Boil, bake, steam, dehydrate, and slow cook in it
Cook meat, casseroles, vegetables, desserts, breads, rice and more
Reaches temperatures between 360 – 400 degrees Fahrenheit
Easy to set up and put away
Safe to use — just need oven mitts
Portable and easy to store
Folds easily
Easy to carry with the handle
22 pounds
Can be used anywhere
Glass door so you can see into the oven without opening it
Great to use when there's a power outage
You don't need to use your conventional gas or electric oven and heat up your kitchen on hot days
Eco-friendly using solar power
Boil or pasteurize water (Guide to Berkey Water Filter)
Can use when there is a fire ban
You won't burn or overcook your food
You can cook more than one thing at a time with the racks
No danger of fire
Wind resistant: contains ground stakes and alignment legs
All American Sun Ovens made in America
The All American Sun Oven is made in America with all of the component parts also made in the USA (except for the thermometer).
How much sun do you need to use a sun oven?
The sun oven works best on clear and sunny days.
A bit of cloud cover will slow down the cooking but doesn't stop the cooking.
You can use this whenever you have sun.
How do you know if the sun oven is positioned correctly in the sun?
There are two sun tracker indicators on the sun oven.
They aren't electronic; you simply look through the top opening/hole to make sure there is a round dot centered over the bottom hole.
In addition to placing your sun oven in the proper sunlight, you can further modify it by using the built-in alignment leg on the back of the oven.
You can easily adjust it, raising it up or down to maximize sun exposure.
What if I'm not home to turn the sun oven toward the sun?
You can set your food in sun oven in the morning and head to work without worrying.
It works like a crock pot in that way.
Simply focus your sun oven for the mid-day sun, and it will cook while you are gone, keeping the food warm for when you are ready to eat.
How fast does the sun oven heat up?
Like a conventional oven, you should preheat the sun oven before cooking your food. In strong sun, the oven will typically reach 300 degrees in about 20 minutes.
How long does it take to cook in a sun oven?
It takes about the same amount of time to cook something in the sun oven, assuming your oven was preheated and in the full sun for the duration of the cooking.
Add 15 minutes to the cooking time whenever you open the glass door.
What's great is that you can leave the food in longer and not worry about it drying out or burning.
How do I clean the sun oven?
Cleaning a new sun oven
When you first get the sun oven, you need to set three cups of vinegar in a bowl and leave it in the sun oven for 90 minutes.
Then wipe down the inside of the oven with the (hot) vinegar, being sure to wipe the sides and the glass door.
Ongoing cleaning for sun oven
The All American Sun Oven is easy to care for.
Simply wipe the interior with a dry cloth, eliminating any moisture from the oven.
Occasionally, you need to wipe the reflector material and glass to keep it clean so the oven will heat properly.
When you store it, do not latch the door closed.
Why is it better to cook in a sun oven?
We love that you can use it anywhere and it's environmentally-friendly.
Here's what else is unique about using the All American Sun Oven.
Foods won't burn or overcook in sun oven
You won't need to stir the foods after they are put in the solar oven.
Also, they won't burn or dry out like with conventional ovens.
Foods stay moist
Foods retain their natural flavors, without baking out.
There is less shrinkage as well.
Less liquid required
When cooked in covered pans, recipes will use less water than in a conventional oven.
This will be true for sauces, rices and stews.
For baking, follow the usual directions with liquids.
It's portable
At just 22 pounds, the All American Sun Oven folds up easily.
It's easy to carry with the handle.
There is a easy-to-use strap which secures the reflectors.
For all it does, it is fairly small which makes it easy to travel with and easy to store.
Look cooking outdoors?
Learn about rocket stoves, also known as eco stoves.
Sun Oven measurements
Closed: 22″ x 19.5″ x 13.5″ (at it's highest point)
Open: 29″ x 29″ x 28″ (at its highest point)
Before you use the All American Sun Oven
You will be excited to use your sun oven as soon as you get it, but reserve some time to clean everything first.
Here's what you need to do.
Once you take everything out of the box.
Place your All American Sun Oven in the shade and take your time taking the plastic off the reflectors.
Be careful to get it all off, especially around the screws.
It took about five minutes for me to get all the plastic off.
Sun oven with protective plastic
Use a screwdriver to loosen the latches so you will be able to seal the oven door.
Place your sun oven in full sun, making sure to check the indicators for proper alignment.
Put three cups of vinegar in an open bowl in the sun oven.
Latch the door.
Leave the vinegar for 90 minutes to clean the oven.

Cleaning Sun Oven with Vinegar
Wash out the pots, racks, and pans it comes with.
After 90 minutes, use oven mitts to remove the vinegar.
Take a towel and use the hot vinegar to wipe down the inside of the oven, including the glass from the inside.
Tips for using the sun oven
Be sure to wear sunglasses at all times.
The sun oven's reflectors will be magnifying the sun.
It will be intense.
Always use oven mitts when cooking or baking in the sun oven.
I have and love these, and they worked great with the sun oven.
Always preheat the sun oven before use.
Plan ahead and have the solar oven in full sun to maximize cooking time if you will be in a rush to eat.
Use lightweight black or dark colored pans for best results.
If you need a lid, using Pyrex works the best.
Be sure to use the leveling rack; don't set pots and pans on the oven floor.
Know that some food may take longer to cook than usual if there is cloud cover or if the sun oven isn't aligned to get full sun.
Latch the glass oven door in both places.
When you open the oven door, you need to add 10 – 15 minutes to the cook time.
Solar cooking recipes
If you go to their website, you can find lots of recipes to cook and bake your favorite foods.
Cooking and baking in the All American Sun Oven
We were excited to try out this solar oven.
It was easy and fun to use.
We used it in our backyard and at a picnic (to show our family and friends) at a nearby park.
Everything we made turned out very well.
So far, we made the following, in this order:
Brownies
Rice
Chicken with vegetables
Hot dogs
Casserole with potatoes, cheese, onions, sausage, milk
Baking brownies in the sun oven
The first thing we tried was the brownies.
I used a glass pan even though the directions explained to use the darker pan — I read this afterwards — but they still turned out wonderfully.
My son said the brownies were "the best he's tasted in his life," even though we always buy the exact same mix!
I do agree that they did taste MUCH better in the sun oven.
They were moist and baked perfectly through.
I baked them in an 8″ x 8″ pan which was great for thick brownies.
If I owned a 9″ x 9″ I would have used that instead though, just personal preference.
Making rice in the sun oven
I was trying to think of something easy to bring on a camping trip so I decided on rice; however, I did make it in my backyard.
The All American Sun Oven comes with two 3-quart pots so I put the rice in one of them.
I choose the glass lid so I could see right through the oven door and into the food to check on it.
Per the sun oven's directions, when using liquids for cooking, you need to cut the liquids down by a third, which I did.
Even though the rice directions said to boil the water and then add the rice, I put them both in together.
I checked on the rice after an hour and 15 minutes; I'm sure it was done much sooner though.
The rice cooked perfectly and tasted great.
It didn't stick to the pot, and it didn't burn or overcook.
Making chicken and vegetables in the sun oven
The third time we used the sun oven, we used it to make chicken with potatoes, onions and carrots for dinner.
I put it in the 3-quart pot with the glass lid.
I put a little bit of olive oil and water on the bottom out of habit.
Next time I won't add water as the sun oven won't dry out foods.
I used frozen chicken.
This time I set the food in the sun oven at 1:00 pm and checked on it at 6:00 pm in time for dinner.
The vegetables cooked well and had a nice consistency.
They were done but not overcooked.
The chicken was cooked through and tender and not at all dried out like what often happens in the stove.
ADVANTAGES: I loved being able to leave the food and not having to check on like I do when cooking in my oven.
It was also nice to put it in the sun oven and then take it out when we were ready to eat without having to reheat it for dinner.
Cooking hot dogs in the sun oven
We brought the sun oven to a gathering at a park to see what it was like to use it somewhere other than our house.
First of all, it was the talk of the party.
All the adults and children were interested in it and talked about it.
The "sun oven talk" also lead to other ways people were trying to be eco-conscious and also talks about camping and other trips.
We were glad we brought it because the sun oven was a huge hit!
It was important that we were able to cook a lot of hot dogs at once so we used the multi-level baking racks.
We let the sun oven preheat which took about 18 minutes on the hot day.
We put the hot dogs on the bottom and middle racks then lowered it into the oven.
Once it was in place, we put more hot dogs on the top rack.
We let them cook for about 20 minutes.
They were precooked so we could have taken them out sooner probably but because we cooked so many at once, we thought it was better to leave them in longer.
The hot dogs turned out great.
Everyone enjoyed them; even a few kids tried them who usually don't eat hot dogs.
We cleaned the bottom of the sun oven with paper towels and water.
The next time we would probably line the bottom of the racks with the parchment baking paper but we forgot to bring it.
Cooking potato and egg casserole in the sun oven
Another day, I successfully made a casserole with potatoes, eggs, onions, milk, cheese and sausage.
I used the small, frozen link sausages and put them in a casserole dish in the sun oven frozen.
It would have been interesting to see how fast this would have taken to cook; however, I put in the sun oven around 10 am in the morning and checked on it when I arrived home at 5:15 pm.
I usually make this casserole in my 13″ x 9″ pan in my conventional oven.
I knew it wouldn't fit in my sun oven so instead I put it in my 11″ x 8.5″ x 2″ oval-ish Corning Ware dish without the lid.
If I needed it cooked faster, I would have used the lid.
The sun oven kept the casserole warm so we were able to take the food out and eat it for dinner.
It wasn't overcooked; it was perfect!
I would never leave my stove on all day, so it was nice to be able to start this in the morning and come back to a cooked meal.
I use my crock pot to do this for meats and stews but have never used it for a casserole so I really enjoyed making this in my sun oven.
Each time you use the sun oven, be sure to preheat it first.
There are so many more things I want to try in this sun oven.
We are going to try making bread and then pizza next.
All American Sun Oven review
We choose to review Sun Oven International's All American Sun Oven because they are at the forefront of solar cooking.
They are making it possible for people to become more self-sufficient without relying on electricity.
Harness the energy of direct sunlight for cooking, boiling and steaming food and drinks.
They ship for free too!
We always choose to support practical and environmentally-friendly ways of living which made us excited to use the sun oven.
Cooking with a sun oven is a viable alternative to cooking with charcoal and wood.
Solar cooking also helps minimize our reliance and dependence on fossil fuels and electricity.
The All American Sun Oven has a very low carbon footprint.
We are excited to take this sun oven when we go camping with our Boy Scout Troop, and we also plan to bring it to my children's school's Earth Day celebration.
Whether you love cooking and baking or you think of it only as a necessity, you will enjoy using the All American Sun Oven.
EcoZoom Rocket Stoves: Great for Camping and Emergency Preparedness
EcoZoom is changing the way people cook, literally, across the world.
They've made outdoor cooking healthier, eco-friendly, and more efficient.
These rocket stoves are great for camping, prepping, emergency preparedness and off-the-grid living.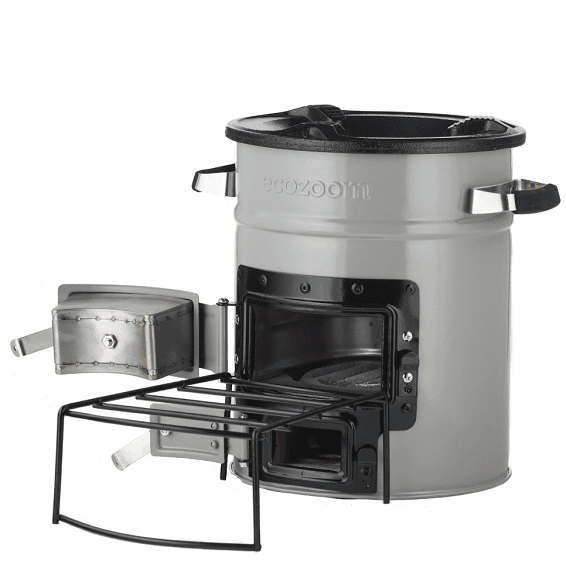 Benefits of the EcoZoom Rocket Stoves
Unlike other methods used for outdoor cooking, EcoZoom rocket stoves don't run on gas or propane.
You can use charcoal, solid biomass or firewood for cooking on these stoves, depending on the model.
This is convenient as you can often find natural materials wherever you are.
These stoves are extremely popular among survivalists and backpackers because they don't require lengthy preparation for getting a meal ready.
Highly durable and fuel efficient, EcoZoom rocket stoves rate well for their safety features.
They are easy to use, easy to clean, and portable.
They have silicone grips for carrying, so you can safely move the stoves if you needed to.
Types of EcoZoom rocket stove
Versa: Uses wood, dried biomass, or charcoal
Dura: You can use wood and dried biomass
Zoom Jet: Uses charcoal
EcoZoom Versa Rocket Stove
Although this stove is extremely efficient when running on wood, using charcoal allows for a more controlled experience while cooking.
One of the biggest highlights of the Versa is its fully insulated combustion chamber.
It's insulated with high quality refractory metal.
The chamber's design ensures the smokes/gases mix well with the flame.
This feature helps keep the harmful emissions very low.
It also increases the stove's fuel efficiency.
The Versa stove is durable.
It has reinforced metal door frames as well.
EcoZoom Versa dimensions
Weight: 14.25 lbs
Height: 9.5″
Diameter (top): 11.2″
https://youtu.be/XOuvswCUOmM
EcoZoom Dura Rocket Stove
The big difference between the Versa and the Dura is the Dura doesn't use charcoal.
Both stoves offer great quality and are easy-to-use.
This is an excellent unit for off-grid food preparation, for when there is a power outage, and for camping.
The Dura is slightly smaller and lighter than the Versa.
EcoZoom Dura dimensions
Weight: 10.25 lbs
Height: 9.5″
Diameter (top): 10.2″
EcoZoom Jet Economy Stove
This is their newest stove.
It too has rocket stove technology.
You can only use charcoal when using this model.
EcoZoom Plancha
While not a rocket stove and not designed to be portable, the Plancha deserves mention as it's a popular model for cabins, outdoor kitchens, and larger families.
It is ideal for off-the-grid living and for emergencies.
EcoZoom designed the Plancha based on the same technology used for making the Versa.
However, unlike the Versa, the Plancha has two burners.
Plancha: Can use wood, dried biomass, or charcoal
The stove has been designed keeping in mind the necessities of people who are familiar with Mexican wood stoves.
One of the biggest pluses of this stove is its 8 foot chimney.
The chimney helps in keeping the cooking area free from harmful emissions.
There's a spot in the back of the stove to dry wet wood or biomass.
You can fire up both of the combustion chambers together if you are cooking several items.
However, for small cooking tasks, using just one of the chambers works too.
The Plancha is a perfect stove for an outdoor kitchen or cabin.
It is not designed to be portable.
Dimensions of the Plancha
Weight: 82 lbs
Stove height: 12″
Chimney height: 8′
Stove width: 18 x 22″
It's true that at 82 pounds, it cannot be moved from place to place easily.
However, if you are at home and want off-grid cooking, this is the product you should opt for.
EcoZoom Rocket Stove Accessories
Pot Skirt for EcoZoom
A pot skirt is basically a metal ring that you secure around a pot's bottom before putting it on the stove.
The ring helps EcoZoom rocket stoves to work more efficiently. With all EcoZoom stoves, you need to purchase the pot skirt separately.
You can use it with pans as well.
Using a pot skirt ensures the heat concentrates both on the pot's sides and on the bottom.
By preventing the heat from escaping, the product increases the rocket stove's efficiency by as much as 25 percent.
Cast Iron Frying Pan
A quality frying pan will enable you to fry eggs, freshly captured fish, or veggies on a rocket stove.
Cast iron is known for its excellent heat retention properties.
This means EcoZoom's Cast Iron Frying Pan would help keep your food warm.
Core technology of EcoZoom rocket stoves
All the EcoZoom stoves sport an innovative rocket stove design.
The internal combustion chambers of these stoves have been designed to encourage the smokes/gases to blend well with the flame.
This results in a more complete and cleaner burn.
Thanks to the fully-insulated structures, these stoves burn 60% less fuel compared to open fire cooking.
In addition, they produce 70% less smoke.
Another great thing about EcoZoom's technology is the stoves' exteriors never become dangerously hot.
This minimizes the chance of burns.
EcoZoom products in developing countries
More than 3 billion people across the world don't have access to gas or electricity.
Their only option is to cook using biomass, which often results in use of inefficient and unhealthy fires.
It's unhealthy for them as well as for our planet.
It also contributes to deforestation.
Every day, women and children in developing nations spend hours gathering fuel.
This stops them from concentrating on other essential activities.
Also, many families in these parts of the world spend as much as 30% of their total monthly earnings on fuel.
This often leads to energy poverty.
EcoZoom brings solutions to developing countries with these efficient outdoor stoves.
These rocket stoves are safer, healthier and eco-friendly.
These stoves make life easier people all over the world along with an Weather Emergency Radio.