Rocket Stove Review – We invested in a solar oven for emergency preparedness but wanted a portable stove as well.
These stoves don't rely on propane.
We tried the popular models and liked three rocket stoves.
These stoves work for camping enthusiasts, backpackers, preppers, and survivalists.
EcoZoom Versa Stove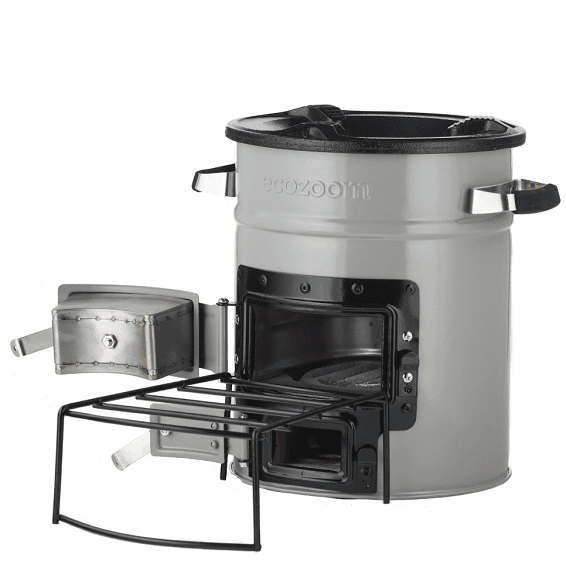 Our favorite stove is the EcoZoom Versa. This rocket stove has proven to be a great cooking alternative for camping and emergency preparedness at home.
What fuels it uses
Wood
Charcoal
Dried biomass fuel
The hinged doors enable a seamless conversion to charcoal from wood fuels.
Product info
It weighs 14.25 pounds, making it doable for camping trips and other outdoor adventures.
It's a fairly streamlined unit and easy to manage.
Measurements: 9.5″ tall with a diameter of 11.2″
EcoZoom's combustion chamber
The biggest plus of EcoZoom Rocket Stove is its durable and abrasion resistant ceramic combustion chamber.
The chamber's vertical section has a diameter of 10 cm, which allows the flame and the released gases to blend well with each other and thereby prevent harmful emissions.
Another highlight of the Versa is the refractory metal lining inside its combustion chamber.
This feature will:
Keep the chamber's ceramic insulation protected
Enhance its combustion efficiency
Allow the stove to last for years.
EcoZoom makes all its products undergo strict tests for safety.
Both the main door of the unit's combustion chamber and the damper (bottom) door come equipped with reinforced metal casing.
Besides ensuring that the doors are secured closely, the hinges also play vital roles in regulating airflow.
I like Versa's three-pronged, reformulated stove top.
It's made out of cast iron and offers easy heat transfer irrespective of the kind of pot you are using.
Most videos I found showed people using the Versa with a flat bottomed pan.
However, I found using a round bottom pan on this stove works equally well.
When well-fueled, you can use the stove as a water bath canner which can be great for homesteading.
EcoZoom Versa Rocket Stove is very portable
There's a sturdy stainless steel handle which makes it easy to carry.
It has a silicone grip so the handle remains cool even if the stove turns extremely hot.
It's easy to carry on its own, and even more so with the EcoZoom Stove Carrier Bag.
However, you have to buy this bag separately.
It's a nice way to protect the stove when you're not using it.
There is a one-year warranty.
EcoZoom Dura
We didn't test out the EcoZoom Dura rocket stove though it receives good reviews.
It is a tad less expensive than the EcoZoom Versa.
Stovetec Big Foot Deluxe Multi Fuel Cookstove
We enjoy using the Big Foot Deluxe from Stovetec.
Fuel to use
Wood (sticks)
Charcoal
Product info
22 pounds
Measures 17″ tall and 15″ in diameter
This stove is heavier and larger than the Versa but it was compact and fairly easy to carry.
I carried it from my parking spot to a faraway campground.
However, if I had one of those foldable, collapsible wagons (my next purchase!) it would have been a cinch!
Stovetec Big Foot's combustion chamber
The most prominent feature of the Big Foot Deluxe is its kiln-fired, rugged combustion chamber.
It is ceramic.
The chamber comes equipped with an intelligently designed internal chimney.
Like the EcoZoom Versa, this stove also forces the gases/smoke to blend well with the flame ensuring that there's no harmful emission.
You can easily fry, boil or simmer foods.
The combustion chamber in the Stovetec unit carries a durable metal alloy liner.
This feature of the stove increases its life.
It's simple to clean as well.
Stovetec Deluxe's doors
Another feature that common both in the EcoZoom Versa and the Stovetec Deluxe is that both their doors (the door leading to the combustion chamber and the damper door) carry reinforced metal casings.
The smooth hinges added to the doors, on the other hand, ensure that optimum airflow gets regulated when the stove is in use.
Guide to Berkey Water Filter – Review and Tips
You can also use this on a tabletop if it's heatproof.
Kelly Kettle Ultimate Base Camp Kit
This unit is perfect for scout events, family picnics, and car camping. It's also a top pick among survivalists.
The kettle takes just a few minutes to boil water and will enable you to cook small meals at campsites very easy.
Fuels to use in this stove – Twigs
Unlike the two products, reviewed above, this one only uses twigs as fuel.
4.95 pounds with everything
It's so easy to take with you, wherever you are going, including hiking and backpacking.
Older scouts would find this easy to tote and easy and safe to use.
The build and appearance of the Kelly Kettle is also significantly different from the Versa and the Big Foot Deluxe.
The Kelly Kettle is made entirely of stainless steel.
It's super easy to clean.
The best feature is that it uses a small amount of fuel.
Two other highlights of the product are its orange stopper (it seals the kettle's water opening) and carry handle.
How it works
The bigger opening of the two allows steam/air to escape.
The second opening allows the water to enter a secret tank.
The tank can hold six cups (or 50 ounces) of water.
The Kelly Kettle is located on top of a bowl (also made of stainless steel), which has a tiny hole on its side.
You'll have to place a few twigs inside that hole and light the fire.
That's it; you are now ready to go.
Kelly Kettle Ultimate Base Camp Kit includes:
2 stainless steel cups
Plate set
Hobo stove
Pot supporting braces
Cook set pot
Carry/storage bag
The braces fit the opening snuggly and are capable of holding a medium sized pot (a pot capable of holding four cups of water) comfortably.
Good: Kelly Kettle Ultimate Base Camp Kit
Better: Stovetec Big Foot Deluxe
Best: EcoZoom Versa Rocket Stove
Emergency preparedness stoves and camping stoves
So which of these portable rocket stoves is best? We are partial to EcoZoom's Versa as it's the most versatile.
We also love EcoZoom's focus to help people in developing nations.
It's a quality stove that is drastically changing people's lives abroad.
However, if you are looking for something extremely light and portable, you will be happy with the Kelly Kettle.
Any of these stoves will do the job for your disaster survival kit.
These are great to have for when there is a power outage as well.
Read our review of our beloved Sun Oven