Our guide and recommendations for the Best Cell Phone Booster for Rural Areas. Cell phones are a way of life nowadays, and having no signal or weak signal can be frustrating.
This is especially true if you live in a rural or remote location where you already must contend with a limited signal.
A lot of different issues can cause this. Things like distance from cell towers, landscape interruptions like mountains and the materials your home is built with.
So how do you solve this problem? One way is a cell phone signal booster. These electronic devices will help boost your signal and allow you access to your cell phone service easily.
But there are so many to choose from that finding the one that will work right for you may cause you unwanted stress. So, which one should you buy?
Best Cell Phone Booster for Rural Areas Reviews
In this guide, we will be giving you a few of the best cell phone booster for rural areas broken down into reviews and comparisons so that this decision doesn't have to be so stressful.
To help you out even further, we will also impart a few factors and features you should use to weigh your options carefully.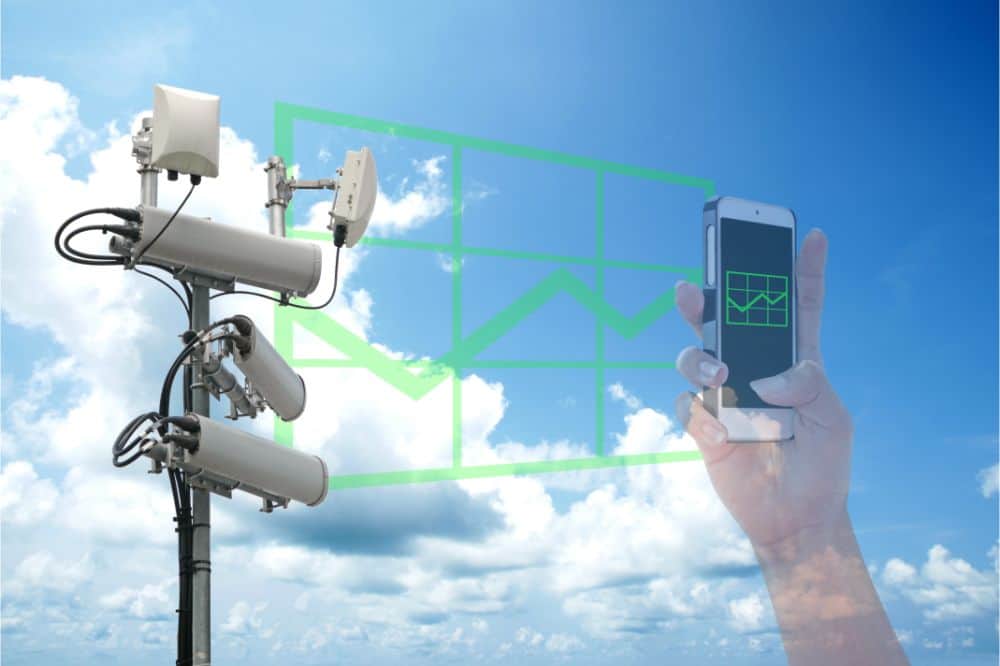 Hopefully, by the time all is said and done, you will feel equipped and ready to pick up those dropped calls. Let's start with some of the best options on the market.
weBoost Connect 4G Indoor Cell Phone Booster
Our first entry is from a company that will show up on our list quite a few times, weBoost. This indoor 4G cell phone booster is a great way to enhance your reception and make sure you don't lose any important calls.
weBoost Cell Phone Boost Highlights
When you want an all-round super compatible booster, this model from weBoost is a great option.
Designed with features and benefits that will help you live a connected life even in the most rural areas, the 4G indoor booster is crafted with attention to the minutest details.
Features and Benefits
Ability to be used no matter what carrier you are with
Capability to boost signal up to 32x
Extended area of coverage (5000 sq. Ft.)
All parts for easy installation included in the box
Technology built-in to sense signals and their strength
Tech that maximizes performance up to 75 OHM impedance
Enhanced battery life of devices with minimized consumption of phone battery
weBoost Cell Phone Booster ~ The Good
The team that designed this cell phone booster wanted to make a piece of equipment that would be able to help the most people possible, and with the inclusion of smart technology and high compatibility with multiple devices and carriers this model certainly does that.
This model is easy to use and set up while being a high-performance booster.
Its ability to detect the signal strength and intelligently adjust its settings to get the optimal boost is a feature that simply makes this one of the best options out there today.
weBoost Pros
Compatible with all US cell providers
Works with multiple devices
Able to detect signal quality around the building
weBoost Cell Phone Booster ~ The Bad
Though it is mighty when it comes to boosting strength and all its specialized technology, there is still one flaw that we need to address.
The booster may have a little problem obtaining the required signal to do its magic when it is dealing with a weak signal of poor quality.
Even with this small flaw, which is not a universal issue, you can look at the specs, listen to the reviews and know that you are getting a high-quality piece of equipment that will help you stay connected.
weBoost Cons
The booster may struggle with weak signals
weBoost Home 4G Cell Phone Signal Booster
The second entry from weBoost has many of the same features and benefits as our last but is in a class all its own.
It is designed to help with multiple room enhancement of your cell phone service; the Home 4G is an excellent option for those families with multiple phones that simply want a little alone time.
weBoost Cell Phone Signal Booster Highlights
The tiny computers we all hold in our hands or keep in our pockets can be the answer to many of our questions, but only if they work. That means finding a booster that is compatible with your service.
The Home 4G from weBoost amplifies 4G LTE and 3G signals allowing for a smoother browsing and less chance of issues with your service.
Features and Benefits
Service coverage enhancement (1500 sq. ft.)
Compatible with all US carriers
Works with multiple devices
Everything you need for set-up is included in the box
Improved connection of up to 32x the source signal
Built-in smart tech to sense signal conditions
Optimized signal gains up to 60 dB
weBoost Signal Booster ~ The Good
This weBoost model is fitted with some of the best technology. They ensure that what you get is a piece of equipment itemized for the most range and best signal enhancement possible.
With the easy-to-setup and use of the system, you get an extended range that will allow boosted service in multiple rooms in your home.
This means that everyone can be in their own corners while having those private calls or as they browse the web trying to find a great gift for the ones they love.
weBoost Home Signal Booster Pros
Enhanced high-grade signal boost
Easy to set up and use
Helps extend your cell phones battery life
Warranty
Automatic reception improvement
Works with all carriers in the US
weBoost Signal Booster ~ The Bad
Though this model has everything you want and then some, many feel that it is a bit more expensive compared to similar models from other brands. This may make it a poor choice for those looking to work on a little tighter of a budget.
If the price is not a concern for you, then making this the booster you choose for your cell phone needs is a great choice. It is a well-constructed optimized piece of equipment that will help you out if you are living that quiet rural life.
weBoost Home Signal Booster Cons
Related content:
Cell Phone Signal Booster Indoor vs. Outdoor Coverage
5G Dangers: Do Not Burn Down The 5G Cell Tower
SureCall Fusion4Home Cell Phone Booster
Our next entry is a tremendous whole-home solution for anyone living a rural lifestyle. The SureCall Fusion4Home is fitted with tons of great aspects that make this one of the best cell phone boosters available.
SureCall Fusion4Home Cell Phone Booster Product Highlights
This SureCall model offers the best optimization of your cell phone signal in comparison to many of its competitors.
Fitted with technology that serves to eliminate some issues that other boosters must deal with, the design team focused on efficiency and ease of use.
To construct the SureCall Fusion4Home cell phone booster, the team included the following features and benefits:
Signal amplification that reaches up to 4000 sq. Ft
Compatible with all North American service providers
Works with multiple devices
Comes with a high gain antenna (+9dB)
Comes with all components needed for set-up
Adjustable signal extender for better gain
SureCall Fusion4Home Cell Phone Booster – The Good
Making a complicated process easy to set-up and use, SureCall has some unique features that easily makes this stand out. The ability to manually manage your gain gives you great control too, to ensure that you are getting the best quality sound while maximizing your signal coverage.
This is a great choice for anyone living in a multiple-levels home that wants to be able to easily access their cell, and any other devices freely as they stroll around their home.
SureCall Cell Phone Booster Pros
Easy to set-up and use
Ability to manually adjust gain settings
Large coverage area (3000 sq. ft.)
Works with multiple floor home layouts
SureCall Fusion4Home Cell Phone Booster – The Bad
There are, however, a few design issues that some take issue with. The first is that the power cord is connected to the unit through the top, and that may make it more challenging to discreetly tuck away.
The owner's manual does not make the process of set-up easier as many find it hard to follow and read. The installation can be done quickly, though, with just a little patience.
Lastly, some do feel that the internal antenna does have some limitations when it comes to the signal strength it outputs.
If you overlook these slight drawbacks, you may find that the SureCall Fusion4Home is just the right high-quality cell phone booster for your home.
SureCall Cell Phone Booster Cons
Reception strength of the indoor antenna
Power cord connection (top of unit)
Owner's manual is hard to read
weBoost Connect 4G-X Cell Phone Booster
Our last entry from weBoost comes in the form of their 4G-X model. This unit brings with it the weBoost focus on crafting high-quality pieces boosters that help enhance your life.
weBoost Connect 4G-X Cell Phone Booster Highlights
This model once again comes with many of the patented abilities and features that make all the other models such great choices for rural areas. This model does have a few extra features as well.
Here is everything you will be able to take advantage of when using the weBoost Connect 4G-X model:
Works with North American Carriers
Technology designed to optimize 3G and 4G LTE signals (32x)
High-grade gain capability (up to 70dB)
Large range of coverage (7500 sq. ft.)
Comes with everything you need for set-up
Built-in auto-gain capability
Extends the battery life of devices
What's Good about weBoost Connect 4G-X
You want a booster that is going to be able to handle a large area that is especially needed when dealing with a home unit, and this is perfect. That, combined with the high quality of the gain and the ability to be compatible with multiple carriers, make this a versatile and high-quality choice for any rural home.
weBoost Connect 4G-X Booster Pros
Built-in auto-gain technology
Decreased battery use
Works with carriers in both the US and Canada
Extended coverage range
What's Bad weBoost Connect 4G-X
It takes a lot to work as hard as this unit does and unfortunately that leads to a little bit of a heat dissipation issue. That means that when in heavy use, you may find that this model tends to heat up easily, and that could affect the life span of the unit in the end.
By making sure you situate the unit in a well-ventilated area, you can combat the heat issue. This will make it avoid the problem and leave you with a great quality option that will boost your signal easily.
weBoost Connect 4G-X Booster Cons
Issues with booster heating up
HiBoost 15K Smart Link Cell Phone Booster
Our next entry is elevated through its use of a downloadable app to help with set-up. The HiBoost 15K Smart Link is a system that brings with it a lot of great features.
HiBoost 15K Smart Link Cell Phone Booster Highlights
When you want to boost your bars, this system from HiBoost is an excellent option. Constructed with tons of features and benefits solely designed to create the optimal signal-boosting no matter where you live.
Features and benefits
Multiple signals boosted (2G, 3G, & 4G LTE)
Works with all North American carriers
Downloadable app for easy install
Extended signal coverage (15,000 sq. ft.)
Fitted with an easy to read LCD
Built with a heat dissipation system
HiBoost 15K Smart Link – The Good
The installation using a downloadable app may be nothing new to some industries, but it is when it comes to signal boosters.
The fact that this system includes that capability as well as an easy to read LCD screen makes the HiBoost 15K Smart Link stand out above the rest.
Then when you think of the square footage of coverage, you soon realize that this is the perfect option for large homes or even offices and businesses that are rural but still want ultimate connectivity.
HiBoost 15K Smart Link Booster Pros
Installation is easy
Enhanced and optimized cell phone signal
Ability to be used by multiple devices
Works with all North American carriers
HiBoost 15K Smart Link – The Bad
Though it does cover a large area, it does have one minor flaw in its design. This is that the more people that use this system at the same time, the slower the system will work.
If you are a small company or family, then this unit will be a fantastic option for you.
HiBoost 15K Smart Link Booster Cons
Speed may vary depending on how many are using it
Cel-Fi GO X Cell Phone Booster
Our last entry is from Cel-Fi and is an extensive coverage booster that is designed with the highest efficiency in mind.
Built to be a single carrier booster with the capability to work with whatever carrier you use, this cell phone booster is created with the highest level of features and benefits that you can get.
Cel-Fi GO X features and benefits
Multiple carriers compatible with one carrier use
No wired internet connection required
The kit comes with everything you need for installation
Extended coverage up to 15,000 sq. Ft.
Cel-Fi GO X Pros
Another great choice for rural businesses or large floor plan homes the Cel-Fi GO X offers an elevated performance of multiple devices.
The enhanced signal allows for faster browsing and less cell phone interruptions when trying to get your work done.
Optimized enhancement of signal
Faster browsing speeds
Great customer service
Cel-Fi GO X Cons
Though the benefits of this unit are great, there are still some things that some recent buyers took issue with. The first and biggest is the actual set-up.
Many feel that it is too complicated and may end in some serious manual adjustments needed to get the most out of the unit.
The second issue is where it is compatible with multiple carriers, you will only be able to set it up for use with one. Even with the complicated set-up, choosing this cell phone signal booster will leave you, and your cell phone needs more than covered.
Set up can be complicated
May need to adjust the setting for optimal use
Not able to use more than one carrier
Cell Phone Signal Booster Buyer's Guide
Technology can be a great tool to help you with your daily lives and any hurdles you develop along the way. But choosing how to do this and which piece will give you the best results can be quite tricky.
There are so many new concepts and features that, for most, seem confusing and foreign.
Even with the permeation of technology in our society, there can still be a little stage fright when you start reading all the complicated terminology and trying to dive in deep to make your decision.
That's why we have carefully curated a list of some of the most essential features and factors that you, as the consumer, should keep in mind when considering which cell phone booster is right for you and your location needs.
Finding one that meets the requirements of your situation can be easily determined by paying close attention to the following:
Wireless vs Cradle Cell Phone Signal Boosters
This feature comes into importance when you are looking at the ability to boost one or many cell phones.
The wireless models are, of course, wireless and use this signal to be able to provide a beefed-up signal to multiple devices all at the same time.
These models will tend to be more expensive, but if you are living in a house with more than one cell phone user, then that expense may be worth it in the long run.
The other option is a cradle model. These, as the name infers, use a cradle as the boosting source and are only useful if you are intent on boosting only one cell phone.
They work well to amp the signal, but if you are a family or a small business in a rural area may not be the right choice for you.
Signal Booster Band Coverage
Cell phone bands need to be another consideration when looking at which cell phone booster will work for you.
These are the radio signals that each carrier uses and distributes through their towers that allow your phone to connect and use data.
This can be affected by your phone make as well (but we will talk about that in just a moment). Typically, newer models go up to 4G, and some are even starting to do 5G.
Depending on your cell phone carrier you will have access to multiple bands all with different frequencies, and that means making sure that your booster works with the carrier's band coverage is vitally important to get the most out of it.
Signal Booster Cell Phone Compatibility
Making sure that your cell phone model will be compatible with the booster is the first piece of this compatibility process.
Not all phones are created equal, and if you have a phone that isn't supported by the above band coverage, then your cell phone booster won't be able to interact and boost that cell signal.
The second part of the compatibility quandary is making sure that it works with your carrier.
Once again, every carrier has different frequencies and bands and choosing a cell phone booster that doesn't coincide with their specs will render our choice useless and a waste of money.
Cell Phone Signal Strength
There are two main signal strengths when you are looking for your cell phone booster. You can choose between high-gain and low-gain antennas.
Neither is worse than the other, rather better equipped for specific situations. You will want to go with the high-gain option if you are in a rural area, not near any towers.
Try looking for one that has at the very minimum a 5dBi signal strength; this will increase your chance of uninterrupted service and make for a better all-around performing cell phone booster.
Now if you are rural, but not that rural, and live where there is a tower close, but there are a lot of buildings and obstructions like mountains, then trying a low-gain option would probably work best for you.
Home vs Vehicle Cell Phone Signal Boosters
The last thing you need to consider is just where you will want to put this booster. The most obvious is in your home.
If you are just doing it for downtime cell phone time or even if you work out of your home, this may be the perfect fit for you.
However, if you are on the move all the time in that rural community, for instance, you run a small farm and are continually needing to check the fields you may want to consider a cell phone booster for your vehicle.
If you are really in need of better service, then maybe one of each is a good idea.
Cell Phone Booster FAQs
What is a Cell Phone Booster?
This piece of phone equipment is designed to take the already existing cell phone signal and amplify it. It does this by using its three main elements: an outside antenna, an amplifier, and an inside antenna. These three pieces combine to increase the gain and power of reception.
Do Cell Phone Boosters Work?
Yes, if you have a few things present. The first is you must have some sort of signal already there for the unit to amplify.
The second is to make sure that you have purchased a cell phone booster that is compatible not only with your device but your carrier as well. Then make sure to use the rest of our buyer's guide to making sure you get the right one for your needs.
Are Cell Phone Boosters Worth it?
If you are anything like the rest of us, then yes there is a lot of great reasons to purchase a cell phone booster when you are living in a rural area.
The biggest and probably the most obvious is the uninterrupted service. That means no more dropped calls or hard to understand calls that keep cutting in and out.
Plus, you will be able to live on that charge longer. The enhancement of your signal will help your phone not have to eat so much battery up while roaming for service.
Plus, a cell phone booster is not only good for calls; it can help you be able to browse faster as well.
Then there is the important stuff like a boosted signal that will allow you to have access to emergency services if needed. They are simple to install and easy-to-use tools that are worth it if you want to stay connected as much as possible.
Are Cell Phone Signal Boosters Safe?
You may wonder if these little lifesavers are safe? Do they emit some sort of radiation we should worry about? Many people ask these questions, and the answer is there is a small amount, but no more than your cell phone emits on its own.
In fact, by using a cell phone booster, you may be decreasing that radiation as well. You see a weak signal will cause your cell phone to use more power looking for that signal, and that means more radiation is present.
As a note the radiation emitted by your cell phone is less than 1 watt, and so it is not something that you should worry about. So yes, the experts say a cell phone signal booster is perfectly safe.
How Does a Signal Booster Work?
Understanding how a signal booster works could help you determine where to house it and which one you should buy.
How a cell phone signal boosters works:
The outside antenna searches the airwaves for the band coverage from the carrier's tower and brings it to the amplifier.
The amplifier then takes that signal and boosts it. This takes the signal from the tower and enhances your reception to your cell phone.
Through this boosted connection, your device can more smoothly interact with the signals being delivered via that cell phone tower that is so far away.
Why Do Signal Strength Weaken?
Three big culprits may be causing you to lose, or experience interrupted service.
1. You may be too far from a tower.
Though as the reliance on cell phones become more and more important, this becomes less likely as most carriers have built several and are continually building cell phone towers. Still, some rural areas just aren't serviced by every carrier (or any) yet.
2. The materials used to construct some buildings.
Another reason for a weakened signal is depending on what materials are used, you may find certain buildings are better for your service than others. Buildings made of thick concrete or heavy metals sometimes interfere with service.
3. Mother nature.
The last of the three significant contributors to cell phone signal degradation is good old mother nature. Certain natural structures can interfere with signals. The most common is mountains. These have the same issue as the man-made structure, as radio signals cannot always penetrate them or follow those curving paths we have crafted through them.
Best Cell Phone Booster for Rural Areas
In the end, having access to a strong signal is a crucial part of everyday life nowadays. That is why even when you are living the quiet life out in those rural areas that you may want to invest in a cell phone booster.
Maintaining a good cell phone reception in rural areas is important so you can keep track of you kids, locate your kids and monitor your children's online activities via an app like mSpy.
Hopefully, with the six different for best cell phone booster for rural areas options and information that we have taken the liberty of pulling together for you in this guide, you now feel better armed and ready to make a choice that will bring better reception and no more dropped calls into you, your family or your business' life.
Related content: Best Outdoor TV Antenna for Rural Areas