Welcome to an udderly delightful adventure into the world of cow names! Whether you're looking for names for newborn calves or mature cows, finding the perfect name adds a touch of personality and character to each bovine. Below are hundreds of imaginative, cute, playful, and fun choices. (My favorites are the names for baby cows!)
Showcase your creativity and some fun to your farming experience. I delve into unique names, breed-based names, color-inspired names, names based on your cows' personality traits, for meat cows and dairy cows, the size of the herd, names for heifers, cows, steers, and bulls, and many more. There's also a list of clever cow pun names.
Naming cows helps with identification and record-keeping but also adds individuality to your herd. It can also help you and your family form a bond with your bovines.
I hope you have fun reading this big list of cow names. Write down your favorites, discuss them with your family, vote on your favorites, and have fun choosing the perfect names for your cattle. Here's to naming your beloved moo-ving companions.
Cow Names
When considering names for cattle, the possibilities are as vast as the open pasture itself. Each one has a distinct personality, appearance, and charm that deserves a name to match. Here are some fun and creative lists for various categories:
Funny Cow Names
Sizzle
Hamburger Helper
Moo-La-La
Darth Moo-er
Mootilda
Bulldozer
Beefy Keefy
Sir Loin
Dairy Queen
Udderly Hilarious
Beefcake
Holy Cow
The Boss
Sir Loin of Beef
Mumu
Mooey Deschanel
Moo-onlighting
Chuck Norris
Bovine Bard
Cow Pun Names
These cow pun names add a playful and humorous twist to the bovine world, making them udderly pun-derful choices for your cow-naming adventures!
Sir Buns-a-Lot
Moo-na Lisa
Curdly
Cuddly
Steerlock Holmes
Moo-lan
Bullionaire
Moo-nique
Sir Loinheart
Moo-shu
Moovement
Sir Loin
Moo-leficent
Steerling Silver
Moo-ry Poppins
Moo-onlighting
Udderly Hilarious
Mooey Deschanel
Moo-ves Like Jagger
Steerios
Patty Cake
Moolah
Steerfire
Bullseye
Steerific
Moo-yoncé
Mooey Cyrus
Moo-casso
Bulldozer
Milkshake
Moo-hammad Ali
Moo-sic
Cute Cow Names
Daisy Duke
Steak Belle
Sugar Cube
Nuzzle
Beefy Keefy
Buttercup
Rosie
Java
Brisket
Butterscotch
Bella
Maisy, Maisie
Coco
Shelby
Lily
Ivy
Poppy
Sweetie
Elsie
Greta
Angel
Daisy Mae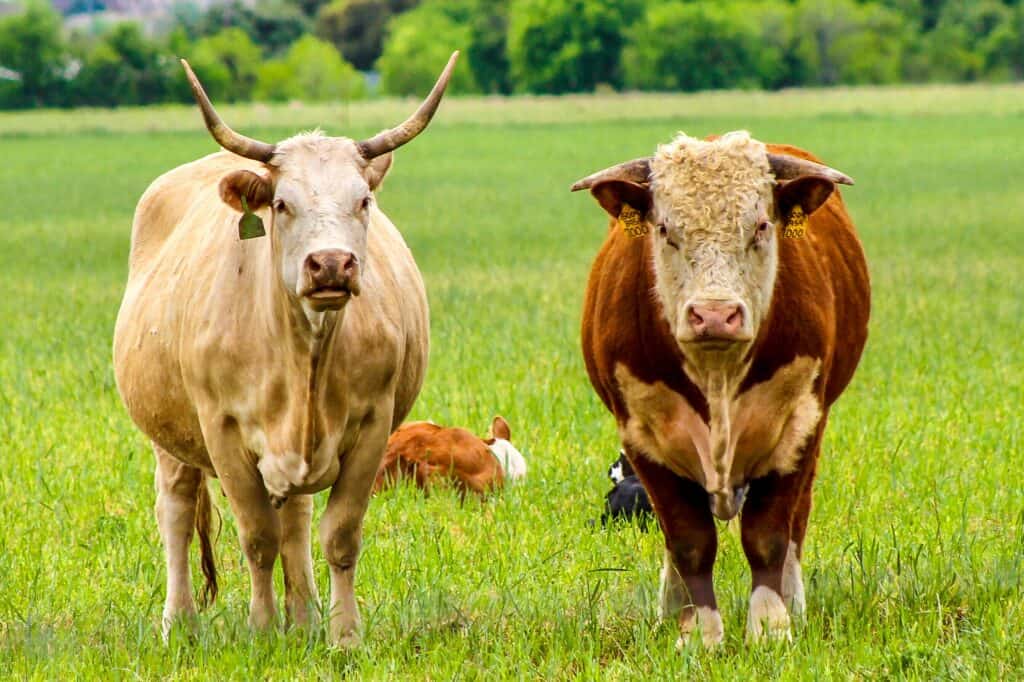 Cow Names Female
Bessie
Rosie
Clover
Tilly
Lovebug
Cinnamon
Lily
Ginger
Mumu
Heifer
Daisy
Maisie
Maisel
Bella
Ivy
Ruby
Spring
Wonder
Nutmeg
Joy
Grace, Gracie
Honey
Rosemary
Penny
Boy Cow Names (Steers, Bulls, Oxen)
Ferdinand
Bruno
Angus
Bulldozer
Rambo
Maverick
Duke
Tex
Jake
Rhett
Herman
Jasper
Steerlicious
Tank
Rocky
Bully
Sirloin
Rex
Hank
Steak
Steerling
Thor
Baby Cow Names / Names for Calves
These names capture the charm and cuteness of baby cows, adding a touch of endearment to their names as they start their journey in the world.
Calfie
Nugget
Sprout
Bambino
Ditto and Xerox
Pippin
Chili
Tiny
Muffin
Button
Pip
Mini
Peanut
Calfie Cutie
Sproutlet
Bandit
Pumpkin
Pippin Paws
Tiny Tot
Squeak
Pipkin
Mini Moo
Peanut Buttercup
Sprinkle
Puddle
Snugglebug
Little MooTwinkle
Hopscotch
Jellybean
Snickerdoodle
Giggles
Good Cow Names
Finding the perfect name for your cows is an exciting and important task. Good names for cows can capture their unique personalities, reflect their physical characteristics, or pay homage to their role on the farm. Whether you're looking for funny, cute, or meaningful names, this list will help you choose the ideal name for your beloved bovine companions.
Grace
Harmony
Ace
Elsie
Cocoa
Clover
Maisy
Hopscotch
Jellybean
Thor
Maverick
Tawny
Spirit
Luna
Rambo
Scout
Butter
Shadow
Cloud
Lucky
Max
Lucy
Oliver
Lily
Milo
Rosie
Willow
Bella
Daisy
Jack
Charlie
Naming Cows Based on Breed Type
Indulge in a delectable array of sizzling meat cow names that will ignite your carnivorous cravings. (Though I recognize it's a personal decision whether or not to name beef cattle.) Then get ready to be charmed by the creamy and delightful dairy cow names.
Beef Cow Names
Beefylicious
Beef-ster
Sir Beefington
Brisket
T-Bone
Ribeye
Beef-a-licious
Beefy McBurger
Juicy
Patty McBeef
Beefinator
Beef Wellington
Angus Beeferson
Ribby
Brisket the Bold
Beefylicious Bessie
Sir T-Bone
Beefster the Great
Beefylicious Chops
Roast Master Angus
Sir Meatball
McBeef
Sir Juicy Beef
Beefy McBuns
Patty O'Beef
Beefylicious Rump
Brisket Brawny
Angus
Sirloin
Prime Cut
Chuck
Filet Mignon
Rum
Ground Round
Porterhouse
Rump Roast
Beefcake
Sizzle
Tenderloin
BBQ
Grillmaster
Smoke
Steakhouse
Meatball
Roast Beef
Hamburger
Jerky
Carnivore
Marbled
Bratwurst
Smoked
Delmonico
Filet
Flank
Striploin
Sausage
Grillmeister
Barbecue
Chuckwagon
Rib Rack
Beefy
Meatloaf
Chops
Ribs
Brat
Ground Beef
Tenderizer
Tasty
Spice Rub
Fire-Grilled
Steak Tartare
Kabob
Corned Beef
Barbecue Master
Carnitas
Dairy Cow Names
Milkylicious
Miss Milko
Milkshake Miss
Milky Way
Moo-lkmaid
Moo-lkyway
Milkster
Moo-Moo
Milky
Milkaholic
Milky Marvel
Buttercup
Creamy
Daisy
Velveeta
Milkshake
Bessie
Cheddar
Mocha
Bella
Nachos
Dairy Queen
Coco
Creamer
Moo-latte
Gouda
Latte
Cheese Whiz
Rosie
Vanilla
Cappuccino
Honey
Lily
Muffin
Swiss
Espresso
Maple
Sugar
Caramel
Latte Macchiato
Pudding
Yoghurt
S'mores
Feta
Cheesecake
Marshmallow
Frosty
Whipped Cream
Butterscotch
Tiramisu
Cream Puff
Cookie Dough
Frappuccino
Dulce de Leche
Scone
Frothy
Custard
Mousse
Éclair
Buttermilk
Almond Joy
Mozzarella
Cow Names Based on Color
Naming cows based on their colors can be a fun way to celebrate their unique appearance. Here are some examples for different color variations:
Brown Cow Names
Cinnamon
How Now
Hazel
Chestnut
Cocoa
Nutmeg
Copper
Acorn
Gingerbread
Amber
Brownie
Truffle
Toffee
Mocha
Caramel
Hershey
Java
Sepia
Sable
Fudge
Walnut
Rusty
Cider
Hazel Nutella
Coco Bean
Chestnut Brown
Ginger Snap
Marzipan
Peanut Buttercup
Amber Ale
Maple Syrup
Cinnamon Bun
Tawny
Butterscotch
Russet
Mahogany
Henna
Cider Spice
Autumn
Black Cow Names
Midnight
Ebony
Shadow
Onyx
Noir
Eclipse
Inky
Carbon
Midnight Magic
Black Pearl
Thunder
Stormy
Black Velvet
Licorice Twist
Charcoal
Blackberry
Vanta
Pitch
Ebony Star
Obsidian Knight
Nightshade
Darth Moo-er
Black Magic
Inkwell
Black Beauty
Jetstream
Smoky
Black Ice
Dark Knight
Blackout
Ember
Blacktop
Shadowhunter
Black Widow
Midnight Express
Black Diamond
Black Panther
Obsidian Shadow
Black Thunder
Black Shadow
Noir Nightfall
Ravenwing
Midnight Majesty
Ebony Moon
Black Frost
Onyx Obsession
Pitch Black
Blackfire
Black Satin
Licorice Twist
Obsidian Eclipse
Stygian
Fudge
Black Storm
Coal
Raven
Jet
Obsidian
Licorice
Sooty
White Cow Names
Snowball
Pearl
Cotton
Ivory
Marshmallow
Crystal
Sugar
Frosty
Blizzard
Lily
Snowflake
Coconut
Vanilla
Snow Angel
Magnolia
Pearl White
Cottonball
Ivory Belle
Marshmallow Dream
Crystal Clear
Sugar Plum
Frostbite
Arctic
Diamond
Winter
Snowy
Alabaster
Ivory Snow
Frostbite
Sugar Cube
Lily Belle
Milky Way
Cloud
Ghost
Chantilly
Snowbell
Purity
Black and White Cow Names
Black and white cows, with their striking contrasting patterns, are a visually captivating presence in any herd. Embrace the duality of their coloration by giving them names that reflect their unique beauty.
From classic choices like Oreo and Panda to creative options like Domino and Checkers, here is a list of over 30 black and white cow names that celebrate the mesmerizing elegance of these enchanting bovines:
Oreo
Panda
Domino
Checkers
Patches
Chess
Houndstooth
Moo-nochrome
Moo-ffin
Marbles
Dalmatian
Inkspot
Zebra
Storm
Flicker
Tuxedo
Speckles
Splotch
Salt and Pepper
Moo-saic
Moo-lan
Patchwork
Dotty
Blizzard
Polka Dot
Penguin
Moo-tilda
Moo-sley
Milky Way
Shadow
Milkshake
Names for Patterned Cows
Spot
Patch
Speckle
Marble
Dotty
Stripe
Houndstooth
Pinto
Mosaic
Swirl
Paintbrush
Freckles
Checkers
Blotch
Splatter
Checkered Charm
Picasso
Polka
Dalmatian
Inkblot
Splotch
Checkerboard
Domino
Harlequin
Patchwork
Zebra
Tuxedo
Patchy Paws
Calico
Mottle
Stipple
Marbled Magic
Speckled Beauty
Spot On
Dotty Dazzle
Houndstooth Harmony
Pinto Picasso
Mosaic Marvel
Swirl Sensation
Spotted Cow Names
Freckles
Polka Dot
Dalmatian
Checkers
Speckles
Domino
Inkblot
Splash
Confetti
Oreo
Belted Cow Names
Beltie
Bandit
Sash
Tuxedo
Ribbon
Bows
Corset
Bowtie
Strappy
Cinch
Beltie Belle
Oreo
Belted Beauty
Bandit Beltie
Sashay
Cinchador
Tux
Ribbon Runner
Bowsy
Corsetta
Bowtie Belle
Strappy Steer
Cinchy
Belted Bandit
Tuxedo Tassels
Ribbon Rider
Bowsy Bovine
Sassy Sash
Belted Bowtie
Cow Names Based on Breed
Different cattle breeds have distinct characteristics and traits. Here are some cow names based on specific breeds:
Holstein
Daisy Mae
Bessie
Buttercup
Clover
Milkshake
Spots
Cookie
Mooana
Oreo
Harmony
Angus
Maverick
Black Jack
Angus
Bella
Midnight
Ruby
Thunder
Raven
Shadow
Eclipse
Hereford
Red Rover
Rusty
Ginger
Scarlett
Rustler
Blaze
Copper
Penny
Flame
Ember
Limousin
Leo
Lily
Limo
Spot
Blondie
Honey
Sunny
Amber
Caramel
Sandy
Cow Names Based on Personality Traits
These names capture a range of personalities, from shy, playful, and lively to calm and composed, adding character and individuality to your cows based on their unique traits and temperaments!
Bouncy
Serene
Sassy
Gentle
Mischievous
Dainty
Braveheart
Zen
Chill
Sparky
Jubilee
Whiskers
Jolly
Bliss
Frolic
Spry
Harmony
Rascal
Delight
Mellow
Zippy
Sunny
Fancy
Courage
Blissful
Boss Man
Zest
Spunky
Serenade
Tenderheart
Zephyr
Pizzazz
Harmony
Zenith
Snickers
Dazzle
Rhapsody
Gleam
Nimble
Whisper
Famous Cow Names
Mrs. O'Leary (the cow associated with the Great Chicago Fire)
Pauline Wayne (the cow that contributed to the milk safety movement in the early 20th century)
Knickers (a giant Australian steer that gained global attention)
Clarabelle Cow (a character from Disney cartoons)
Elsie the Borden Cow (the mascot for Borden Dairy Company)
Cow Names for Duos
Salt and Pepper
Thelma and Louise
Bonnie and Clyde
Sugar and Spice
Peanut Butter and Jelly
Thing One and Thing Two
Starsky and Hutch
Yin and Yang
Mac and Cheese
Bonnie and Bella
Ketchup and Mustard
Butter and Scotch
Cow Names for Trios
Faith, Hope, and Charity
Snap, Crackle, and Pop
Larry, Curly, and Moe
Huey, Dewey, and Louie
Shadrach, Meshach, and Abednego
Rock, Paper, and Scissors
Larry, Harry, and Barry
Mabel, Fabel, and Gabel
Moe, Joe, and Flo
Rose, Lily, and Daisy
Cow Names for a Herd
These names capture the camaraderie and unity of a cattle herd, emphasizing their collective presence and strength as they roam and graze together.
Thundering Hooves
The Bovine Brigade
Moo Crew
Cowtopia
Moo-valous Mob
Grazing Gang
Udder Delight
Horn Harmony
The Pasture Posse
Clover Clan
Moo-riffic Mob
Bovine Bonanza
Grassland Gathering
Ranch Rumble
Meadow Mates
Horned Heroes
Clover Comrades
Cowbell Collective
Grazing Gladiators
Cattle Commotion
Pasture Parade
Moo-tiful Melody
Rumbling Ranchers
Cloverfield Clan
Thundering Stampede
Moo-sical Marvels
Udder Unity
Range Riot
Grazing Gala
Moo-sic Mavericks
Bovine Blitz
Hoofed Harmony
Clover Cove
Meadow Marchers
Cattle Cavalry
Moo-tastic Maneuvers
Pasture Power
Grassland Gang
Bellowing Brigade
Clover Crew
Cow Names Inspired by Nature
Naming cows after things in nature adds a touch of organic beauty to their identity. From naming them after flowers like Daisy or Buttercup to drawing inspiration from natural phenomena like Thunder or Willow, these names create a harmonious connection between the cows and the world around them.
By reflecting the serene and awe-inspiring elements of nature, these names pay homage to the beauty and wonder that surrounds us.
Willow
Meadow
Fern
Daisy
River
Dawn
Dusk
Aurora
Sunny
Raindrop
Blossom
Maple
Celebrity Cow Names
Moo-donna
Beyonce
Lady Goo-goo
Elton Mooo
Justin Beef-erlake
Katy Moo-rry
Moo-ne Mars
Moo-nona Ryder
Moo-ry Poppins
Cowlie Portman
Historical Cow Names
Cleopatra
Napoleon
Caesar
Moo-ry Antoinette
Moo-hammad Ali
Amelia Moo-dhart
Moo-lan
Cow Names Inspired by Food
Naming cows after food creates a delightful and whimsical connection between their appetites and their names, celebrating the joy of nourishment. These food-inspired cow names add a deliciously playful twist to their identity, with options like Cupcake, Pancake, Brownie, and more.
Cupcake
Twinkie
Cinnamon Roll
Pancake
Brownie
Muffin
Marshmallow
Pudding
Sprinkle
Waffle
Cookie
Cheesecake
Pretzel
Butterscotch
S'mores
Cabbage
Marmalade
Caramel
Honeydew
Noodle
Jellybean
Cow Names with a Touch of Royalty
Embrace a regal touch and give your cows names fit for royalty. From the majestic Queenie and King Arthur to the elegant Duchess and Prince Charming, these names exude an air of nobility.
Add a touch of sophistication with Countess, Duke, Princess, Baron, Marquess, and Earl, creating a herd that reigns with grace and grandeur. Let your cows take their place as the rulers of the pasture, basking in their majestic names and commanding presence.
Queenie
King Arthur
Duchess
Prince Charming
Countess
Duke
Princess
Baron
Marquess
Earl
Empress
Sultan
Czar, Tsar
Regent
Viscount
Marchioness
Rajah
Sovereign
Baroness
Archduke
Grand Duchess
Infanta
Queen Mother
Grand Vizier
Serene Highness
Maharani
Lord Protector
Princess Consort
Crown Prince
Grand Marquis
Literary Cow Names
Moo-riarty (inspired by Moriarty from Sherlock Holmes)
Moo-dy (inspired by Mr. Darcy from Pride and Prejudice)
Moo-ger (inspired by Moby Dick)
Moo-mlet (inspired by Hamlet)
Moo-tilda (inspired by Matilda)
Moo-ey Dick (playful twist on Moby Dick)
Moo-ey Holmes (playful twist on Sherlock Holmes)
Moo-ther Goose (inspired by Mother Goose nursery rhymes)
Moo-riel (inspired by The Little Mermaid)
Moo-rlo (inspired by Finding Nemo)
Magical Cow Names
Merlin
Stardust
Enchanted
Mystic
Potion
Wizmo
Luna-tic
Sprinkle
Sparkle
Mystic
Greek and Roman Mythology Cow Names
These names draw inspiration from the rich mythological traditions of ancient Greece and Rome. Choose the names that resonate with you and give your cows a touch of legendary charm!
Athena
Zeus
Hera
Apollo
Artemis
Hermes
Aphrodite
Poseidon
Hades
Persephone
Hercules
Dionysus
Athena's Owl
Centaurus
Medusa
Pandora
Prometheus
Nike
Triton
Calliope
Eos
Hermes' Caduceus
Demeter
Atlas
Electra
Pan
Hercules' Club
Selene
Bacchus
Eros
Fortuna
Janus
Minerva
Morpheus
Zeus' Thunderbolt
Cupid
Gaia
Apollo's Lyre
Mercury
Helios
Vulcan
Venus
Neptune
Ceres
Aurora
Diana
Orpheus
Hercules' Lion Skin
Midas
Atlas' Globe
Why Name Cows
Naming cows can serve several purposes. It helps with:
Identification
Keeping records
Creating a stronger bond with the caretaker and the animals; better care
Humanizing them
In addition, cows with names can be showcased in agricultural shows or competitions, enhancing their individuality and allowing them to stand out among their peers.
Naming cows holds significance in both milk and meat production. It also helps you create a bond with the cattle.
When raising dairy cows
When raising cows for milk, naming them helps in tracking their individual performance, health records, and breeding history. This information is crucial for farmers to make informed decisions about breeding, health management, and identifying high-performing cows.
By giving each cow a name, farmers can easily refer to them and establish a personal connection, which can enhance their care and welfare.
When raising cows for meat
It's a personal decision up to each owner whether they name their cows that will ultimately be slaughtered for beef. For some people, it's important to honor cows with a name as a sign of respect and to thank them for what they will ultimately provide.
For other owners, naming a beef cattle is be too difficult. They may fear they will become too attached to the cows, making it that much harder to see them for utility.
Coming Up With Funny Cow Names
A cow name can be considered funny when it elicits a sense of humor or amusement. What one person finds funny someone else may not. A sense of humor is very personal and subjective.
Here are some factors that can make a cow name funny:
Wordplay and Puns: Incorporating wordplay, puns, or clever twists on words can add a humorous element to a cow's name. For example, names like "Moo-donna" or "Sir Loin" play on the sound or meaning of words, creating a humorous connection to cows.
Unexpected Associations: Funny cow names often involve unexpected associations that surprise and entertain. This can include naming a cow after a famous person, fictional character, or even a food item that is not typically associated with cows.
Playful Descriptions: Using playful descriptions that exaggerate or highlight certain characteristics of the cow can also create funny names. For instance, "Buttercup" for a cow with a golden-colored coat or "Moo-nique" for a cow with unique markings.
Absurdity and Nonsense: Oftentimes, the humor in cow names comes from their sheer absurdity or nonsensical nature. These names might involve made-up words or random combinations that are silly and amusing.
Cultural References: Incorporating cultural references, such as popular songs, movies, or books, can also make cow names funny. Drawing inspiration from well-known phrases or pop culture can add an element of recognition and humor to the name.
How funny a cow name is is subjective and can vary from person to person. It's important to consider your own sense of humor and the context in which the name will be used. What might be hilarious to one person may not have the same effect on another. The key is to embrace creativity, surprise, and amusement when crafting funny cow names.
What Makes a Good Cow Name
The best cow names are those that capture the essence of the individual cow while being easy to remember and pronounce. They often reflect the cow's appearance, personality, or a clever play on words.
Remember, the key to coming up with fun, creative, and interesting names for cows is to let your imagination run wild! Consider their appearance, personality traits, interests, and the things that make them stand out. The possibilities are endless, so have fun and enjoy the process of naming your cows.
In addition, consider your personality as well. Are you looking for traditional, unique, or pun names? Or maybe a combination of many types of names.
Names like Bessie, Daisy, and Buttercup are timeless classics, evoking the traditional image of a cow. Names like Maverick, Luna, and Shadow add a touch of uniqueness and intrigue. The best cow names are ones that make you smile, reflect the cow's individuality, and create a connection between the farmer and the animal.
Should You Name Meat Cows
In meat production, the importance of naming cows may differ. While some farmers choose to name their meat cows for sentimental reasons or to differentiate them, others may opt not to name them to maintain a professional and practical approach.
For these farmers, using identification numbers or codes is more efficient for record-keeping and management. The decision to name meat cows ultimately depends on the farmer's personal preference and the specific goals of their operation.
Naming Cows
Naming cows brings joy, adds personality, and fosters a stronger bond between farmers and their animals. It's also lots of fun making lists of your favorites and voting on your favorites. There's no rush. Have fun with it!
Whether it's a funny cow pun name, a cute name, or a clever reference, the act of naming cows allows farmers to recognize the individuality of each animal and promotes better record-keeping and management practices.
While the importance of naming cows may vary depending on the purpose of raising them (dairy vs meat), the benefits of this practice extend beyond mere identification. So, embrace your creativity and have fun naming your cows, as it can create a more positive and enjoyable farming experience.
Raising more animals you want to name? Check out these unique chicken names.
Why do cows have hooves instead of feet
Mini milking cows: What are small breed milk cows
Featured image credit: Thomas Vanhaecht, Pexels