If you are mowing a large piece of property week after week with nothing but a push mower, you probably dream of having the best riding lawn mower someday. You can sit back and relax while you sit on top of a reliable machine that does all the hard work for you, giving you a perfectly-cut lawn.
We've reviewed the best riding lawn mowers. We reviewed their features, benefits, and pros and cons, so you can determine which is the best for your grass and property.
Best Riding Lawn Mower
There are some things to consider, such as turning radius, cutting deck, rear engine models, fuel capacity, fuel consumption, height positions, and additional features such as power steering. Consider also if you have a large lawn, tight spaces, flat terrain, or uneven terrain.
Troy-Bilt TB2454 Riding Lawn Mower
This 54-inch riding lawn mower has a staggered side mowing deck and a foot-controlled transmission and can easily transition between forward and reverse.
We picked the Troy-Bilt TB2454 Riding Lawn Mower because the hydrostatic transmission means that you won't have to fumble around with the clutch while shifting between different ground speeds.
If you are looking for a great budget riding lawn mower, this is certainly a great option. You won't find a better one for less.
Troy-Bilt Highlights
The Troy-Bilt TB2454 Riding Lawn Mower was designed for large properties and many acres, all thanks to its 1.36-gallon fuel tank. There is also an included deck wash package that makes this mower easy to clean, which will save you time in the long run.
If comfort is an issue for you, this riding lawn mower has a seat with a higher back than most mowers. Its steering wheel is also soft to touch so that you can maneuver it smoothly, plus there is enough room for your legs.
You can also trust that you are making a good choice with this mower since it includes a two-year limited warranty.
What We Like about Troy Bilt
What we like most about the Troy-Bilt TB2454 Riding Lawn Mower is that it is easy to use, from shifting from forward to reverse, to cleaning, and refueling.
This riding lawn mower is really great for someone who doesn't have a lot of time to mess with different settings and needs to get the job done quickly and easily.
All riding mowers really should include a high-back seat like the Troy-Bilt TB2454 Riding Lawn Mower, as good posture and comfort are so important to our health.
Easy to maneuver
Great value for the price
Straightforward to use
Not difficult to shift gears
Comfortable high-back seat
What We Don't Like
The problem with the Troy-Bilt TB2454 Riding Lawn Mower is its blades. They are not the most high-quality, so if there's a chance you're going to hit gravel or pavement, the blade can bend easily.
If you plan to mow close to gravel, pavement, or another hard surface, you may want to look for a riding lawn mower that is a bit higher in quality.
For those that need a higher-quality machine with more features, the Troy-Bilt TB2454 Riding Lawn Mower likely won't get the job done.
Blades bend easily, especially on hard surfaces
For mowing only
Husqvarna Kohler Riding Mower
The Husqvarna Kohler Riding Mower utilizes an air induction system that delivers a great cut every time. We included it on our list because it is made from premium materials and lets you cut the grass the way you want to cut the grass.
Husqvarna Kohler Riding Mower Highlights
The Husqvarna Kohler Riding Mower lets you discharge, mulch, or bag your clippings, although you will need to buy the mulching kit and bagger attachment separately if you plan on using those options.
Husqvarna takes their technology very seriously, including a patent-pending brake system that triggers on and off depending on if you are moving the steering levers outward or inward.
The cutting deck is even made of reinforced steel, so you know this mower will last you for years to come.
This mower is zero-turn and includes a maintenance-free transmission. This zero-turn riding lawn mower happens to be super-fast, as well, at 6.5 MPH. Likewise, at 26 HP, the Husqvarna Kohler Riding Mower has a lot of power to it.
You won't have a problem getting through a large piece of property with it. You can also use the Husqvarna Kohler Riding Mower when it's dark outside with the help of its LED headlights.
What We Like about Husqvarna Kohler Riding Mower
We wish other mowers had the same air induction technology that the Husqvarna Kohler Riding Mower has to really improve the grass as your cutting.
If you need to make your lawn look immaculate, not simply just maintain the overgrowth, you really need to purchase the Husqvarna Kohler Riding Mower.
We also like how the cutting deck is made of reinforced steel, so it won't break when you hit a rock.
Durable and powerful
Improves the look of your lawn well
Maintenance-free transmission
Can attach a snow blade or blower
What We Don't Like
The seat of the Husqvarna Kohler Riding Mower could have been more comfortable since it doesn't feel great after extended periods.
Outside of the mower itself, if there are any issues in the future, unfortunately, Husqvarna isn't the easiest company to work with.
If you do need to take advantage of the two-year warranty, you may find that difficult to do.
Uncomfortable seat
Poor customer service
Husqvarna Kawasaki Riding Mower
This zero-turn mower is part of Husqvarna's Z200 series, which is a class that is full of muscle. We picked this mower because not only is it ultra-efficient, but it also has an easy-to-use control panel and an anti-slip foot area.
This machine is safe and intuitive to use, too, so it is an excellent option for someone who is teaching their older children how to mow the property.
Husqvarna's Z200 Highlights
This zero-turn option from Husqvarna has an 18 horsepower Kawasaki engine with a maximum speed of 6.5 MPH to ensure you are getting the job done quickly and efficiently. There's even a 42-inch ClearCut deck that is easy to use and has a convenient deck lift.
The Husqvarna Kawasaki Riding Mower also includes the same patent-pending park brake system we mentioned earlier, as well as the no-maintenance transmission and the option to purchase a mulching kit and bagger attachment.
What We Like about the Husqvarna Kawasaki Mower
We wish other lawn mowers in this price range had the ease-of-use that the Husqvarna Kawasaki Riding Mower has.
The ergonomic control panel works like a dream and makes this machine idiot-proof, which is something we all could use on a hazy Sunday morning.
Plenty of power
High-quality blades
Gets the job done easily
Ergonomic
Easy to use
What We Don't Like
Unfortunately, something can go wrong with any lawn mower, and Husqvarna's issues with honoring their two-year warranty can spell trouble brewing ahead.
As similar to the other Husqvarna model, the Husqvarna Kawasaki Riding Mower isn't the most comfortable mower to ride, but it is a bit better than the last model.
Not the most comfortable ride
Poor customer service
Snapper Classic Riding Mower
The Snapper Classic Riding Mower is a rugged riding lawn mower whose beauty is in its simplicity. We picked this riding lawn mower because sometimes you just need something high-quality and straightforward to get the work done for years to come. It is a rear-engine rider with vertical stand-on-edge capability.
Snapper Mower Highlights
The Snapper Classic Riding Mower is known for getting over some rugged terrain that you may expect to be more like the kind of terrain you would take an ATV on.
If you live out in the woods or on any other type of difficult terrain, you know that this robust little machine is going to get the job done right every time.
Many customers have owned this machine for years and report little issues. The Snapper Classic Riding Mower also has a five-speed shift-on-the-go disc drive system. With its simplistic design, this mower is easy to maintain and keep clean.
What We Like About Snapper Mowers
Too many classic-style riding lawn mowers are challenging to use for the average user who can't reach the controls. Hence, we like that this simple mower has easy-to-reach controls.
We also love that you can store the Snapper Classic Riding Mower on-edge.
Works on rugged terrain and uneven surfaces
Briggs & Stratton engine
Easy-to-use and accessible controls
Simplistic design
Long-lasting
What We Don't Like
One problem with storing on-edge, though, is that some users report issues with battery or with fuel leakage when the Snapper Classic Riding Mower is in this position.
For those with a large property but are often in a hurry, the Snapper Classic Riding Mower is likely not going to be a fast enough option for you.
Battery issues when stored on-edge
Potential fuel leakage
Not very fast compared to models of the same price range
Ariens IKON-XL 60-Inch Mower
The Ariens IKON-XL is the most luxurious riding lawn mower we have featured on this list. We picked this riding lawn mower because sometimes only the best will do, and this riding lawn mower certainly leads the pack.
Ariens IKON-XL Highlights
The Ariens IKON-XL 60-Inch Mower is a zero-turn riding lawn mower that features a 25HP/725cc Kohler 7000 series OHV engine.
It features a 60-inch mower deck, which is the largest mower deck on this list and has a dual hydro gear hydrostatic transmission. That means you won't have to worry about shifting through different gears and between forward and reverse.
The shifter on this lawn mower is as smooth as butter! The deck on the Ariens IKON-XL is made of 10 gauge steel, and the frame is a fully tubular steel frame. This machine is made to last and out-perform its competition.
What We Like about Ariens IKON-XL
Ariens did a great job with the high-back padded seat and armrests on the Ariens IKON-XL 60-Inch Mower.
The seat and armrests make for a supremely comfortable ride, so you don't have to worry about backaches if you have a lot of property that you need to mow.
High-quality and durable
Gets the job done efficiently
Comfortable seat and armrests
Large cutting deck
Large projects get done quickly and efficiently
What We Don't Like
The Ariens IKON-XL 60-Inch Mower is the most expensive one on this list, so it is definitely not a good choice for a beginner to lawn maintenance or someone who really needs to watch their budget.
It is also a huge mower, so you would need more space to store it than you might for some of the other choices.
Expensive compared to other zero turn mowers of its caliber
Large
Needs a lot of storage space
Kubota Zero Turn Mowers
If you've been dreaming of having a beautiful, well-manicured lawn, a Kubota Zero Turn Mower could be exactly the tool you need.
These mowers are on the more expensive end of the price spectrum, but many devotees think that they are worth every single penny.
Zero-turn mowers allow you to cut your grass more efficiently and navigate tough corners with ease. The result is a pristine lawn that looks like something out of a magazine.
Does Kubota make good zero turn mowers?
Kubota is just now becoming a household name in the United States, and there's a good reason why. Their Z200 products are built to last and can yield you a gorgeous new lawn that you'll be proud of. This Japanese company has been operating since 1890 puts care and attention to every piece of machinery that they turn out.
If you are in the market for a brand-new mower that functions like a dream and won't let you down, Kubota is a solid choice.
Are Kubota zero turns any good?
Kubota Zero turn mowers come with a few pros and cons that we have illustrated below. Kubota products are built to last, and this reputable company has far more pros going for it than it does cons.
All of their mowers were built for excellent fuel-efficiency, and are crafted to last through the wear and tear of several seasons.
You can also navigate them into tight corners, getting far-flung areas of your yard with meticulous care. Kubota products are easy to maintain and operate, with simple instructions and plenty of perks and convenience features.
People who make the switch to Kubota generally find themselves sticking with this brand for the long run. It has a lot of customer loyalty and is one of the finest brands for zero turn motors that you will find on the market.
Even with all of the incredible perks of owning a Kubota Zero Turn Motor, there are a few downsides as well.
Many people who decide to go with a Kubota Zero Turn Motor will emphasize that these pieces of machinery are much more efficient, and get the job done more thoroughly than other products.
In short, many folks say that their Kubota Zero Turn Motor is worth the comparable bigger price tag. Of course, you will have to make that determination for yourself.
Some people also think that Kubota products are slightly more noisy than other brands.
It's possible that the big, powerful engines affiliated with the company could make their products a little bit noisier, but we haven't seen any substantial evidence that this is the case.
Which zero turn mower is the best?
If you want to get your lawn looking its best with a product that lasts for the long haul, you should choose a Kubota Zero Turn Mower.
How much is a Kubota zero turn mower?
Kubota products can be more expensive than other types of equipment.
Other models
Also check out Club Cadet XT1 LT42 and John Deere D130. The deep deck design lifts the grass which gives it a better and more even cut. We'll be reviewing them this summer.
Riding Lawn Mower Buyer's Guide
It is essential to know what to look for when you are purchasing a riding lawn mower since your situation and the condition of your yard can change what your machine needs to be capable of.
You need to be aware of the size of your property to know which riding lawn mower will be the best for you. You also need to know if you will need a specific mower for any difficult types of terrain.
Additionally, you will need to know what you want to accomplish with your riding lawn mower. Here is a guide to ensure you purchase the make and model that can achieve everything that you want to accomplish with it.
Selecting the Right Size Riding Lawn Mower
You want to ensure that you are purchasing the correct size riding lawn mower for your property. If you buy a lawn mower that is too small, you won't get the job done on a single tank, and you will likely get very frustrated.
A small electric mower will be able to handle one acre or the equivalent of one hour of work.
If you buy a lawn mower that is too large, you will be wasting valuable storage space as well as finding it difficult to maneuver your riding lawn mower on smaller pieces of your property. The deck size is important because it's how wide of a path it cuts.
Here is a general guide for knowing what size riding lawn mower to purchase. Figure out the size of your property.
Less than ¾ acre: Invest in a push mower or best battery powered lawn mower instead of a riding lawn mower.
¾ acre – 1 acre: You need a mower with a deck size between 30" and 42"
Between 1 – 2 acres: Choose one with a cut deck ranging from 42″ to 52″
2 – 3 acres: Deck size ranging from 50″ to 54″
3 – 5 acres: Between a 54" and 62" cut deck
Over 5 acres: Cut deck of at least 60″
In addition to your property and lawn size, consider your size. You may need an adjustable seat, especially if more than one person in your household will cut the grass.
Standard Mower vs Zero Turn Mower
It is vital to choose between a standard mower and a zero turn mower because it greatly affects maneuverability. If you need to navigate a lot of different obstacles on your property, it is better to get a zero turn mower since they are more capable of navigating sharply around turns.
Mower vs Tractor
You need to decide what you plan to achieve with your machine before you choose between a riding lawn mower and a lawn tractor, as the latter has more capabilities than a mower does.
A lawn or garden tractor will have better capabilities when it comes to landscaping your entire property, not just the grass.
If you need to achieve many different tasks with a single machine, it is a better idea to invest in a lawn tractor than a traditional mower.
For example, a lawn tractor can use many different attachments such as a lawn sweeper, a cart to carry supplies, a snowblower, a lawn vacuum, and a lawn roller.
There are even attachments to aerate and dethatch your lawn. Do you have a need for any of these features? If so, you really need to consider a lawn tractor.
If you solely want to mow your lawn, consider purchasing a lawn mower instead. Some also consider a lawn tractor more difficult to navigate versus a lighter weight lawn mower. However, there are some hybrid options available on the market that you could look into, as well.
Choosing the Right Transmission
There are many different types of transmissions available on the market for riding lawn mowers, and you will need to select the right one for the kind of job you are looking to accomplish. The different types of transmissions you can choose from are:
Manual Transmission
A manual transmission will give you a selection of different speeds meant for different types of lawn work. You will want to be able to shift without stopping.
Automatic Transmission
You will control the speed with a gas pedal when using an automatic transmission, which is similar to how you would drive a car.
This is important if you need to slow down and speed up easily to get around different obstacles that may be on your property.
Hydrostatic Transmission
This kind of transmission works similarly to an automatic transmission, but instead of belts, this type of transmission uses fluid.
This transmission will give you the best longevity of your machine than the other types of transmissions. Additionally, if you desire a smooth ride, a hydrostatic transmission is the way that you need to go.
Decide if You Need Cruise Control on Riding Lawn Mower
If you are planning on mowing for long, straight stretches over a huge piece of property week after week, you will probably want to invest the extra money it takes to buy a riding lawn mower with a cruise control.
It will give your property a more even cut since you will not have to worry about changing and controlling speeds while you go over long, straight stretches of grass.
Cutting Blades
Learn about the cutting blades as well as how they will handle flat lawns, inclines, and rough terrain. In addition, there should be at least three adjustable cutting height settings.
Decide if You Need Mulching or Bagging Features
Not every type of a riding lawn mower comes with the capability to mulch or bag, so you need to decide ahead of time if that is something that you would need from the machine. Many models have mulch kits you can purchase separately.
Also, while looking at various prices, make sure you include the cost of extra mulching and bagging attachments and equipment in your final cost when comparing different models.
It could be that an all-inclusive but expensive machine is actually a better deal than the cheaper riding lawn mower that needs a bunch of extra parts to achieve all the jobs that you have planned for it.
Also, you'll want bagging and mulching features if you are starting and growing a lawn care business.
What About Clippings?
Just because you decided you don't need to bag your clippings doesn't mean you shouldn't consider what is going to happen to the grass clippings you generate.
Grass clippings can greatly affect the look and feel of your yard, and some types of grass will actually die if you leave clippings on top.
You may want to use the clippings for alternative landscaping in your garden. Furthermore, you might have bagging laws in your area, so you must check to see what the proper procedure is where you live before you make your final decision.
There are a few different types of clipping discharge types to consider when buying a riding lawn mower, such as:
Side-Discharge Mowers
These direct the clippings right back on top of your freshly mowed lawn. If you have easily rakeable and very thick grass, this shouldn't be a problem, although raking is more complicated than bagging.
Bagger-Capable Mowers
This type will collect your yard clippings for you, but, more likely, you would need to purchase the bag separately.
Mulching-Capable Mowers
These types of mowers can actually turn your clippings into useable mulch for you while you mow your lawn, which we think is a pretty nifty feature.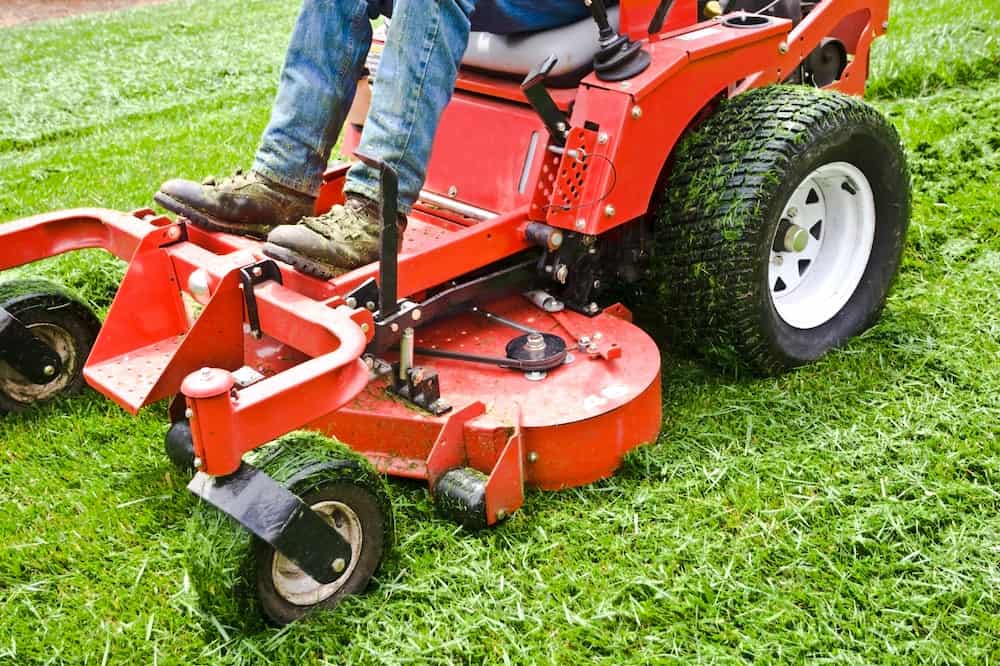 Riding Lawn Mower FAQs
What Is the Best Time of Year to Buy a Lawn Mower?
There are two different times of the year where it is best to buy a lawn mower affordably. The first time is in April and May, but you can also find good deals from August through September. However, even if it is not that time of year, you should always keep your eyes peeled for good deals on riding lawn mowers.
There are often going-out-of-business sales or overstock sales that don't coincide with these months that will allow you to get an excellent deal.
If you live in an area with four seasons, try buying one right before winter. Sometimes, you can get a great deal on an outgoing model.
We suggest that you set a price alert for your favorite model from this list and purchase it the next time the price drops.
How Long Should a Riding Mower Last?
The answer here is in how many hours of use you will get out of it; that is about 15000 hours. That said, the average lifespan for a riding lawn mower will be from five to ten years, depending on maintenance and storage.
At times, they can even last up to 20 years. Thus, always make sure you store it somewhere nice and dry, as well as maintain it regularly!
That means regular oil changes, greasing of joints, spark plug changes, belt changes, and proper storage over the winter if that applies to your climate.
Are Husqvarna Riding Mowers Good?
Yes, while Husqvarva is not the highest-quality riding lawn mowers on the market, they work very well and are great for those with a tight budget.
Husqvarna has done property owners an excellent service by providing an affordable alternative to help price-stabilize the market.
Do Riding Lawn Mowers Go on Sale?
Yes, riding lawn mowers do go on sale periodically. As for most products in this world, lawn mowers go on sale when demand is at its lowest or when the store needs to drum up good business. For that reason, you can purchase them on sale during the off-season or a flash sale of some sort.
Should I Buy a New or Used Riding Lawn Mower?
If possible, you should buy a new over a used riding lawn mower. When you buy a used lawn mower, you don't know where it was stored, if it was properly maintained, and if it cuts grass well.
If you cannot afford a new lawn model and you must buy a used one, you need to ensure the seller shows you in-person that it does indeed run, go in reverse, turn, and cut grass.
If there are other features that you want, be sure to ask the seller to demonstrate those as well.
Keeping up with lawn maintenance and using natural lawn care tips will save you time and money in the long run.
Conclusion
In conclusion, when looking for the best riding lawn mower, it is important to consider your needs and budget. There are a variety of options available, so it is important to do your research before making a purchase. By following these tips, you can find the perfect lawn mower for your yard needs.
There are a variety of factors to take into account, including:
The size of the property
Terrain
How often the mower will be used
With all the different models on the market, it is important to do research to find the right one for each individual. There are so many options when it comes to choosing the best riding lawn mower. Any of the six products reviewed above will get you started on the right path.
Our favorite and choice as the best of best riding lawn mower is the Ariens IKON-XL 60-Inch Mower since it is the highest quality. It also has the longest lifespan and is easy to use. With proper maintenance, it will reliable and ready to use when you need it.
If the Ariens IKON-XL 60-Inch Mower is a little too out of your price range, the Snapper Classic Riding Mower is a budget-friendly and straightforward option.