When researching generators, the Generac GP5500 is one option. This portable model is compact yet powerful. This product review provides the facts you need to know if it's the generator for you.
A portable generator can be a practical addition to your residential or commercial property. Whether you keep it on standby if you lose power in a storm or use it regularly to help support your everyday energy needs, you want to be sure you can rely on this device.
Generac GP5500
The Generac 5939 GP5500 is an affordable, durable and powerful portable generator. It comes from a reputable brand, offering reliable power for everyday use or emergencies.
You can use it for outdoor job sites, camping, outdoor events, or everyday commercial or residential use.
Design
The Generac GP5500 generator features a compact yet sturdy design with a strong steel frame. You'll find that it can handle heavy-duty use and easily withstand damage, thanks to the reinforced steel construction.
It's equipped with large 9.5-inch never-flat tires, perfect for rugged terrains from backyards to construction sites. The wheels are an essential component, given that the generator is on the heavier side.
It weighs 180 pounds, a bit more than other models with similar power capacities. However, you can still move it quickly thanks to the wheels and foldable handle.
Essential Specifications
A quick overview of the basic specifications can help you quickly compare and contrast the Generac GP5500 with competing models. Here are the must-know specs:
5500 running watts
6875 starting watts
Gas powered
Generac OHV engine (389cc engine)
7.2 gallon fuel tank
Low oil level detection shuts off the engine when oil is low, preventing damage
Covered outlets with circuit breakers for added security and environmental protection
Large-capacity fuel tank made of high-quality steel
Easy-read fuel gauge
20-foot-long durable cord
Four 20-amp outlets included
Cost
Generac GP5500 stands out because of its price. It typically comes for around $700 to $800, giving you an excellent bang for your buck. Competitors can cost as much as $1,000 more than that.
Many home improvement stores, including Home Depot, offer free delivery and free pick up in store.
Customer Service
Finally, Generac is a reputable brand, so you can be sure you're getting a quality product. They offer a two-year limited warranty and dedicated customer support, 24/7, 365 days of the year.
Knowing that you have reliable customer care to fall back on in case of issues can bring peace of mind. A Generac generator will last a long time with proper maintenance.
Generac GP5500 Features
Given its low cost, it should come as no surprise that the Generac GP5500 foregoes some luxury features you might find on pricier models. However, it offers the bare essentials that you would expect from any decent generator.
Powerful Engine
Of course, the most important feature when shopping for a generator is power. This one doesn't disappoint. The 389cc OHV engine offers 5,500 running watts and 6,875 surge watts.
The engine also stands out thanks to the fact that its valves are placed above the cylinder head. This allows for a more compact and streamlined design without sacrificing any power.
Low Oil Trigger
Another great innovation is the engine splash lubrication. This helps to keep the engine parts oiled, reducing friction and the potential for damage.
The generator further features an emergency low-oil trigger, shutting off automatically when low oil levels are detected. This can likewise help preserve engine lifespan and adds to the generator's overall durability.
High-Quality Fuel Tank
The generator requires gasoline for fuel, and the sizable tank holds approximately 7.2 gallons. You can expect the generator to deliver a run time of about 10 hours when it's half loaded.
Diverse Connection Options
A generator doesn't do any good if you can't connect it to anything. The Generac GP5500 provides sufficient hookups to serve varied needs. It comes with four household outlets of 120 volts (20 amps) each. It also has one industrial outlet of 120 volts (30 amps).
User-Friendly Control Panel
This is where you might start to notice some of the limitations of the Generac GP5500. Compared to pricer models, the control panel is minimal. You'll find the outlets as well as an hour meter that tells you when the generator needs routine maintenance.
Safety Features
All five of the generator's outlets are covered, providing protection against the elements and keeping kids and curious pets from coming into contact with them. Further, the outlets have circuit breakers to minimize the risk of potential shocks.
Of course, even with these safety features, it's essential to follow best practices to ensure safe generator use. You should never operate a generator inside your home, for example, or use it to "back feed" power into the house.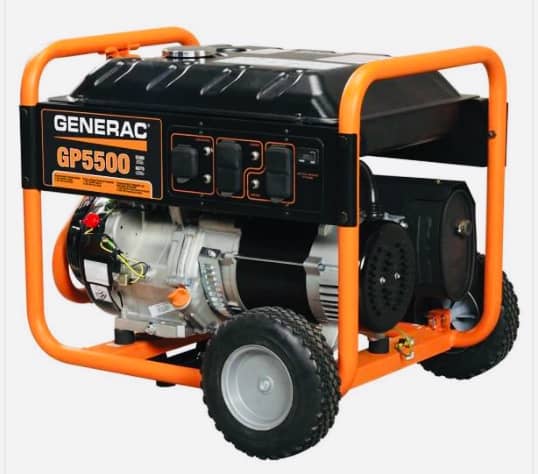 Capabilities
The Generac GP5500 has impressive capabilities given its small size. It features a starting power of 6.875 watts and can run for up to 10 hours on a half-tank of fuel.
While there are higher-powered models with longer-lasting capacity, these are great stats for such a small device.
User reviews note that the generator starts quickly, generally running after only one pull. At this point, it's critical to note that this generator runs on a recoil starter.
A push start button would be nice—but that's the type of value-added extra you'll have to get from a more expensive model.
If you're looking for a "no muss, no fuss" generator with decent capability and don't need those fancy finishing touches, this one will do the trick. It can power diverse appliances and even a recreational vehicle if required.
Be sure to consider what you want to power with a generator. This way, you'll ensure you choose the right-sized generator to ensure safety and enough power.
Generac GP5500 Pros and Cons
The Generac GP5500 5939 is one of many generators on the market. Before you go ahead with your purchase, it's crucial to weigh the pros and cons to determine whether this is the suitable model for you—or whether there may be a more convenient alternative available.
Advantages of the Generac GP5500 include:
Starting power of 6,875 watts
120 volts
Low price
10 hours of run time at 50% load
Sturdy steel-frame design
Great power for a portable model
No-flat wheels for easy transport
Reputable brand with quality customer service
Disadvantages of the Generac GP5500 include:
Heavier than alternative models with similar power output
Uses a recoil starter instead of a push start
No DC outlets
Limited control panel
Generac GP5500 FAQs
The above guide has covered a lot of information. This quick FAQ highlights some of the essential points.
What Can You Power With a Generac GP5500?
This generator might be small, but it packs a powerful punch. It has a running wattage of 5,500, enough to power diverse appliances and vehicles. A half-tank will give you up to ten hours of power.
How Big Is the Generac GP5500?
This generator is relatively small. The engine has its valves placed above the cylinder head, creating a more compact design. However, despite its small size, it's a hefty model, weighing 171 pounds—significantly more than competitors, which tend to come in at about 130 pounds.
Is the Generac GP5500 Portable?
Although this generator is very heavy, it's still small enough to be portable. The no-flat tires allow for easy moving. You can roll the generator across rough terrains, including construction sites, without worrying about damage.
Learn about what to consider when choosing a Generac portable generator.
Is the Generac GP5500 Loud?
One standard piece of feedback about this generator is that it's louder than other models. It runs at approximately 71 decibels. This is noisier than average. While this isn't a problem for short-term usage, you probably don't want to rely on this loud device regularly.
Is Generac a Reputable Brand?
Yes, Generac is a reliable manufacturer of portable generators. They offer 24/7 customer service and fair warranties on most of their products. The Generac GP5500 generally comes with a two-year manufacturer warranty.
Can You Add an Electric Start to Your Generac?
One drawback of the generator is that it requires a pull start instead of a simple push button. Generac doesn't provide kits or add-on accessories to transform the pull start. Also, beware that any DIY changes will likely void the warranty.
Final Word: Should You Get the Generac GP5500?
A portable generator offers many advantages. You can use it in case of a power outage due to bad weather, for powering devices while camping, or as an energy source on outdoor work sites. You can even use a generator to power an RV or electric car.
Generac GP5500 is fit for all of these purposes. Long-lasting, solidly built, and powerful, this generator gives you an excellent bang for your buck—coming in at less than $1,000.
Of course, you can't expect a lot of luxury extras with this generator for such a low price. This model does have its drawbacks, including a reasonably rudimentary control panel, recoil starter, and lack of DC outlets. Further, it weighs quite a bit more than competing models.
When comparing Generac generators with other generator brands, the Generac 5939 remains a reliable generator that you can count on for both residential and commercial use. Whether you want it for a planned purpose or as a reliable emergency power source, you'll likely be pleased with it.
With a powerful engine and lasting power of 10 hours when half loaded, it's a worthy investment considering the comparatively low price.
More info about Generac generators: