Whether you have a few sheep or several in your flock, find the best sheep names with this ultimate list. I've included funny sheep names; cute and creative names; pun sheep names; names for lambs, ewes, and rams; names for black, white, and brown sheep; by their purpose; breed type; and more.
Here are hundreds of ideas to look over broken down by category. Choose names that fit your flock's personalities, appearance, or purpose for raising. Be sure to check out the list of absolutely adorable names for lambs.
Funny Sheep Names
Have some fun and add humor to your flock with these amusing and lighthearted sheep names. Some are puns. There are more pun names below.
Fleece Navidad
Ramalamadingdong
Lamb-azing
Muttonificent
Mutton Marvel
Ram-ped Up
Ewe-topia
Shear Bliss
Shear GeniusEwe-turn
Fluffenstein
Fleece Mode
Shear Madness
Shearlock Holmes
Fleece to Meet You
Ewe-thentic
Lamb-azing Grace
Baabarella
Ewe-some Sauce
Baama Mia
Ram-bler
Ewe-nique
Baa-tista
Lambalicious
Lamb Chopra
Ewe-perstar
Ewe-phemism
Lamborghini
Lambo Baa-ghini
Baa-tman
Ewe-nity
Lambperdoodle
Baa-ck in Black
Ewe-niverse
Lamb-azing Spider-Man
Baa-d to the Bone
Mutton MasterMutton Maverick
Baa-rbecue
Fluffenstein
Fleece-tastic
Sheep Pun Names
Let the puns flock in, and add a touch of laughter and whimsy to your sheep-filled pasture.
ReweD2
Shearlock Baa-mes
Woolma Flintstone
Meryl Sheep
Baa-njamin Button
Baa-d Pitt
Baa-sil
Baa-belle
Ewetha Franklin
Baahgelina Jolie
Woolizabeth Taylor
Muttonificent
Ewe-thentic
Muttonator
Ewe-nited We Stand
Fleece Withersheep
Shear Euphoria
Baa-rilliant Mind
Woolmaestro
Fuzz Aldrin
Fleece Willis
Ewe-nique Sparkle
Shearly Beloved
Lambkin Spice
Lamb-azing Grace
Lambtastic Voyage
Ewe-nited Kingdom
Sir Loin Lamb
Lambperdoodle
Lambo-rghini
Ewe-phoria
Ewe-phemeral
Lambchopin
Lambeanie
Ewe-nforgettable
Ewe-rresistible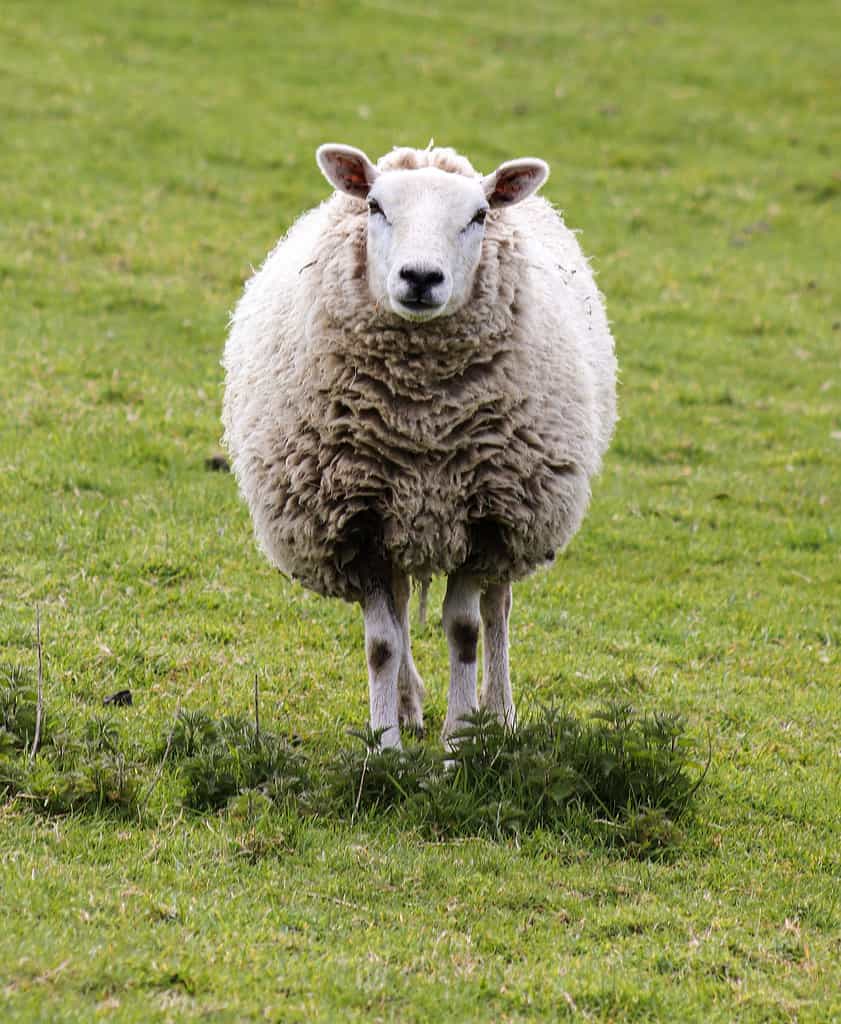 Cute Sheep Names
Embrace the cuteness of sheep with these adorable and endearing names:
Sweetie
Puffy
Moppit
Peppa
Jellybean
Baa-bykins
Cuddlebug
Snugglemuffin
Moppy
Honeydew
Cupcake
Bouncy
Peaches
Poppet
Button Nose
Lollipop
Kiwi
Marshmallow
Dimples
Baa-bushka
Cuddle Lamb
Sugarcube
Sugarplum
Fuzzlet
Sprinkle
Fleeceball
Baby Sheep Names (Lambs)
Welcoming a newborn lamb to the flock is an exciting event. This list is my favorite of all the names. They are so cute! Give these innocent, fluffy little lambs one of these adorable lamb names:
Muffin
Honey
Waffle
Acorn
Praline
Maple
Munchkin
Taffy
Snickerdoodle
Lambchop
Gizmo
Fuzzy
Pixel
Byte
Java
Cotton
Kiwi
Buttercup
Romper
Peppa
Snuggles
Espresso Bean
Sprout
Marshmallow
Scout
Lambsy
Pixie
Dandelion
Kernel
Bounce
Lamie, Lammy
Fluffykins
Cuddles
Pippin
Sunny
Clover
Peppermint
Tawny
Cocoa
Nibbles
Jellybean
Popcorn
Q-tip
Willow
Bambi
Lambo
Baa-bette
Lambkin
Peanut
Sweet Pea
Pudding
Tulip
Dottie
Java Chip
Sugarplum
Sparkle
Button
Noodle
Hopper
Female Sheep Names (Ewes)
These ewe names will hopefully be a good starting point when naming your female sheep. The best name is the one that you feel suits your ewe the best. Choose from pun names, funny names, and classics.
Woolma
Lambchop
Lady BaaBaa
Muttons
Ewegenie
Marigold
Cordelia
Valentina
Baarbara
Fluffy McFluffface
Wolly Polly
Cotton Belle
Ewecalyptus
Daisy
Belle
Primrose
Ivy
Hazel
Clementine
Olive
Luna
Daphne
Juniper
Maisie
Poppy
Aurora
Violet
Willow
Rosie
Penelope
Lily
Pearl
Isabella
Opal
Sienna
Tessa
Matilda
Sadie
Cleo
Aurora
Stella
Ruby
Hazel
Delilah
Fiona
Chloe
Eloise
Amethyst
Freya
Iris
Maggie
Joy
Felicity
Eden
Nellie
Beatrice
Georgia
Gwendolyn
Seraphina
Blossom
Melody
Autumn
Dolly
Ewenice
Lambie Pie
Shearly Temple
Ewelyn
Ewevita
Baabette
Lambikins
Fuzzy Wuzzy
Shearlotte
Eweyonce
Lady Fluffington
Wooldorf Astoria
Eweniqua
Ewe-nicorn
Cuddles
Shearmony
Male Sheep Names (Rams)
Sheep rams are known for their impressive horns and protective nature. Whether you're raising them for breeding or just want to give your male sheep a distinguished name, consider these strong and regal options:
Thor
Hercules
Wooly Bully
Titan
Maximus
Rambo
Apollo
Brady
Zeus
King
Duke
Baron
Magnum
Caesar
Atlas
Chief
Ewe Grant
Baarney
Woolly Wonka
Ram-pageous
Angus
Brock
Blade
Jagger
Maverick
Rocky
Spike
Rex
Thunder
Baa-rt
Baa-rry
Thunder
Storm
Blizzard
Admiral
Captain
Justice
Sultan
Viking
Hunter
Achilles
Odin
Black Sheep Names
If you are raising black sheep in your flock, use these names to embrace their dark woolly charm:
Midnight
Shadow
Onyx
Cocoa
Chocolate
Eclipse
Noir
Raven
Sooty
Cola
Jet
Ebony
Coal
Obsidian
Coffee
Panther
Phantom
Licorice
Carbon
Ink
Stormy, Storm
Thundercloud
Blackbeard
Dark Knight
Darth Wool
Nightshade
Blackberry
Gotham
Twilight
Blackout
Black Velvet
Nightfall
Charcoal
White Sheep Names
White sheep symbolize purity and innocence. Choose from these names for white sheep.
Pearl
Frost
Ivory
Snowflake
Latte
Lily
Angel
Cottonball
Crystal
Bianca
Stardust
Diamond
Alabaster
Marshmallow
Winter
Seraphina
Cloud
Blizzard
Dove
Milky Way
Ivory
Lily
Moonbeam
Snowball
Sugar
Swansong
Vanilla
Whisper
Frosty
Glacial
Primrose
Truffle
Pistachio
Gingerbread
Butterscotch
Biscuit
Peaches
Names for Brown Sheep
Use these name ideas for the brown sheep in your flock. I kept thinking of coffee and tea drinks when I was listing these.
Espresso
Mocha
Cappuccino
Java
Latte
Americano
Macchiato
Frappe
Arabica
Kona
Columbian
Barista
Sumatra
Decaf
Hazelnut
Caramel
Tiramisu
Biscotti
Chestnut
Chai
Earl Grey
Oolong
Assam
Jasmine
Darjeeling
Sienna
Hazel
Acacia
Amber
Henna
Matcha
Sencha
Chamomile
Brownie
Sandy
Tawny
Cinnamon
Ginger
Rusty
Henna
Chestnut
Mahogany
Cider
Pecan
Taupe
Caramel
Toffee
Names for Sheep with Black Faces
These sheep names capture the contrast and uniqueness of white sheep with black faces, giving them a striking and memorable identity. Some breeds with black faces are Valais Blacknose, Dorper sheep, Suffolk sheep, and Scottish Blackface.
Domino
Panda
Oreo
Zorro
Puffin
Tuxedo
Smudge
Marbles
Sooty
Monochrome
Names for Meat Sheep
For those involved in livestock production, meat sheep are an essential part of the industry. Give these robust and robust individuals names that reflect their purpose.
If you are undecided about whether to name sheep you are raising for meat, see below for a discussion about the pros and cons of naming animals that you will eventually process.
Chop
Chops
Prime
Ribeye
Tender
Sizzle
Brisket
Shank
Cutlet
Griller
Juicy
Sirloin
T-Bone
Roast
Ribs
Carnivore
Butcher
Meatball
Smoky
Barbecue
Carnitas
Kabob
Mince
Tasty
Savory
Filet
Grillmaster
Ribby
Lambchop
Mutton Mogul
Tenderloin
Loin
Leg Of
Stew
Rump
Medallion
Savory
Rich
Filet
Learn about meat sheep breeds.
Names for Dairy Sheep
Dairy sheep provide us with creamy, nutritious milk and cheese. Honor their contribution with these charming names that pay tribute to their dairy heritage:
Buttercup
Ricotta
Manchego
Roquefort
Feta
Cheddar
Gouda
Creamy
Yogurt
Brie
Milkshake
Cheesecake
MooMoo
Dairy Queen
Cream Puff
Curd
Dairy Belle
Creamsicle
Wheyward
Dairy Delight
Milkmaid
Fondue
Parmesan
Swiss
Cottage
Creamsicle
Frothy
Dairy Duchess
Buttermilk
Mascarpone
Milky Moo
Dairy Dream
Fine Wool Sheep Names
Perhaps you are raising sheep for wool. Fine wool sheep are highly prized for their luxurious and soft fleeces. Capture their elegance with these sophisticated names:
Cashmere
Silvia, Sylvia
Velvet
Woolverine
Pashmina
Merino, Merina
Angora
Satin, Satina
Fuzzy Wuzzy
Cardigan, Cardi
Lux
Fluffington
Knitwit
Mohair
Tweedledee
Softy
Cozy
Woolly Mammoth
Shear Delight
Eiderdown
Suave
Fluffy Duff
Tussah
Flannel
Comfy
Fleecey
Snug
Sweater
Plush
Yarnell
Long Wool Sheep Names
Long wool sheep possess flowing locks that make them stand out from the flock. Give them names that embrace their splendid woolly coats. Whether you opt for a name that reflects their flowing locks or captures their majestic aura, check these out.
Rapunzel
Tangles
Shaggy
Locks
Fluffy
Rapunzel
Luscious
Wookie
Fuzzy Wuzzy
Shimmer
Tufty
Silky
Woolly
Frizzle
Puffball
Flow
Dandy Lion
Tumbleweed
Snickers
Bouffant
Ewok
Perm
Luscious Locks
Shaggy Chic
Wooly Wonder
Cascade
Tanglefoot
Shepherd's Pride
Woolsworth
Mop Top
Woolamina
Tress Treasure
Flowing Fabio
Curly Q
Fluffernutter
Bouffant
Wooliana
Bountiful Baa-baa
Wooliam
Mane Majesty
Fuzzy
Wavy
Wooly Willow
Strandarella
Fleece Flow
Glamourlocks
Wooly Waves
Tress Tornado
Fuzzworthy
Mane Marvel
Woolylic
Names for Hair Sheep Breeds
Some sheep owners raise sheep for their hair. Hair sheep breeds are known for their unique coats, which consist of hair rather than wool. Embrace their distinct characteristics with these fun names:
Tressy Tess
Twisty
Locke
Tangle
Wavy
Shaggy
Funky
Bristle
Scruffy
Fluffball
Whiskers
Tumbleweed
Tuft
Dredd
Mohawk
Fuzzball
Tousle
Wildling
Snarl
Tussle
Ruff
Spunky
Unruly
Spiky
Punk
Freeflow
Bushy
Frizzy
Windswept
Dual Purpose Breed Sheep Names
Dual purpose breed sheep are versatile animals bred for both meat and wool or milk and wool production. Celebrate their multifaceted nature with these fun names:
Harmony
Blend
Versatile
Duo
Ditto
Multi
Ewe-nique Blend
Ambi
Omni
Allrounder
Hybrid
Combo
Equinox
Mixie
Adapt
Balance
Flex
Utiliwool
Woolmeatie
Meatwoolie
Duality
Dos
Crossfire
Fusion
Multiwool
All-in-One
WoolPrime
Tandem
FlexiFleece
Versawool
Some dual purpose sheep breeds include:
Classic Sheep Names
For those who appreciate tradition and timeless elegance, these classic names are perfect for the ewes and rams in your flock:
Molly
Charlie
Buttercup
Flower
Lily of the Valley
Lilac
Daisy
Rosie
Max
Lucy
Oscar
Bella
Milo
Justina
Teddy
Sophie
Jack
Oliver
Ruby
Buddy
Leo
Sadie
Rocky
Chloe
Sam
Henry
Maggie
Toby
Duke
Grace
Jasper
Famous Sheep Names
Sheep have made appearances in various forms of media and have become iconic characters in their own right. Here are some famous sheep names that pay tribute to their pop culture significance:
Baabra Streisand
Fleece Witherspoon
Shaun (feature in "Shaun the Sheep")
Dolly (the first cloned sheep)
Lambie (from "Doc McStuffins")
Wooliam Wallace (in "Wallace & Gromit: A Close Shave")
Merrylegs (from "Black Beauty")
Ewenice (from "Babe")
Bellwether (from "Zootopia")
Ewe-2 (from "Sheep in the Big City")
Sir Woolson (from "Sheep Raiders")
Ewe-nique Names for Sheep
Here are some unique sheep names.
Zephyr
Nimbus
Noodle
Floppy
Quirky
Whiskers
Rio
Havana
Pippin
Sprinkle
Zara
Dash
Willow
Bristle
Tango
Sparkle
Jigsaw
Tumble
Zazu
Quill
Fuzzball
Poppyseed
Zephyrine
Quirk
Snickers
Zigzag
Moonbeam
Zinnia
Scribble
Whimsy
Sheep Names by Breed
Consider what type of sheep breed you have and get inspired with these fun name ideas by sheep type.
Merino
The Merino sheep breed is known for its fine and soft wool.
Woolly
Meri, Merry
Fleece
Meryl
Spinner
Cozy
Fluffernutter
Dorset
The Dorset sheep breed is highly adaptable and known for its prolific breeding.
Dottie
Darcy
Dynamo
Fertile
Babbles
Blossom
Dorrie
Suffolk
Suffolk sheep are a large, muscular breed with black faces and legs.
Shadow
Ebony
Jet
Midnight
Titan
Thunder
Onyx
Jacob Sheep
Jacob sheep are known for its distinctive spotted or piebald fleece.
Spots
Dot
Picasso
Patch
Domino
Marbles
Checkers
Rambouillet
The Rambouillet sheep breed is a fine-wool breed and is the French equivalent of the Merino breed.
Rambo
Rami
Belle
Fleur
Château
Paris
Coco
Shetland and Ouessant Sheep
Shetland sheep and ouessant sheep are small-sized breeds.
Misty
Pebbles
Thimble
Mini
Kumquat
Willow
Sprite
Muffin
Shelly
Bonny
Freckles
Pixie
Icelandic
The Icelandic sheep breed is known for its dual-coated wool, which provides excellent insulation. They are hardy, resilient sheep.
Glacier
Frost
Aurora
Tundra
Winter
Iceberg
Lok
Saga
Wooly
Valkyrie
Snorri
Texel
The texel sheep breed is known for its muscular build and high-quality meat.
Tex
T-Bone
Turbo
Max
Meaty
Texie
Zippy
Blaze
Mutton
Border Leicester
The Border Leicester sheep breed is a long-wool breed known for its lustrous and silky fleece.
Leo
Luster
Bessie
Lionel
Seraphina
Silky
Leona
Cheviot
The Cheviot sheep breed is a hardy breed originating from the Cheviot Hills on the border of England and Scotland.
Angus
Bonnie
Heather
Stormy
Mist
Bramble
Thistle
Wallace
Hampshire
The Hampshire sheep breed is a large, muscular breed known for its meat production.
Hank
Hammy
Hampshire
Butcher
Grizzly
Brisket
Leicester Longwool
Leicester longwool sheep are a large, long-wool breed that produces lustrous and curly fleece.
Lexi
Curly
Tress
Lockes
Longfellow
Glam
Darcy
Flossy
Locksley
Silky
Lester
Lulu
Curly Sue
Mermaid
Velvet
Glitz
Pearl
Glitter
Diva
Fuzzy
Queen
Gatsby
Oxford
The Oxford sheep breed is a large-sized breed known for its meat production and dense fleece.
Ozzie
Oxford
Magnum
Biggie
Titan
Storm
Knight
Southdown
Southdown sheep are a small to medium-sized breed known for its meat and dense fleece.
Sunny
Dottie
Biscuit
Teddy
Muffin
Hazel
Nugget
Corriedale
The Corriedale sheep breed is a dual-purpose breed known for its combination of meat and wool production.
Gatsby
Cora
Dale
Willow
Jasper
Harmony
Breezy
Pippin
Cotswold
Cotswold sheep are a large-sized breed known for its long, lustrous wool.
Cosmo
Wavy
Twinkle
Wooly
Celeste
Wiggy
Glimmer
Sunny
Curly Q
Dorper
The Dorper sheep breed is a meat breed known for its hardiness and adaptability to various climates.
Dora
Turbo
Maverick
Blaze
Rambo
Diesel
Athena
Finnish Landrace
Finnish Landrace are known for their excellent maternal instincts and high fertility.
Freya
Finn
Breeze
Blossom
Aurora
Freckles
Misty
Willow
Spring
Daisy
Scottish Blackface
Scottish Blackface sheep are hardy and adaptable. They are able to graze in harsh environments.
Angus
Bonnie
Thor
Thunder
Heather
Mist
Bramble
Thistle
Wallace
Columbia Sheep
The Columbia sheep breed is large and dual-purpose known for meat and wool production.
Columbo
Colby
Meadow
Seraphin
Dazzle
Merino
Jumbo
There are many more breeds of sheep. Learn about these sheep:
Good Sheep Names
If you're looking for names that simply sound good and have a pleasant ring to them, consider these options:
Harmony
Valley
Serenade
Ginny
Addison
Meadow
Whispers
Willow
Evie
Hartigan
Aurora
Serenity
Blossom
Harmony
Remi
Seraph
Melody
Luna
Gemma
Zephyr
Eden
Solstice
Brazen
Breeze
Haven
Melody
Carousel
Haven
Grace
Nature-Inspired Sheep Names
Embrace the beauty of nature with these serene and nature-themed names for your sheep:
Aspen
Willow
Lilac
Berry Boo
Meadow
Brook
Fern
Daisy
Orchard
Aurora
Ivy
Juniper
Marigold
River
Blossom
Cedar
Laurel
Poppy
Clover
Rosemary
Autumn
Hazel
Heather
Luna
Sheep Names for Pairs
If you are raising two sheep on your small farm, consider these fun names for your Dynamic Duo.
Hazel, Ivy
Hadley, Hudson
Uno, Dos
Thing 1 and Thing 2
Blizzard, Snowflake
Fire, Rain
Latte, Caramel
Zig, Zag
Honey, Agave
Moppet, Fluffy
Cupcake, Frosting
Basil, Sage
Puddle, Raindrop
Apricot, Peach
Peach, Plum
Thunder, Cloud
Beauty, Beast
Ketchup, Mustard
PB and J
Captain and Tennille
Airy, Breezy
Cedar, Willow
Misty, Foggy
Sonny and Cher
Barbie and Ken
Clover, Blossom
Thistle, Fern
Fred and Wilma
Dewy, Misty
Names for Flock of Sheep
Shepherds and sheepherders… If you are sheep farming on your homestead, you may want to refer to your flock of sheep by name. Here are some name ideas:
Mutton Mayhem
Lamb Chop Shop
The Ewe Crew
Fleece Fleet
The Furry Fury
Sheep Squad
Shear Delights
Flock of Fluffballs
The Woolly Wanderers
Baah-d Company
Fleece Force
Mutton Mavens
Woolpack Warriors
Grazers' Guild
Ewe-nited Front
The Bleat Brigade
Fluffy Flockers
The Cotton Collective
Lambscape Legion
The Pasture Pals
Shearlock's Army
Woolly Wall Brigade
Fluffy Fellowship
Baarilliant Bunch
Fleece Flocket Force
The Woolen Wonders
Pasture Pioneers
The Grazing Gang
The Shearing Shindig
Ewe-topia Society
Wool Wielders
The Pasture Pack
The Shear Magic Crew
Bleat Battalion
Fluffy Cloud Crew
Grazing Greats
Cotton Cozies
Ewe-nique Ensemble
Meadow Mates
Fleece Philosophers
Sheeple Assembly
Fuzzy Fabricators
Woolly Mammoth Mob
Ewe's Clues Collective
Should you name meat sheep is a personal decision… Many farmers number their sheep instead of naming them
Should I Name Sheep if I'm Raising Them for Meat
When raising sheep for meat, you may wonder if you should name your lambs and sheep. It's natural to be concerned you will get too attached to them by naming them.
Giving them endearing names can make it harder to detach emotionally when it's time for processing. It can be challenging to separate the animal you've cared for and nurtured from the purpose they were raised for.
However, some farmers believe that naming their sheep fosters a sense of respect and connection to the animals. Giving them names can remind you to feel good about how you are caring for them while they are in your care.
The decision to name or not to name lambs and sheep you are raising for meat is personal. It's a balance between emotions, respect, connection, practicality, and more.
Naming Meat Sheep
On a personal note, I find it difficult to name any animals I will be eating. If I'm sending them out to be processed and am selling the meat, I find it less difficult and typically name them. I know with the livestock (and chickens) I've raised that they've had a very good life.
I also know that when my friends' kids do 4-H and sell the animals at auction, they also typically name them. They have a personal connection with the animal and cared for them well during their lives. Then the day comes to say goodbye. It's difficult at first but after awhile they have good memories of their animals that they can refer to by name.
Difference between sheep and goats
Finding the Best Names for Sheep
Give your woolly wonders a name that befits their adorableness, charm, and personality. I hope you liked this list of funny, cute, and creative names for sheep across different categories. Whether you're looking for names for baby sheep, male sheep, female sheep, black or white sheep, famous sheep, sheep pairs, punny names, or something else, I hope you found several to use.
The naming process is a fun opportunity. Enjoy going over the names with your family and friends.
Looking to name other animals you are raising in your homestead or farm? Consider these fun lists for naming the animals you raise for sustainability:
Featured image: 12019 from Pixabay