Last Updated on
Get From City to Farm – Read this if you are working toward moving from city or suburbs to rural living.
We will help you get from city to farm or ranch.
How to Get From City to Farm or Ranch
Getting There –Step 1–Answer the question:
Where do you see you and your family living in five years?
Every day, Internet search engines receive thousands of queries using phrases such as "how to move to the country" and "how to get to the ranch or farm."
I have read countless forum posts by people from all economic walks of life and backgrounds wanting to move out to the country.
People are intrigued about the rural living lifestyle.
They see value in its positive benefits for their lives and their families' futures.
It is something they want to pursue.
But many people don't know how to make the move happen.
It is daunting to think about such a major change.
Existing jobs, homes, families, and friends have entangled many people in a way that make such a change nearly impossible.
These are important considerations and a part of our normal social fabric that give life substance.
The good news though, is that they don't have to be so daunting if you understand that this is not an event, but a process of change that culminates with the actual move.
It is very similar to moving to a new area for a new job.
Most of us don't like change.
But as I have read the stories of so many people wanting to move, I see a common thread.
They want to move, but seem to always have reasons or excuses why they can't.
I won't judge the excuses.
But excuses and obstacles can get so big that they paralyze us, preventing us to take action.
It confuses our heart's desire with all the logistical facts that speak against a move.
How to Move to the Country
Do You Know Your Neighbors?
If you are unable to get started, or find yourself treading water, ask yourself this question:
Where do I want to be living five years from now?
It's a simple question that can be answered very simply.
It is a general question but an important one.
You and your family need to ultimately agree on a clear and understandable answer.
What is the answer?
On a beach?
In a foreign country?
In New York City?
Perhaps in the country?
Questions to Ask Before Moving to the Country
Do you find yourself dreaming of the rural and country life?
Does the desire come and go, or does it seem to stick around?
If it sticks around, you are probably on the track to a specific answer… move to the country, or start a farm or ranch.
Discuss this with your spouse.
It's important to be in agreement about the ultimate destination of the family.
It is no small thing to move your family and start a new life.
If you see yourself staying where you are or on a beach or in a foreign land, that is great.
You can stop reading if you want, as these articles will not be going in that direction.
But if you see yourself living in a rural area, on a ranch or farm–living a new kind of life–then stay tuned for Step 2!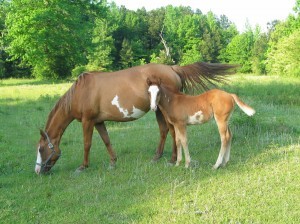 Strong Family Ties
Interview with the Strongs, another family with plans for a multi-generational farm.
They have lived in rural areas before and are patiently working toward the day they can move full time to the country again.
Tell us about your life in the country and the city.
Our three-generation family has always loved the rural life.
We moved several times and lived on small acreage in the past but never with self-sustainability as our focus.
We are a home schooled family and enjoyed raising chickens, goats, gardening, etc., as part of our lifestyle and curriculum.
Also, we owned and operated a small family business for more than 30 years and love and appreciate the dynamics of working closely with family.
Currently, we live in the city.
We are working toward selling our business so we can live and work full time on our 20 acres.
What drew you to move to a rural area?
We love the rural lifestyle but we are also preparing for what we see as uncertain times in the future.
We feel that rural areas will be safer and more self-sustaining.
What brought you to your particular area?
Although we are a close family we each are individuals with varied likes and dislikes, so when searching for an ideal homestead respect for one another's preferences was a premium consideration.
For example, our patriarch, Louis, was raised in a fairly remote area with very harsh winters.
His deal-breaker was 'no six-month, 40 degrees below zero winters!'
Our little granddaughter, Tasha, is musically inclined so an area that was reasonably close to music instruction and venues was a must.
After prioritizing the true deal-breakers from the just-preferences, we began our search for a happy-compromise property.
Through the grace of God, we found a lovely 20 acre parcel that is just waiting for our family to nurture and develop.
What kind of research did you do to find the right place for you?
We searched for countless hours online, talked with realtors, drove and looked at innumerable properties and asked many questions about various areas on forums (www.city-data.com/forum is a good one).
We carefully considered nearly every state before settling on the area and property that we purchased.
Although at times our quest for the right property seemed endless and frustrating, knowing that we had made a thorough search allowed us to make an informed decision with peace of mind.
How did you know when it was time to pursue a move?
We have lived 'by-the-book' our whole lives.
We started our family-run business more than 30 years ago and although our company continues to thrive even in this sluggish economy, there is a high price to pay for the fast-paced lifestyle that is required to operate our company.
Government regulations, high taxes, arbitrary industry demands, are difficult to navigate and still have time leftover to enjoy life and family.
So after factoring in the emotional and physical toll of running our business as well as what we feel is an unstable future for the economy, we decided that it was time to quit dreaming of a better life and sell our business to finance a new beginning.
Yes, it was a scary decision but staying the course and continuing with our old life seemed much more frightening and bleak.
We have since moved beyond the initial fears that can plague a major life-change decision and enthusiastically look forward to making our final move to a new life.
What challenges have you faced with your transition?
Selling our business and commercial property has proven difficult in these hard economic times; however, we have a potential buyer interested so hope seems to be on the horizon.
In the meantime, we pray for contentment with our current life and the wisdom to utilize this period as a time to study and better equip ourselves for the new life that awaits us.
What changes will be easy to make?
We love life close to the land and have no desire to be immersed in today's culture.
We are happiest when tending to gardening and critters, with jars simmering in the canner!
What tips would you give someone thinking about moving to a rural area?
Research, research, research, and, if you are a person or family of faith, PRAY.
Then, if it feels right to you, just do it – jump in.
You'll never regret it.
Trading Freeways for Country Roads
Meet Forrest and Deb, who made a move from Southern California to the Pacific Northwest over a decade ago—and have flourished in their new lifestyle.
Tell us about your prior city or suburban life—family, home, job?
We both grew up in Southern California, in the "Big City."
Forrest drove literally 60k + miles per year on the job.
We both wanted out, to move to a small town and live a simpler life.
What drew you to move to a rural area?
We had decided that we didn't like people – living in the "Big City" no one seems to care for anyone or anything.
Everyone is afraid to speak to anyone they didn't know.
What brought you to this particular area?
We lived in Sandpoint, Idaho, for 12 years and loved it.
Unfortunately, with the economic climate of the past few years, we could no longer afford to live there.
Still interested in living in a small town in the Pacific Northwest, we looked around quite a bit before we settled on our new hometown in NE Washington State.
We like the feel of it. To us, it feels like what Sandpoint must have felt like 20 years ago.
It is still affordable.
Hopefully it will stay this way rather than growing so rapidly as Sandpoint did.
How long did you prepare for your move? 
We generally don't do a whole lot of preparation — just make a decision and jump.
In this case, we had tried twice before to move away from Southern California before we were able to make it work.
It took us over 10 years before we made it to Sandpoint.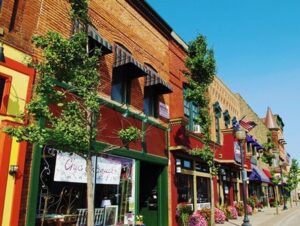 What kind of research or preparing did you do?
Before moving to Sandpoint we had a number of heartfelt discussions about what we wanted out of life before deciding that we wanted to live a simpler life in a smaller town.
We researched small towns including buying a book on "micropolitans," towns of between 25 and 100 thousand people.
We visited several possibilities on vacation with our four children.
One of those was Coeur d'Alene, Idaho.
On a day trip, we visited Sandpoint.
As we crossed Long Bridge, Forrest said, "This is it."
How did you know when it was time to make the move?
We knew from previous efforts that we had to pay off our California bills in order to survive on the lower wages that we could expect almost anywhere in the country.
Once we were able to do this, it was time.
How did your family and friends react?
Our friends were supportive.
Some of our family members were negative, but Forrest's parents soon followed us to Sandpoint.
What challenges did you face with your transition?
Our biggest immediate challenge was financial.
Forrest had developed pneumonia during the three-day drive up from Southern California and was unable to work in construction for several months after we moved.
We had a small savings account, but we had both expected to both get jobs upon our arrival.
The other big challenge was finding decent rental housing for our family, but this ended up being a blessing in disguise and helped us get established.
What changes were easy to make?
Driving fewer commuting miles.
Breathing cleaner air.
Liking people again.
People in small towns are not only willing to speak to someone they don't know, they are also willing to joke around with them and help them out – who knew?
What tips would you give someone thinking about moving to a rural area?
Be sure that you are willing to accept it the way it is rather than trying to change it into something that you were accustomed to elsewhere.
Be ready and willing to accept help, and provide help to others when you can.
Dream of Homesteading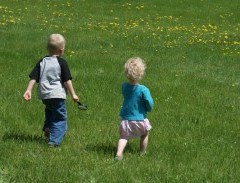 Today we have an inspiring story about a family that is documenting their journey on their own blog.
Here's how the family's new life has been unfolding.
It all started with a dream.
Not a hopeful, wishing sort of dream, but a vision in your sleep sort of dream.
The kind you'll never forget, even years later.
In his dream, Papa saw an impression of our country's future, laid out in the sky.
He was left with a feeling of urgency, that we must begin preparing our family for unstable times unless we wanted to be caught vulnerable when it counted the most.
With this beginning came a lot of deep thought, late night discussions, and research to help us decide what it was we were preparing for, and what steps we needed to take to be ready.
The winter after the dream occurred, Papa had a close call with unemployment when two major construction contracts with his employer's company fell through due to the economy.
Because of God's grace and his employer's generosity he remained employed, but the incident reinforced our desire to prepare for a rainy day.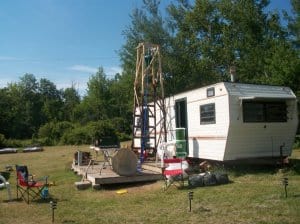 Result After Moving to the Country
Fast forward three years.
To make our first giant leap in preparing for an economic depression and/or a martial law situation, we purchased a rundown camper, fixed it up and moved it to family property to create a "bug out location."
We used it as a camp and stored a few things there, but even though we knew we had reason to prepare for trouble, it still felt like a shock when Papa got the pink slip.
After five months of making do, we used our tax return to purchase a more comfortable camper, along with other homesteading supplies, and moved off-grid, leaving the mortgaged house behind.
Living in thirty-one feet
We've now been living here, on the land in a 31' bunkhouse Dutchmen for 15 months.
We have been blessed with our fourth child and a new job (in that order) since we arrived.
However, while our original purpose in abandoning the house and moving out here was to get out of the system and survive, we have used the opportunity as best we can to reach our long-term goals.
Live well with our growing family, no matter the economic, political, or social times we live in.
Our homestead is still in development.
This year we are working on the outhouse and grey water leach field, next year we hope to break ground on our off-grid house, and a rainwater harvesting system but we have achieved a lot by trial and error, and a lot of determination.
We collect and use rain water, we made a compost toilet, we have a small vegetable garden and a decent medicinal herb garden, we raise backyard chickens for eggs, and most of our power comes from a solar panel.
We also managed to stick it out through a New England winter, which we weren't sure we would be able to do until we were halfway through it.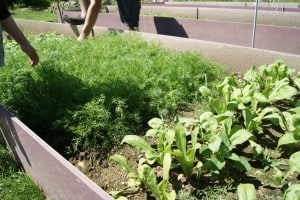 Eight steps Moving to the Country
There are so many different things I could focus on that are a part of the story, but since the focus for this series is "getting there," I'll try to break down the steps we took, to give you some helpful ideas.
We asked permission from family members to park our campers on their land.
With step one approved, we began shopping for campers within our budget.
We also purchased an extra car battery, a solar panel, a water pump, a generator, and a few extra things to make it easier living off-grid.
We downsized our home, literally shutting off half the house, had a huge yard sale, and began packing up.
Moving day – after many of our belongings were moved to the original camper which became our storage building, we hauled the new camper to the land and moved in.
We spent the first couple of weeks learning how to use the propane, water, and electronics in our new living space, which we were able to do before Papa got a new job near the end of 2011 (this whole time he was still applying for jobs, with no luck).
Once we had the important stuff figured out, Papa began work on additional homestead projects – digging a well, creating a rainwater collection system, preparing the ground for gardens, building the chicken run (we brought the coop from the old house), building a tool shed, and installing a clothesline.
All this while the kids and I checked out our new local resources: the laundromat, library, general store, etc.
Becoming self-reliant
Gradually we became more confident and became less dependent on outside assistance, like gas for the generator, water for showers, etc.
We are still not self-sufficient, but with time we hope to become so as much as possible, relying on local resources for extra things we need.
Living this lifestyle is not easy – it has its trials – but the benefits are numerous:
Peaceful environment, free electricity, privacy from neighbors, ability to garden and have animals, and the prospect of an out of the way, self-sufficient, off-grid home, to support us no matter what the future holds.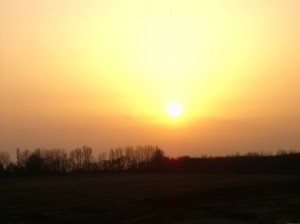 What would you do differently if you had a second chance at making a go of rural living?
Kristy and Mike Athens moved to a rural property in 2003.
But six years later they found themselves back in the city.
Now they're on track to make another move to another country home.
What will they do differently this time?
Here's Kristy's story:
Second Time Out: 5 Top Tips I Do Differently Next Time?
In 1999, my husband Mike and I bought a little house in Portland, Oregon.
As I mention in my book, Get Your Pitchfork On!, we lived "across the street from a nice neighborhood park.
We had fixed up the house and planted a garden.
Also, we planted fruit trees in the yard.
We trained hops to climb the garage.
This should have satisfied us.
We could take any of four different bus lines into Portland proper.
People picked up our refuse and took it somewhere else.
Water came to our house clean, and went away dirty.
Friends thought nothing of stopping by for a visit.
The grocery, post office, restaurant—even a movie theater—were all within walking distance.
Yet, we drove around the Columbia River Gorge every weekend and imagined life on one of the homesteads tucked off the road.
We decided to chuck the house, which we'd remodeled from the studs out, and the garden we'd build from scratch, and bought a mini-farm on seven acres in the Columbia River Gorge, in Washington State.
It was dreamy … for a while.
But contingencies we hadn't planned on started popping up.
We couldn't keep up with the maintenance that the land and buildings required.
Being a part of the local community
We had cut ourselves off from Portland's economy in an effort to become part of the local community, and then couldn't support ourselves.
I don't really fit into mainstream society, so I often felt like a freak.
Sometimes I was even treated like one!
Plus, I got involved in small-town politics, for which I was not prepared, and did not fare well.
The 2009 recession dealt us a crushing blow; we sold our land and retreated to Portland.
We're still licking our wounds, saving our money, and planning our next attempt at country living.
It's given me time to consider what I'll do differently next time:
Kristy's top 5 Hacks Moving to the Country
Have a Job First
When we moved to Portland, Mike drove 140 miles round-trip to his job.
I was a freelance writer and editor so my physical location was less of an issue.
Working this way kept us isolated from the community.
When we tried to get local jobs, no one knew us so they wouldn't hire us.
This time, we will attempt to do our job search from Portland and then move after one of us gets hired.
I can't tell you whether this strategy will work yet.
If it had already I wouldn't be writing about it from my desk here in Portland!
Rent, Then Buy
Buying land in an area you haven't lived in is a little like marrying someone you haven't met; a happy ending is possible but not super likely.
The next time out, we will rent in a town near the area we're hoping to settle in, and make sure that we complement the flavor of the town before we commit.
We actually liked the Gorge quite a lot.
And once we've demonstrated that we want to be a part of the community, we will likely get advance, insider notice of property that comes up for sale.
When you are ready, we recommend checking out the USDA Loans here: Requirements for a USDA loan
Choose Land Carefully
Mike and I were fairly conscientious about this the first time, but we were also guilty of getting whipped up in the romance of acquisition and making compromises we shouldn't have.
For one, we will never live on a state highway again—too loud, too dangerous, and too much extra snow at the top of the driveway from the plows.
We will pay more attention to micro-climates on a parcel. We will take irrigation more seriously.
And, we will look for mature fruit trees.
I have planted baby trees in two places now, and want to finally reap what I've sown!
We will study zoning and local land-use policies.
Our dog, Phynn, was killed on the highway adjacent to our property.
Work on Diplomacy
Next time, I will wait a lot longer before I get involved in local politics.
I will pay closer attention to who is friends with whom, and who isn't friends.
Also, I will learn who the big-deal families in town are, and who has married whom.
I will pick my battles carefully.
I will understand that no one cares what my education is and where I'm from; all they care about is how I plan to contribute to their community.
Get a Tractor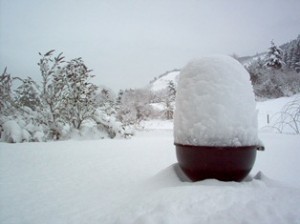 As I say in Get Your Pitchfork On!: "No matter how strapping a pair you are, you will not be able to keep up if you try to do everything with a pickup, a wheelbarrow and two shovels."
Those compact tractors are expensive but necessary. Period.
"Elbow grease" is no match for this much snow!